• Barbara Jean Morehead was born on 23 August 1931 in Tucson, Arizona USA
• She sang in local bands to supplement family income and enrolled in theater classes at the City College of San Francisco
• She starred in sitcom "I Dream of Jeannie" from 1965-1970 and in the film "Harper Valley PTA" in 1981
• She has been married 3 times, firstly to actor Michael Ansara for 16 years
• Her net worth is estimated to be over $10 million

Known for movies
Short Info
| | |
| --- | --- |
| Net Worth | $8.5 Million |
| Date Of Birth | August 23, 1931 |
| Spouse | Jon Eicholtz, Charles Donald Fegert, Michael Ansara |
| Mark | Bright, melodic voice. |
| Fact | On Monday, June 25, 2001, her son Matthew Ansara (with first husband Michael Ansara) died of an accidental drug overdose. He was 35. His body was found in his car in a parking lot off a freeway in Los Angeles, California. |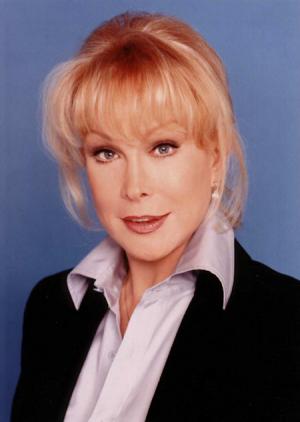 Who is Barbara Eden?
Barbara Jean Morehead was born on 23 August 1931, in Tucson, Arizona USA, and is an actress as well as a singer, best known for being the star of the sitcom entitled "I Dream of Jeannie" inwhich she plays the titular character.
Early Life and Education
Barbara's parents divorced when she was young, and she later moved with her mother to San Francisco where her mother would remarry to a telephone lineman, so she grew up with a younger half-sister, in a family greatly affected by The Great Depression. It was during this time that she was taught by her mother how to sing, and during her teens she sang in local bands to supplement the family income. At the age of 16, she became a member of Actor's Equity. After matriculating from Abraham Lincoln High School in 1949, she enrolled for theatre classes at the City College of San Francisco and stayed there for a year. She also took singing lessons at the San Francisco Conservatory of Music and acting classes at the Elizabeth Holloway School of Theatre. During her time at City College, she was elected Miss San Francisco, and also entered the Miss California pageant. Her first television role would come in 1956, when she became a semi-regular on "The Johnny Carson Show".
Television and Film Work
More projects started to come Eden's way, including "The West Point Story", "I Love Lucy", "The Andy Griffith Show", "Perry Mason", as well as "The Tonight Show Starring Johnny Carson". She later starred in the television series "How to Marry a Millionaire" which is based on the film of the same name, then after starring in a play with James Drury, she caught the attention of filmmakers who cast her in "From The Terrace". She was later given a contract by 20th Century Fox, leading to minor roles in "Will Success Spoil Rock Hunter?" and "The Wayward Girl", then starred opposite Barry Coe and Gary Crosby in "A Private's Affair". In 1960, she co-starred with Elvis Presley in "Flaming Star".
The following year, she had a supporting role in "Voyage to the Bottom of the Sea", before starring in "The Wonderful World of the Brothers Grimm". Two years later, she became a part of the production of "Five Weeks in a Balloon", before getting the lead role in the comedy "Swingin' Along". Her last film with 20th Century Fox was in "The Yellow Canary", then made guest appearances for other studios such as Universal, MGM, and Columbia.
Share your birthday wishes for Barbara using #HappyBirthdayBarbaraEden! -Team Eden pic.twitter.com/9rSIEwKERp

— Barbara Eden (@Barbara_Eden) August 23, 2015
I Dream of Jeannie and Later Career
In 1965, Barbara was signed to star in the sitcom "I Dream of Jeannie", in which she played the role of the beautiful genie Jeannie, set free from her bottle by astronaut Anthony "Tony" Nelson played by Larry Hagman, staying with the show for five years and 139 episodes, which considerably enhanced her net worth as well as her professional standing. She then started working on other television projects, including "The Stranger Within" and "Stonestreet: Who Killed the Centerfold Model?", and starred in the feature film "Harper Valley PTA", which led to a television series in 1981.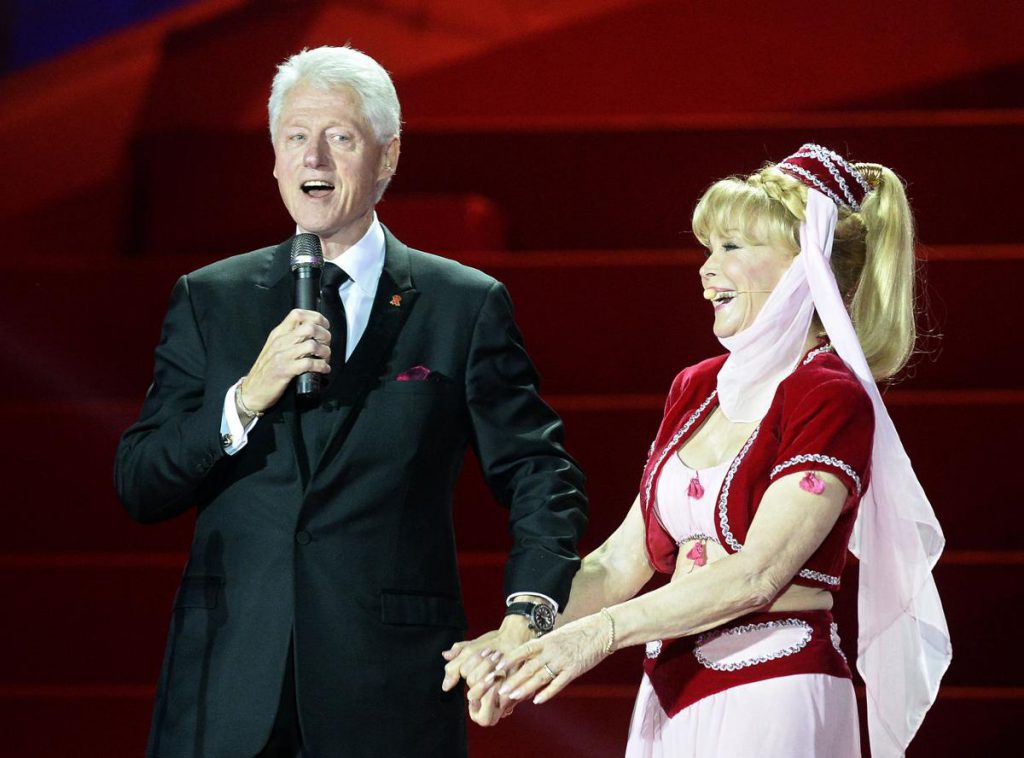 Her work continued throughout the next few decades, leading her to perform in various theatrical productions including "Woman of the Year", "Nite Club Confidential", "The Odd Couple…The Female Version" and "the Sound of Music".  In the 2000s, she appeared in productions such as "Love Letters", leading to a guest starring role in the televisions series "Army Wives". A few of her recent projects include the television movie "Always and Forever", and the 2013 film "One Song". She has also done voice work in her later career, particularly for the series "Shimmer and Shine" playing the role of Empress Caliana.
Personal Life
For her personal life, it is known that Eden has married three times, firstly to actor Michael Ansara from 1958 to 1974, and they had a son together. Three years later she married Charles Fegeret, but they divorced in 1982. Her third marriage is to Jon Eicholtz, since 1991. Eden released a memoir entitled "Jeannie Out of the Bottle" in 2011, detailing most of her career and personal life. She even talks about the death of her only child. She received a Hollywood Walk of Fame Star for her contribution to television.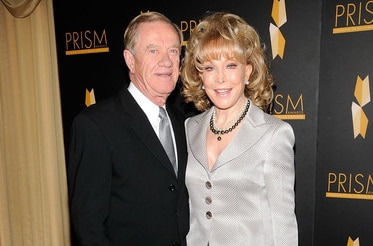 The Riches of Barbara Eden
How rich is Barbara Eden? As of late-2018, sources estimate a net worth that is over $10 million, earned through a successful career in the acting industry. She also worked on numerous films throughout her career, but now appears only in guest roles and chat shows, which may add to her wealth.
General Info
| | |
| --- | --- |
| Full Name | Barbara Eden |
| Net Worth | $8.5 Million |
| Date Of Birth | August 23, 1931 |
| Height | 1.62 m |
| Weight | 120 lbs |
| Profession | Actor, Singer |
| Education | Abraham Lincoln High School, San Francisco Conservatory of Music |
| Nationality | American |
Family
| | |
| --- | --- |
| Spouse | Jon Eicholtz, Charles Donald Fegert, Michael Ansara |
| Children | Matthew Ansara |
| Parents | Alice Mary Franklin, Hubert Henry Morehead |
| Siblings | Alison Scanlon |
Accomplishments
| | |
| --- | --- |
| Awards | TV Land Favorite Dual Role Character Award |
| Nominations | Golden Globe Award for Best TV Star - Female, Golden Globe Award for Best Performance by an Actress in a Television Series - Musical or Comedy |
| Movies | Flaming Star, Harper Valley PTA, 7 Faces of Dr. Lao, The Brass Bottle, Voyage to the Bottom of the Sea, Five Weeks in a Balloon, The Woman Hunter, Ride the Wild Surf, The Wonderful World of the Brothers Grimm, The Stranger Within, From the Terrace, A Private's Affair, I Dream of Jeannie... Fifteen Y... |
| TV Shows | Brand New Life, Harper Valley PTA, I Dream of Jeannie, How to Marry a Millionaire, The Great American Quiz Show, Championship Ballroom Dancing |
Social profile links
Marks
| # | Marks / Signs |
| --- | --- |
| 1 | Bright, melodic voice. |
| 2 | Voluptuous figure |
| 3 | Sparkling blue eyes |
| 4 | Platinum blonde hair |
Quotes
| # | Quote |
| --- | --- |
| 1 | [on Jeannie's pink outfit and how the NBC executives forbid her navel from being exposed] They became very strict about the navel...very strict about the pantaloons. They had to be very shadowed so you couldn't see my legs. |
| 2 | [The advice she's given towards parents after her son died from a heroin overdose] I'm telling them, 'talk to someone who has been through this, and seek help for your child right away'. If you treat this disease early, you can stop it. |
| 3 | [on her son's addiction to drugs, drug rehabilitation, and his death from heroin overdose] He won a lot of battles, but he lost his personal war. |
| 4 | On Jeannie: She's very easy to live with. Actually I think I'm more restricted by her now than when she was on the air, or 20 years after. I was just so busy. |
| 5 | Advice to present-day actors linked to a particular role: I would embrace the character, because it won't do any good if you don't. And another thing: Don't whine or talk trash about it. I don't think you ever demean to your public what you've done. You're insulting them if you demean your work. |
| 6 | Work makes me feel productive, as though I'm contributing something. I like being productive and feeling productive. |
| 7 | I've never stopped working. If you're active, you can appreciate what you did in the past, you don't feel like it's gone. |
| 8 | Out of all the actors I have worked with, I love working with Larry Hagman the most. We were very close and it was just a wonderful time. |
| 9 | If gentlemen prefer blondes then I'm a blonde that prefers gentlemen. |
| 10 | Every New Year's I resolve to have a better year than I had before. |
| 11 | I played the Marilyn Monroe role of "Loco" in How to Marry a Millionaire (1957), though I didn't consider myself as that kind of actress, I approached the role more as a character. |
| 12 | I don't know what I am doing from one moment to the next. I like that not knowing because it's always a surprise. You don't know what's around the corner, you know what role am I going to play next and who am I going to be working with. It's like opening a present. |
Facts
| # | Fact |
| --- | --- |
| 1 | Best friends with Larry Hagman. |
| 2 | Was one month older than her I Dream of Jeannie (1965) co-star Larry Hagman. |
| 3 | Gave birth to her first child at age 31, son Matthew Ansara, on August 29th, 1965. Child's father is her ex-husband, Michael Ansara. |
| 4 | Her mother, Alice Huffman, had her when she was only 16. |
| 5 | Appeared at the 2013 Life Ball in Vienna wearing her I Dream of Jeannie (1965) outfit--and this time she was allowed to show her belly button. |
| 6 | Best known by the public for her starring role as the title character in I Dream of Jeannie (1965). |
| 7 | When she was seven months pregnant with her second baby she found out it wasn't alive. She had to carry the baby six more weeks until it was delivered stillborn. |
| 8 | Had one miscarriage prior to having her son Matthew. |
| 9 | Owns a chocolate Labradoodle named Djinn-Djinn (named after Jeannie's dog on I Dream of Jeannie (1965)). |
| 10 | When her son, Matthew Ansara, was 19 months old, she brought him on stage and sang to him while co-hosting The Mike Douglas Show (1961). |
| 11 | Although she was born Barbara Jean Morehead, she began using the name Barbara Jean Huffman in 1945 and then became Barbara Eden in 1956. |
| 12 | Her grandmother, Frances Elvira O'Leary Franklin, was born in 1879 in Galena, Nevada. |
| 13 | Her grandfather, Charles Benjamin Franklin, was born in Germantown, Pennsylvania in 1870. |
| 14 | Lucille Ball wanted to put Barbara under contract, but she signed with 20th Century-Fox instead. |
| 15 | Received a star on the Hollywood Walk of Fame at 7003 Hollywood Boulevard in Hollywood, California on November 17, 1998. |
| 16 | Miss San Francisco of 1951. |
| 17 | As a child she had to wear glasses, an eye patch and pigtails. Because of this, she became very shy. To help overcome her shyness her mother enrolled her in singing classes. |
| 18 | She and third husband Jon Eicholtz were married in 1991 in San Francisco's Grace Cathedral Church, which Barbara attended as a child. |
| 19 | Ex-mother-in-law of Julie Ansara. |
| 20 | Has a younger sister, Alison Scanlon, who is 12 years younger. |
| 21 | Aunt of Katherine Fugate. Barbara is godmother of Katherine's daughter, Madeleine Barbara Fugate. |
| 22 | Gene Schwam is her friend and manager. |
| 23 | She had a nightclub act for a while after I Dream of Jeannie (1965). She was actually a talented singer, and she performed various kinds of songs in her act. |
| 24 | She did a screen test in May, 1960 for State Fair (1962). |
| 25 | She was inducted into the California Broadcasting Hall of Fame in a special ceremony July 18, 2003. |
| 26 | Barbara's last name was changed from "Huffman" to "Eden" by her first agent. |
| 27 | On Monday, June 25, 2001, her son Matthew Ansara (with first husband Michael Ansara) died of an accidental drug overdose. He was 35. His body was found in his car in a parking lot off a freeway in Los Angeles, California. |
| 28 | Shortly after shooting began on the pilot episode for I Dream of Jeannie (1965), it was learned that she was pregnant. Director Gene Nelson invented a shot he playfully called the "ATB" ("Above the Baby"). "Sometimes," he stated, "We'd have to follow Jeannie's arm across the room". |
| 29 | Graduated from Abraham Lincoln High School in San Francisco, CA, in 1949. |
| 30 | Son was Matthew Ansara (b. 29 August 1965 - d. 25 June 2001). |
| 31 | Her mother, Alice Huffman, was born on August 13, 1915. Barbara and her mother were very close. After her mother developed lung cancer, Barbara took care of her until she died on November 12, 1986. |
| 32 | In addition to playing Jeannie in "I Dream of Jeannie" (1965), she also played Jeannie's "evil twin" sister, Jeannie II. The two were opposite in every conceivable respect, from personality (good/evil) to hair color (blonde/black). |
| 33 | Although she was born Barbara Jean Moorhead, she took her stepfather's last name of Huffman when her mother Alice remarried. |
| 34 | Her parents divorced when she was three and her mother Alice later married Harrison Connor Huffman. |
| 35 | The presence of her belly-button on I Dream of Jeannie (1965) was a non-issue until its existence was questioned, playfully, by columnist Mike Connolly. When Laugh-In (1967) producer George Schlatter decided to premiere it on his show, NBC issued a "No Navel Edict". |
Pictures
Movies
Actress
| Title | Year | Status | Character |
| --- | --- | --- | --- |
| Guess Who's Been Sleeping in My Bed? | 1973 | TV Movie | Francine Gregory |
| The Barbara Eden Show | 1973 | TV Movie | Barbara Norris |
| The Toy Game | 1973 | TV Movie | Barbara Norris |
| The Woman Hunter | 1972 | TV Movie | Dina Hunter |
| A Howling in the Woods | 1971 | TV Movie | Liza Crocker |
| The Feminist and the Fuzz | 1971 | TV Movie | Dr. Jane Bowers |
| Howdy | 1970 | TV Movie | |
| Off to See the Wizard | 1967 | TV Series | Melinda |
| Kismet | 1967 | TV Movie | Lalumne |
| The Rogues | 1965 | TV Series | Sally Cardew |
| Slattery's People | 1965 | TV Series | Lucrezia Kirk |
| Burke's Law | 1963-1965 | TV Series | Vanessa Barrett / Linda Murray / Sylvia Hanson / ... |
| Quick, Let's Get Married | 1964 | | Pia Pacelli |
| Rawhide | 1963-1964 | TV Series | Goldie Rogers / Crystal Simpson |
| The Virginian | 1964 | TV Series | Samantha Fry |
| Ride the Wild Surf | 1964 | | Augie Poole |
| The New Interns | 1964 | | Nurse Laura Rogers |
| The Brass Bottle | 1964 | | Sylvia Kenton |
| 7 Faces of Dr. Lao | 1964 | | Angela Benedict |
| Route 66 | 1964 | TV Series | Margo Stiles / Margo Tiffin |
| Dr. Kildare | 1963 | TV Series | Nurse Judy Gail |
| The Yellow Canary | 1963 | | Lissa Paxton |
| Saints and Sinners | 1962 | TV Series | Nora Love |
| Five Weeks in a Balloon | 1962 | | Susan Gale |
| The Wonderful World of the Brothers Grimm | 1962 | | Greta Heinrich |
| Cain's Hundred | 1962 | TV Series | Terri |
| Target: The Corruptors | 1962 | TV Series | Lili |
| The Andy Griffith Show | 1962 | TV Series | Ellen Brown |
| Adventures in Paradise | 1961 | TV Series | Ginny Grant |
| Voyage to the Bottom of the Sea | 1961 | | Lt Cathy Connors |
| All Hands on Deck | 1961 | | Sally Hobson |
| Swingin' Along | 1961 | | Carol Walker |
| Flaming Star | 1960 | | Roslyn Pierce |
| From the Terrace | 1960 | | Clemmie Shreve |
| Twelve Hours to Kill | 1960 | | Lucy Hall |
| How to Marry a Millionaire | 1957-1959 | TV Series | Loco Jones |
| A Private's Affair | 1959 | | Sgt. Katie Mulligan |
| The Lineup | 1958 | TV Series | Eleanor |
| Father Knows Best | 1958 | TV Series | Marge Corbett |
| December Bride | 1957 | TV Series | Miss Wilson |
| Bachelor Father | 1957 | TV Series | Patricia 'Patty' Robbins |
| Gunsmoke | 1957 | TV Series | Judy Pierce |
| Perry Mason | 1957 | TV Series | Carla Adrian |
| The Wayward Girl | 1957 | | Molly |
| Will Success Spoil Rock Hunter? | 1957 | | Miss Carstairs (uncredited) |
| Crossroads | 1957 | TV Series | Polly Grant |
| The Millionaire | 1957 | TV Series | Billie Walker |
| Bailout at 43,000 | 1957 | | Blonde with Mike at Nightclub (uncredited) |
| I Love Lucy | 1957 | TV Series | Diana Jordan |
| Highway Patrol | 1957 | TV Series | Kathy O'Shea |
| West Point | 1956 | TV Series | Toni DeWitt |
| Back from Eternity | 1956 | | College Girl Journalist (uncredited) |
| Always and Forever | 2009 | TV Movie | Mary Anderson |
| Army Wives | 2007 | TV Series | Victoria Grayson |
| George Lopez | 2007 | TV Series | Ruth |
| Carolina | 2003/I | | Daphne St. Claire (uncredited) |
| Sabrina, the Teenage Witch | 2002-2003 | TV Series | Great Aunt Irma |
| Teamo Supremo | 2003 | TV Series | Evelyn |
| Loco Love | 2003 | | Jackie |
| Gentlemen Prefer Blondes | 1998 | TV Movie | Lorelei Lee |
| A Very Brady Sequel | 1996 | | Jeannie (uncredited) |
| Nite Club Confidential | 1996 | TV Movie | Kay Goodman |
| Dead Man's Island | 1996 | TV Movie | Henrietta O'Dwyer Collins (Henrie O.) |
| Eyes of Terror | 1994 | TV Movie | Jesse Newman |
| Visions of Murder | 1993 | TV Movie | Jesse Newman |
| I Still Dream of Jeannie | 1991 | TV Movie | Jeannie Jeannie II |
| Hell Hath No Fury | 1991 | TV Movie | Terri Ferguson |
| Dallas | 1990-1991 | TV Series | Lee Ann De La Vega |
| Her Wicked Ways | 1991 | TV Movie | Tess O'Brien |
| Opposites Attract | 1990 | TV Movie | Charlie McKeon |
| A Brand New Life | 1989-1990 | TV Series | Barbara McCray Gibbons |
| Your Mother Wears Combat Boots | 1989 | TV Movie | Brenda Andersen |
| The Secret Life of Kathy McCormick | 1988 | TV Movie | Kathy McCormick |
| The Stepford Children | 1987 | TV Movie | Laura Harding |
| I Dream of Jeannie... Fifteen Years Later | 1985 | TV Movie | Jeannie Jeannie II |
| Woman of the Year | 1984 | TV Movie | Tess Harding |
| Chattanooga Choo Choo | 1984 | | Maggie Jones |
| Harper Valley P.T.A. | 1981-1982 | TV Series | Stella Johnson / Della Johnson |
| Return of the Rebels | 1981 | TV Movie | Mary Beth Allen |
| Condominium | 1980 | TV Series | Barbara Messenger |
| The Girls in the Office | 1979 | TV Movie | Lee Rawlins |
| Harper Valley P.T.A. | 1978 | | Stella Johnson |
| Stonestreet: Who Killed the Centerfold Model? | 1977 | TV Movie | Liz Stonestreet |
| The Amazing Dobermans | 1976 | | Justine |
| How to Break Up a Happy Divorce | 1976 | TV Movie | Ellen Dowling |
| NBC Special Treat | 1975 | TV Series | Narrator |
| Let's Switch! | 1975 | TV Movie | Lacy Colbert |
| The Stranger Within | 1974 | TV Movie | Ann Collins |
Soundtrack
| Title | Year | Status | Character |
| --- | --- | --- | --- |
| I Dream of Jeannie | 1967-1969 | TV Series performer - 2 episodes | |
| The Jerry Lewis Show | 1968 | TV Series performer - 1 episode | |
| The Jonathan Winters Show | 1967 | TV Series performer - 1 episode | |
| Kismet | 1967 | TV Movie performer: "Not Since Nineveh" | |
| Highway Patrol | 1957 | TV Series performer - 1 episode | |
Producer
| Title | Year | Status | Character |
| --- | --- | --- | --- |
| The Secret Life of Kathy McCormick | 1988 | TV Movie co-producer | |
Self
| Title | Year | Status | Character |
| --- | --- | --- | --- |
| Worst Cooks in America | 2016 | TV Series | Herself - Contestant |
| Oprah: Where Are They Now? | 2016 | TV Series | Herself |
| Home & Family | 2016 | TV Series | Herself |
| Today | 1983-2015 | TV Series | Herself |
| First Coast Living | 2014 | TV Series | Herself - Guest |
| The Insider | 2013 | TV Series | Herself |
| Entertainment Tonight | 1984-2013 | TV Series | Herself |
| Pioneers of Television | 2008-2013 | TV Mini-Series documentary | Herself / Dancer |
| Access Hollywood Live | 2011-2012 | TV Series | Herself |
| Inside Edition | 2012 | TV Series documentary | Herself |
| From the Mouths of Babes | 2012 | TV Series documentary | Herself |
| Good Day L.A. | 2012 | TV Series | Herself / Guest |
| You Are Not Alone: Strength, Hope and Courage | 2011 | Short | Herself |
| SAG Foundation Conversations | 2011 | TV Series | Herself |
| Today | 2011 | TV Series | Herself - Guest |
| Extra | 2011 | TV Series | Herself |
| Piers Morgan Tonight | 2011 | TV Series | Herself |
| The Talk | 2011 | TV Series | Herself |
| Sidewalks Entertainment | 2011 | TV Series | Herself |
| The Wendy Williams Show | 2011 | TV Series | Herself |
| The Joy Behar Show | 2011 | TV Series | Herself |
| Live with Kelly and Michael | 1988-2011 | TV Series | Herself |
| Good Morning America | 2003-2011 | TV Series | Herself |
| 14th Annual PRISM Awards | 2010 | TV Movie documentary | Herself |
| KTLA Morning News | 2009 | TV Series | Herself |
| Hannity | 2009 | TV Series | Herself |
| The Early Show | 2008 | TV Series | Herself |
| The O'Reilly Factor | 2007 | TV Series | Herself (segment "American TV Icon") |
| TV Land Confidential | 2005-2007 | TV Series documentary | Herself / Herself - Interviewee |
| I've Got a Secret | 2006 | TV Series | Herself |
| Martha | 2006 | TV Series | Herself |
| Access Hollywood | 2006 | TV Series | Herself |
| The View | 2006 | TV Series | Herself |
| TV Land's Top Ten | 2005 | TV Series documentary | Herself |
| Inside TV Land: Tickled Pink | 2005 | TV Movie documentary | Herself |
| The 3rd Annual TV Land Awards | 2005 | TV Special | Edie Britt (segment "Desperate Classic Housewives") |
| Larry King Live | 1986-2004 | TV Series | Herself |
| TV Land Landmarks: Breaking the Mold | 2004 | TV Movie documentary | Herself |
| Biography | 1996-2004 | TV Series documentary | Herself |
| America's Best Mom | 2004 | TV Movie | Herself - Hostess |
| Good Day Live | 2004 | TV Series | Herself |
| The 2nd Annual TV Land Awards | 2004 | TV Special | Herself |
| Hollywood Squares | 2003 | TV Series | Herself |
| Famous Homes & Hideaways | 2003 | TV Series documentary | Herself |
| TV Land Awards: A Celebration of Classic TV | 2003 | TV Special documentary | Herself |
| Inside TV Land: Style and Fashion | 2003 | TV Movie documentary | Herself |
| TV's Most Memorable Weddings | 2003 | TV Movie documentary | Herself |
| Christmas Pageant of Peace | 2002 | TV Movie | Herself |
| Inside TV Land: 40 Greatest Theme Songs | 2002 | TV Movie documentary | Herself |
| Inside TV Land: Taboo TV | 2002 | TV Movie documentary | Herself |
| NBC 75th Anniversary Special | 2002 | TV Special | Herself |
| Intimate Portrait | 2002 | TV Series documentary | Herself |
| Christmas with the Stars | 2001 | TV Movie | Herself |
| TV Land Presents Blast from the Past | 2001 | Video Game documentary | Herself |
| At Home with Barbara Eden | 2001 | TV Short | Herself |
| E! True Hollywood Story | 1998-2000 | TV Series documentary | Herself |
| Donny & Marie | 1999 | TV Series | |
| TV Land's Ultimate Fan Search | 1999 | TV Movie | Herself |
| A Magical Evening with Barbara Eden | 1999 | TV Movie | Herself |
| Championship Ballroom Dancing | 1997 | | Herself - Host |
| To the Galaxy and Beyond with Mark Hamill | 1997 | TV Movie documentary | Herself |
| The Annual Museum of Television and Radio Gala | 1997 | TV Movie | Herself |
| Walt Disney World Very Merry Christmas Parade | 1996 | TV Special | Herself |
| The Rosie O'Donnell Show | 1996 | TV Series | Herself |
| Gottschalks Haus-Party | 1996 | TV Series | Herself |
| WPRI CBS 12 News at 5 | 1996 | TV Series | |
| CBS This Morning | 1996 | TV Series | Herself |
| Mike & Maty | 1996 | TV Series | Herself |
| The Magic of Christmas | 1995 | TV Movie | Herself |
| The Fantasy Worlds of Irwin Allen | 1995 | TV Movie documentary | Herself |
| George & Alana | 1995 | TV Series | Herself |
| TV's All Time Favorites | 1995 | TV Movie | Herself |
| The Geraldo Rivera Show | 1995 | TV Series | Herself |
| Nachtshow | 1994 | TV Series | Herself |
| Late Night with Conan O'Brien | 1994 | TV Series | Herself |
| Bob Hope's Bag Full of Christmas Memories | 1993 | TV Special | Christmas Guest |
| Vicki! | 1993 | TV Series | Herself |
| The 37th Annual Thalians Ball | 1992 | TV Movie | Herself |
| The Howard Stern Show | 1992 | TV Series | Herself - Guest |
| Showbiz Today | 1991 | TV Series | Herself |
| The Chuck Woolery Show | 1991 | TV Series | Herself |
| One on One with John Tesh | 1991 | TV Series | Herself |
| The 40th Annual Miss USA Pageant | 1991 | TV Special | Herself - Hostess |
| Into the Night | 1991 | TV Series | Herself |
| 101st Annual Tournament of Roses Parade | 1990 | TV Movie | Herself - Hostess |
| Bob Hope's Christmas Special from Waikoloa, Hawaii | 1989 | TV Special | Herself |
| The 34th Annual Thalians Ball | 1989 | TV Movie | Herself |
| Crook & Chase | 1989 | TV Series | Herself |
| The Princess Grace Foundation Special Gala Tribute to Cary Grant | 1988 | TV Movie | Herself |
| Bob Hope's USO Christmas from the Persian Gulf: Around the World in Eight Days | 1988 | TV Special | Herself |
| The Oprah Winfrey Show | 1987 | TV Series | Herself |
| The 32th Annual Thalians Ball | 1987 | TV Movie | Herself |
| Win, Lose or Draw | 1987 | TV Series | Herself |
| The Great American Quiz Show | 1987 | TV Special | Herself |
| The New Hollywood Squares | 1987 | TV Series | Herself - Guest |
| Happy 100th Birthday, Hollywood | 1987 | TV Special documentary | Herself |
| Hour Magazine | 1980-1987 | TV Series | Herself |
| The 8th Annual Cable ACE Awards | 1987 | TV Special | Herself |
| Circus of the Stars #11 | 1986 | TV Special documentary | Herself - Ringmaster |
| All-Star Party for Clint Eastwood | 1986 | TV Special | Herself |
| The 38th Annual Primetime Emmy Awards | 1986 | TV Special | Herself - Presenter: Outstanding Supporting Actress in a Comedy Series |
| The Merv Griffin Show | 1974-1986 | TV Series | Herself |
| NBC 60th Anniversary Celebration | 1986 | TV Special documentary | Herself |
| Dance Fever | 1986 | TV Series | Herself |
| It's a Great Life | 1986 | TV Series | Herself |
| The 6th Annual National Songwriter Awards | 1986 | TV Special | Herself - Hostess |
| Orange Bowl Parade | 1985 | TV Special | Herself - Hostess |
| The Fantasy Film Worlds of George Pal | 1985 | Documentary | Herself |
| The Bob Hope Christmas Show | 1985 | TV Special | Herself |
| All Star Blitz | 1985 | TV Series | Herself |
| The Start of Something Big | 1985 | TV Series | Herself |
| 53rd Annual Hollywood Christmas Parade | 1984 | TV Special | Herself |
| Star Search | 1984 | TV Series | Herself - Introducer |
| The Best of Everything | 1983 | TV Movie | Herself - Host |
| Your Choice for the Film Awards | 1983 | TV Special | Herself - Host |
| Women I Love: Beautiful But Funny | 1982 | TV Movie | Herself |
| NBC Family Christmas | 1981 | TV Movie | Herself |
| The John Davidson Show | 1980-1981 | TV Series | Herself |
| Bob Hope's All-Star Comedy Look at the Fall Season: It's Still Free and Worth It! | 1981 | TV Special | |
| The Tonight Show Starring Johnny Carson | 1964-1981 | TV Series | Herself / Herself - Guest / Stella Johnson |
| Men Who Rate a 10 | 1980 | TV Special | Herself |
| Bob Hope's All-Star Look at TV's Prime Time Wars | 1980 | | Herself |
| Dinah! | 1975-1980 | TV Series | Herself |
| The Big Show | 1980 | TV Series | Herself - Host |
| The Alan Hamel Show | 1979 | TV Series | Herself |
| The Hollywood Squares | 1966-1979 | TV Series | Herself - Panelist |
| Everyday | 1979 | TV Series | Herself |
| America 2-Night | 1978 | TV Series | Herself |
| The Bob Hope All Star Comedy Special from Australia | 1978 | TV Movie | Herself |
| The Mike Douglas Show | 1967-1978 | TV Series | Herself / Herself - Actress |
| ABC's Silver Anniversary Celebration | 1978 | TV Special | Herself |
| ABC 25th Anniversary | 1978 | TV Movie | Herself |
| Break the Bank | 1976-1977 | TV Series | Herself |
| The Sonny and Cher Show | 1976 | TV Series | Herself / Various Characters |
| Celebrity Sweepstakes | 1975-1976 | TV Series | Herself |
| Donny and Marie | 1976 | TV Series | Herself |
| Telly... Who Loves Ya Baby? | 1976 | TV Special | Herself |
| Tony Orlando and Dawn | 1975 | TV Series | Herself |
| Out to Lunch | 1974 | TV Movie | Herself |
| Cavalcade of Champions | 1973 | TV Movie | Herself - Presenter |
| Love is... Barbara Eden | 1972 | TV Movie | Herself |
| The Electric Company | 1972 | TV Series | Herself |
| This Is Your Life | 1972 | TV Series | Herself |
| The Glen Campbell Goodtime Hour | 1972 | TV Series | Herself |
| The Bob Hope Show | 1968-1971 | TV Series | Herself |
| Jerry Visits | 1971 | TV Series | Herself |
| The Pet Set | 1971 | TV Series documentary | Herself |
| Changing Scene IV | 1971 | TV Special | Herself |
| Changing Scene III | 1971 | TV Special | Herself |
| Changing Scene II | 1970 | TV Special | Herself |
| Changing Scene | 1970 | TV Special | Herself |
| The Fountain of Groovy | 1970 | TV Movie documentary | Herself |
| Gene Kelly's Wonderful World of Girls | 1970 | TV Movie | Herself |
| The Engelbert Humperdinck Show | 1969 | TV Series | Herself |
| The David Frost Show | 1969 | TV Series | Herself |
| This Is Tom Jones | 1969 | TV Series documentary | Herself |
| The Ed Sullivan Show | 1969 | TV Series | Herself - Audience Bow |
| The Joey Bishop Show | 1968-1969 | TV Series | Herself |
| The Dean Martin Show | 1967-1969 | TV Series | Herself / Himself |
| The Storybook Squares | 1969 | TV Series | Herself |
| The Hollywood Palace | 1968 | TV Series | Herself - Singer |
| Romp!!! | 1968 | TV Special | Herself |
| The Steve Allen Show | 1968 | TV Series | Herself |
| The Jerry Lewis Show | 1968 | TV Series | Herself |
| The Jonathan Winters Show | 1967 | TV Series | Herself |
| The Carol Burnett Show | 1967 | TV Series | Herself |
| The Kraft Music Hall | 1967 | TV Series | Herself |
| P.D.Q. | 1967 | TV Series | Herself |
| The Smothers Brothers Comedy Hour | 1967 | TV Series | Herself |
| The Barrump-Bump Show | 1967 | TV Special | Herself |
| The Andy Williams Show | 1966 | TV Series | Herself |
| Password All-Stars | 1966 | TV Series | Herself - Celebrity Contestant |
| Fractured Flickers | 1963 | TV Series | Herself |
| Here's Hollywood | 1961 | TV Series | Herself |
Archive Footage
| Title | Year | Status | Character |
| --- | --- | --- | --- |
| Entertainment Tonight | 2015 | TV Series | Herself |
| The Sixties | 2014 | TV Mini-Series documentary | Jeannie |
| Army Wives: A Final Salute | 2014 | TV Movie archival | |
| The Definitive Elvis: The Hollywood Years - Part I: 1956-1961 | 2002 | Video documentary | Herself |
| Hollywood Screen Tests: Take 1 | 1999 | TV Movie documentary | Herself (uncredited) |
| Television: The First Fifty Years | 1999 | Video documentary | Herself |
| Bob Hope's Unrehearsed Antics of the Stars | 1984 | Documentary | Herself |
| Bob Hope's World of Comedy | 1976 | TV Movie | Herself |
| Texaco Presents: A Quarter Century of Bob Hope on Television | 1975 | TV Special | Herself |
| A Secret Agent's Dilemma, or A Clear Case of Mind Over Mata Hari | 1965 | TV Movie | Jeannie |
Awards
Won Awards
| Year | Award | Ceremony | Nomination | Movie |
| --- | --- | --- | --- | --- |
| 2003 | TV Land Award | TV Land Awards | Favorite Dual-Role Character | I Dream of Jeannie (1965) |
| 1988 | Star on the Walk of Fame | Walk of Fame | Television | On 17 November 1988. At 7003 Hollywood Blvd. |
| 1972 | Bravo Otto Germany | Bravo Otto | Best Female TV Star (TV-Star w) | |
Nominated Awards
| Year | Award | Ceremony | Nomination | Movie |
| --- | --- | --- | --- | --- |
| 1978 | Stinker Award | The Stinkers Bad Movie Awards | Worst Fake Accent: Female | Harper Valley P.T.A. (1978) |
| 1970 | Golden Globe | Golden Globes, USA | Best TV Actress - Comedy or Musical | I Dream of Jeannie (1965) |
| 1967 | Golden Globe | Golden Globes, USA | Best TV Star - Female | I Dream of Jeannie (1965) |
| 1961 | Golden Laurel | Laurel Awards | Top Female New Personality | 10th place. |
2nd Place Awards
| Year | Award | Ceremony | Nomination | Movie |
| --- | --- | --- | --- | --- |
| 1972 | Bravo Otto Germany | Bravo Otto | Best Female TV Star (TV-Star w) | |
Source:
IMDb
,
Wikipedia