Who is DJ Qualls?
A versatile actor and comedian, who has carved out a niche for himself in Hollywood through a combination of talent, determination, and a unique look, DJ Qualls is probably still known best for his role as Kyle in the hilarious comedy "Road Trip". His character's unforgettable scene in the film's memorable 'French Toast' incident solidified his status as a comedic talent.
DJ Qualls' unique appearance, combined with his undeniable talent, has made him a distinctive figure in the entertainment industry. He's proven his versatility by seamlessly transitioning between comedy and drama, leaving a lasting mark on both genres. Let us tell you more about his journey to success.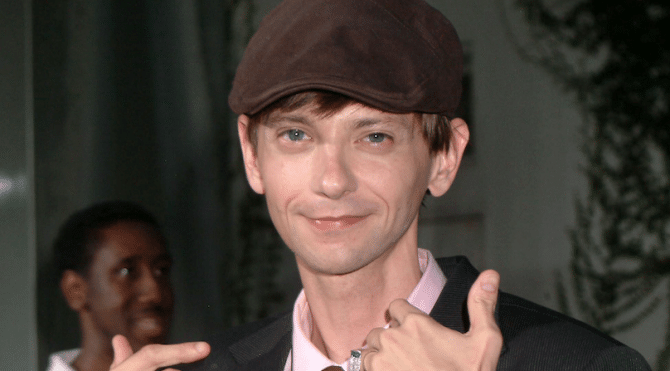 Early life, family, and education
Born Donald Joseph Qualls under the zodiac sign of Gemini on 10 June 1978, in Nashville, Tennessee USA, he holds American nationality, and comes from a family of English, Scottish, Irish, and German descent. Most of his childhood days DJ spent in Manchester, Tennessee, where he was raised by his parents, Janice and Donnie, alongside his four siblings, whose names haven't been disclosed.
When he was 14 years old, DJ was diagnosed with Hodgkin's Lymphoma, a type of cancer. After two years of treatment, luckily his cancer was said to be in remission; as DJ said, the chemotherapy impacted his growth and sped up his metabolism, so this explains his slender frame.
Speaking of his educational background, DJ attended Coffee County Central High School, and upon matriculating in 1996, he enrolled at King's College London, United Kingdom, but subsequently returned to the US. He enrolled at Belmont University in Nashville, from which he graduated with a BA degree in 2000.
Entry into acting and rose to prominence
While at college, DJ began acting in a local theatre company, and made made his first TV series appearance playing Jason in the 1998 TV mini-series "Mama Flora's Family", which was nominated for the Image Award – Outstanding Television Movie or Mini-Series.
Two years later, DJ was cast to play his breakthrough role as Kyle in "Road Trip". Also starring Breckin Meyer, Amy Smart and Seann William Scott, this comedy followed four college buddies who went on a road trip to retrieve a mistaken tape. DJ's character, a shy virgin Kyle, who is in constant fear of his strict father, becomes the audience's favorite.
Come screen Road Trip and ask DJ Qualls all the questions about how he likes his French toast! Tickets available at: https://tickets.thecampevents.com/event/road-trip-screening-and-qa-with-dj-qualls/

Posted by The Camp on Wednesday, October 19, 2022
After this role, DJ worked as a model for popular fashion brands, such as Steve Klein and David LaChapelle, then two years later, he landed the lead role of Dizzy in the comedy "The New Guy", portraying a high school outcast who reinvents himself as a cool rebel after transferring to a new school. His quirky and endearing performance won the hearts of audiences, and his roles then came one after another.
DJ was seen in "Comic Book Villains" (2002), "Chasing Holden" (2003), "Hustle & Flow" (2005), and "I'm Reed Fish" (2006), among others. He was also seen in the music video for the song "Boys" by Britney Spears and Pharrell Williams.
Most notable roles
DJ now has nearly 60 acting credits to his name, and we will highlight some of his most notable performances, such as his portrayal of Kenny Worthington in the 2008 comedy-drama "Familiar Strangers", in which he starred opposite Shawn Hatosy and Tom Bower.
DJ made an appearance as Getz in the world-popular series "Breaking Bad" in 2009, and although he was seen in just one episode, his performance didn't go unnoticed. Later that year, he reprised his role as Kyle in the spin-off entitled "Road Trip: Beer Pong", which didn't achieve the success that the first part had.
During 2010 and 2011, DJ played Davey Sutton in the series "Memphis Beat", seen in 20 episodes of this comedy crime-drama about Dwight (played by Jason Lee) a quirky detective, passionate about blues music, and his close bond with his mother.
From 2011 through 2020, DJ had the recurring role as Garth Fitzgerald IV in the fantasy horror "Supernatural", which had 126 award nominations and 37 wins.
In the following years, DJ was seen in movies such as "Small Apartments" (2012) and "Pawn Shop Chronicles" (2013) before he landed the role of Billy Nugent in the series "Legit". From 2013 through 2014, DJ appeared in 26 episodes of the show, starring opposite Jim Jefferies and Dan Bakkedahl; the show was well-rated by the audience (8.1/10).
DJ followed with his role as Citizen Z/Simon in the comedy-drama series "Z Nation", appearing in 33 episodes between 2014 and 2018.
Concurrently, from 2015 through 2018, DJ played Ed McCarthy in "The Man in the High Castle", a critically acclaimed science-fiction drama about a young woman who finds a mysterious film that could be the key to stopping the totalitarian regime in a dystopian America. The show, also starring Alexa Davalos, Rufus Sewell, and Luke Kleintak, had 56 award nominations and 10 wins, including two Primetime Emmys.
Most recently, DJ was seen starring as Casper in the 2022 movie "Turning Point", and has announced his role as Lou in the upcoming movie "Evilou", written and directed by Andrew Zappin, which is currently in development. To give you a sneak peek, we will tell you that it's a romantic comedy about Lou who decides to undergo plastic surgery after falling in love.
Is he gay? Love life, wife
Speaking of falling in love, DJ is one of those celebrities who have been the subject of various rumors concerning their love life and their sexual orientation. In January 2020, DJ came out as gay through his Twitter post, saying that he's tired of thinking how his sexuality would affect his acting career. Later, he was praised for speaking about his sexuality at a stand-up show of his close friend, Jim Jefferies.
Thus, all those stories about his wife and marriage turn out false. There have been rumors saying that DJ is married to actress Nikki Reed, however, according to them, they are just very close friends, having known each other for over 15 years.
As of September 2023, it seems that DJ is single.
Age, height, and net worth
DJ recently celebrated his 45th birthday. Standing at an impressive 6ft 1in (1.85m) tall, with a slender frame and distinct features, DJ weighs around 140lbs (64kgs). His other trademarks, are his blue eyes and light brown hair.
From his early days to his breakout role in "Road Trip" and subsequent success in both comedy and drama, DJ has proven himself as a multi-talented actor who continues to captivate audiences with his unique charm and undeniable talent. If you have wondered how rich DJ is, reportedly, as of September 2023, his net worth has been estimated at over $5 million.