Who is Talia Balsam?
Talia is an American actress, probably best known for her role as Mona Sterling in the TV series "Mad Men", and for her appearance in the film "No Strings Attached", in addition to many other roles she's had in her career.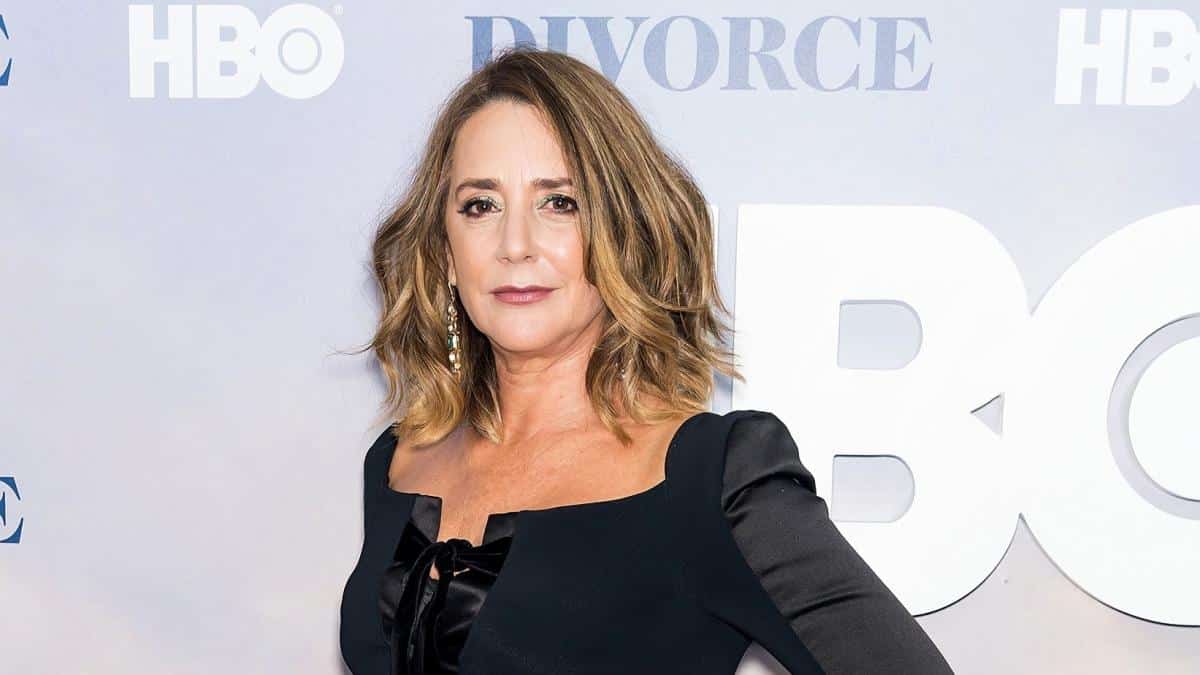 Wiki: Age, Childhood, and Education
Talia Balsam was born on 5 March 1959, in New York City, USA, the daughter of renowned actors Martin Balsam and Joyce Van Patten. Her family background is a mix of Russian Jewish from her father, and Italian, Dutch and English through her mother's ancestry. Talia is also part of a famous acting family, being the niece of Dick Van Patten, Pat Van Patten, and Tim Van Patten, with actress Grace Van Patten her cousin. She attended Treehaven High School, and later studied acting at the Lee Strasberg Theatre and Film Institute.
Career Beginnings
Talia Balsam launched her career with the recurring role of Nancy Croft in the ABC sitcom "Happy Days", She appeared in the episode entitled "Hollywood: Parts 1 – 3" in 1977.
In 1978, Talia Balsam appeared in the TV film "The Initiation of Sarah", featuring main stars Kay Lenz, Morgan Fairchild and Shelley Winters. It revolves around two sisters with psychic abilities who enroll into a university where they become involved in a supernatural rivalry between two sororities.
She continued her career with television roles, appearing in the long-running series "Dallas" (1978), then "The Millionaire", while from 1978 to 1980, she featured in a few episodes of the acclaimed comedy series "Taxi", sharing the screen with Jeff Conaway, Judd Hirsch and others.
In the early '80s, Talia Balsam continued with brief TV appearances, building her portfolio with appearances in "Hill Street Blues", "Cagney & Lacey", and "Family Ties", among others.
Talia portrayed Liz Dolson in the 1984 film "Mass Appeal", stars included Jack Lemmon and Zeljko Ivanek, in the story of a young seminarian who questions his faith and moral values when confronted by a charismatic and unconventional priest.
In 1986, Talia appeared as Lori Bancroft in the film "Crawlspace", featuring Klaus Kinski in a prominent role. It's a suspenseful thriller, in which a landlord with a dark secret terrorizes a tenant in a creepy apartment building.
The same year, she played Pvt. Angela Lejune in "The Supernaturals", with Maxwell Caulfield and Nichelle Nichols among its main stars. In this horror-thriller, a group of soldiers discovers that they are being hunted by vengeful spirits during a military exercise in a haunted forest, leading to a spine-chilling battle for survival.
In 1989, Talia appeared as Catherine Walker. in the film "Trust Me", which featured a notable cast, including Adrienne Shelly and Edie Falco, in a drama that explores the complex dynamics of a struggling actress who forms an unlikely friendship with a 12-year-old prodigy, leading to personal and professional transformations.
The '90s
Talia began the '90s with the role of Emma in the thriller-drama film "Killer Instinct", but for the better part of the decade remained focused on TV roles, appearing in such series as "Stat", "Jake and the Fatman", "Mad About You", and "Diagnosis: Murder".
In 1997 she appeared in the film "Camp Stories", starring Paul Sand, Elliott Gould and Jason Biggs, while from 1998 to 1999, Talia Balsam had a recurring role as Julie Lonner in the medical drama "L.A. Doctors".
The 2000s and Rise to Stardom
In the 2002 film "Emmett's Mark", Talia appeared alongside the main stars Scott Wolf and Gabriel Byrne, in the story of a man named Emmett Young, portrayed by Scott Wolf, who discovers that he has a terminal illness, and decides to take extreme measures to secure his family's financial future.
From 2003 to 2004, Talia Balsam had the recurring role as Maria Malone in the TV series "Without a Trace", stars included Anthony LaPaglia, Poppy Montgomery, and Marianne Jean-Baptiste, in the plot revolving around a specialized FBI task force dedicated to finding missing persons.
Success with "Mad Men"
Talia Balsam's role as Mona Sterling Pike in the critically acclaimed TV series "Mad Men" from 2007 to 2014 marked a significant milestone in her career, propelling her to stardom.
"Mad Men" is set in the 1960s, and revolves around the world of advertising in New York City. The show's ensemble cast includes Jon Hamm, Elisabeth Moss, Christina Hendricks and January Jones, among others. Balsam portrayed Mona Sterling Pike, the ex-wife of Roger Sterling, one of the show's central characters. "Mad Men" garnered numerous awards and nominations during its run, including multiple Emmy Awards for Outstanding Drama Series. Talia Balsam's involvement in this iconic series played a pivotal role in solidifying her status as a respected actress in the world of television.
Continued Success
While Talia Balsam wasn't highly active during her time on "Mad Men", she made a notable appearance in the 2015 film "The Girl in the Book", stars included Emily VanCamp and Michael Nyqvist. The story centers around a young woman who works in the publishing industry, and is forced to confront her past when she's tasked with republishing a book that mirrors her own traumatic experiences.
From 2016 to 2019, Talia Balsam had a recurring role as Dallas Holt in the TV series "Divorce". The series starred Sarah Jessica Parker and Thomas Haden Church in the lead roles, and explores the complexities of marriage and divorce in a comedic and dramatic fashion.
In 2017, Talia Balsam had a recurring role as Anne Ober in the TV series "Z: The Beginning of Everything". This series explores the life of Zelda Fitzgerald, the famous writer and wife of F. Scott Fitzgerald.
Talia then portrayed Suzi in the film "The Climb". The main stars of the film included Michael Covino and Kyle Marvin, who also co-wrote and co-directed the movie.
The film is a unique and darkly comedic take on friendship and life's ups and downs, following the tumultuous relationship between two best friends, Mike and Kyle, over several years.
In the 2020 film "Worth", Talia portrayed Diane Shaff. The movie starred Michael Keaton, Stanley Tucci, and Amy Ryan. It's a drama based on real events, focusing on the aftermath of the 9/11 terrorist attacks. Michael Keaton plays the role of Kenneth Feinberg, who is tasked with determining the monetary value of the lives lost in the tragedy.
In 2021, Talia Balsam appeared in the film "The Many Saints of Newark", portraying Mrs Jarecki in the movie, a prequel to the popular TV series "The Sopranos", which delves into the origins of the iconic mob family. With a star-studded cast, including Michael Gandolfini, Alessandro Nivola and Leslie Odom Jr., the film explores the complex world of organized crime and the characters who inhabit it.
Talia Balsam also portrayed Bonnie in the TV series "Wilderness", which aired in 2023. The show stars Jenna Coleman, Oliver Jackson-Cohen, Ashley Benson and other talented actors.
"Wilderness" follows a twisted love story that takes a dark turn, transforming what seemed like a "happily-ever-after" life into a living nightmare.
In the 2023 film "Late Bloomers", Talia starred alongside Loni Ackerman, Danielle Alonzo, and others. The movie follows an unsettled 28-year-old Brooklynite, who is hospitalised after breaking her hip in a drunken fall. Subsequently, encounters a rude elderly non-English speaking Polish woman, leading to a job caring for her. Despite their initial reluctance, both the young woman and the elderly Polish woman embark on a journey of personal growth and self-discovery.
Net Worth
According to authoritative sources, Talia Balsam's net worth is estimated at $4 million, as of late-2023.
Personal Life, How She Met George Clooney, Marriage, Husband, Children
Talia Balsam and George Clooney met in 1984 during a play. They married in Las Vegas in December 1989, but divorced in 1992 – Clooney said he wasn't good at marriage and took responsibility for the divorce, that Balsam didn't do anything wrong. There were legal complications and he paid significant lawyers' fees.
Talia Balsam has been married to John Slattery since 1998, and they have a son named Harry Slattery. Their wedding took place in Kauai, Hawaii. Interestingly, they both played the roles of husband and wife, Roger and Mona Sterling, in the TV series "Mad Men". Balsam and her family reside in SoHo, Manhattan.
Appearance and Body Measurements
Talia Balsam has red hair and brown eyes. She stands at a height of 5ft 8ins (1.73m), weighs about 165lbs (75kgs), with vital statistics of 37-26-38, and bra size 42D.