Who is Yuridia?
Mexican-American singer Yuridia Francisca Gaxiola Flores was born in Hermosillo, Sonora, on 4 October 1986, making her zodiac sign Libra. She gained recognition after competing in the fourth season of the music competition show "La Academia", finishing second; Yuridia's since become one of the most listened to Mexican singers on the internet.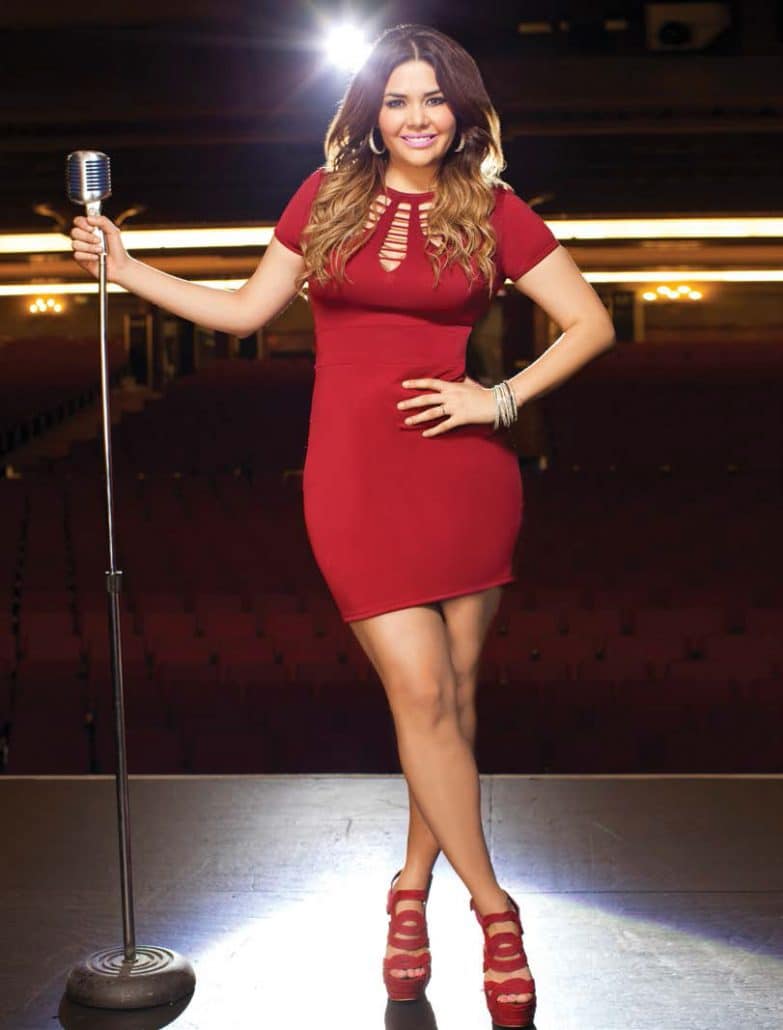 Education and early life
Yuridia was raised in Mesa, Arizona alongside her two sisters and two brothers, all younger than her, by their mother Olimpia Flores and father Genaro Gaxiola; her brother Danny suffered from muscular dystrophy, and died aged 15 in December 2005.
Yuridia fell in love with music at a very early age and performed in a number of her elementary school plays. She enrolled at Mesa High School in 2000, but dropped out during her final year because she wanted to compete in "La Academia".
Not many other details have been disclosed about Yuridia's education, but it's believed that she took and passed her GED tests in 2004; then continued being focused on music rather than enroll at college.
Yuridia's career
Having built a fanbase for herself thanks to her success in the show "La Academia", Yuridia released her debut album "La Voz de un Angel" in 2005, and it became a hit; it was #2 best-selling album in Mexico in 2006, and remains today one of the fastest-selling Mexican albums of all time. The album has since been certified double diamond (in Mexico) as has sold more than 1.5 million copies, breaking the record that Mexican singer and actress Ariadna Thalia Sodi Miranda had set in the '90s.
Yuridia's second album, "Habla El Corazon" followed on 5 December 2006, after she'd signed a contract with Sony BMG; the album includes several cover songs from artists The Police and Bonnie Tyler, it's sold close to 700,000 copies, and has been certified platinum thrice. The album peaked at #14 on the US charts, while its lead single "Como Yo Nadie Te Ha Amado" peaked at #16 on the Billboard Hot Latin Tracks Chart.
#Yuridia @yuritaflowers #NoLeLlamesAmor @SpotifyMexico @iTunesMusicMx @AppleMusicES @YouTubeMexico @googlemexico pic.twitter.com/2fZb2oBVgw

— Yuridia Music (@YuridiaMusic) November 9, 2019
Her #3 album "Entre Mariposas" came out on 15 November 2007 and its lead single "Ahora Endendi" became a hit; her second single "Yo Por El" topped the charts in Mexico and Central America, and her third single "En Su Lugar" peaked at #4. The album sold more than 50,000 copies in only a day, and has since sold close a million copies worldwide, being certified platinum four times.
Yuridia was then nominated for several awards, including a Lo Nuestro Music Award, a Premios Juventud Latin Billboard Award and a Latin Grammy; she won a Latin Billboard Award for Best Pop Female Album on 26 April 2007, and a Premios Oye Award for Female Artist of the Year in December 2008.
Yuridia's fourth album "Nada es Color de Rosa" was released on 30 September 2009 but wasn't nearly as successful as its predecessors; it's since sold a few over 120,000 copies.
It was revealed in 2016 that Yuridia was leaving TV Azteca after nine years, and would be joining Televisa, but she returned to TV Azteca on 27 April 2022 to coach on the singing competition show "La Voz"; the girl Fatima Elizondo whom Yuridia coached won the show.
YouTube channel
Yuridia's highly popular on YouTube; she launched her self-titled channel on 8 February 2008 and it's today subscribed to by over 3.5 million people. All her 48 videos combined have been watched close to 4.5 billion times, and we're about to cover three of the most viewed amongst these, as they've helped her become popular on the network.
Yuridia's #1 video, "Yuridia – Amigos No por Favor (Primera Fila) (En Vivo)" was uploaded on 20 October 2017, and has since been watched close to 650 million times; it features her performing one of her personal favorite songs live – "Amigos No por Favor".
Her second most popular video is "Yuridia – Ya Te Olvidé", uploaded on 7 December 2011 and has since been watched nearly 600 million times.
Yuridia's #3 video "Yuridia, Angela Aguilar – Qué Agonía (Video Oficial)" was posted on 21 October 2022 and has since been viewed more than 460 million times.
Love life and husband
Yuridia rarely speaks about her love life in public, but we still know about two men whom she's been with. She met Mexican singer Edgar Guerrero on "La Academia", and they began dating not long after that; Yuridia gave birth to their son Phoenix in 2009, and he released his first song aged 13 in 2022. Yuridia named her son after her favorite actor, Joaquin Phoenix.
She confirmed in December 2019 that she'd married Argentinian Matias Aranda, with whom she had previously been in a seven-year relationship, and who was also her manager. Yuridia gave birth to their son Benicio on 13 July 2023.
There are no other men whom Yuridia's perhaps been with, that we know about; she's married to Matias Aranda as of August 2023 and they have a son together, while she also has a son with former boyfriend Edgar Guerrero.
Interesting facts and hobbies
More than 220,000 people are today following the Instagram page 'Yuridia Music', and more than 1,600 pictures and videos have been uploaded onto it; most of Yuridia's content features her spending time with her husband and sons.
She's a fashionista, and loves going shopping for clothes; Yuridia reads several fashion magazines on a daily basis.
One of her main hobbies is travelling, and she's been to a number of US states and South American countries.
Yuridia enjoys volunteering with charity organizations in her spare time mostly into helping children.
One of her favorite actresses is Eva Longoria, and some of her favorite movies include "Harsh Times", "The Sentinel" and "Over Her Dead Body".
Appearance and wealth
Yuridia's age is 36. She has blue eyes and brown hair, is 5ft 10ins (1.83m) tall and weighs around 190lbs (85kgs).
Yuridia's net worth's been estimated at over $300,000, as of August 2023.