Lanie Gardner is an American singer, who went viral in October 2020 when she uploaded her cover of the "Dreams" song by the music group Fleetwood Mac. That was her big break, as she had been uploading song covers to YouTube since 2016. Moreover, Lanie has lived for years in Nashville, Tennessee, the place with the nationwide "Music City" label, trying to become an established singer and songwriter.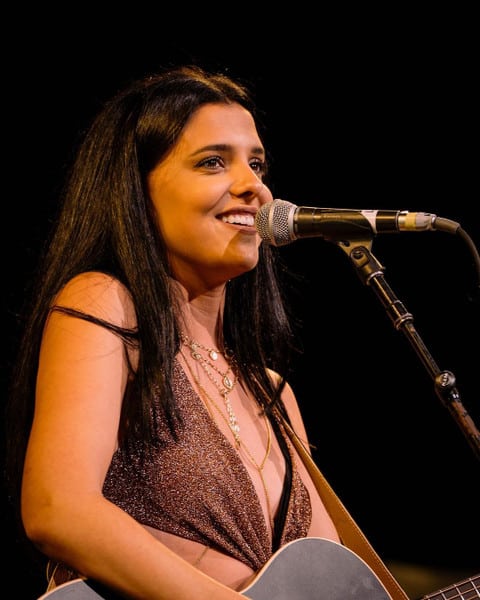 She had high hopes for the cover, but couldn't have expected such rapid success. Fleetwood Mac is one of her favorite bands, and the song became her new favorite when the original returned to the charts. Her video quickly gained millions of views on YouTube, and grew in popularity after TikTok users saw it. One such person was Kevin Jonas Sr., the father of the three Jonas Brothers members, Nick, Joe and Kevin Jr. He signed Lanie to Jonas Group Entertainment, his talent and management agency, and so really launched her career.
Lanie might have auditioned for "America's Got Talent" – commonly referred to as "AGT" – but her performance wasn't televised and didn't garner wide attention. Regardless, her career is on the upswing; Lanie is signed to a recording label, has toured as the opening act, and released original singles in 2023 in preparation for a potential studio album.
Lanie's cover of "Dreams" by Fleetwood Mack has amassed over 44 million views on YouTube as of September 2023, and over 100 million streams across several platforms, according to Jonas Group Entertainment. The version of the song with David Guetta and MORTEN, released two months after her cover, also has millions of streams on audio streaming platforms such as Spotify and Apple Music. Her performance even reached Mick Fleetwood, who commented, 'Absolutely blown away by this.' When they video called, Lanie responded that 'she was honored to speak with such a beautiful soul and mind and speechless because he truly is a legend.'
Many viewers praised her vocal prowess, and even suspected that she was lip-synching because she sounded so similar to Stevie Nicks, the original vocalist. Due to high demand, Lanie released her second Fleetwood Mac cover in December 2020, this time choosing the song "Rhiannon."
She started young
Lanie Gardner was born on 18 July 1999, in Burnsville, North Carolina, USA, and has three siblings: sisters Aleigha and Brook and brother Austin. Their father, Rodger, is a businessman, and mother Ashley a housewife. Lanie said that her love for music came from her grandfather, and that she began singing at four.
Her mother later explained, 'Music is in her blood. When other children dreamed of being astronauts and firefighters, Lanie never wavered from wanting to be a singer.' Lanie confirmed this, and added that she began songwriting at 12, then started performing at local venues, and recording demos. She mentioned that she turned her room into a makeshift recording studio at 14, to help her improve the quality of her work, but that she also enjoyed playing volleyball.
YouTube was crucial
Lanie posted several covers after moving to Nashville, suggesting that she knew that many talent scouts looked for candidates online. She created her YouTube channel, @whoislanie, on 5 January 2016, and uploaded her debut music cover, "7 Years" by Lukas Graham, on 7 March that year. Lanie waited several months to upload covers of "This Town" by Niall Horan, and "Passionfruit" by Drake. A three-year break followed before she released others, including "Dreams." In hindsight, Lanie may have deleted videos of performances that she wasn't proud of.
However, she couldn't have predicted that "Dreams" would be taken so seriously. Lanie recorded it to reference another viral video, which was evident because she took a swig of Ocean Spray Cranberry Cocktail before singing. That was an apparent nod to a fellow TikTok creator, Nathan Apodaca, @420doggface208. Nathan had recorded himself drinking cranberry juice while riding a skateboard down a highway only days before. He turned the camera on while returning from his shift at the potato factory in Idaho Falls, not expecting anyone to see it. His video launched his career as a social media influencer, and he now has over 7.6 million followers on TikTok.
She sometimes tested the waters
Lanie occasionally gauged her audience's opinion by uploading original songs, or snippets of tracks that she was working on, or had recorded in a rush of inspiration – the two most notable are "Purple Clouds" and "SAFE." The former is a solo song released on 12 August 2020, which describes stages of depression and is deeply personal, as she wanted to let her audience know that they were not alone in their struggle. The latter was uploaded on 28 December 2021, and she performed it with the Grammy Award-winning singer-songwriter Marcus Hummon at the height of the COVID-19 pandemic to give people hope. It was also an early song that she co-wrote.
David Guetta got involved
It's uncertain whether someone alerted the well-known French DJ David Guetta of Lanie's viral cover, or if he noticed it himself. Whatever the case, he practically demanded that Lanie join him and a fellow DJ from Denmark, MORTEN, to create a unique version of "Dreams." They released it on 4 December 2020, and it had a million streams on Spotify within 72 hours. Lanie promised to release another Fleetwood Mac cover when the song reached that point, and she uploaded "Rhiannon" onto YouTube on 8 December.
The Jonas family helped her
As mentioned, Kevin Jonas Sr. became Lanie's manager and talent agency through Jonas Group Entertainment. However, his son – singer and actor Joe Jonas – also had an important role. He and the members of his music group DNCE secured her a recording contract with their imprint label with Republic Records, entitled Let's Get It Records. Additionally, the Jonas family hired her as the opening act on several Jonas Brothers' Remember This tour shows, starting in September 2021.
this is officially my favorite outfit from tour… what's yours?#rememberthistour pic.twitter.com/yWlpChPhyB

— lanie gardner (@whoislaniee) October 14, 2021
Jonas Group Entertainment announced that Lanie 'is mixing her classic rock and country roots with her goofy, laid-back, and magnetic personality to captivate audiences.' Lanie said, 'Everything is happening so fast. It's intense, but I'm down for the ride. I've waited my whole life for it!' Opening for Jonas Brothers on a tour date in New York City allowed for her first visit to the Big Apple – she immediately noticed how annoying the traffic was.
Lanie also played at her first festival, Shaky Knees, in Atlanta, Georgia, and attended her first red-carpet event in the second half of 2022 – the opening of the Nellie's Southern Kitchen location in Las Vegas, Nevada. That was expected, as it is a Jonas family restaurant chain that promises locally sourced meals that demonstrate Southern hospitality. She was also the opening act on artist Jelly Roll's tour, a performer at the 2023 CMA Fest, and the honorary guest for the Nashville Stampede in the second half of 2023. During those times, she presented unreleased tracks that she'd written, such as "Cry," "Boys Like You," and "Prim and Proper."
UFC featured her
When the audiences tuned in to watch the Ultimate Fighting Championship (UFC) bout in September 2023, between Cory Sandhagen and Rob Font, some spotted Lanie and her brother in the audience. The camera briefly stopped to focus on her, and she began cheering for the upcoming fight. She also uploaded a behind-the-scenes video to hype-up her TikTok followers in early August. Dana White, the company's president, licensed her song "Daughter of a Gun" to introduce the match between two female UFC fighters, Shevchenko and Grasso; Lanie used the opportunity to meet him backstage afterwards.
She is a student
Despite her success as a singer, songwriter, and social media star, she recognizes the importance of education. Lanie shared that she attended Middle Tennessee State University in Murfreesboro, and switched her audio from audio production to music business in 2022. Unconfirmed information suggests that she's matriculated from Mountain Heritage School in Burnsville, North Carolina.
She was in a relationship
According to one music news outlet, Lanie had a boyfriend named Max Rauch. However, she's deleted all traces of him from social media, suggesting that they broke-up. Furthermore, Lanie posted about her disappointment that actor and stand-up comedian Matt Rife had a girlfriend in July 2023, possibly indicating that she had a crush on him, and was open to a new romance.
Lanie has a crush
While the pandemic hindered her ambition, in 2022, her fans heard one single, "Better Luck Next Guy". Lanie also premiered her song "Six Feet Deep" while playing her guitar at The Listening Room Cafe in Nashville on 28 March 2022, performing it as part of the Song Suffragettes, a female singer and songwriter round held every Monday night
Thankfully, Lanie is much more productive this year; she released another single and an accompanying music video, "Roses & Wildfire," in March. While it had rock influences, it sounded much closer to the country. Lanie then presented lyrics to the still unreleased song, "Life Feels Like a Circus," on the lyrics-collecting website Genius.com around May. Her next single, "Daughter of a Gun," released on 18 August 2023, undoubtedly sounded like classic rock, indicating that Lanie wants to experiment with genres and please all her fans.
Lanie is enjoying her success
Lanie updates her fans on what she's up to via social media such as Instagram and TikTok. It's evident that she finds time to enjoy life, do her favorite activities, and meet her heroes. Lanie explained on her birthday this year that she's 'still acting a fool at 24 and isn't sorry about it'. However, she'd never forgotten her roots and the few friends she met when she moved from North Carolina to Tennessee. She still asks them for their opinions on her songs, which keeps her grounded.
Lanie enjoys golfing and collecting necklaces, and is a dog person. Also, she shared that fellow singer and musician, Nicolle Galyon, gifted her a Gibson Hummingbird, which was her and her father's dream guitar. Another critical fact is that the previous user of the already-named guitar, Charlie, is the American singer, songwriter, and guitarist Miranda Lambert. Lanie met Miranda, her idol, during the soft opening of Miranda's bar in 2021. She said that she was so starstruck that she could only muster mumbling, 'It was very, very nice to meet you.' To celebrate that occasion, Lanie covered "Hell on Heels" by Miranda's girl band Pistol Annies; Cher is another favorite recording artist of hers.
Moreover, Lanie happily shared advice that helped her get to where she was, and had a deep conversation with The Section Podcast host Mike Artime on 7 December 2022. Additionally, she sang the National Anthem during the Vanderbilt Football game between South Carolina and Vandy around that time. She honored the national military troops and veterans and felt special, as it was her first performance of "The Star-Spangled Banner" after about a decade; she previously sang it at 13 inside a North Carolina high school.