Who is Jason Isaacs?
Jason is a British actor, perhaps best known for his role as Lucius Malfoy in the "Harry Potter" film series. In addition to this iconic role, Jason has appeared in a variety of film and television projects, including "The Patriot", "Star Trek: Discovery", and "The OA". He's also recognized for his extensive work in voice acting for animated series and video games. Throughout his career, Jason has earned a reputation for his versatile performances, often portraying antagonistic or morally complex characters.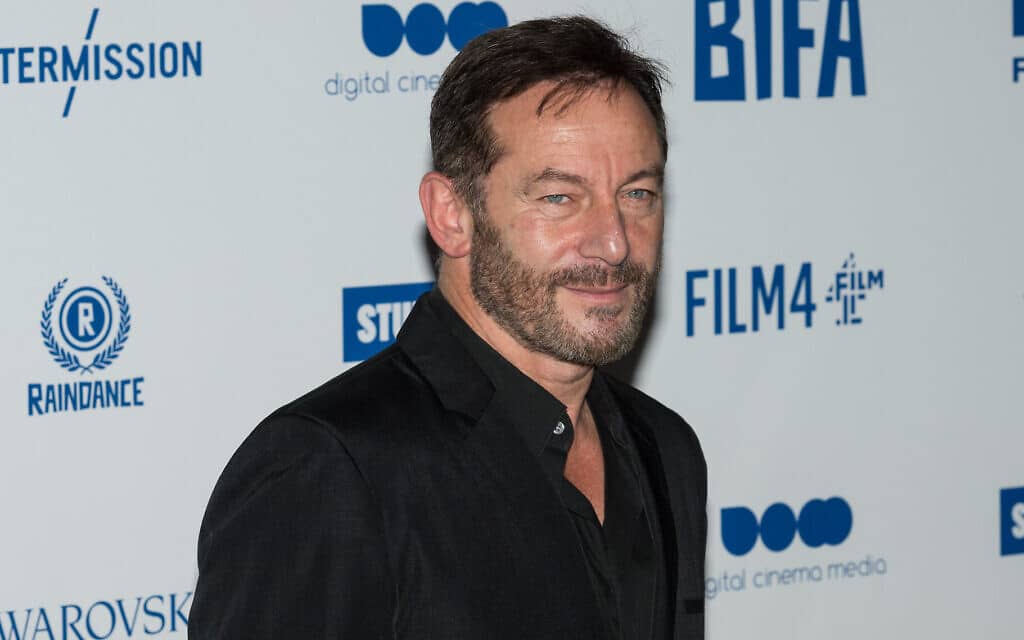 Early life and education
Born in Liverpool, England, on 6 June 1963, Jason grew up as one of four sons in a Jewish family.  He spent his early childhood in Childwall, a Jewish suburb of Liverpool, co-founded by his great-grandparents who emigrated from Eastern Europe. When he was 11 years old, the family moved to London, where he attended Haberdashers' Aske's Boys' School, alongside future actors and comedians Sacha Baron Cohen, Matt Lucas, and David Baddiel.
Jason's early aspirations weren't geared towards acting. Instead, he first pursued a degree in law at the University of Bristol, following in the footsteps of his older brothers. During his time there, he slowly began to dabble in theater, parallel to his studies, establishing the foundation for his future in acting. After graduation, his passion for the arts led him to the prestigious Central School of Speech and Drama in London, where he trained from 1985 through 1988.
Roles in movies
After establishing himself in theatre, Jason moved to on to building a career in the film industry, making his debut in the 1989 comedy "The Tall Guy". Five years later, he played a supporting role in the crime action drama "Shopping", written and directed by Paul W. S. Anderson, and which starred Jude Law in one of his earliest film roles.
Jason's breakthrough came in 1997, when he appeared alongside Lawrence Fishburne and Sam Neill, in the popular horror sci-fi thriller "Event Horizon", setting the stage for more prominent future roles. In the following year, he played the role of Ronald Quincy in the sci-fi blockbuster "Armageddon".
Another notable role for Jason was in the 2000 historical drama "The Patriot", based on several real-life events and figures from the Revolutionary War era. In the movie, Jason plays the role of Colonel William Tavington, a brutal and ruthless British cavalry officer who becomes the primary antagonist of the film. Tavington's character is partly inspired by the real-life British officer Banastre Tarleton, known for his aggressive tactics and controversial actions during the war.
Arguably Jason's most recognizable role, his portrayal of Lucius Malfoy began in 2002 with "Harry Potter and the Chamber of Secrets", the second installment in the popular movie franchise, based on J. K. Rowling's books. Lucius Malfoy is a pure-blood wizard, a member of the wealthy and influential Malfoy family, which places significant importance on blood purity. He is a loyal supporter of Lord Voldemort and holds a high rank among the Death Eaters. Jason would go on to reprise the role in six more "Harry Potter" movies, earning recognition for his portrayal of cunning and villainous wizard.
In 2003, Jason starred in "Peter Pan". In this adaptation of J.M. Barrie's classic tale, Jason took on the dual roles of Captain Hook and Mr. Darling, a tradition stemming from the original stage plays, giving him a chance to showcase his acting range and versatility in a single movie.
In the following years, Jason had prominent roles in films such as "Nine Lives" (2005), "Friends with Money" (2006), and "Good" (2008).
A lesser-known gem in his filmography, the 2010 BAFTA-nominated indie film "Skeletons" saw Jason in a unique role. As Georg, he and his partner were tasked with extracting hidden secrets from people's pasts, leading to a surreal, thought-provoking journey.
In 2014, Jason appeared alongside Shia LaBeouf and Brad Pitt in critically-acclaimed WWII drama "Fury", written and directed by David Ayer.
Three years later, Jason played the role of Field Marshal Zhukov in "The Death of Stalin", a dark historical comedy set in Moscow, Russia in 1953 and which centers on the power struggle between USSR officials following Stalin's passing.
In 2021, Jason took on one of the lead roles in the drama "Mass", written and directed by Fran Kranz and which tells the story of parents of a school shooter meeting with parents of one of his victims, in an attempt to move forward. The film earned strong reviews for its unique approach to this difficult subject, and the acting performances by the main cast.
Most recently, in 2023, Jason appeared in the drama "Spinning Gold", a biopic of the famed record producer Neil Bogart, one of the founders of Casablanca Records.
Roles in TV series
Although he is primarily known for his film roles, Jason has also made a mark with his small screen appearances. He made his debut in 1988, when he played a minor role in an episode of the British series "This Is David Lander". Just a year later, he landed his first starring role, in the legal drama "Capital City", which follows personal and professional lives of ambitious employees of a London-based investment bank.
After the series concluded in 1990, Jason continued to appear in minor roles in several TV series, such as "The Bill" (1992), "Dangerous Lady" (1995), and "The Last Don II" (1998). In the early 2000s, Jason was primarily focused on his film career, only making a guest appearance in the soap opera "The West Wing" in 2004.
Things changed after his leading role as Mark Brydon, the British Ambassador to the United States, in the political thriller mini-series "The State Within" (2006).
In the same year, Jason joined the cast of "Brotherhood" (2006-2008). In this American crime drama series, Jason portrayed Michael Caffee, a professional criminal who returns to his old neighborhood after a self-imposed exile. The series delves into the complexities of brotherhood, politics, and crime, and Jason's portrayal was praised for its intensity, showcasing his ability to handle morally ambiguous roles.
Perhaps one of his most complex roles, Jason starred as Detective Michael Britten in "Awake". Living in dual realities after a traumatic car accident, Britten finds himself oscillating between two worlds – one in which his wife survived, and another where his son did. Jason's portrayal was critically acclaimed, highlighting his ability to tackle psychologically demanding roles.
Another notable role for Jason, was in the BBC crime drama "Case Histories" (2011-2013), based on Kate Atkinson's novels in which he starred as private detective Jackson Brodie.
In early 2016, Jason starred in Netflix's supernatural drama "The OA", playing the morally complicated Dr. Hunter Aloysius Percy, or Hap, a scientist obsessed with near-death experiences.
In 2017 and 2018, Jason appeared the role of Captain Gabriel Lorca, in "Star Trek: Discovery" the seventh series in the iconic "Star Trek" franchise set roughly a decade before the events of the original "Star Trek".
More recently, in 2021, Jason appeared in three episodes of the popular coming-of-age series "Sex Education", then in the following year, he starred opposite Sophia Bush in the only season of the medical drama "Good Sam", while in 2023 he appeared alongside Tom Holland and Amanda Seyfried, in four episodes of the true crime series "The Crowded Room".
Voiceover roles
Behind the scenes, Jason has lent his voice to a diverse array of characters in animation and video games. Jason's first experience with voice acting came in 1991, when he lent his voice to Lajendra in the English dub of the Japanese anime film "Arslan Senki"; he would go on to reprise the role in the 1992 sequel "Arslan Senki II", and the animated series "The Heroic Legend of Arislan" (1993-1995).
During the 2000s, Jason did voice acting for various video games, including "Reign of Fire" (2002), "Future Tactics: Uprising" (2004), and "Spartan: Total Warrior" (2005). Also in 2005, Jason voiced Admiral Zhao in the popular cartoon series "Avatar: The Last Airbender".
In 2010, he voiced Satan in the English version of the Japanese horror adventure video game, "Castlevania". Ten years later, he returned to the franchise, for the "Castlevania" animated series, this time voicing 'The Judge'.
In the recent years, Jason has been very active as a voice actor, with some of his credits including the movies "Koko: A Red Dog Story", and "Occupation: Rainfall", animated series "Robot Chicken", "American Dad!", and "The Boys Present: Diabolical", as well as video games "The Last Worker" and "Midnight Suns".
Love life and relationships
Jason has always maintained a level of discretion about his personal life. However, it's known that he is married to documentary filmmaker Emma Hewitt. The two have been dating since their college days, and married in 2001, 14 years into their relationship. The couple has two daughters, Lily born in 2002, and Ruby in 2005.
Substance abuse issues
Despite his professional achievements, it wasn't all sunshine and roses for Jason. Behind the scenes, he grappled with alcoholism and drug addiction for more than 20 years, a struggle he opened up about years later. He traces his first experience with alcoholism back to the first time he tried alcohol, at the age of 12, when a bartender gave him a bottle of Southern Comfort.
By the time he turned 16, Jason reveals, he was already done with alcohol and started having a 'love affair' with drugs. At his lowest, he would care more about fulfilling his drug habit than about the people around him. That realization pushed him to seek help for his addiction, and rebuild his relationships. Today, Jason has been more than 20 years sober.
Interesting facts and hobbies
When he isn't in front of the camera, Jason has a myriad of interests. He's an ardent supporter of his hometown's football club, Liverpool FC, and often takes to Twitter to share his thoughts on their matches.
Jason is also an accomplished musician, known to play the guitar and harmonica.
In interviews, he's shared his love for cooking, often experimenting with new dishes for his family.
Additionally, he's known for his charitable endeavors, working with organizations to promote various causes close to his heart.
Net worth
As of August 2023, Jason's net worth is estimated to be in the range of $8 million, a testament to his successful career spanning movies, TV shows, and stage performances. The bulk of this wealth can be attributed to his roles in high-grossing films and lucrative TV contracts, coupled with his voice-over work in animated series and video games.