Who is Lou Sulola Samuel?
Lou Sulola Samuel is the daughter of famous supermodel and actress Heidi Klum and British musician Seal; her parents were one of the most famous celebrity couples of their time, but they separated in 2012. Lou Sulola and her siblings are often kept out of the spotlight to protect their privacy, but they sometimes make public appearances with their parents. Despite her parents' fame, Lou and her siblings are raised with a focus on normalcy and privacy.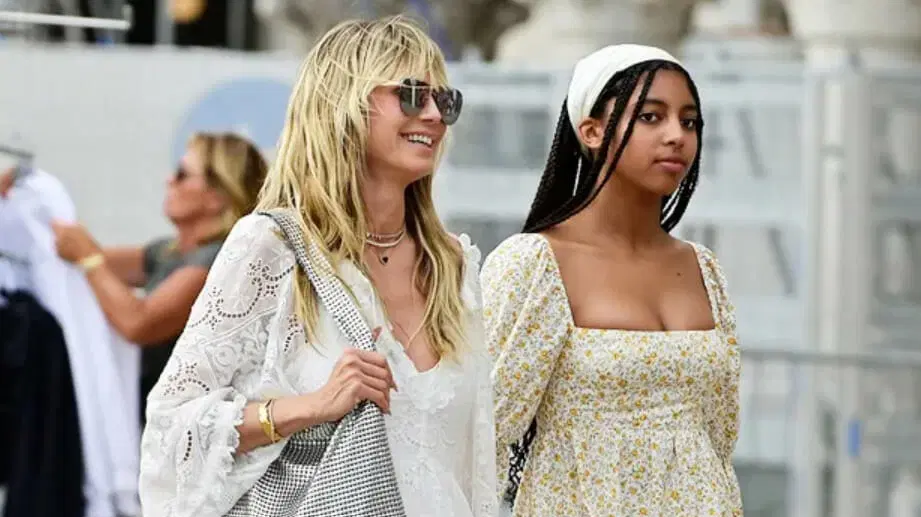 Early Life
Born on 9 October 2009, Lou is the youngest of Heidi Klum's four children, and the second child she shares with ex-husband Seal. Her parents, famously renewed their vows every year in lavish ceremonies, and their love for each other seemed to be unshakeable. However, despite their public displays of affection, the couple parted ways, said to be amicably, with both parents committed to co-parenting their children.
Growing up with famous parents comes with its own set of challenges. For Lou, this meant having to deal with the paparazzi following her and her family around, all the while navigating the ups and downs that came with her parents' separation. Despite these challenges, both Heidi and Seal have made a conscious effort to keep Lou and her siblings out of the spotlight as much as possible, allowing them to grow up in a relatively normal environment.
Life Away from the Spotlight
While many celebrity children capitalize on their fame through social media, Lou and her siblings are a rare exception. Heidi Klum has been very vocal about her decision to keep her children's lives private, and she rarely shares photos of them on her social media accounts. When she does, their faces are often obscured or turned away from the camera, to protect their privacy.
Despite their parents' fame, Lou and her siblings do lead a relatively normal life. They attend regular schools, participate in extracurricular activities, and spend time with their friends and family. Both Heidi and Seal have been very involved in their children's lives, often sharing parenting duties, and making a conscious effort to be present for important events and milestones.
Future Prospects
As of now, Lou is still a child, and her future prospects remain largely unknown. She's currently focused on her education, and is attending a private high school in New York City.
While Lou's future remains uncertain, it seems that she has a strong support system in place. With supportive parents who are both successful in their own right, as well as a tight-knit group of siblings, Lou has all the tools she needs to succeed in whatever path she chooses to pursue.
Heidi Klum Wiki Bio
Heidi Klum is a name synonymous with beauty, fashion, and entertainment. Born on 1 June 1973, in Bergisch Gladbach, North Rhine-Westphalia, Germany, Heidi has built a successful career as a supermodel, television personality, producer, businesswoman, and actress. However, despite her public persona and a busy professional life, Klum also prioritizes her role as a mother to her four children, including Lou Sulola Samuel.
Heidi Klum's journey to stardom began in 1992, when she won the 'Model 92' competition, beating out 25,000 other contestants. This victory earned her a modeling contract worth $300,000 with Metropolitan Models New York, so after finishing school, she began to pursue modeling as a full-time career, and moved to the United States.
Her breakthrough moment came in 1998 when she appeared on the cover of the "Sports Illustrated" Swimsuit Issue, which catapulted her into international fame, and solidified her status as one of the world's top models. Over the years, Klum has graced the covers of numerous magazines, including "Vogue", "Elle", and "Marie Claire".
While modeling was her entry into the entertainment world, Heidi quickly branched out into other areas of entertainment and business. She has appeared in several TV shows and movies, often playing herself, or making cameo appearances.
In 2004, Klum became the host and a judge of the TV reality show "Project Runway", a role that earned her an Emmy nomination. She hosted the show for 16 seasons before moving on to become a judge on "America's Got Talent", another popular TV reality show.
In addition to her work in television, Klum has also been involved in various business ventures. She has her own lines of clothing, jewelry, and beauty products. Furthermore, she's been involved in various charitable activities, including working with organizations such as the American Red Cross and United Nations Children's Fund (UNICEF).
Heidi Klum has been married twice – her first marriage was to celebrity hairstylist Ric Pipino in 1997, but the couple divorced in 2002. She then entered into a relationship with Italian businessman Flavio Briatore, with whom she had a daughter, Leni, in 2004. However, their relationship ended before Leni was born, and Klum started dating British musician Seal.
Heidi Klum and Seal married in 2005 in a beach ceremony in Mexico. The couple has three children together: Henry, Johan Riley, and Lou Sulola, but announced their separation in 2012, and finalized their divorce in 2014.
In interviews, Klum has spoken about the challenges of balancing motherhood with her career. She has said that while it's not always easy, it's important to her to be a hands-on mother, and so be there for her children as much as possible.
As of September 2023, her net worth is estimated at more than $160 million.
Seal Wiki Bio
Seal Henry Olusegun Samuel, known as Seal, was born on 19 February 1963, in Paddington, London, England. He's a British singer-songwriter, and has sold over 20 million albums worldwide, thanks to his soulful voice and poignant lyrics. However, beyond his successful music career, Seal is also a devoted father to his four children, including Lou Sulola.
Seal was born to a Nigerian father, Francis Samuel, and a Brazilian mother, Adebisi Ogundeji. His parents separated when he was an infant, and he was raised by a foster family in Westminster, London. Seal struggled with systemic lupus erythematosus (discoid lupus) as a child, which left him with distinctive facial scars.
Despite the challenges he faced early on, Seal pursued a career in music, and joined several bands in the 1980s. His big break came in 1990, when he met producer Adamski. Together, they co-wrote and recorded the hit single "Killer", which topped the UK charts.
Following that success, Seal signed a solo recording contract and released his debut, self-titled album in 1991, including hits such as "Crazy" and "Future Love Paradise", which helped establish Seal as a prominent artist in the music industry. In 1994, he released his second album, also entitled "Seal" which featured the hit single "Kiss from a Rose", which became one of Seal's most iconic tracks, earning him three Grammy Awards in 1996.
Over the years, Seal has continued to release successful albums and singles, exploring different genres of music, and collaborating with other artists. His music often touches on themes of love, relationships and self-discovery.
Seal's personal life has been as publicized as his music career, particularly his relationship with Heidi Klum. Seal adopted Klum's daughter, Leni, from her previous relationship with Flavio Briatore; Leni took Seal's surname; and has publicly referred to him as her father.
Since his divorce from Heidi Klum, Seal has continued to focus on his music career and his role as a father. He's released several more albums and singles and has continued to tour and perform live. He has also been a coach on "The Voice Australia", sharing his expertise in mentoring aspiring artists.
Furthermore, Seal's been involved in various charitable activities, using his platform to raise awareness and funds for causes close to his heart. He's worked with organizations such as the Lupus Foundation of America to raise awareness about lupus, a disease he has personally battled.
As of September 2023, Seal's net worth is estimated at $40 million.