Lisa Kelly stood out as one of the few female truck drivers in the History Channel reality TV series "Ice Road Truckers", when she joined the cast in the third season. Gender made her distinctive from the get-go, but her knowledge, genuine love for trucking, ability to work as hard as the men, and charisma captivated the viewers. Consequently, Lisa appeared in the spin-off, "IRT: Deadliest Roads," where she proved her competence driving trucks in Bolivia, Peru, and around the Himalayas in India; while the roads weren't always icy, they were undeniably treacherous.
Lisa skipped the sixth season despite being offered a contract, as she wanted to recharge her batteries. She returned in the seventh and stayed until the last one, the 11th in 2017. That's when most viewers began wondering if she continued driving trucks for a living, as she largely disappeared from the Internet. We can happily report that Lisa is equally, if not more in love with her career as a trucker. Moreover, she once considered returning to the show if it gets renewed. Until that happens, she enjoys married life with her husband, Traves Kelly, while running a YouTube channel, keeping her Facebook and TikTok accounts active, and tending to her stable. Here's an estimate of how much money Lisa made so far.
She is reasonably wealthy
Lisa might have earned about $105,000 in her first three years with Carlile Transportation and presumably around $180,000 until she gave one of her first notable interviews in late 2010. The years between 2010 and 2016 were also noteworthy, as she quit her job and co-founded a transportation company in 2013. We estimate that Lisa earned about $400,000 in that period. She presumably sold her company at some point, as she revealed in 2021 that she had a new employer. Nonetheless, she took home roughly $400,000 to $500,000 between 2017 and 2023.
Those numbers do not include her salary from History Channel, which we estimated at up to $880,00 for all her episodes. Lisa has a YouTube channel and a Patreon account but has yet to earn a significant sum. With all that in mind, she has made at least $1.5 million based on her known income since her first trucker job in the early 2000s.
Lisa chose her profession wisely
Lisa always loved vehicles. She drove a school bus and a pizza delivery vehicle, and was a motocross rider before settling on trucking because it looked interesting. Lisa worked for Carlile Transportation, a company dealing with long-distance hauling in Alaska. Although she loved the job, Lisa admitted that she 'had to work harder than men, pull her weight and everybody else's, and finish the job as fast as men or quicker.'
Trucking is a rare career that allows people to achieve a middle-class life without a college degree, so she selected well. As a reminder, Lisa attended Cornerstone University in the town where she was born, Grand Rapids in Michigan State. However, she quit after one semester because she felt that it wasn't for her, and returned to Alaska.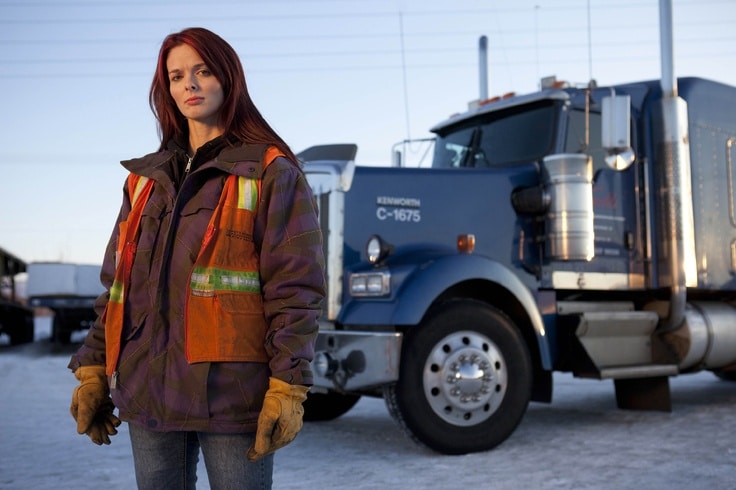 However, things have changed. A trucker and author, Finn Murphy, who worked in the 1980s and the early 2000s, said in one PBS interview that he typically earned between $36,000 and $40,000 yearly. He added that if he pushed himself as much as the law allowed, working about 50 weeks per year, he could earn almost $200,000, which skewed the perception that the job was lucrative. Nonetheless, he could stretch that much further than today, due to rising inflation and living standards. Finn admitted that the job is now considered a poverty profession, despite statistically remaining a middle-class occupation, as the wages do not increase with inflation. He clarified that the job was previously unionized and that freight rates and a well-regulated freight market ensured an excellent salary.
She is in the middle class
Although we don't know when Lisa Kelly gained her commercial driving license, a comment that she made in the October 2010 episode of "The Late Show with David Letterman" suggests that she found a job with Carlile Transportation in 2003. An average salary for an Alaskan truck driver in 2002, according to the September 2003 issue of Alaska Economic Trends magazine, was $43,700. She said that she'd worked as a courier for a few years before earning her commercial driving license. Thus, she earned about $35,000 per year for about three years before starting to traverse the ice roads.
If we assume that is accurate and that she made about $45,000 per year after the promotion in or around 2006, Lisa earned about $300,000 until that interview. Lisa likely received a salary bump around that time, as her TV show appearance promoted the company that she worked for, plus she was in a senior position. Unfortunately, as Finn explained, the rates barely rose in that period.
Therefore, even though she left Carlile Transportation to start Polar Industries Ltd. around 2013, with her co-star and fellow driver Darrell Ward, we can assume that she earned about $55,000 per year between 2010 and 2013 until the business got off the ground. Lisa probably didn't make much more as the co-owner afterwards. She could survive on that salary, as she was married, and they undoubtedly reinvested the profits into trucks, equipment, and safety. Darrell died in a plane crash on 28 August 2016. His son Reno jumped in to help before "Ice Road Truckers" ended after 11 seasons in 2017. Thus, Lisa probably made $165,000 in the first three years, and about $240,000 in the next four.
She drives for a new company
It's unknown when Lisa stopped driving for Polar Industries Ltd. However, in a May 2021 interview with Overdrive Online, a magazine and online platform for truckers that has been around for about six decades, Lisa said that she works for 'a new logistics company.' She didn't specify the name, but her YouTube channel revealed that she primarily worked on the Dalton Highway in Alaska. She also made 'regular trips between Kenai and Prudhoe Bay, and blew up two of company's trucks on 32-hour journeys.' As a sign that the company appreciated her, she received a new truck, a Freightliner Coronado, modified for transporting heavy cargo across frozen roads.
If we assume that Lisa switched jobs during the COVID-19 pandemic, we can infer that she made about $180,000 between 2017 and 2020 and likely closer to $90,000 to $100,000 annually between that time and today. According to ZipRecruiter, the average salary for an Alaskan truck driver is $60,000, with a higher end at around $80,000 and a ceiling at about  $115,000. Indeed.com puts the average base salary at $75,000, with a high end at $104,000. Thus, Lisa made at least $250,000 to $300,000 in the last three years. That number presumes that she didn't work extra hours, as the bonuses increase drastically based on miles driven, cargo type, hazard level, and on-time deliveries.
Moreover, the industry has a driver shortage of about 80,000 truckers nationwide, according to the American Trucking Association (ATA) – only one in 20 drivers is female. All this could have increased Lisa's compensation by $30,000 or more annually.
She is a memorable TV star
Lisа's salary as a reality TV star is undoubtedly not her primary income source. Although "Ice Road Truckers" is reasonably well known, the companies producing the show for History Channel pitched the idea as extra money for the presence of cameras; the cast members were doing their job solo or in pairs anyway. Therefore, Lisa probably fell into the category of being paid $750 to $1,500 per week or episode in the inaugural season, the show's third, and the following two.
She paused during the sixth season, but appeared in the only two seasons of the spin-off "IRT: Deadliest Roads." Her prominence as the only female trucker before Maya Sieber debuted in the main show's fifth season might have helped her renegotiate her contract to $3,000 to $5,000 per episode, which is on the high-end for shows that don't have a general audience such as "Teen Mom" or "90 Day Fiancé." Lisa then could have earned up to $10,000 per episode between seasons six and 10 and potentially received a pay bump of $5,000 to return for the 11th. After all, the number of episodes dwindled from about 16 to only 10 after season eight, and the production company only kept the most eye-catching truck drivers, so could probably pay them more.
Although our educated guess could be wildly inaccurate, Lisa might have earned up to to $68,000 between 2009 and 2011 in the main show and up to $115,000 for the spin-off. Lisa would have taken home about $350,000 to $700,000 for 70 episodes between seasons six and 11 if she'd renegotiated her contract.
Met Lisa Kelly Ice Road Trucker pic.twitter.com/BUAJNonZ

— WomenInTrucking (@WomenInTrucking) September 25, 2012
People barely heard from Lisa after the show ended in 2017. She seemingly has two Instagram accounts, @lisa_kellyirt and @lisakellyirt, but stopped posting in September 2017 and June 2020, respectively. However, Lisa kept her fans up to date via her Facebook page, @lisakellyIRT, which now has over 900,000 followers. Besides a few brand promotions, such as for Chevron Delo, a lubricant and engine oil product, the collaboration that prompted her to move from Wasilla to Fairbanks in September 2021, she has yet to monetize the platform.
However, Lisa made up for that with her YouTube account, @kx232, which she created on 5 September 2009. She had a few unsuccessful attempts to kickstart the channel by showing what she does for work in mid-2021. That changed when Lisa uploaded a video that would become a series on 29 October 2022. She titled it "1.WDHR: Letting people by" and dedicated it to newcomers to Alaska truck driving, as she passed them every day and feared their lack of experience would endanger everyone.
Lisa also presented a new truck, Peterbilt, and informed her audience that one of her horses had died via her channel. Lisa now has over 150 public videos and has accumulated over 42,300 subscribers. SocialBlade analytics shows she makes about $80 daily and $850 yearly, meaning that she earned about $1600 in the best-case scenario. Lisa also has seven members subscribed to her Patreon account, which netted her $35 to $280 during approximately one year of activity.
She invests her earnings
Lisa loves animals, particularly cats, dogs and horses, and has never hidden her love. Thus, the show's viewers were excited to see her videos from a barn and a stable dating to February 2022, a few months after she moved to Fairbanks. It's unclear whether Lisa bought a property with a barn or is renting space for the many horses that came with her, including Rocky, Miss Maybe, Skye, and Ms. Grumpy. Lisa also happily shared that her newest horse, a baby filly whom she named Perhaps but calls Perhappy or Happy, was born at 2 a.m. on 3 March 2023. Although Perhappy nearly died in late April, a veterinarian intervened and instructed Lisa on caring for the filly, so she recovered within a week or two.
Lisa's TikTok account, @lisamariekelly232, also shows that she enjoys traveling with her husband, Traves, whom she married in 2008. One of the most unusual activities that they partake in is snow biking. Lisa also invests some money to keep her motorcycle in riding condition, occasionally taking it out of storage. Moreover, Lisa admitted in the 2021 interview that she became a proponent of minimalism. That happened after she realized that she 'has a lot of junk that she cannot organize despite her efforts.' Combined with Lisa's move to Fairbanks, that effort meant that she likely donated or sold many of her possessions, recovering some of the invested money.