Norm Abram is an American master carpenter, author, and TV host, best recognized as the face of the home improvement media brand "This Old House." The brand was built around the eponymous TV show premiered on the Public Broadcasting Service (PBS) television network in 1979. Although its format is the staple of reality programming on television channels such as HGTV and independent YouTube videos, "This Old House" was one of the first shows that followed home remodels through weekly episodes.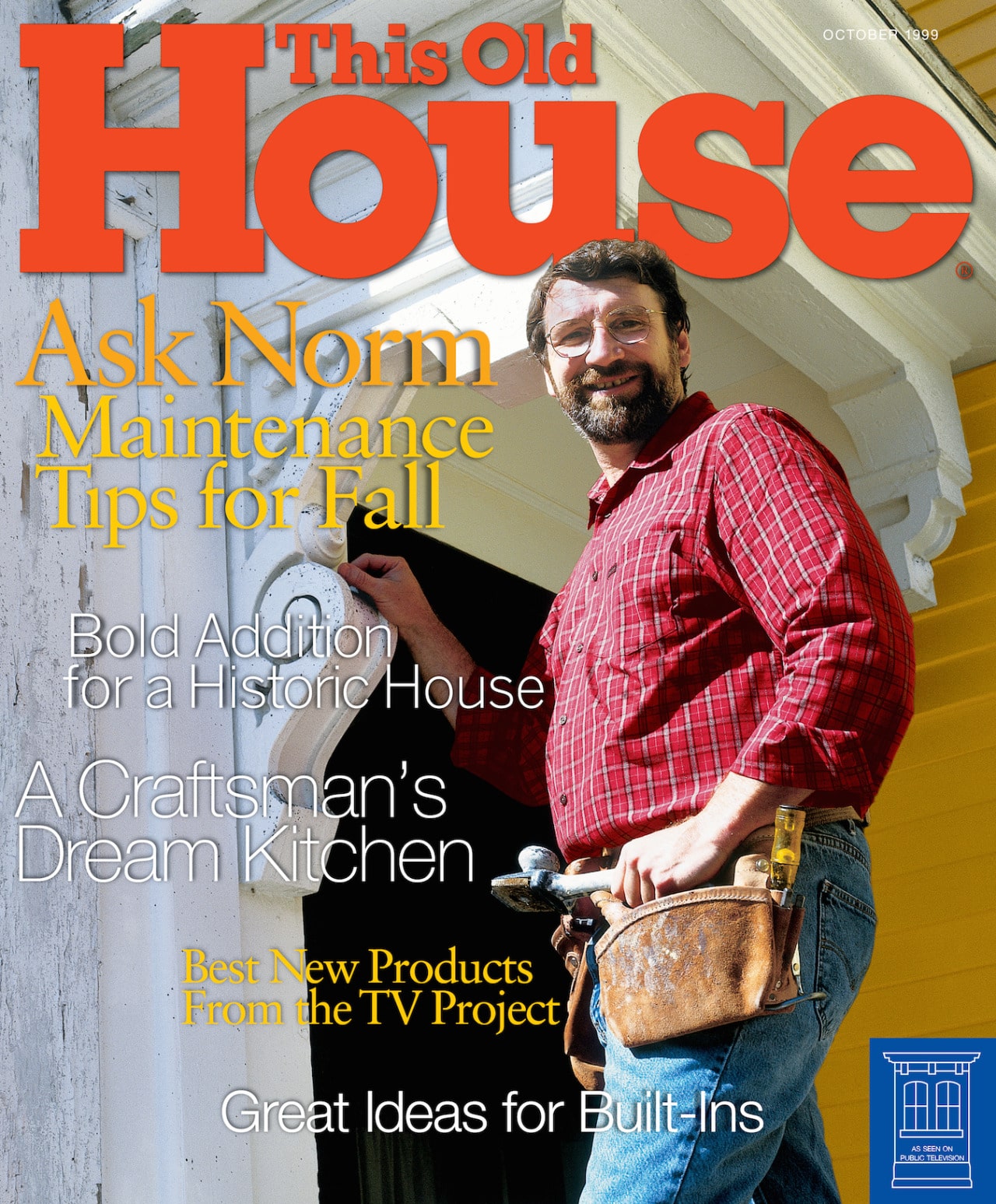 Time Inc., the company that owned the brand, began publishing a magazine that shared the show's name in 1995; the estimated six million monthly readers eventually read six yearly issues. The brand also broadcast the sister TV show, "Ask This Old House," in 2002, which Norm did not appear in. However, they kept his name and expertise relevant because they aired the two shows together as part of "The This Old House Hour." Time Inc. also aired the second spin-off, "Inside This Old House," between 2003 and 2004, with Norm as the leading cast member.
That was well-received but somewhat unnecessary, as Norm hosted the woodworking spin-off TV show, "The New Yankee Workshop," between 1989 and 2009; it ended after 21 seasons on PBS because Norm wanted to focus on other projects. Norm retired after 43 years on 19 May 2022, and his departure as a recognizable TV star made people wonder how much he earned up to that point. Although we don't have a conclusive number, we researched Norm's finances and determined his approximate net worth.
Norm became a millionaire on TV
Norman L. "Norm" Abram undoubtedly earned millions over nearly five decades in business but did not keep them all. Besides taxes, Norm invested his funds into building two houses and maintaining one living museum, Old Sturbridge Village. He was married twice, first to Laura Cone, whom he divorced in 1996, but with whom he has a daughter, Lindsey. Norm is now married to Elise Abram (née Hauenstein), an artist and potter. They enjoy boating, fishing, cooking, and visiting art galleries and museums.
Norm seems like a humble man who found an opportunity to make money with what he loves doing; online estimates of his net worth of US$2.5 million seem low. Massachusetts has low-income taxes of 5% and capital gain taxes of 12%, and the US federal taxes range from 10% to 37%. Moreover, specific construction and carpeting services can be exempt. Therefore, Norm's net worth is at least around US$5 million with all his investments and possessions, as he had demonstrated no unwise extravagant purchases. Depending on how he received his salary and how high it was, he might be a decamillionaire.
Join @RogerCookTOH @thisoldplumber & Norm Abram on @reddit_AMA TODAY at 11AM EST #TOHTV http://t.co/5SyArY6tWB pic.twitter.com/8pTuYWTX6J

— This Old House (@ThisOldHouse) September 8, 2014
His likeness earned him the most
Norm has been on TV for nearly 50 years and might occasionally return for special appearances. Fans should remember that he filmed the one-hour special, "The House that Norm Built," aired on 3 October 2022, half a year after he announced his retirement. With that said, Norm has appeared in "This Old House" between 1979 and 2022, "The New Yankee Workshop" from 1989 to 2009, and "Inside This Old House" from 2003 to 2004. His salary likely wasn't high initially; for reference, US$1 in 1980 equals about US$3.7 in 2023, and the living standards were lower, so Norm had a comfortable life with what would today be an unfeasible monthly sum.
Norm was likely paid about $5,000 to $10,000 per season at first, then at least $50,000 to $100,000 when the brand built traction around 1995. Norm's salary for "This Old House" could have doubled in the 2000s and reached about $500,000 to $800,000 per season in the 2010s, 2020, 2021, and 2022.
He could be a decamillonaire
Norm likely received an equal sum for one season of "Inside This Old House" but was assumably paid much less for "The New Yankee Workshop." After all, it was his passion project and mainly produced for people who loved woodworking as much as Norm, not the general audience.
Considering these rough estimates, Norm could have earned about $7.5 million to $11 million for the main show. However, the show won 20 Emmy awards and was nominated 117 times, and its premise was ideal for sponsorships from various companies related to home renovations. Moreover, the brand has recently had about 20 million customers across all mediums. Thus, it wouldn't be surprising if Norm earned much more.
"Measure twice, cut once…" but do it as good as anybody for 43 straight years.Honoring Norm Abram's iconic career…

Posted by GBH on Tuesday, September 27, 2022
Norm might have received approximately $1.5 million to $2 million for his woodworking-based spin-off. His fans also know that he provided his voice in one episode of the animated TV series, "Freakazoid!" and appeared in episodes of TV series such as "Between the Lions," "Fetch! With Ruff Ruffman," "Ace of Cakes," and "Where in the World is Carmen Sandiego?" Therefore, depending on how he structured his personal and business finances, Norm could have over $10 million in his bank account and invested in valuable possessions, such as a living museum and properties.
Norm likely receives royalties
Viewers should remember that actors and reality TV stars are likely receiving royalties from reruns of their shows, and the "Friends" actors are an excellent example, as they receive $20 million per person yearly from residuals. Time Inc. sold the brand that owns the rights to a new company, This Old House Ventures, LLC, in 2016. On 19 March 2021, TZP Growth Partners, which took over in the meantime, sold the brand to the streaming platform Roku, which made all 1,500 episodes available to its users. PBS retained the right to air reruns on their television network. Therefore, based on his contract, Norm probably earns 2% to 5% of the generated revenue in residuals from TV, particularly for "The New Yankee Workshop." It's unclear if he renegotiated his contract with Roku, as he retired less than a year after the takeover.
He had a construction company
Viewers frequently forget Norm's history as a carpenter; he learned by observing his father, who was a carpenter, too. Norm went to his first client site when he was nine and supervised his father installing hardwood floors. He then worked alongside him during summer vacations throughout his teens. Norm attended a high school in Milford, Massachusetts, before studying mechanical engineering at the University of Massachusetts Amherst. He later switched to business administration but quit shortly before completing his degree and found work at a multimillion-dollar construction company based in New England. Although Norm rose through the ranks and eventually became a site supervisor, he gave his two-week notice in 1976 and started a general contracting firm, Integrated Structures Inc. He ran it successfully even after he debuted in "This Old House" but eventually ceased operations in 1989, when "The New Yankee Workshop" took off. Although it still seems defunct, he might employ people again now that he's not on TV.
Moreover, Norm is on the board of trustees of Old Sturbridge Village. Although the position includes responsibility for its preservation, Norm presumably receives a decent sum from the living museum in Sturbridge, Massachusetts. The project recreates life between the 1790s and the 1830s on 81 hectares or 81 acres of land, which includes 59 antique buildings, a massive farm, and a few water-powered mills. Old Sturbridge Village also employs many costumed interpreters demonstrating how agriculture, arts, and crafts worked then.
Although he dissolved his construction business, his father, former employees, and fellow professionals helped Norm build a timber-framed two-story colonial home in Carlisle, Massachusetts. His 1995 book, "Norm Abram's New House," is dedicated to the house's planning and construction. A few years after quitting "The New Yankee Workshop," Norm bought a second house in Rhode Island and built a new woodworking shop, hoping to learn and practice shipbuilding.
Norm published his debut book, "The New Yankee Workshop," concurrent with the show's premiere. "Classics From The New Yankee Workshop," "Mostly Shaker From The New Yankee Workshop," and "The New Yankee Workshop: Outdoor Projects" followed in 1990, 1992, and 1994. Norm published three more books afterwards, "Measure Twice, Cut Once" in 1996, "The New Yankee Workshop Kids' Stuff" in 1998, and "Ask Norm" in 2001. His website states that Little, Brown and Company printed them all, but e-book sales mention publishers such as Time Publishing, Time Life Education, and WGBH Educational Foundation.
Moreover, Norm contributed to books such as "Complete Remodeling" and "Complete Landscaping," both released as part of This Old House magazine, where Norm was the editor and "Norm's Tricks of the Trade" column author. It's hard to determine how much he earned, as it depends on his cut of the profits. However, Norm shared his knowledge at reasonably low prices, suggesting that he wanted to help upcoming carpenters or viewers replicate his creations for some passive income.