Chad "Bad Chad" Hiltz and his fiancé Jolene MacIntyre, alongside Chad's son Colton, found recognition for their auto repair shop when Discovery Channel aired "Bad Chad Customs" in 2019. The production giant has launched dozens of car restoration shows similar to this Canadian reality TV series, notably "Overhaulin'," "Wheeler Dealers," "All Girls Garage," and "Counting Cars", and while the format worked, Chad didn't want to be a copycat, and Discovery Channel agreed; his unique restoration methods, distinct designs, and captivating personality proved that he was right.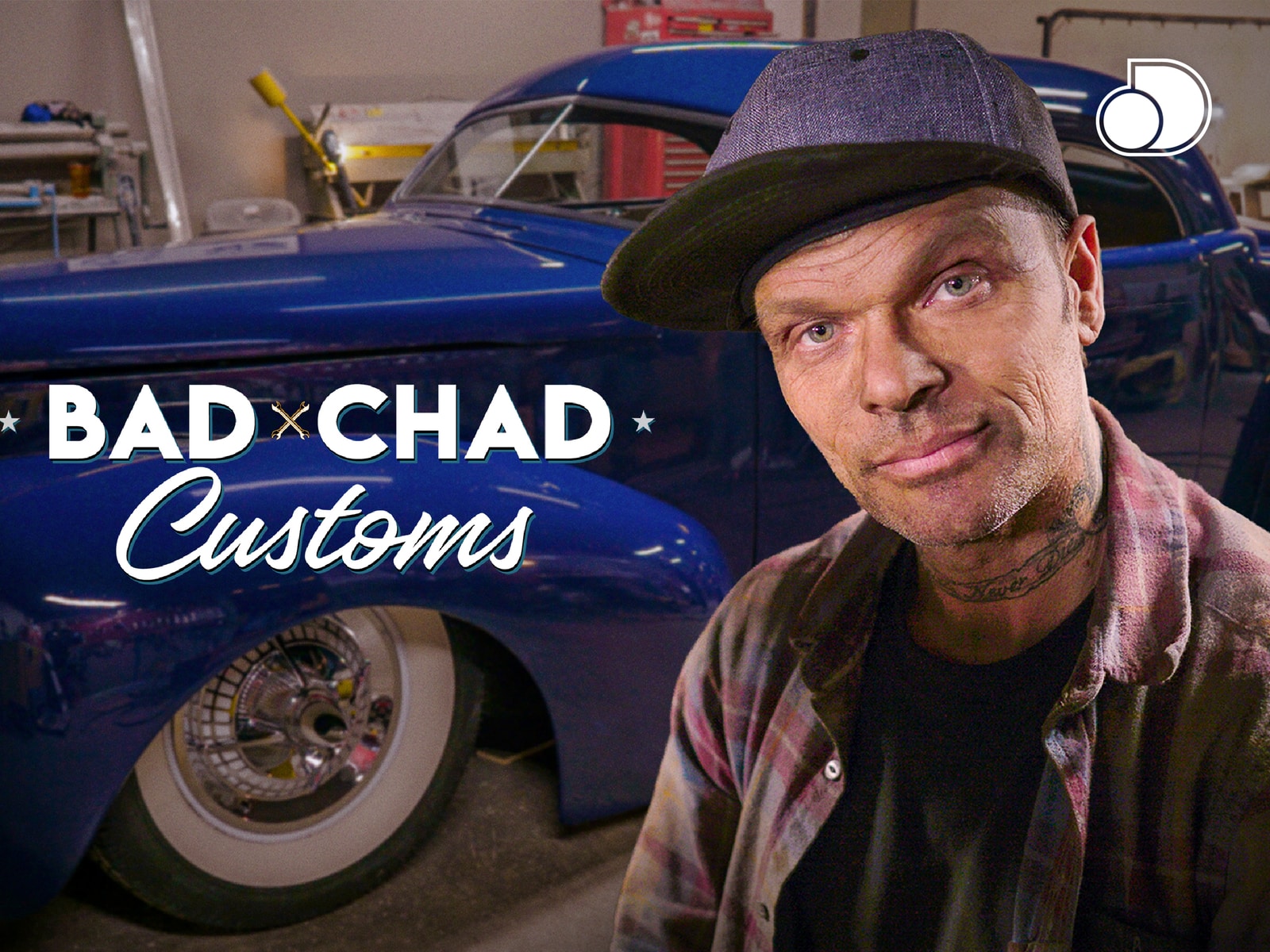 Chad doesn't do generic restorations, steal cars from unsuspecting car owners with the help of the insider and police, invite celebrities, or focus on getting the highest price. Instead, his shop, initially called Green Goblin Customs, set in Canning, Nova Scotia, is a form of an antique store for cars. He and his team frequently choose low-cost neglected vehicles, and apply their ingenuity and design experience to make them desirable and special.
Chad has a loyal team by his side, who are all committed to proving the proverb that one man's trash is another man's treasure. However, his way of working and the limited number of interested buyers often make fans wonder how he makes enough money to pay his crew, go to expos and car shows, and market his business. We answer that question.
They are likely millionaires
Fans' estimations of Chad and Jolene's net worth are blown out of proportion; some websites claim that they're worth between US$50 million and US$80 million, which is totally unsubstantiated; the incorrect amount could be based on the replica of a US$40 million 1938 Bugatti Type 57 SC Atlantic that he started building for Jolene in 2017. Instead, Chad and Jolene probably earned about $2 million since 2016 from YouTube and their shop.
He repeatedly stated that he values personal happiness and a quiet lifestyle over maximizing profit, and has an affinity for buying cheap parts or fabricating them out of steel. Moreover, he prefers to work alongside a tight-knit team of equally passionate workers in a car shop behind his home, so he doesn't plan to expand to more locations, or start a franchise.
Chad made at least half a million from YouTube advertising revenue, and could have earned much more if he enabled membership subscriptions. Instead, he uses his channel and Facebook and Instagram accounts to funnel people to his official website, where he sells merchandise such as T-shirts, hats, jackets and hoodies. Besides the occasional cars that he sells, Chad gets money from companies that book him for speaking roles, or by showing off his creations at events.
Chad saves where he can
Chad is a well-known automobile designer and customizer, who prides himself on being thrifty, and getting the best value for money. Fans knew that Chad wasn't in it for the cash before the show debuted; in Discovery Channel previews, they could hear Chad say, 'Why would I need to buy welding wire when I can use a coat hanger?' In short, he uses affordable materials to solve design problems, many of which he has at hand. Consequently, many of Chad's vehicle designs change on the fly.
Selling restored, road-legal cars is an ordeal in itself, and car restoration or car customization shop owners who appear on TV agree that they stay because it's their life calling. They all admit that the business is highly competitive, time-consuming, and barely profitable – margins are low, and the operating costs are high. Thus, car repair shop owners frequently rely on a salary from a TV show, and the show's popularity to connect them to clients.
With that in mind, it's clear that Chad and his team, which include Jolene, his son Colton the apprentice, his friend and fellow car builder Aaron, and mechanic Alex Gould, can only sell some cars easily. Chad does his best to receive mechanic and safety certifications for his projects, but not all cars built in the show meet the criteria to become road-legal vehicles. Even if they are in one US state, another state or country may have different demands. Therefore, Chad and Jolene keep operating costs low by using scraps or standard steel sheets or plates, working in a makeshift shop behind Chad's house, and relying on income sources other than car sales.
Discovery Channel covered some costs
Discovery Channel announced the show in late 2018, and premiered "Bad Chad Customs" on New Year's Day in 2019. It was produced by Love Productions, a company headquartered in Los Angeles, Bristol, and London, and co-produced by Best Production Company based in Los Angeles. In business since 2004, the former has been responsible for TV shows such as "The Great British Bake Off" and "The Great British Sewing Bee." The latter was established in 2019, and has only produced a few shows for Netflix, Nat Geo Wild, Amazon Prime, and ABC.
Long story short, "Bad Chad Customs" was the second TV car show for the former company after "For the Love of Cars," and the first for their partners – moreover, neither of the two focused on Canada up to that point. So, combined with the fact that Chad didn't have prior credits in TV shows and movies, and that the cars that left his shop were quirky, meant that they couldn't ask for much money.
Reality TV shows such as "Vanderpump Rules" and "Keeping up with the Kardashians" are two of the few that earned millions. Top reality TV stars in the US can make over $100,000 annually, but such cases are few and far between; new cast members may receive $1,000 to $5,000 per episode, if lucky. Some cast members, notably in "The Bachelor" and "The Bachelorette," get paid on exposure; the show's producers don't even pay for their clothes and make-up. Thus, Chad and Jolene probably received little to no money for two seasons in 2019 and 2020. If that was the deal, they at least had most expenses paid, including their first visit to Los Angeles. Fans must remember that Chad and Jolene went to car expos and car show experiences, traveled to meet with clients or show them the product, and didn't have to market the shop themselves.
Jolene manages everything
Jolene is the shop's manager, letting Chad do what he does best without the pressure of handling the bureaucracy, logistics and finances. Although Chad initially named the business Green Goblin Customs, they discovered that they couldn't make money under that name due to licensing issues. That's presumably because of conflicts with Marvel Comics, as Green Goblin is one of their well-known supervillains. Hence, the shop's legal name is Hiltz Auto Co.
With that in mind, appearances at the events above are one of the primary ways that their car shop makes money. Jolene likely bartered an unfavorable deal with Discovery Channel, but their promotional schedule promoted the show's existence.
Many car collectors are only interested in sitting behind the car's steering wheel in their garage, especially when the design is unique. Therefore, Chad's custom vehicles that could be unreliable or illegal on the road would still find a buyer who appreciates their uniqueness. Moreover, displaying vehicles saved them money, as they didn't have to invite clients to Canada, or travel to meet potential clients at their residences or places of business.
Jolene and Chad appear at various events
After the show aired, Chad and Jolene announced a car program at the Specialty Equipment Market Association (SEMA) Show in Las Vegas, Nevada. That is a big deal, as the show, which happens annually between October and November, is one of the best networking events in the automotive industry. It's closed to the public, but they could find clients from fellow industry professionals.
Chad and Jolene also host an annual auto show in their backyard, Rockabilly Weekend, and may charge small entrance fees. Chad and Jolene have also appeared at many renowned car events since their show went off the air. Most recently, they showcased their creations at the eighth annual eBay Motors Motorama Custom Car & Motorsports Expo in Toronto, in March 2023. They participated in the roof chop event, hands-on car modification, signed autographs, and sold their merchandise consisting of T-shirts and collectibles. Chad and Jolene repeated this at Syracuse Nationals, and WANTED Hotrod and Custom car show.
Fans can buy branded merchandise on the official website, www.hiltzautoco.com, and expect to pay CA$40 for hats, $100 for jackets, $60 for hoodies, and $35 to $40 for t-shirts and tank tops; the couple also sells backpacks and bags. Their inventory costs are low if they ship from Nova Scotia, but they are more likely to work with a fashion brand that prints their graphics and handles shipping. Their pricing is around the average for YouTube merchandise, except jackets, which are closer to mid-range prices. He started selling his merchandise in 2018, but used a proxy, Teespring, and offered few items, so he didn't make much. Regardless, Chad and Jolene had earned around a million Canadian dollars from their online store.
His work is likely bleeding money
Besides labor, procuring car parts is one of the most significant expenses for a car shop. UK and US shops typically sell car parts at a markup of 35% to 60%; some go up to 100% for rare aftermarket parts, but as low as 20% for wholesale. Hiltz Auto Co. tries to get cheaper parts, and Chad and the team invest time and effort to install them. They make or modify what they can't afford from existing components.
Chad must buy cars to work on, primarily automobiles manufactured between the 1920s and the 1970s. Therefore, while some owners donated their vehicles to see what Chad could make of them, many are still collectors' items, and cost him a lot. Chad is also a car collector, keeping many unmodified or slightly modified cars in his private garage. Although he has dozens, Chad only sells a few at a time via his website. 1948 Chevy Fleetline, 1963 Fiat 124 Sport Coupé, 1963 Chevrolet Corvair Greenbrier Van, and 1962 Ford 390 Big Block Tri-Power 4 Speed 389 are currently on sale. However, some have been on his shop's website since 2019, meaning that Chad is waiting for a good offer.
He may be making extra profit from reselling other cars behind the scenes, but that's an unreliable income source, considering the time and luck involved. Additionally, he's emotionally invested in them, and judging by his private garage, visible in some YouTube videos, wouldn't part with them unless he runs out of storage, or has an emergency.
YouTube is their steady income source
Chad created his YouTube channel, Bad Chad, on 28 June 2016 and has amassed over 260,000 subscribers as of late July 2023. SocialBlade.com analytics show that he made an estimated $489 daily in recent months, up to $14,100 per month between June and July 2023. On the higher end, Chad made roughly $170,000 last year. His earnings weren't so high when he started, so we can assume that he made about US$700,000 or about CA$920,000 through YouTube in seven years with Jolene's help.
He rarely, if ever, accepts sponsorships for products and services, and instead uses his YouTube video to promote his business and branded merchandise. Jolene has recommended food-based companies such as HelloFresh, but only because she's used their service. He and Jolene are also active on Instagram at @badchadcustoms and @___jolene, and on Facebook at @badchadcustoms and @macintyrejn, all accounts they could monetize. Although we don't know how wealthy they actually are, the couple isn't strapped for cash.