Who is Pat Smear?
A highly respected guitarist in the rock music industry, known for his contributions to influential bands such as The Germs, Nirvana and Foo Fighters, Pat Smear whose career spans several decades, has left an indelible mark on the world of rock music. Pat's life story is one of musical evolution, personal growth, and spiritual exploration. He found God, achieved fame through his music, and left an indelible mark on the rock music landscape. His journey serves as an inspiring example of how one can balance fame and spirituality in the world of music.
Let us tell you more.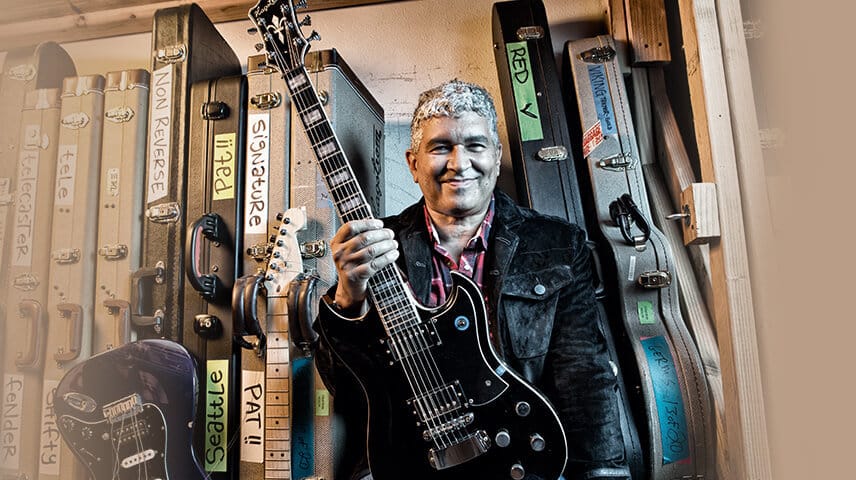 Early life, family, and education
Born Georg Albert Ruthenberg under the zodiac sign of Leo on 5 August 1959, he recently celebrated his 64th birthday. A native of Los Angeles, California USA, he holds American nationality, and comes from a family of German Jewish descent from his father's side, while through his mother, Pat Smear has African-American and Native American heritage. His parents, whose names he hasn't shared, enrolled him in piano lessons, however, his love for rock music began at a young age when he picked up the guitar and started playing. He was largely self-taught and developed his skills through passion and dedication.
Pat Smear was a very religious child, and aged 13, he left his home and joined a Jesus commune – before discovering punk, Pat Smear found God.
When it comes to his educational background, he attended the alternative Innovative Program School (IPS), within Los Angeles University High School, however, Pat Smear was expelled due to concerns that he was inciting unruly behavior among the students. While at IPS, Pat Smear met Darby Crash, his future bandmate and vocalist of The Germs, who was expelled from the school at the same time as Pat Smear for the same reason.
Formation of The Germs and solo career
In 1976 when Smear was 17 years old, he co-founded a punk rock band called The Germs. His bandmates were Darby Crash, Lorna Doom as a bassist, and Dottie Danger (better known by her stage name 'Belinda Carlisle') as a drummer; however, she was soon replaced by Don Bolles.
The band became a prominent part of the Los Angeles punk scene, known for their chaotic and energetic live performances. Despite their short-lived career and only one studio album – "GI", released in October 1979 – The Germs left a lasting impact on the punk rock genre. The band broke up after the death of Darby Crash on 7 December 1980, considered a suicide by overdosing on heroin.
During his time with The Germs, Pat Smear went through a period of personal exploration and spirituality, searching for meaning, and eventually found himself drawn to the Hare Krishna movement. This spiritual awakening profoundly influenced his life and music. However, in one of his interviews, Pat Smear reflecting on his religious background said that he'd gone so far in other directions he wasn't sure what to believe.
After The Germs disbanded, Pat Smear briefly played with Twisted Roots, and then in 1987 he released his debut solo album, "RuthenSmear", followed by his second solo album, "So You Fell In Love With A Musician…" released in 1992.
Joining Nirvana
In 1993, Pat Smear joined the legendary rock band Nirvana as their second guitarist, debuting with the band on "Saturday Night Live" in September 1993. His addition to the band solidified their lineup, and contributed to their iconic "MTV Unplugged in New York" performance. However, his time with Nirvana was marked by tragedy, as Kurt Cobain's suicide in 1994 led to the band's dissolution.
Foo Fighters
Pat Smear next joined Foo Fighters, a band formed by Nirvana's drummer, Dave Grohl., and the band quickly rose to fame, becoming one of the most successful rock bands of the '90s and beyond. Pat Smear's guitar work and contributions played a crucial role in their sound and success.
Living legend Pat Smear, of Foo Fighters, Nirvana, and Germs fame, celebrates his 64th birthday today.

Photo by Amy Harris pic.twitter.com/b9fo3lhP2u

— CONSEQUENCE (@consequence) August 5, 2023
However, after the band released their 1997 album, "The Colour and the Shape", Pat Smear left the band, later explaining that he was exhausted from the band's relentless touring schedule. In the following years, Pat Smear kept a low profile during his absence from the band.
In 2005, he began performing select shows with Foo Fighters again, and subsequently rejoined the band. Pat Smear's journey from the punk rock underground with The Germs to mainstream fame with Nirvana and the Foo Fighters reflects his versatility as a guitarist and his resilience in the face of challenges. He has been an integral part of the Foo Fighters' lineup for years, and continues to be a vital figure in rock music.
On 30 October 2021, Pat Smear was inducted into the Rock 'n' Roll Hall of Fame as a member of Foo Fighters.
Movie and television appearances
Pat Smear made his acting debut playing Jimi Hendrix in the 1989 crime movie "The Book of Manson", written and directed by the renowned artist Raymond Pettibon. Almost a decade later, in 1997 Pat was seen as Cinque in another Raymond Pettibon's crime drama, entitled "Citizen Tania", in which he starred opposite Shannon Smith and David Markey.
Most recently, Pat Smear played himself in the 2022 musical comedy horror "Studio 666", which followed the story of Foo Fighters who move into a cursed mansion to record their new album; it received mixed reviews.
Is Pat Smear married? Love life and relationships
Pat Smear is one of those celebrities who prefer to keep their personal matters secret. He hasn't spoken about his romantic life, and has rarely been seen publicly with someone with whom he might be romantically linked.
Reportedly, he's in a long-term relationship with Jena Cardwell. In the 2011 documentary about Foo Fighters, it was said that he's married, and that he has at least one child, however, Pat Smear hasn't commented on these statements.
How rich is Pat Smear? Net worth
It's worth noting that Pat Smear has had a successful and enduring career in the music industry, having been a member of notable bands The Germs, Nirvana, and Foo Fighters. These bands have enjoyed considerable commercial success, which likely contributed to his overall wealth.
According to sources, as of September 2023, Pat Smear has a net worth estimated at over $25 million.