The name Pernell Roberts is well-known by those who are fans of Hollywood productions from the last century, but he was more than the screens let us see. Despite achieving nationwide fame through his appearances in the long-running classic "Bonanza" western drama series, Pernell's career also included prolific roles on Broadway, appearances in several movies, becoming well-known as a singer, and even actively fought in favor of civil rights.
From his beginnings as an actor back in the 1940s to his death in January 2010, Pernell made sure to leave a mark in people's lives, whether it was with his acting or activism, regardless of the criticism his choices brought to him. So how did all of that happen? Here's the whole story of the highs and lows of the memorable Pernell Roberts!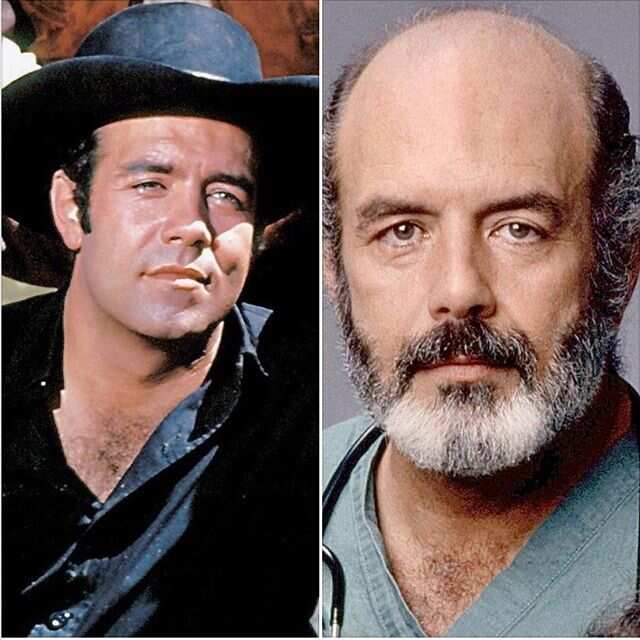 Early Life
Born on 18 May 1928 in Waycross, Georgia USA, Pernell Roberts was the only child of Minnie Myrtle Morgan and Pernell Roberts Sr, a middle-class family. From a young age, the young Pernell showed a talent for arts, singing at church, playing instruments, and joining plays during his stay at Waycross High School.
Despite enrolling at the Georgia Institute of Technology, Pernell didn't graduate and instead left to enlist in the US Marines in 1946. After two years of service during which he improved his musical skills by playing several instruments in the Marine Corps Band, Pernell went back home and enrolled at the University Of Maryland, but from which he also dropped out. According to The Associated Press, Pernell once said he had 'distinguished' himself by 'flunking out of college three times', though it's unclear which other university he was enrolled at.
At some point in his 20s, Pernell worked as a tombstone maker, and did other small jobs, but chose to become an actor after being introduced to classical theater during his time at the University of Maryland. He participated in several Shakespearean productions during those early years, both in and outside of college, becoming quite experienced while working as a summer stock actor.
Early Career
After having his early experiences as a theater actor in Maryland, Pernell moved to New York City, setting his sights on becoming a Broadway actor. He started from the bottom though, as his earliest theater experiences were in small plays and operas, making his way up to acting in the now-defunct Equity Library Theatre, among others. During those early years, Pernell shared the stage with the likes of Hollywood star Joanne Woodward, splitting his time between Shakespearean adaptations and modern plays, eventually winning a 1955 Drama Desk Award.
After half a decade of playing theater roles, Pernell debuted on TV with a small role in the series "Kraft Television Theater" in 1956, followed by other guest appearances in series such as "Cheyenne" and "Sugarfoot". His first film role came in 1957, with the Oscar-nominated "Desire Under the Elms", setting his path as a TV and film star in several series and films throughout the late 1950s, slowly but surely making himself a name on both small and big screens.
Pernell's love for the classics persisted, leading him to play roles in the anthology series "Matinee Theater" and "Shirley Temple Storybook Theater", but he also appeared in several Westerns of the time, such as "Ride Lonesome".
Bonanza & Music
In 1959 Pernell's career took the biggest turn so far when he was cast as Adam Cartwright in the legendary Western drama series "Bonanza". Pernell's character was a fan-favorite throughout his years in the series, not only for his performance as an actor, but also for his work as a singer, recording the series adjunct folk album "Come All Ye Fair And Tender Ladies".
The album included 12 songs, mixing renditions of traditional and some originals written by Pernell himself, attracting positive reviews. Other songs he recorded for the series are included in some of "Bonanza"'s CD sets released throughout the years, but that was the extent of Pernell's stint in music.
In 1965, Pernell quit "Bonanza" after his initial contract with the series. Several rumors surfaced at the time, with the most popular of those being Pernell's alleged issues with the show's producers, and his displeasure at the lack of minority characters in the series, on top of unwise storylines and restricting contracts. According to Reuters, Pernell had shown his dissatisfaction with the show before leaving it, affirming that he'd been promised that the story would go a different way than it did.
Another interview with The San Francisco Examiner in 1965 had Pernell admitting he didn't feel happy in "Bonanza", but refrained from addressing the rumors about his issues with producers.
Later Career
After Pernell's exit from "Bonanza", his former character Adam was simply written off and vaguely mentioned a handful of times until the show's end in 1973. On his part, Pernell went back to theater plays and musicals, spending the next decade both as a summer stock actor and on Broadway, being nominated for a Joseph Jefferson Award for his work in the Chicago-based Ivanhoe Theatre.
[#HappyBirthday] 🎊

👉 Today actor and singer PERNELL ROBERTS would have turned 93 (1928-2010).

📌 We highlight his roles in 'RIDE LONESOME' (1959) and in the TV Series 'BONANZA' (1959-1965) and 'TRAPPER JOHN, M.D.' (1979-1986).#PernellRoberts #BOTD pic.twitter.com/grL1xbpqDL

— Nostromo 🧜‍♂️ (@FilmsNostromo) May 18, 2021
The late '60s and the 1970s saw Pernell occasionally going back to TV to guest star in series such as the musical "Carousel" and "The Wild Wild West", on top of narrating documentaries, allowing him to financially pursue his passion for theater on the side. He changed his opinion in 1979, when he returned to TV full-time to star in the famous "Trapper John M.D", a job he chose to audition for as he was increasingly worried about his financial situation during supposed retirement.
His role as Dr. Trapper became quite a memorable one, earning him an Emmy nomination and the chance to tour as a theatre actor between seasons. After the end of the series in 1986, Pernell appeared in several other films and TV shows. before retiring in the late 1990s.
Activism, Personal Life & Death
Besides his prolific entertainment career, Pernell Roberts was very committed to social causes. His dissatisfaction with the lack of people of color playing roles in "Bonanza" has been documented by renowned portals such as The New York Times, while it's also known that Pernell took part in the Selma marches in 1965, protesting in favor of civil rights.
It's also been reported that Pernell often donated to non-profit organizations in favor of minorities, such as the Native American Rights Fund, of which he was a committee member.
Most of Pernell's involvement with social causes was kept low key, and the same could be said about his not-very-publicized personal life. He was married four times, first to theater professor Vera Mowry from 1951 to 1959, which resulted in the birth of Pernell's only son Jonathan Christopher Roberts, who sadly died in an accident in 1989.
In 1962 Pernell married fellow actor Judith Anna LeBrecque, but they divorced in 1971. One year later he married Kara Knack, whom he divorced in 1996 after more than two decades together.
Pernell's fourth and last marriage was to Eleanor Criswell, with whom he was together from 1999 to his death at 81 years old on 24 January 2010, after fighting pancreatic cancer for three years.
Net Worth & Appearance
At the time of his death, Pernell Roberts had an estimated net worth of $10 million, resulting from his prolific decades-long career in TV, films and theater.
Though Pernell's weight was unknown, it's known that he was 6ft (1.83m) tall. Pernell was regarded as handsome-looking before and after his rise to TV fame in the 1960s and was reportedly very comfortable with his appearance, and was reportedly not pleased with hiding his reduced hairline by wearing toupees during his stint in "Bonanza".
In honor of Pernell's memory, in 2016 a park in Waycross, Georgia, where he used to play as a kid, was renamed Pernell Roberts Memorial Park.