There's something about supercars that' been captivating people for generations. Whether it's their design, engine power, or simply the fact they're often also very luxurious, the truth is that supercars are as admired as they're expensive.
With her YouTube channel Supercar Blondie, the Dubai-based Alex Hirschi allows her audience to live the dream of getting behind the wheel of one of these cars from the comfort of their homes. Alex's humorous and entertaining content is well appreciated by millions worldwide, gaining her a massive following on every social media platform, and the chance to meet some of the most successful and famous automotive stars of our time.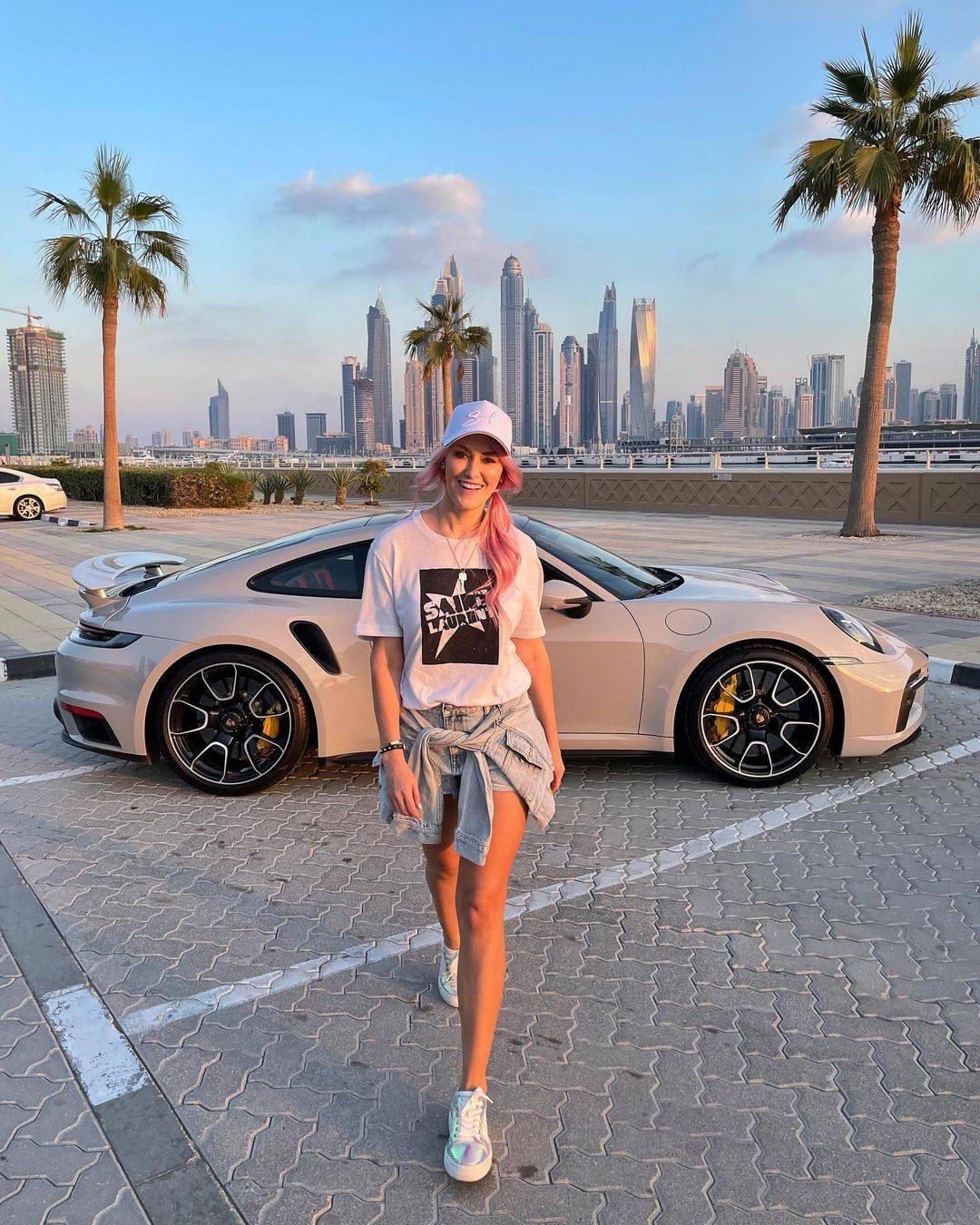 Given her never-ending popularity and accomplishments, it's fair to wonder who Alex is beyond the internet persona, her financial and romantic situation, and what projects she has in mind for the future. Do you also want to know? Then stay here to discover all!
How Rich Is Supercar Blondie?
Known for her entertaining and versatile social media content, Alex Hirschi has worked hard to become one of the most accomplished and well-known influencers in the automotive business. According to some reports online, Alex has an estimated net worth of $17 million resulting from her online business Supercar Blondie, sponsorships, and earnings from social media and YouTube views. All in all, Alex's impressive net worth is just a reflection of how successful she is in what she does.
Alex's success extends far beyond YouTube, though. Her increasing fame and top-notch video content have landed Alex significant opportunities in the automotive world, such as making appearances in TV shows and at motorsports events, on top of becoming an ambassador for brands in the automotive and finance fields.
Alex has also joined promotional campaigns for motoring companies, and has collaborated with well-known celebrities such as Paris Hilton and Keanu Reeves, while also interviewing big names in the automotive industry such as Lewis Hamilton for her YouTube channel.
Though many of the supercars featured in Supercar Blondie are owned by brands, Alex owns a huge deal of cars from expensive and top-tier brands including Lamborghini and Rolls Royce, which speaks volumes about her lifestyle.
Who Is She Married To?
Though Alex Hirschi is the main face of Supercar Blondie, there's an entire team behind the scenes working hard on turning every project into a reality. One of those people who plays a big role in the success of Supercar Blondie as a brand is Alex's husband, Nik Hirschi.
While it's unclear how long Alex and Nik have been married, some of their social media posts confirm that the couple has been together since 2003. Nik is a business graduate from the University Of Queensland, where he's been working as a mentor to students since 2013, and has also been part of business-related programs at the University of Hong Kong and at Harvard.
Before moving with his wife Alex to Dubai in 2008, Nik worked as a banker in several renowned finance companies in Switzerland, Hong Kong, Singapore and the UK. Later in 2018, he and Alex officially established SB Media Group, which is in charge of all the content for Supercar Blondie, including its videos and blogs, on top of managing sponsorships, merchandise sales, and everything else related to the then-already-famous social media brand.
Regarding their personal life, Nik and Alex seem to share more than just their passion for automotive, as they're often seen traveling together around the world, and taking care of their pets together. Overall, they seem to be a great team both in the personal and business aspects of their lives.
How Did Alex Start Her Career?
Nowadays, Alex Hirschi is a big name in the automotive industry, but a lot of hard work and passion was put into making Supercar Blondie work and become what it is today. After graduating in business and journalism from the Queensland University of Technology in 2004, Alex spent a couple of years giving a try to things she liked while working in her native Australia, Switzerland and Hong Kong.
Nonetheless, Alex's life completely changed when she moved to Dubai in 2008, working there as a radio host. It was during those years that she gained the nickname of Radio Blondie, and also had her first experience hosting automotive car shows, a privilege she gained for being the only petrol-head in her radio station.
Today was one of my last days as a radio host in Dubai.❤️ Thank you for listening😎. More time now for awesome cars and sharing these experiences with you. Thank you for your support 👍😘

Posted by Supercar Blondie on Thursday, March 16, 2017
Alex's fascination with the automotive started well before that though, as growing up surrounded by Australian 'strong driving culture' allowed her to spend a lot of enjoyable times on cars, as told to the Telegraph India. Her first car wasn't a supercar, but a Mitsubishi Lancer which previously belonged to her older siblings before being passed down to her. Her passion for business and hustling started when she was at university, eventually leading her up to the path she's on now.
Start Of Supercar Blondie
While Alex's love for cars was always there, creating content around that passion took a while for her. It was her job as a radio host that gave Alex a chance to hang out in car events, eventually resulting in an invitation from Bentley to borrow a car from them and drive it around the city.
As Alex affirmed in an interview with Khaleej Times, the experience was so enjoyable that it led her to focus her efforts on meeting lots of people in the industry, and creating as much automotive content as she could. At that point, her YouTube channel Supercar Blondie had already existed for a while but no content was uploaded onto it until 2015.
According to Alex, her intention with her channel wasn't to make it a job, but to have fun with it, and get people closer to car culture in a fun and entertaining way, creating content attractive for petrol-heads and others who enjoyed cars but weren't experts. Following that plan, the first year of Supercar Blondie saw Alex driving Lamborghinis, Ferraris, McLarens, and a lot of other supercars, slowly but surely building a massive and diverse audience which has only kept growing as years passed.
TV Projects & Social Media
Alex doesn't fit only one description of what an internet-famous person could be. She's a content creator, a businesswoman, an influencer and a host, regardless of whether she's promoting a car event, appearing in her own videos, or hosting a TV show.
The latter is a facet that she's only started exploring after her online fame blew out. Her earliest experiences on TV come from hosting the German broadcast of "GRIP Das Automagazin", and appearing in "Top Gear" in 2018. One year later, Alex began hosting "Car Crews with Supercar Blondie", filmed in the US and aired on Insight TV.
Some say The Stig is dating 😉 #topgear pic.twitter.com/xz7BeA7L2g

— Supercar Blondie (@supercarblondie) April 16, 2019
Nonetheless, Alex's focus remains on social media platforms. As she told British GQ, she mainly sees herself as an online content creator, given the lots of effort and focus she's put into building the Supercar Blondie brand on YouTube, Facebook, Instagram and TikTok.
Though Alex's massive presence on social media has also made her the focus of online hate, her increasing fame has also given her incredible results. These days, her YouTube channel has over 15 million subscribers, and her videos have six billion views combined. As well, the brand's profiles on other platforms have over 80 million followers combined, which leaves no unanswered questions about her success.
Her Business Now
While Supercar Blondie is one of the biggest automotive-centered YouTube channels around, its content has changed quite a lot from its beginnings. Nowadays, it's not only Alex who we see in videos, as her team made of enthusiasts for cars, luxury, and technology has also become an essential part of the brand and its content.
Another big step Alex took in turning Supercar Blondie into a massive social media company was to establish her SB Media Group's headquarters in 2021. Though the first three years of Supercar Blondie saw Alex and Nik managing every aspect of it, these days their business has dozens of employees, based between Dubai and the United Kingdom. On top of that, Supercar Blondie has grown so much that now it's become common for the channel to feature celebrities known worldwide, and motorsports stars.
All the impressive accomplishments of Supercar Blondie reflect not only how great the content is, but also how great the team behind the brand is. Even more, it's fantastic to see how far Alex Hirschi has travelled, to make her dream come true.