Who is Scott Phillips?
American musician, songwriter and record producer Thomas Scott 'Flip' Phillips, was born under the zodiac sign Pisces on 22 February 1973, in Atlanta, Georgia USA. He can play a number of instruments, including the keyboard, percussion and drums, and is perhaps known best for being a co-founder of the rock 'n' roll bands Creed and Alter Bridge, and the rock 'n' roll supergroup Projected.
Voting has begun for the Best Drummer of 2020 and Scott Phillips has been nominated! Go vote now 🤘🤘https://www.musicradar.com/news/who-is-the-best-rock-drummer-of-2020

Posted by Alter Bridge on Sunday, November 8, 2020
Education and early life
Scott was raised in Madison, Florida by his parents, about whom he hasn't shared many details because he respects their privacy; it's believed that his father was also a singer-songwriter when he was in his 20s and 30s, but this remains unconfirmed. Scott hasn't spoken about having siblings and is thus believed to be an only child.
He was still attending a local elementary school when he became interested in music, and began playing the guitar; Scott soon switched to drums as he enjoyed playing these more. He went on to attend a local high school, and it was upon matriculating in 1991 that he joined his first rock 'n' roll band Crosscut; they performed for around two years prior to disbanding.
Scott hasn't attended college.
Creed
American singer Scott Stapp and American guitarist and singer Mark Tremonti met while attending the same high school and in 1994 decided to found their own band; they held auditions and were joined by Scott on the drums, Brian Marshall on the bass guitar and Brian Brasher on the rhythm guitar – Basher quit in 1995.
They named themselves Creed, and began performing at bars and small venues around Tallahassee, Florida. In 1997, owner and manager of a local bar Jeff Hanson invested $6,000 in Creed for them to record their debut album "My Own Prison"; it was released on 24 June 1997 and topped the Billboard Albums chart, while its singles "One", "What's This Life For" and "My Own Prison" all topped Billboard Hot Mainstream Rock Tracks.
Their second album "Human Clay" came out on 28 September 1999 and topped the Billboard 200 chart, while its lead single "Higher" topped Billboard Rock Radio; the album sold over 10 million copies in two years, and was thus certified diamond by the Recording Institute of America Association (RIAA), while it also won the band their one and only Grammy for Best Rock Song – "With Arms Wide Open".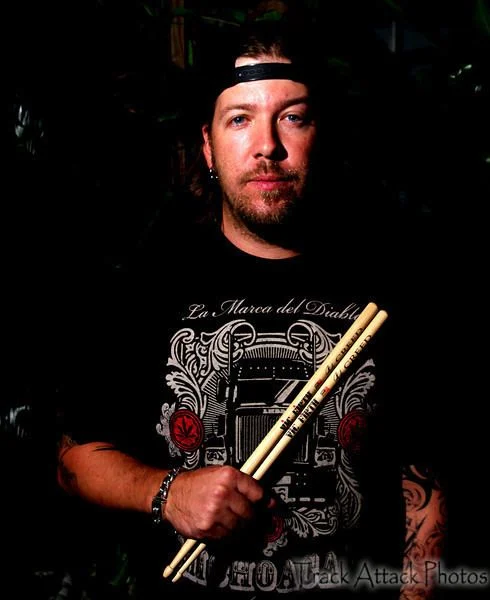 Brian Marshall quit the band in 2000 due to his alcoholism, and was replaced by Brett Hestla.
Creed's third album, "Weathered" was released on 20 November 2001, and topped Billboard 200; the band went on a hiatus in 2003, and officially disbanded in June 2004. They reunited in 2009 and released their new album "Full Circle" on 27 October of the same year; they continued performing until 2013, but have since been on a hiatus.
Alter Bridge
After Creed disbanded in 2004, Scott, Brian Marshall and Mark Tremonti founded their new rock 'n' roll band Alter Bridge.
They released their debut album "One Day Remains" on 10 August 2004 to received mixed reviews; the album was still certified gold, as it sold over 750,000 copies, and reached #5 on Billboard 200. In 2005, Alter Bridge released their extended play (EP) "Fan EP", comprising four songs.
Their second album "Blackbird" came out on 9 October 2007 and was followed by their third "AB III" on 8 October 2010, which, peaked at #17 on Billboard 200 and the band toured around the UK to promote it. Their fourth album, "Fortress" came out on 25 September 2013 and received mostly positive reviews, while it spawned hit singles "Waters Rising" and "Cry of Achilles".
Alter Bridge's fifth album, "The Last Hero" followed on 7 October 2016, and their sixth "Walk the Sky" on 18 October 2019; most recently, on 14 October 2022, they released their seventh album "Pawns & Kings".
Thomas Scott "Flip" Phillips – drummer/songwriter/producer – Creed – Alter Bridge – Projected – 1973https://t.co/rsT2hwnjPw – Musical Birthday Notes – Feb 22nd#HappyBirthday #FlipPhillips #Creed https://t.co/xHdvYIHbmm https://t.co/J8BWNfeFTu

— The Dude (@TheFrogHoller) February 22, 2019
Projected
Rock 'n' roll supergroup Projected was founded in 2012 by Scott, Eric Friedman, Vinnie Hornsby and John Connolly.
They completed their debut album "Human" in June 2012 and it was released on 18 September of the same year; Projected then went on an hiatus as its members wanted to focus on their other bands.
They reunited in 2017, and released their second album "Ignite My Insanity" on 21 July; their third album "Hypoxia" was released in 2022, but attracted little attention.
Love life and relationships
Scott shies away from speaking about his love life in public and hasn't talked about the women and/or men whom he's dated.
Many people mistakenly believe that Scott was once married to American actress, singer-songwriter and film producer April Phillips; April was indeed once married to a man who bears the same name, but he's an American businessman.
Most of Scott's fans believe that he's been in a relationship with a non-celebrity American woman for more than 10 years now, as many people have claimed to have seen the two spending time together on many occasions, but this hasn't been addressed by Scott.
He seems to be unattached as of September 2023, hasn't married and doesn't have children.
Interesting facts and hobbies
Scott's cited many drummers as his influences, including Neil Peart of Rush, Morgan Rose of Svendust, and Lars Ulrich of Metallica; he's also revealed that some of his favorite bands are Led Zeppelin, Tool, and Living Colour.
Scott's followed by close to 30,000 people on Instagram, and has posted 102 pictures and videos onto the network, with most of these featuring him performing with his bands.
He's a fan of tattoos and has many.
Scott was once passionate about travelling, and went all around the world with his bands, however, he nowadays prefers not to travel overseas.
One of his favorite actors is Steve Martin, and some of his favorite movies include "Planes, Trains and Automobiles", "Dirty Rotten Scoundrels", and "Roxanne".
Appearance and net worth
Scott's age is 50. He has blue hair and brown eyes, weighs around 165lbs (75kgs), and is 5ft 6ins (1.68m) tall.
Scott's net worth's been estimated at over $2 million, as of September 2023.