Who was Tommy Lawrence?
The late British professional soccer player Thomas Johnstone 'Tommy' Lawrence was born under the zodiac sign Taurus in Dailly, Ayrshire, Scotland, on 14 May 1940. He was a goalkeeper for Tranmere Rovers and Liverpool from the '50s through the '70s, appearing in 300 league matches during his 14 years with Liverpool, and playing in three internationals for Scotland in the '60s.
Tommy died aged 77 on 10 January 2018, from natural causes.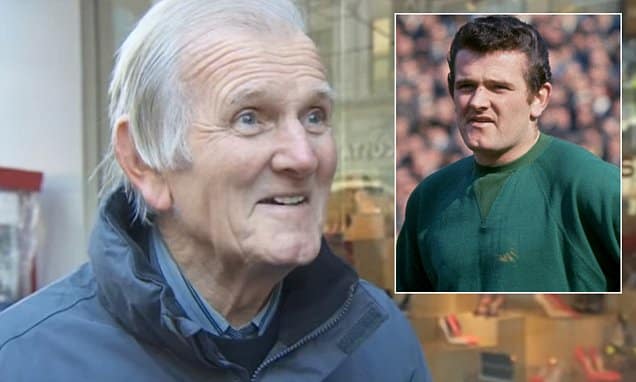 Education and early life
Tommy was raised alongside his younger sister Mary and older brother William 'Billy' in Dailly, by their mother Ruby and father Frank Lawrence; Tommy was around four when the family moved to North West England.
He fell in love with playing soccer while still attending a local elementary school; Tommy played at school every week, and then spent his spare time playing the sport with his neighborhood friends. He studied at a local high school in North West England but dropped out wanting to find work and financially support himself; he worked at the wire factory Rylands and then began playing for the Croft Village soccer team, prior to launching his career as an amateur with the team Warrington Town.
It's believed that Tommy eventually earned his high school diploma.
Club soccer
Tommy was only 17 when then-manager of Liverpool Philip Henry 'Phil' Taylor signed him to the team in 1957; his professional debut came five years later, after Phil was replaced by the late Scottish soccer player and manager William 'Bill' Shankly, in a match which Liverpool lost 1-0 to West Bromwich Albion on 27 October 1962; 20 days later, Liverpool defeated Leyton Orient 5-0.
Tommy played in 35 matches in his first professional season with Liverpool, and they went on to reach the semi-finals of the FA Cup, losing to Leicester City 1-0; the 1962-1963 League Championship was won by Everton.
The 1963-1964 season saw Tommy play in 40 of the 42 league matches, and they won that season's League Championship, with four more points than Manchester United.
Former Liverpool 'keeper Tommy Lawrence made his debut for the club on this day in 1962. He went on to keep 133 clean sheets in 390 appearances – the fifth most by any #LFC player ever.

Posted by LFCHistory.net on Friday, October 27, 2017
Liverpool had a rather bad 1964-1965 season, scoring 17 points less than #1 Manchester United and thus placing 7th; they still performed well at the FA Cup, and won by defeating Leeds United in the final, marking their first ever FA Cup win.
Liverpool won the 1965-1966 League Championship, being six points ahead of the second-placed Leeds; it was during this season that Tommy was nicknamed 'The Flying Pig' due to his amazing skills and reflexes.
After a match in 1970, when Liverpool lost 1-0 to Watford in the FA Cup, Tommy was permanently replaced by younger goalkeeper Ray Clemence; he only played for Liverpool one more time, when they finished 2-2 against Manchester City on 26 April 1971.
After having played for Liverpool in 390 matches, Tommy signed a contract with Tranmere Rovers on 10 November 1971; he played in 80 league matches during his three years with the team, then retired from soccer in 1974, following which he returned to working at the wire company Rylands.
BBC journalist Stuart Flinders interviewed Tommy in the street in February 2015, without knowing who Tommy was; he asked him if he remembered the FA Cup game between Everton and Liverpool, to which Tommy replied that he had played in it as the Liverpool's goalkeeper.
International soccer
Tommy played in three matches for Scotland during his career.
He played for the national team for the first time on 3 June 1963, when Scotland lost a friendly game against the Republic of Ireland 1-0. It was six years later, at the 1970 World Cup qualifier that he played his second match, with Scotland and West Germany playing 1-1; they then faced Wales in the British Home Championship, which Scotland won 5-3.
While playing against Wales, Tommy had to be carried off after having collided with the crossbar.
Love life and marriage
Tommy rarely spoke about his love life in public, as he respected his wives' privacy, but some things about it are still known.
He and non-celebrity British woman Judith exchanged vows in a small and private ceremony in 1963, and she gave birth to their daughter Tracey in 1964; their son Stephen followed in 1967, and their second daughter Jayne in 1970.
Tommy and Judith divorced in 1977, and he married his second wife Ellie a couple of years later; he also preferred to keep his second wife away from media; they had three children together, and Tommy and Ellie remained together until his death.
Even though he and his first wife divorced, Tommy was still highly involved in the upbringing of their children and they still remember him fondly today; his son Stephen occasionally speaks about his father in interviews.
There are no other women whom Tommy had been with, that we know about; he was married to his second wife Ellie at the time of his passing and they had three children together, while he also had three children with his first wife Judith.
Interesting facts and hobbies
Tommy spent most of his life focused on soccer, and even when he stopped playing professionally he continued playing occasionally with his friends and family members.
He preferred to stay away from media following his retirement, and spent his spare time fishing and watching TV.
Tommy was involved with a number of British charity organizations and enjoyed donating money and volunteering with those that aimed to bring sports closer to underprivileged children, for example by buying them gear.
He loved to listen to rock 'n' roll music, and his favorite bands were Guns 'N' Roses and AC/DC.
One of Tommy's favorite actors was the late Heath Ledger, and some of his favorite movies included "The Imaginarium of Doctor Parnassus", "The Patriot" and "The Dark Knight".
Appearance and net worth
Tommy would've been 83 today. He had brown eyes and hair, weighed around 200lbs (89kgs) and was 5ft 11ins (1.8m) tall.
Tommy's net worth at the time of his death was estimated at over $2 million.