Corey Harrison's rise to fame was catapulted by his appearance on the smash-hit History Channel reality show, "Pawn Stars." Born into a family steeped in the pawnshop legacy, Corey was presented with a unique opportunity to showcase his skills and charisma. The show's immense popularity not only made him a household name, but also opened the doors to an influx of wealth and global recognition. However, beneath the glitz and glamour, Corey's journey has been punctuated by turbulent marriages and legal entanglements.
Meet Corey Harrison
Affectionately known as "Big Hoss" by the devoted fans of this reality TV series, Corey was being groomed to be the heir apparent to the thriving family empire, which was showcased vividly on the screens worldwide.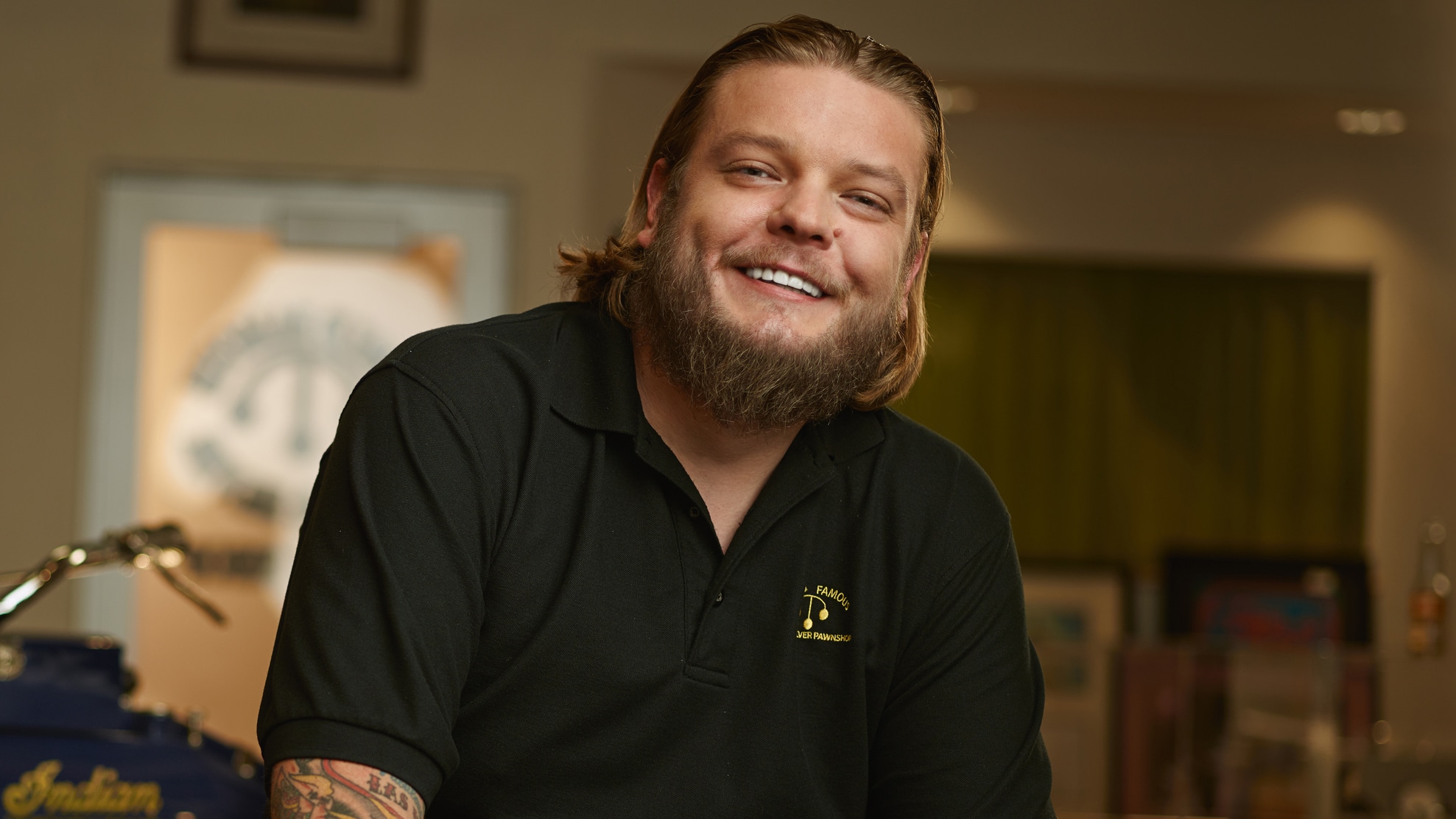 Early Life and family
Richard Corey Harrison was born on 27 April 1983, to parents Rick and Kim Harrison. His grandfather was Richard Benjamin Harrison, who along with Corey's father co-founded the renowned Gold & Silver Pawn Shop in Las Vegas, Nevada. Within the Harrison household, Corey was the eldest of three brothers, ushered into a life intertwined with the pawnshop's heritage that was established in 1989. He began his journey in the family business at the tender age of nine, working alongside his father and grandfather.
Education and path chosen
In his teenage year,s Corey chose not to continue with traditional schooling, but opted to attend a vocational school, mirroring his father's own path, who had left formal education in his teens due to epilepsy. Just like his father, Corey recognized the allure of the family business. With open arms, he embraced the opportunity to become part of the legacy, solidifying his role in the intriguing world of pawnshops.
The family business
It was Corey's grandfather who had the entrepreneurial spirit to venture into dealing with coins, after retiring from the Navy and moving to Las Vegas in the early 1980s.
The humble beginnings
Before the era of banks dominating the lending landscape, pawn shops played a crucial role in providing quick cash solutions for those in need. The Gold & Silver Pawn Shop, initially established as a coin shop by the patriarch of the Harrison clan, has been a Las Vegas institution for years. However, it wasn't always a smooth journey towards becoming a fully-fledged pawn shop.
It was Corey's father who was driven by the vision to expand the business, but faced substantial challenges in obtaining a business license in Las Vegas due to city code restrictions. It took several years for the city's population count to reach the required threshold, ultimately allowing Rick to realize his dream and establish the Gold & Silver Pawn Shop as a genuine pawn shop. He envisioned this family legacy to be passed on to his three children, with Corey at the helm.
Setting a new standard
To distinguish Gold & Silver Pawn Shop in the fiercely competitive pawnshop industry, Rick Harrison adopted a unique approach. Instead of the typical pawnshop fare, the family business focused on acquiring rare and exceptional memorabilia, ranging from historical weaponry to fine art pieces. One standout feature of the shop was a Picasso painting proudly displayed on its wall, creating an atmosphere of opulence and refinement. Rick also took great care in assembling a team of knowledgeable and skilled staff, to provide expert evaluations and excellent customer service. He trained them along with Corey to ensure that the pawn shop would not only be on top of its game, but could stand the test of time. This strategic shift not only attracted a broader clientele but also enhanced the shop's reputation, solidifying its position as an industry leader.
The "Pawn Stars" Phenomenon
The show, which premiered in 2009, offers viewers a glimpse into the daily operations of the World Famous Gold & Silver Pawn Shop, showcasing the interactions among the store's owners and staff as they buy, sell, and appraise a wide array of items brought in by customers. With 675 episodes across 21 seasons, "Pawn Stars" has captivated audiences worldwide, making it one of the History Channel's most beloved and enduring series.
Behind the Scenes of the iconic pawnshop
In the heart of the Las Vegas pawnshop scene stands a legendary establishment that has become synonymous with the world of buying, selling, and haggling over unique treasures. Led by the patriarch who was fondly called 'Old Man', and his son Rick, this family business has earned its place in the limelight. Corey managed the day-to-day operations of the business, devoted most of his time to learning the ropes from his father, and was in charge of the inventory of the valuable items in the shop.
From pawn shop to reality TV stardom
The transition from a traditional pawn shop to a reality TV sensation was a remarkable journey in itself. Given its location in the entertainment capital of the world, the Harrisons were keen to explore various platforms to promote the family business. The idea of a reality TV series documenting their daily operations emerged, and with the assistance of Leftfield Productions, a pilot episode was filmed and presented to TV networks.
It was interesting to note that the 'Old Man' was initially hesitant to participate, due to the chosen filming day coinciding with his day off, but eventually embraced the concept when it was explained to him. When Corey's father pitched the concept to History Channel executives, he encountered challenges but took a fortuitous turn when he crossed paths with the Vice President of programming in the hallway of the executive offices. This encounter paved the way for the creation of the show, initially entitled "Pawning History." The title later evolved into the now-famous "Pawn Stars," a clever play on words that accurately captured the essence of the show.
Uncovering treasures and tales
Beyond the riveting transactions and intense negotiations, the reality TV series gave the viewers a unique opportunity to delve into the historical and cultural significance of the items that passed through the shop's doors. From rare books that illuminate the past to vintage automobiles that evoke a sense of nostalgia, each object carries an interesting story waiting to be told. "Pawn Stars" served as a captivating window into the tapestry of human history, one valuable item at a time. There were times that they weren't successful when dealing with clients and there were incidents in which some of the things brought into the shop had legal issues.
Surprised everyone to his close to 200lbs weight loss
Just like his co-star and friend Austin "Chumlee" Russell in "Pawn Stars," Corey has undergone a remarkable transformation, shedding a significant amount of weight. Back in 2014, he shared with an online magazine that at his heaviest, he tipped the scales at over 400lbs, about 180kgs. However, a pivotal moment came when his doctor prescribed preventative diabetes medication, prompting him to make a life-altering decision.
Corey drove straight from his doctor's clinic to a weight loss surgical center, and arranged lap-band surgery, and was given the green light by the doctors almost immediately after his medical evaluation. At that time, his savings weren't enough to cover all the expenses, and he paid for it through multiple credit cards. The reality TV star could have saved for it, but knew that he needed to have the operation as soon as possible, because he didn't want diabetes to take over his life. Corey re-evaluated his lifestyle and made the necessary changes.
After the surgery, he continued on losing weight, starting with about 50lbs during the first few weeks. It only took him several months to lose another 100lbs, as he focused on achieving his weight goal. Loyal viewers of "Pawn Stars" witnessed his transformation as some of his workout routines were shown in the reality TV series and by July 2014, he weighed 210lbs. He said that it was one of the best decisions he made in his life as he rediscovered activities and hobbies he hadn't enjoyed since childhood, such as snowboarding.
He was quite thrilled whenever he encountered fans who would tell him that he resembled a guy in the TV show, but the Corey they faced was slimmer and much more handsome. It gave his confidence level a huge boost, and it also inspired many viewers suffering the same thing.
Building a Fortune
Corey Harrison's net worth was estimated at $4 million as of September 2023. He's been part of the family business since he was in his teens. His earnings received a significant boost through his role on "Pawn Stars," as he reportedly earns $25,000 to $30,000 per episode. Beyond the show, Corey's financial success is intertwined with the Gold & Silver Pawn Shop, which became a popular tourist attraction in Las Vegas, and contributed substantially to his wealth. There was a time when he was even hailed as the highest buyer and seller in the shop, which was a testament to his dedication to making the establishment one of the best in the country. During the seventh season of the TV series, he threatened his father and grandfather that he would leave the shop and work for another establishment if his position wasn't elevated to a business partner with a 10% stake in it. They haggled, and eventually Corey received his much-deserved raise as well as a 5% share.
His entrepreneurship extends to his involvement in other TV shows. He was part of the cast of a few spin-offs of the original series including "Pawnography," "Pawn Stars Do America," and "Best of Pawn Stars."  He also made appearances in popular shows such as "American Restoration" and "iCarly."
Aside from making money from appearing on TV, he developed a fashion brand, HOSSCAMP, with lead artist Maggie Errickson. His online shop offers unconventional designs not only on hats, shirts, and hoodies but also on his shoe and bag line. His creative team embraced controversy with their creations while bravely challenging society's long-accepted norms.
Corey's Colorful Love Life – two failed marriages and a son
As a public figure, Corey's romantic life has been the subject of much speculation, with people curious about both his past and present relationships.
Marriage to Charlene Steele
Corey first tied the knot with Charlene Steele, his high school sweetheart, in 2009. Charlene not only supported Corey in the pawn business, but also ventured into her own entrepreneurial endeavor, "Sweet Tempered Homemade Accessories," an online business specializing in customized handmade accessories for music and roller derby enthusiasts. The couple welcomed two children during their marriage, however, despite their shared history, Corey and Charlene divorced in 2015, keeping the reasons for their separation private.
Marriage to Korina "Kiki" Harrison
His love life took another turn when he found love with Korina "Kiki" Harrison, an executive assistant working in Las Vegas. They began dating around 2016, and decided to make their union official in May 2017, exchanging vows in San Diego. The couple announced the exciting news in March 2018 – they were expecting their first child together. Unfortunately, their marital journey faced challenges due to their demanding work schedules, leading to their decision to file for a divorce, which was finalized by September 2018. They welcomed their son into the world a month after the divorce, and named him Richard Benjamin Harrison, in honor of Corey's beloved grandfather. While so many people wanted to have their son be part of a TV series, the couple have chosen to keep him away from the public eye.
I gotta a pretty good wife #kikiharrison pic.twitter.com/9Qf6pEnNjH

— corey harrison (@corey_harrison) July 20, 2017
An unexpected reunion
In a surprising turn of events, Corey and Kiki seemed to reunite in late 2019. Corey's Instagram post tagged Kiki, hinting at their renewed connection. The post featured a tattoo reading "Harrison" in cursive, symbolizing their enduring bond. Despite this apparent reconciliation, the couple kept their relationship status relatively private, leaving fans curious about the nature of their reunion. Then they both started posting pictures of themselves together, as they claimed that they remained friends. However, it didn't last long as they not only stopped posting "couple photos" on their social media pages but also deleted all of them.
Corey's Legal Troubles
While Corey Harrison's professional life has brought him fame and fortune, he hasn't been immune to legal challenges:
2011 Arrest – Corey's first reported brush with the law
A notable incident from over a decade ago put the affable reality star in the legal spotlight. According to a legal resource website, in March 2011, Corey found himself at Murray's Saloon and Eatery in Big Bear Lake, California, when a disagreement with another bar patron escalated into an unfortunate confrontation.
The situation caught the attention of a vigilant bartender, who promptly sought the assistance of a local police officer in a bid to defuse the tension. However, things took a concerning turn when Corey was allegedly confrontational with the security guard and with the police who arrived at the scene, as reported by San Bernardino County sheriff's spokesperson.
Following the altercation, Corey was promptly taken into custody, subsequently booked into the local jail, but was released after a day following standard operating procedure for the police. The sheriff's office just made sure that he was sober enough before releasing him. Fortunately for Corey, it appeared to be an isolated incident in his life.
2023 DUI Arrest in Las Vegas
Since the 2011 incident, Corey managed to steer clear of any further legal entanglements until May 2023. He found himself in hot water again and in the headlines, when he was arrested on a Driving Under the Influence or DUI charge in Las Vegas, according to Las Vegas Metropolitan Police Department documents.
Corey was arrested for DUI after consuming alcohol on a flight to Las Vegas. The arrest report, obtained by an online entertainment site, detailed the incident that occurred in the early hours of 8 September 2023. An alert officer in the area of Main Street and Charleston Boulevard noticed a white Ford pickup truck exhibiting erratic behavior, swerving between the right lane and the bicycle lane. Corey was pulled over by the police officer and subsequently underwent a blood test. He was released from custody a few hours after his arrest, and the Las Vegas Police Department didn't provide further details regarding the incident.
The arrest served as a reminder that even TV stars are not immune from legal matters, sparking discussions about responsible alcohol consumption and the consequences of impaired driving. Corey's life story exemplifies the unpredictable path that can influence the destinies of even the most prominent figures in the entertainment industry.
In recent times, he's refrained from making public declarations, leaving fans in the dark about his official relationship status. When he occasionally posted pictures with a girl on his Instagram page, it often triggered speculation among fans, with some advising caution. However, the pattern usually followed by Corey was that the photo would eventually be deleted, leading fans to speculate that the relationship didn't work out.
As Corey continues to make his mark in the world of pawnshops and reality TV, fans remain captivated by the multifaceted personality known as "Big Hoss." His continued success hinges on his ability to avoid becoming entangled in legal troubles, which have occasionally arisen due to excessive drinking. People close to him said that those are isolated cases, since Corey has earned a reputation for being a do-gooder who often takes the time to visit terminally ill individuals, without making promotional fanfare about these charitable activities.