Who is Ana Maria Polo?
Cuban-American TV arbitrator Ana Maria Cristina Polo Gonzalez was born in Havana, Cuba, on 11 April 1959, making her zodiac sign Aries. She's perhaps known best for starring in the reality talk-show "Caso Cerrado con la Dra. Ana Maria Polo", which also stars Rolando Baute and Mary Cruz, and follows a judge as she's presiding over various cases; the show has been airing since 2002 (Ana joined the cast in 2012) and was nominated for a 2010 Daytime Emmy Award for Outstanding Legal/Courtroom Program, thus becoming the first Spanish-language show to be so nominated.
Ana's indeed a lawyer, as she graduated with a Law degree from the University of Miami's School of Law in 1987, and she was then admitted as a member of the Florida Bar.
Education and early life
Ana was raised alongside her sister Alina in Havana, by their mother Delia Polo and father Joaquin Polo; not many other details have been shared about Ana's family, because they prefer to be left out of media.
The family moved to Miami, Florida USA when Ana was two years old, and then eventually to Puerto Rico. She was passionate about singing while growing up, and appeared in a number of musicals, including "Show Boat", "Jubilee" and "Godspell"; aged 16 in 1975, Ana was invited to sing at St. Peter's Basilica in the Vatican by Pope Paul VI.
She matriculated in 1977 and then enrolled at University of Miami's School of Law.
Ana's career
Not many details have been disclosed about Ana's career, but it's known that she spent most of the '90s working at the law company Emmanuel Perez & Associations in Coral Gables, Florida.
She's today focused solely on shooting for her show "Caso Cerrado con la Dra. Ana Maria Polo".
Most popular YouTube videos
Ana's the star of the YouTube channel "Caso Cerrado", which was launched on 12 March 2015, and today numbers over 11 million subscribers, while all its 4,000 videos combined have been watched close to nine billion times. Nearly all of these are scenes taken from the series "Caso Cerrado con la Dra. Ana Maria Polo", and we'll be covering three of the most watched amongst these, which've contributed to Ana's popularity.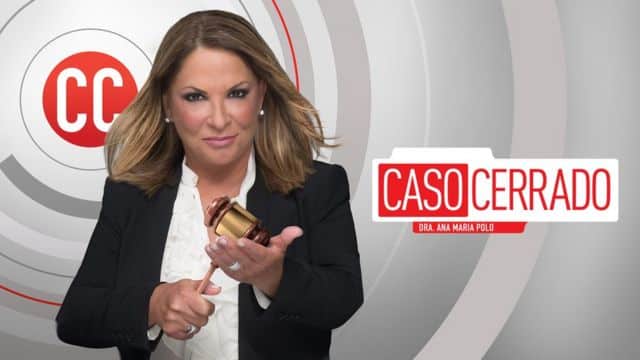 Her #1 video "Pene que espanta | Caso Cerrado | Telemundo" was uploaded on 22 October 2015, and has since been watched more than 75 million times; it follows Cindy who's sued her boyfriend Rafael for $10,000 because his penis has a bad smell, and she's suffered because of it.
Ana's second most popular video "Hija adicta al sexo, Casos Completos | Caso Cerrado | Telemundo" was uploaded on 21 November 2016 and has since been watched over 40 million times; it follows a man who's brought his daughter to Ana's court, because she's addicted to sex.
Ana's #3 video "¡¿Secuestraron a la Dra Polo?! | Caso Cerrado | Telemundo" was uploaded on 6 November 2018 and has been watched close to 40 million times; it follows Michael who's just been released from jail and now wants to see his daughter, but his former wife won't let him and has told their daughter that he's a rapist. Michael now wants to kidnap Ana so that his wife will admit that he isn't a rapist, and will allow him to see his daughter.
Presence on the internet
Ana's active on various social media networks and over 2.8 million people are following her on Instagram today; she's posted more than 1,300 pictures and videos onto the network, and most show her during her everyday life, whether she's spending time with her pet dog, riding her horse or working.
Muchos son los beneficios de tener una mascota en casa 🐶🐱 son excelente compañía y nos brindan un amor incondicional. Aquí grababa un comercial para @peta cuya lucha es por los derechos de los animales. Los invito a seguirlos.#loveyourpetday 💛#HeDicho #AnaMariaPolo pic.twitter.com/gUQTfPnyFN

— Ana Maria Polo (@AnaPoloTV) February 20, 2022
Ana launched her Twitter account in June 2010 and it's today followed by close to a million people, while it numbers over 61,000 tweets; most of Ana's tweets are related to her show, while others aim to promote various charity events.
More than 16 million people are following Ana's Facebook page, and most of her content are scenes from her show "Caso Cerrado con la Dra. Ana Maria Polo"; her most recent update was on 21 August 2023.
Ana's also active on TikTok, and nearly five million people are following her on this social media network; all her videos combined have amassed more than four million likes, and most of these are also scenes from "Caso Cerrado con la Dra. Ana Maria Polo".
Love life and relationships
Ana shies away from speaking about her love life in public, which is why the internet's filled with rumors about her sexual orientation, and supposed past and present affairs.
It's believed that she was 19 when she married a man 10 years her senior, and that she then gave birth to their son Peter; it's also believed that Ana was then pregnant again but suffered a miscarriage, and that it was this that led to their divorce. This hasn't been confirmed, and other sources claim that Ana hasn't married and has adopted her son Peter, as well as raised him alone.
It's known that she was in a relationship with Marlene Key sometime in the 2010s; Marlene works as an executive partner on the show "Caso Cerrado con la Dra. Ana Maria Polo"; Ana filed a $2 lawsuit against Marlene following their split.
Ana seems to be unattached as of August 2023, has perhaps been married once, and has a son Peter.
Interesting facts and hobbies
Ana's a breast cancer survivor and has collaborated with various charity organizations which aim to raise awareness about breast cancer; she's also donated money to a couple of breast cancer research facilities.
She loves animals and has donated money to a number of animal shelters; Ana's favorites are horses and swans.
She loves to eat delicious foods, and her favorite is seafood.
Her career's taken her to a number of US states and South American countries, and Ana's also been to several European and Asian countries; her favorite city to visit is Managua, the capital of Nicaragua.
She likes to drink cocktails, which she prepares herself.
Jenna Ortega's one of Ana's favorite actresses, and some of her favorite TV series and movies include "Yes Day", "The Fallout" and "Wednesday".
Height, eyes and wealth
Ana's age is 64. She has brown hair and eyes, is 5ft 8ins (1.73m) tall, and weighs around 155lbs (70kgs).
Ana's net worth's been estimated at over $3 million, as of August 2023.