Who is Bianca Lawson?
Bianca is an American actress best known for her roles in various popular TV shows and films such as Kendra Young in the TV series "Buffy the Vampire Slayer", while Lawson also appeared in "Pretty Little Liars", "Teen Wolf", and "Save the Last Dance", in addition to many other projects on which she's worked so far in her career.
Bianca Lawson as Kendra Young in 'Buffy the Vampire Slayer' (1997) pic.twitter.com/AOsHWKutxs

— ValleyWitch ☽ (@NINETIESWITCH) May 16, 2021
Is Bianca Lawson Close to Beyonce?
Beyoncé's mom, Tina Knowles-Lawson, is married to Bianca Lawson's dad, actor Richard Lawson. They connected after Tina's divorce and were encouraged to marry by Blue Ivy Carter. Beyoncé and Bianca have been seen together in family photos, but they haven't talked in public about how close they are; on the other hand, the duo often exchange compliments on Instagram and other social media accounts. They haven't been involved in any scandal, and seem to get along just fine, being a part of one big family. Nevertheless, Bianca seems closer to Tina, as she refers to Bianca as a "bonus daughter".
Bianca Lawson Wiki: Age, Childhood, and Education
Bianca Lawson was born on 20 March 1979 in Los Angeles, California USA – her mother is Denise (née Gordy). She is a grand-niece of Motown founder Berry Gordy, as her mother is his niece. African-American, Native American, Italian, Portuguese and Creole ancestry.
Interested in performing arts from an early age, Bianca went to the Stella Adler Studio of Acting and matriculated from Marymount High School. Later, she enrolled at the University of Southern California, where she pursued film and psychology studies.
Career Beginnings
Bianca Lawson began her acting career at nine years old, with commercials for Barbie and Revlon. In 1993, she secured a significant role as Megan Jones, a series regular, in the TV show "Saved by the Bell: The New Class".
After her stint on "Saved by the Bell: The New Class", Bianca Lawson's career continued to flourish with two notable roles. In 1995–1996, she appeared in the TV series "Sister, Sister" as Rhonda Coley. The show starred Tia Mowry and Tamera Mowry as twin sisters who reunite after being separated at birth, navigating the complexities of their newfound relationship.
Following that, in 1996 and '997, Lawson played the role of Bianca Goode in "Goode Behavior". This sitcom featured Sherman Hemsley as Gerald Goode, a parolee who moves in with his son's wealthy in-laws upon his release from prison. Then in 1998, Bianca Lawson appeared in the film "Primary Colors" as Loretta, starring John Travolta, Emma Thompson, and Kathy Bates.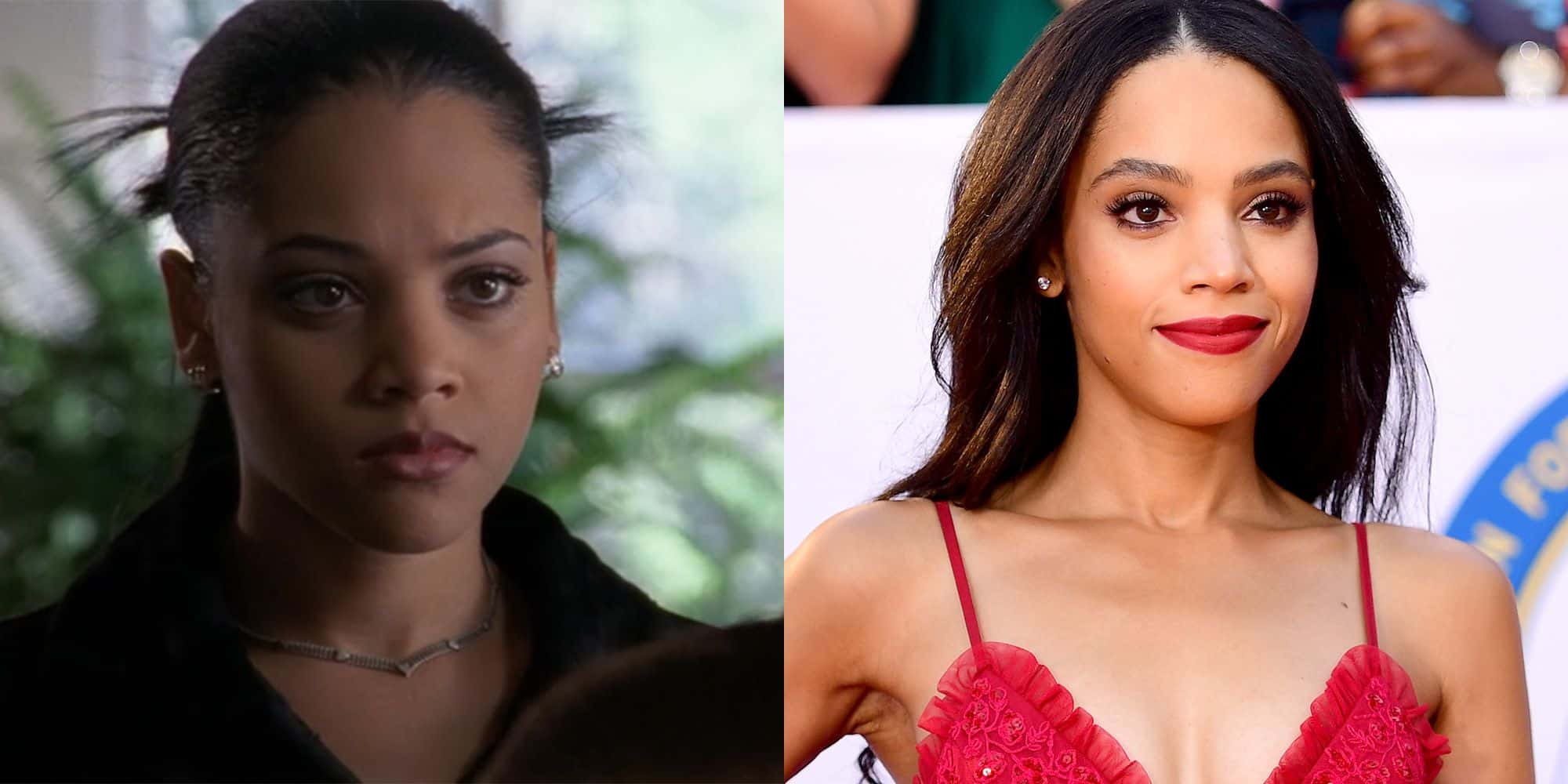 As the '90s drew to a close, Bianca Lawson's career continued to thrive. She secured the role of Nikki Green in the TV series "Dawson's Creek" (1999–2000), in which she appeared in the recurring cast during the third season. The show's ensemble included James Van Der Beek, Katie Holmes, Michelle Williams and Joshua Jackson. The series chronicles the lives and relationships of a group of friends in a quaint coastal town.
Entering the new millennium in 2001, Lawson maintained her success with several noteworthy roles.
She played Nikki in the film "Save the Last Dance", which follows Julia Stiles' character, a young woman with dreams of becoming a professional dancer. Amid personal challenges and romantic complexities, she navigates her path toward success.
Furthermore, Lawson portrayed Anna Bella Monroe in the TV movie "The Feast of All Saints"; this adaptation of Anne Rice's historical novel delves into the lives of mixed-race individuals in pre-Civil War New Orleans.
Rise to Stardom
Bianca Lawson's career continued to ascend gradually, as she secured more prominent roles. In 2004's "Dead & Breakfast", Lawson portrayed Kate alongside main stars David Carradine and Jeremy Sisto in a horror-comedy film that follows a group of friends contending with unexpected supernatural events during a road trip.
She then played Helen Sharp in "Breakin' All the Rules" (2004), a romantic comedy in which a dumped man's guide to breakups inadvertently leads to a series of unexpected romantic connections; the film starred Jamie Foxx and Gabrielle Union.
Her role as Mary in the TV movie "The Pavilion" (2004) saw her contributing to a story centered on a man revisiting his hometown for a high school reunion, and reflecting on past relationships. Lawson shared the screen with main stars Richard Jenkins and Scott Glenn.
As 2005 unfolded, Lawson took on the character Angel in "Flip the Script", adding her talent to a narrative that explores a woman's journey in the music industry.
In 2006's "Broken", she portrayed Mia alongside main stars Heather Graham and Jeremy Sisto, in a drama that delves into the aftermath of a tragedy in a small town.
Her comedic skills came to the forefront as she played Monique in "National Lampoon's Pledge This!" (2006), a film starring Paris Hilton, revolving around the amusing antics of a sorority,.
The year 2007 featured Lawson as Carla Masters in "Supergator", a science fiction horror movie that showcases the havoc caused by a massive alligator among a group of people.
Continuing her journey in 2009, Bianca Lawson secured significant roles: she portrayed Shawna in the TV series "The Secret Life of the American Teenager", co-starring Shailene Woodley and Molly Ringwald. The series delved into the lives of a group of teenagers as they navigated the challenges of adolescence and unexpected pregnancies.
From 2009 to 2014, she was Emily Bennett in "The Vampire Diaries", a supernatural drama featuring Nina Dobrev, Paul Wesley and Ian Somerhalder. Lawson appeared in the recurring cast for seasons one, two and the fifth.
In "Pretty Little Liars" (2010–2012), she took on the role of Maya St. Germain. The show's main stars included Troian Bellisario, Ashley Benson, Lucy Hale and Shay Mitchell. Lawson was a main cast member for seasons 1 and 2, transitioning to a recurring role for Season 3. The series followed a group of friends dealing with the aftermath of their friend's disappearance and a web of secrets and mysteries in their lives.
From 2012 to 2014, Bianca Lawson took on the role of Marin Morrell in the TV series "Teen Wolf", in which she appeared in the recurring cast during Seasons 2 and 3. Starring Tyler Posey, Dylan O'Brien and Crystal Reed among others, "Teen Wolf" is a supernatural drama that follows a teenager's transformation into a werewolf, navigating both his newfound identity and the supernatural challenges that plague his town.
Later Career
In 2014, Bianca Lawson joined the TV series "Witches of East End" as Eva/Selin, becoming part of the recurring cast during Season 2. The show featured main stars Julia Ormond, Jenna Dewan, and Rachel Boston, and revolves around a family of witches as they uncover and grapple with their magical powers and the secrets of their mysterious past.
In 2015, Bianca Lawson took on the role of Talia Freeman in the TV series "Rogue", becoming a main cast member during Season 3. The show starred Thandie Newton, and revolved around a morally conflicted undercover detective navigating dangerous situations.
From 2016 to 2022, Lawson portrayed Darla in the TV series "Queen Sugar". She appeared in the recurring cast during Season 1, and then became a main cast member from Season 2 to Season 7. Starring Rutina Wesley, Dawn-Lyen Gardner, and Kofi Siriboe, The series follows the lives of three siblings as they inherit and work to manage their late father's sugarcane farm, while dealing with personal struggles and family dynamics.
Net Worth
According to authoritative sources, Bianca Lawson's net worth is estimated at $2 million, as of mid-2023.
Personal Life, Married, Husband, Children
Regarding her personal life, Bianca is very secretive. There is no information on her relationship status, though it's believed that she's single and focused on her acting career. She was linked to her "Queen Sugar" co-star, Kofi Siriboe who is her partner in the series, but they are just good friends in real life.
Appearance and Body Measurements
Bianca Lawson has black hair and brown eyes. She stands at a height of 5ft 3ins (1.6m), while she weighs approximately 110lbs (50kgs), with vital statistics of 34-22-37, and bra size 38B.