Biggie, renowned as a TV personality, social media influencer, and model, has become a household name, thanks to her appearance as a cast member on the popular Zeus reality series, "Baddies West." Her presence on the show has led to a substantial surge in her fan base, leaving her audience eager to uncover more about her personal life.
Notably, she's an influential figure for plus-sized women, fearlessly blazing a trail for those who don't fit into the traditional mould of stick-thin figures. This bold stance has attracted a substantial following, who appreciate her empowering attitude and her impressive ascent in her career.
Let's take a closer look at the life and career of this lady, as well as answer the question, 'Is Biggie a man?'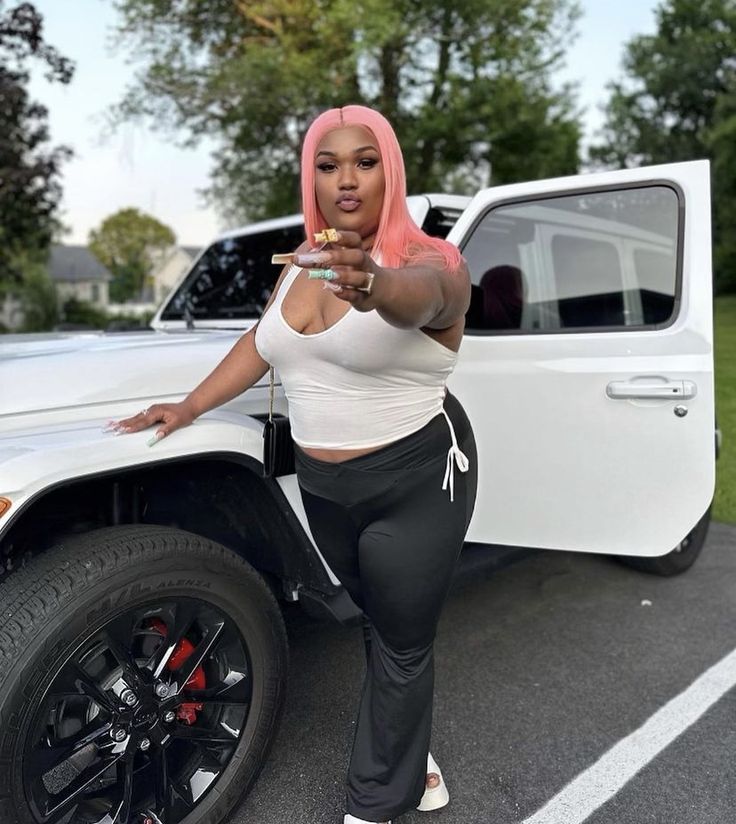 Early Personal Life
Born with the name Damerlin Baez, on 12 September 1996, in Rhode Island, her roots can be traced back to Santo Domingo, where she spent the majority of her formative years in her hometown located in the heart of the Dominican Republic.
Unfortunately, this is as far as information about Biggie's early life goes. It's unclear who her parents are, who her siblings are if she has any, and how her childhood was.
Education
From the information available, Biggie made the move to Rhode Island to pursue her education, matriculated from Hope High School before taking her next step at the Community College of Rhode Island.
Career
When she auditioned for the reality TV series, "Baddies," she confidently introduced herself as 'Biggie.' Since then, she's embraced the name Biggie Baddies, setting aside her birth name from the public eye.
In the third season of "Baddies West," Biggie took on a leading role alongside other prominent figures such as Stunna Girl, Lo London, Tommie Lee, and others. This highly anticipated show premiered on the Zeus channel on 22 January 2023, taking the top spot with more than 90 million viewers. Biggie's journey on the show took her all the way to the end.
"Baddies West" is a fresh addition to The Zeus Network's lineup. In addition to the captivating drama, these ladies are set to showcase their singing talents and host at some of the hottest clubs in cities such as L.A., Las Vegas, Phoenix, Portland and Oakland.
Biggie's audition for "Baddies West" was no small feat; she made a significant six-hour plane journey for it. Alongside Razor and Stunna Girl, who were also newcomers to the show, she won over the panel of judges, which included Natalie Nunn.
In her bid to join the "Baddies" cast, she declared that no 'big girl' earns more money than her. This is a bold claim, but she seems to believe her words, and who wants to argue with someone so confident?
Biggie has already garnered a dedicated fan base, with many rooting for her success on the show. The first episode of the series didn't shy away from drama, with the initial conflict unfolding on the bus between Biggie and Cat.
Cat expressed her readiness to contribute to the team's financial success in Vegas by leveraging her party-planning skills and connections. Biggie, who is an event coordinator, questioned Cat's role, and whether she considered herself a promoter. Cat's denial led to a heated exchange, with Biggie probing into the nuances of Cat's work. Another on-bus dispute occurred between Biggie and Stunna Girl.
Viewers picked up on Biggie's assertive approach, with one fan observing it seemed that Biggie was looking for a fight the whole episode, and Stunna Girl gave it to her. Some viewers also noted Biggie's frequent reference to her Dominican heritage, which irked them.
In the upcoming fourth season of "Baddies," entitled "Baddies East," Biggie takes on the role of a pre-screen judge during auditions in Washington D.C. Biggie's journey from a prominent cast member to a pre-screen judge on one of the most-watched TV shows is an impressive feat within a remarkably short period.
Biggie's horizons extend to acting in a multitude of movies and television productions, where her passion lies in bringing characters to life on the screen. Her commitment to artistic growth is unwavering, and she aims to reach an even wider audience through her music and performances.
According to her Instagram bio, she wears multiple hats – host, model, and an ambassador for the Plus-Size Fashion Brand, Nova Curve, for which she's modelled as well. Biggie also has a knack for event planning.
In addition to her diverse career, she has an account on the subscription-based platform, Only Fans.
Interesting Facts
Despite the misconceptions stemming from her distinctive voice and masculine demeanour, some have speculated that Biggie is transgender. In fact, she addressed this assumption during an Instagram Live session a while ago.
While scrolling through a stream of comments from her viewers, she stumbled upon a direct question: "Are you transgender?" Her response was nothing short of sassy, as she playfully retorted that people should check out her Only Fans to find the answer. Although her playful answer doesn't directly reveal her sexuality, it hints that she identifies as a female.
B!*CH IM GETTING MONEY! Give a F**k About a Hater! 🚀📈‼️ 🇩🇴🧸
• Make sure you subscribe to @The_ZeusNetwork to Tune in to the latest Drama ⚡️
• @bellazonhair 💈
• @telfarglobal 👜
• @victoriajewelry 💍#labiggie #baddieswest #BIGGIE #zeus pic.twitter.com/a9HMFegIsR

— BIGGIE (@PVDBIGGIE) March 20, 2023
While details about her mother remain elusive, Biggie has expressed her gratitude and appreciation for her mother's unwavering belief in her, and her role as a strong support system.
While reflecting on her journey and expressing her gratitude for being a part of the renowned show "Baddies," she took a moment to acknowledge her mom. In a heartfelt message, she wrote that she would like to thank God and her mom for never doubting her.
Biggie's passion for singing and dancing shines through, as she dedicates countless hours to perfecting her moves and pouring her heart into her music. It's no wonder she's become such a captivating performer!
Much like many others her age, Biggie thoroughly enjoys the world of video games. Whether she's racing through virtual tracks or embarking on epic adventures, she revels in the immersive experiences gaming offers.
In her room, you'll find an impressive collection of action figures, showcasing her deep admiration for these iconic characters. Her favorite superheroes and beloved TV and movie characters are proudly on display.
Creativity flows through Biggie, and she has a knack for writing catchy songs that stick in your head for days. With her inventive mind, she pens lyrics and melodies that resonate with her audience. In addition to her talents in singing and dancing, she's also a skilled guitar player, strumming out some fantastic tunes.
When she's not occupied with her career, Biggie relishes quality time with friends and family. They bond over fun activities, indulge in games, and engage in memorable dance-offs that are nothing short of epic!
Biggie is also quite the culinary artist and loves experimenting with diverse recipes in the kitchen. Her favorite foods include the comforting delights of pizza and absolutely adores the classic flavor of chocolate chip cookie dough ice cream. Who knows, maybe one day we'll see her hosting her own cooking show.
She possesses a hidden talent for mimicking celebrities, often impressing her friends with spot-on impressions at gatherings and parties.
Nature holds a special place in Biggie's heart. She thrives on outdoor adventures, embracing activities such as hiking, camping, and embarking on journeys to discover new and breathtaking destinations.
Blue is her preferred color, evoking the tranquillity of the sky and the ocean.
She has a soft spot for dogs, finding them to be the most loyal and adorable creatures.
Impressively, she's a multilingual talent, proficient in three languages: English, Spanish, and French.
She particularly relishes the summer season, basking in the joy of outdoor activities and sun-drenched days.
She has an unwavering passion for travel and exploring new places. Her dream vacation destination is the enchanting shores of Hawaii, where she can enjoy relaxation on beautiful beaches.
Basketball is a sport she's genuinely passionate about, and she thoroughly enjoys playing it during her free time.
Biggie's heart warms up during her favorite holiday, Christmas, when she revels in the cherished traditions of spending quality time with family, exchanging gifts, and spreading holiday cheer.
Later Personal Life
Biggie's romantic life is a mystery, concealed from the prying eyes of the public. While she's a prolific presence on Instagram, her posts reveal no hints of a romantic partner. To date, she hasn't publicly referred to anyone as her boyfriend or girlfriend, making it seem likely that she's currently unattached.
Biggie continually strives to discover fresh avenues for captivating her devoted fanbase and showcasing her extraordinary talents. Her bio clearly conveys her aspiration to release more remarkable music that will have people dancing and singing along. She exhibits a keen interest in venturing into diverse genres and experimenting with her musical expression.
Keep an eye out for Biggie Baddies West because she certainly has some exciting prospects in the pipeline for the future.
Physical Characteristics
Biggie is 5ft 4ins; information about her weight is difficult to find, and it's not proper to speculate about a lady's weight, so this info remains a mystery for now. She has dark brown eyes and hair, but is often spotted with bright red, pink, or blonde hairdos
Net Worth
Biggie's a busy girl and she's earning a lot of money thanks to her hard work. As of late 2023, her net worth is estimated at close to $200,000.