Who is Eduardo Santamarina?
Mexican actor Eduardo Hernandez Garcia Santamarina was born under the zodiac sign Cancer on 9 July 1969, in Veracruz, Mexico. He has 44 acting credits, and is perhaps still known best for starring as Jose Andres Garces de Valle in all 144 episodes of the 1996 romantic series "Marisol", which also starred Romina Castro and Erika Buenfil, and follows a girl with a scarred face as she's selling flowers to buy medicine for her mother.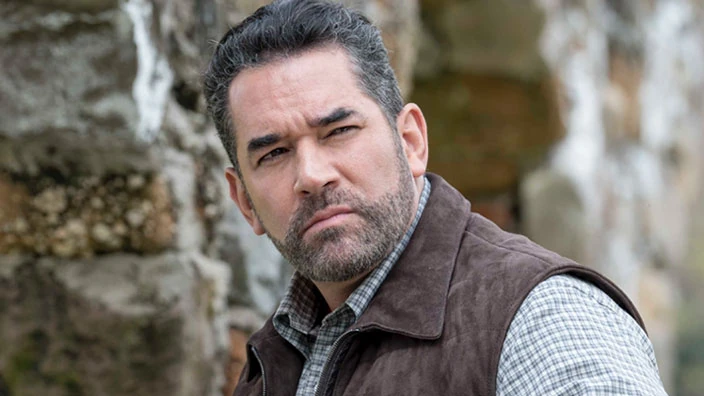 Education and early life
Eduardo was raised in Veracruz by his father Miguel Hernandez and mother whose name remains undisclosed; he hasn't shared many details about his family as he respects their privacy, but it's believed that his mother was a housewife and his father a car salesman. Eduardo's believed to be an only child, as he hasn't spoken about having siblings.
He studied at a local high school in Veracruz and it was during his four years there that he fell in love with acting, appearing in most of the plays performed at the school. Eduardo matriculated in 1987, and worked various jobs for the following two years, wanting to financially support himself; he moved to Mexico City in 1989, and began honing his acting skills at the Centro de Educacion Artistica.
Roles in TV series
Eduardo's debut TV series role was playing Ulises in two episodes of the 1992 family adventure "El Abuelo y Yo", and the same year saw him star as Luis Enrique in all 98 episodes of the romantic drama "De Frente al Sol", which also starred Ada Carrasco and Itati Cantoral, and follows a young girl who's fallen in love with an older man.
In 1995, Eduardo played Mauricio Padilla in 49 episodes of the romantic drama "La Duena", which starred Cynthia Klitbo and Angelica Rivera, and follows Regina Villarreal who was left by her fiancé at the altar, while she's now moved to another country and has fallen in love again. The remainder of the '90s saw Eduardo star in the romantic comedy "Salud, Dinero y Amor", the animated family drama "Serafin" (voice role) and the drama "El Precio de tu Amor".
In 2003 and 2004, he played Jorge Robleto in all 135 episodes of the romantic drama "Velo de Novia", which also starred Cynthia Klitbo and Susan Gonzalez, and follows Andrea Paz who's received a heart transplant and has fallen in love with the donor's fiancé. Eduardo appeared in a couple of popular series in the remainder of the 2000s, including the family adventure "Rubi", the comedy "Yo Amo a Juan Querendon" and the romantic thriller "Triunfo del Amor".
In 2011, he played Leo Cornejo in the romantic comedy "With You, Without You", and the year 2013 saw Eduardo portray one of the main characters Ramon Sotomayor in all 110 episodes of the comedy "Libre Para Amarte", which also starred Gabriel Soto and Gloria Trevi, and follows the life of a female taxi driver.
Some of Eduardo's most recent roles in TV series have been in 85 episodes of the 2021 drama "La Desalmada", 80 episodes of the crime action "El Senor de los Cielos" from 2018 through 2023, and 31 episodes of the 2023 drama "Nadie Como Tu".
Roles in movies
Eduardo's debut film role was playing Bruno in the 2003 romantic comedy "Ya no los Hacen Como Antes", which starred Gonzalo Vega and Silvia Pinal, and was directed by Juan Fernando Perez Gavilan. It follows Benito whose wife's recently died, and who's now fallen in love again.
Also in 2003, Eduardo appeared in both the musical "Mama no te lo Pierdas!" and the comedy "Bano de Damas", then the year 2005 saw him play the lead character Sahuaro in the action western "La Sombra del Sahuaro", which also starred Marco Perez and Jesus Ochoa, and was directed by Eduardo Barraza; it follows the life of infamous Mexican drug lord Ricardo Lope. Eduardo's only other film role in the decade was playing El Protagonista in the 2007 comedy "Mejor es que Gabriela no se Muera".
Cuando sea joven
Una viuda de 70 años siente que es una carga para su familia. De repente, recupera su apariencia de cuando tenía 20.
Actores: Verónica Castro, Natasha Dupeyrón, Michael Ronda, Eduardo Santamarina, Pierre Louis, Alejandra Barros, Edgar Vivar. pic.twitter.com/l7i9GBflL4

— Cine Móvil ToTo (@cinemoviltoto) January 21, 2022
He's since appeared in just three films: the 2011 crime comedy "Il Commissario Zagaria", the 2021 drama "Agua de Arrayan", and the 2022 comedy "Cuando Sea Joven".
Other credits
Some of Eduardo's most recent talk-show appearances have been in "Don Francisco Presenta", "Noches con Platanito" and "Miembros al Aire".
Love life and wife
Eduardo's married twice. His first wife was famous Mexican actress and singer Itati Guadalupe Cantoral Zucchi; they exchanged vows on 19 September 1999 and their twin sons Jose Eduardo and Roberto Miguel were born in August 2000. Itati's appeared in 69 movies and TV series, and is perhaps still known best for starring as Soraya Montenegro in 142 episodes of the romantic series "Humble Maria", which aired in 1995 and 1996.
Eduardo and Itati's divorce was finalized on 10 June 2004 – the reason behind their divorce was Eduardo's affair with Mexican actress and model Susana Gonzalez.
In 2009, he married his second wife Mayrin Villanueva Ulloa, a Mexican actress and model whom he met on the set of the 2007 series "Yo Amo a Juan Querendon"; on 18 July 2009, Mayrin gave birth to their daughter Julia.
There are no other women whom Eduardo's perhaps been with, that we know about; he's married to his second wife Mayrin Villanueva as of September 2023, and has a daughter with her, as well as twin sons with his first wife Itati Cantoral.
Interesting facts and hobbies
Eduardo's also a businessman, as he today owns a catering business and a restaurant in Veracruz.
Eduardo's Instagram account is followed by more than 600,000 people, and he's uploaded close to 300 pictures and videos, with most being about the TV series and movies in which he's appeared.
Eduardo's been physically active since his teenage years, and has multiple training sessions at the gym every week, thus his muscular body.
He likes to travel, and has been to various Latin countries, mostly to shoot for his TV series and movies.
One of Eduardo's favorite actors is Freddie Prinze Jr, and some of his favorite movies include "Summer Catch", "Christmas with You" and "She's All That".
Appearance and net worth
Eduardo's age is 54. His hair and eyes are brown, he weighs around 190lbs (87kgs) and is 6ft 3ins (1.91m) tall.
Eduardo's net worth's been estimated at over $5 million, as of September 2023.