Who is Giuseppe Zanotti?
Giuseppe is an Italian fashion designer, renowned for his luxury footwear. He's best known for creating high-end, stylish shoes that have become favorites of celebrities such as Beyoncé, Kim Kardashian, and Rihanna.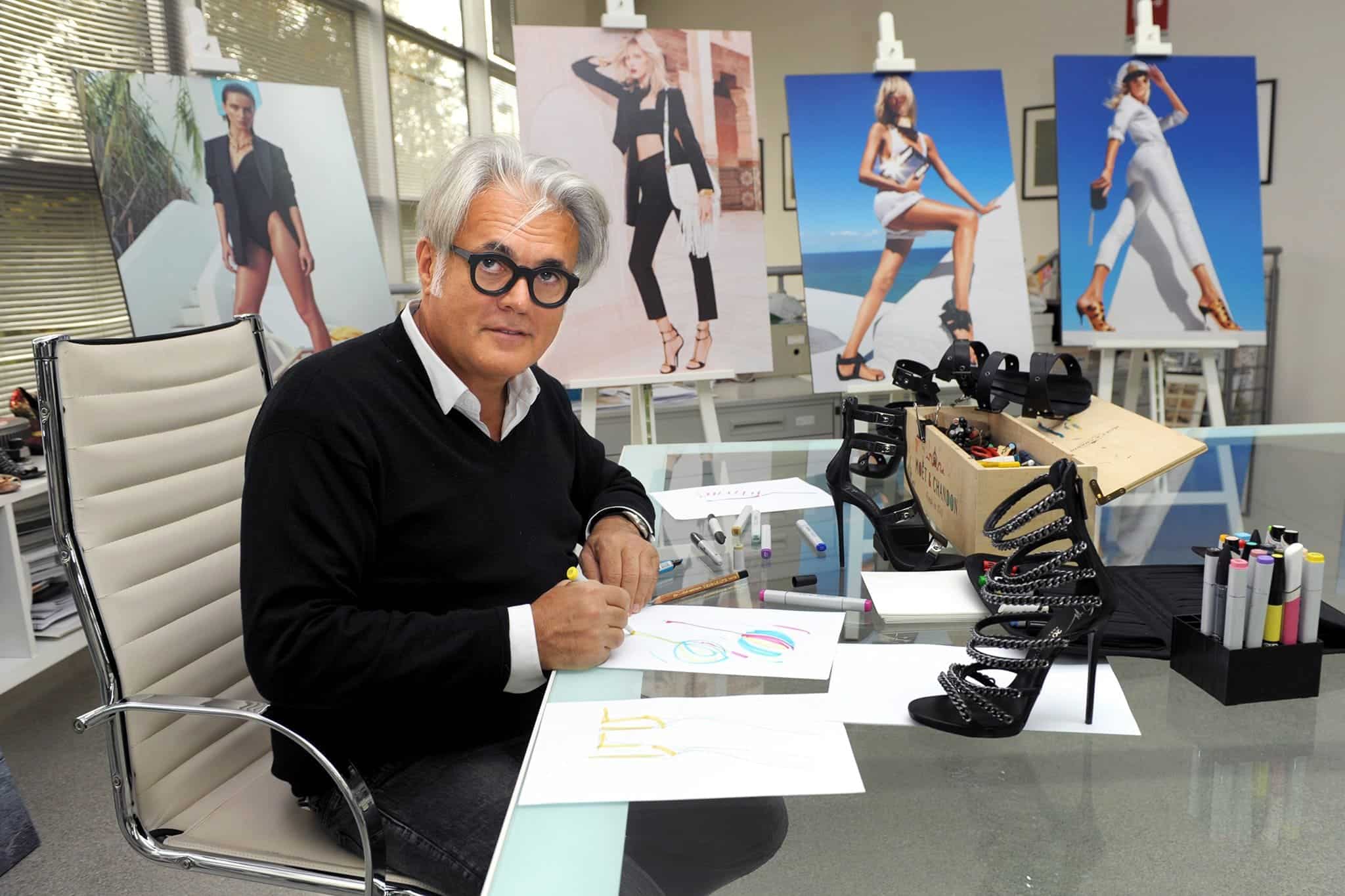 Wiki: Age, Childhood, and Education
Giuseppe Zanotti was born on 17 April 1957, in San Mauro Pascoli, Italy, a town renowned particularly for its tradition of high-end shoe-making. Growing up here, he was exposed to craftsmanship from an early age. Although he hasn't revealed the names of his parents, it's known that his father was an antique collector, while his mother was a tailor. He is the only male in the family of four children; at 17, he left school to pursue a career as a disc jockey.
Career and Global Success
During the 1980s, Giuseppe Zanotti embarked on his career in the world of women's shoe design. His initial steps in this fashion journey led him to work as a freelance designer for several prestigious fashion houses, including Missoni, Roberto Cavalli, Dior, Ferré, Thierry Mugler and Valentino. This period allowed him to hone his craft, and gain valuable experience in the art of creating stylish and elegant footwear.
After years of working for others, Zannoti's career reached a new height when he acquired the Vicini shoe manufacturing company, which marked the start of his long and successful journey into shoe design as a sole name. With this acquisition, he gained the resources and creative control needed to bring his unique vision for high-end footwear to life.
In the early 1990s, Zanotti had a vision to craft distinctively ornate footwear adorned with crystals and stones, reminiscent of the opulence found in jewelry. This creative ambition led to the development of his unique shoe designs, setting him apart in the world of luxury footwear.
#GiuseppeZanotti wants you to meet LYNDA, a glittery lace-up bootie he co-designed with @jlo. #GiuseppexJennifer coming 01/23. pic.twitter.com/9GGAQZ7U03

— Giuseppe Zanotti (@giuseppezanotti) January 13, 2017
As the years progressed, Zanotti's brand and reputation continued to grow. In 2000, he achieved a significant milestone by opening his first fashion store in Milan, Italy. This marked the start of his global expansion, as he soon established boutiques in major cities around the world, including London, Stockholm, New York, Moscow, Paris, and Dubai.
Zanotti's talent and creativity were not confined to his eponymous brand alone. He collaborated with renowned designers and brands such as Thakoon Panichgul, Delfina Delettrez, Proenza Schouler, Vera Wang, Christopher Kane, and Pierre Balmain.
Continued Success
The Giuseppe Zanotti brand expanded its offerings beyond shoes to include handbags, jewelry and sneakers, catering to both men and women.
Zanotti's outstanding contributions to the world of fashion were recognized with prestigious awards. He was honored with three Designer of the Year awards by Fairchild, highlighting his consistent excellence in design. Additionally, he received the Prix d'Excellence de la Mode from Marie Claire International, further solidifying his status as a renowned designer.
Zanotti's exceptional shoe-making techniques and innovative designs captured the attention of celebrities, making him a favorite among stars such as Jennifer Lopez, Rihanna, Cameron Diaz, and many others. His shoes became a symbol of fashion-forward style and luxury, gracing the red carpets and events attended by these influential figures.
A notable collaboration in his career was with music icon Kanye West. Together, they created remarkable footwear, including pearl-studded sandals and the iconic Cruel Summer sandals inspired by West's music album. Moreover, he's worked with Zayn Malik on a collection of footwear.
Furthermore, the growth of Vicini Sp.A., initially a small company, has been remarkable. It now boasts five company-owned factories specializing in luxury shoe manufacturing, employing a workforce of 650 people. Together, they produce over 600,000 pairs of shoes annually.
Other Projects
In 2010, under Zanotti's leadership, the Vicini brand ventured into the world of luxury sneakers, designed to strike a balance between the casual, everyday appeal of street style, and the elevated sophistication associated with couture fashion. They featured eye-catching details such as crystals and metal accents, adding a touch of opulence to a typically casual footwear choice.
Towards the end of 2010, Giuseppe Zanotti expanded his creative horizons by launching his inaugural jewelry collection. This collection was a natural extension of his design aesthetic, drawing inspiration from the same decorative elements found in his iconic shoe designs. It included oversized and sculptural necklaces, bracelets, and rings, all adorned with crystals and colored stones.
During a 2014 interview, Zanotti drew an interesting parallel between sneakers and jeans, emphasizing that, much like jeans, sneakers are incredibly versatile and adaptable. Both items transcend strict fashion guidelines, allowing individuals to express their personal style freely and comfortably.
Net Worth
According to authoritative sources, Giuseppe Zanotti's net worth is estimated at $85 million as of mid-2023.
Personal Life, Marriage, Wife, Children
Giuseppe Zanotti was previously married to Cinzia Casadei, and together they have two sons, including one named Riccardo Zanotti.
Appearance and Body Measurements
Giuseppe Zanotti has gray hair and brown hair. He stands at a height of 5ft 7ins (1.7m), while he weighs approximately 160lbs (72kgs). His vital statistics are unknown, but he has an average figure.