Kenneth Cole
The American philanthropist and designer Kenneth D. Cole, owner of global company Kenneth Cole Productions, was born on 23rd March 1954 into a Jewish family in Brooklyn, New York. Fashion clearly runs in the Cole family, as Kenneth's father Charles was the owner of shoe manufacturing company El Greco, whereas his mother was most probably a housewife.
After matriculating from John L. Miller Great Neck North High School, Kenneth furthered his studies at the Emory College of Arts and Sciences, graduating in 1976. The Brooklynite spent the next few years learning the secrets of the family trade, which would help him set up his own company at just 28 years old.
Business
At the time of founding Kenneth Cole Productions, Inc., Kenneth dreamed of previewing his shoe line at the New York Hilton Hotel's annual footwear exposition; however, he didn't have enough money to purchase a showroom for the display. Instead, the tenacious entrepreneur took steps to hire a trailer and park it just two blocks from the hotel.
After being told that trailers could only be hired by production and utility companies, Kenneth renamed his business, and obtained a permit to film a full-length film detailing the company's beginnings. Thanks to his ingenious thinking, the designer sold over 40,000 pairs of shoes in less than three days.
To date, Kenneth Cole Productions has made Forbes' annual 200 Best Small Companies list four times. The company went public in 1994, and sells accessories and clothing under four labels: Gentle Souls, Unlisted, Kenneth Cole Reaction, and Kenneth Cole New York. Specialty stores, department stores, company-owned retail stores, and a digital global flagship are just some of the places from where Kenneth's products can be purchased.
Although Kenneth specializes in shows, he also sells eyewear, watches, fragrances, eyewear, and all sorts of men's apparel items. The company brand is based on civil liberties, sustainability, and supporting public health, which makes it especially popular amongst conscious shoppers.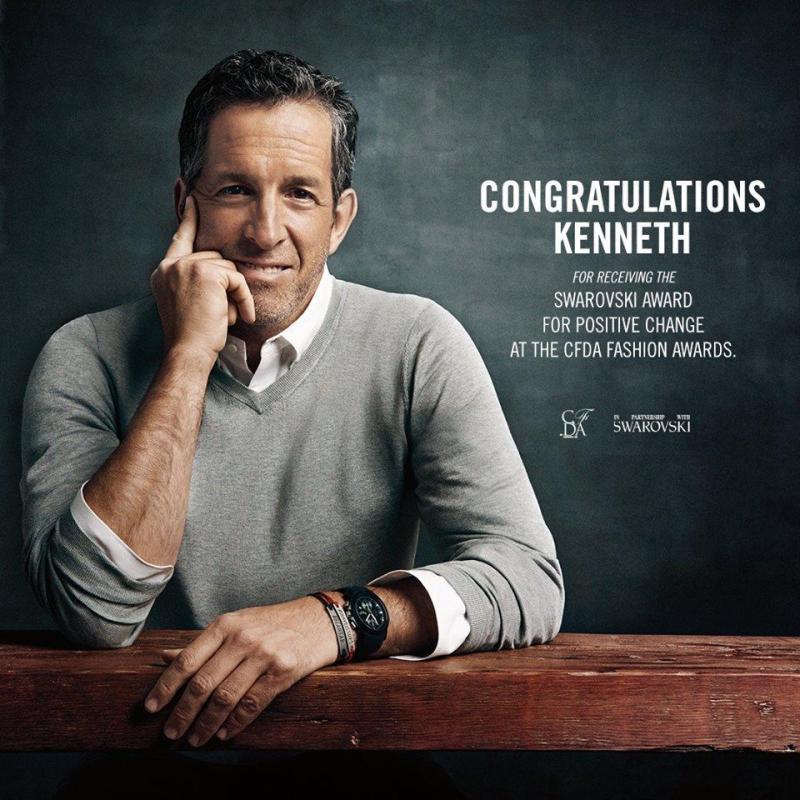 Philanthropical Pursuits
In 1985, while still considered an industry newbie, Kenneth became the first notable face in the fashion world to support AIDs research and awareness. The designer is said to use fashion as his medium to promote socially conscious ads in support of fighting homelessness and other pressing issues; over the years, he has also donated substantial sums of money to Rock the Vote, amfAR, and Mentoring USA amongst other organizations.
However, Kenneth's carefully-crafted image of a selfless philanthropist isn't entirely accurate. In November 2017, prominent AIDS activists and other figures demanded that the designer step down from his chairman position at amfAR, following news of a federal investigation for money laundering and fraud that had been opened against him.
Just three months later, and having served as chairman for 14 years, Kenneth caved under pressure and stepped down. The straw that broke the camel's back was the Harvey Weinstein deal, which saw the Brooklyn native agree to funnel charity proceeds to the disgraced producer's investors.
The menswear mogul concluded his 14-year term as chairman at the foundation's annual benefit, which was held at Cipriani Wall Street, saying: "It has been a true privilege to have worked alongside so many talented and dedicated and committed individuals… I remain personally committed to aligning resources and galvanizing and working with amfAR to make AIDS history."
Finally more years than abs. Reflecting upon how @ChrisCuomo has become such an articulate and compassionate voice for so many and a reliable friend, husband, father, brother, uncle, and more importantly brother-in-law (aka B.I.L) Sending love and birthday wishes. #LetsGetAfterIt pic.twitter.com/z8kijwcx7B

— Kenneth Cole (@kennethcolereal) August 9, 2020
That's not to say that Kenneth stopped campaigning for social causes. In 2001, his eponymous foundation teamed up with Emory University to create The Kenneth Cole Fellows in Community Building and Social Change program.
At times, the New Yorker's conscious advertising stunts have backfired miserably. In 2005, he was lambasted for designing T-shirts for World AIDS Day with the slogans "I Have AIDS" and "We All Have AIDS". Apparently, the designer created the shirts hoping that they would be worn by people with and without AIDS alike, thus diminishing the stigma attached to the disease.
Despite global fur sales increasing a whopping 70% between 2000 and 2010, Kenneth Cole Productions announced that it was going fur-free for its Fall 2007 Fashion Season. In the same year, the company launched its "Awearness" Campaign by producing a T-shirt line to support various charities.
More recently, Kenneth founded the Mental Health Coalition, which aims to change the discussion around mental illness, optimize the care received by those with mental illnesses, and end the stigma surrounding different mental conditions.
Personal Life
Kenneth met Maria Cuomo in 1986; following a whirlwind courtship, they tied the knot in 1987. If Maria's surname sounds familiar, it's for good reason: her father is former New York Governor, Mario Cuomo, and her brothers Andrew and Chris are the former New York State Governor and former CNN journalist respectively.
The Cuomo brothers have fallen from grace since 2021, when it was revealed that Chris had advised Andrew and Andrew's staff on "how to navigate their response to the women who publicly accused the former governor of sexual assault". Not only was it proven that Chris had used his media connections to help Andrew out – in late 2021, he himself was accused of sexual misconduct and fired from CNN.
Back to Kenneth and Maria, they have been residing on an opulent 11.35 acre state in Purchase, New York State, since 2018. The couple share three daughters named Emily, Amanda and Catie, who shy away from the public eye, but have often been photographed with their famous father at fashion events.
In 2011, the designer referenced the Egyptian protests in the worst way by Tweeting to thousands of followers: "Millions are in uproar in #Cairo. Rumor is they heard our new spring collection is now available online." The Egyptian revolution lasted 17 days, and saw millions of protesters fight back against the troubling police brutality going on in the country at the time, amongst other legal and political issues. Kenneth soon deleted his Tweet, and posted a personal apology on Facebook.
Nevertheless, the designer remains a respected figure in the fashion world and has a net worth of $100 million.