Just a simple reminder that article is created and owned only by biographytribune.com. Article cannot be re-published in any other pages or documents. Copyright is protected by DMCA. All found copies will be reported.
Original source: https://biographytribune.com/is-hollyscoop-presenter-crystal-marie-denha-married-wiki-boyfriend-relationships-net-worth-age-height/
Who is Crystal Marie Denha?
Crystal Marie Denha is quite a multi talented persona – she is not only a television host, an entertainer and a stand-up comedian, but also a content writer as well as an actress, who is probably best known for being the presenter of the TV show "Hollyscoop". She is also widely recognized for appearing on the ESPN TV network, as well as in the TV series' "Real Husbands of Hollywood" and "Jane the Virgin".
https://www.instagram.com/p/BhmV_lLDRRx/?taken-by=iamcrystalmarie
Crystal Marie Denha's Early Life & Education
Crystal Marie Denha was born on the 8
th
February 1984, in Detroit, Michigan, USA, but there isn't much relevant information about her family's background, except that she was raised alongside her older brother Chris. Apart from being of American nationality, Crystal is also of white ethnicity, and is of part Iraqi ancestry, while her zodiac sign is Aquarius. Showing an early interest in performing and entertaining through her high school years, Crystal was encouraged by her friends and teachers to continue performing comedy skits, and subsequently to pursue a full-time career in entertainment. Although there aren't relevant details about her educational background, it is somehow publically known that after matriculating from a local high school, Crystal obtained a degree in broadcasting and journalism.
Before Fame and Early Career
Upon graduation, Crustal transferred to Los Angeles, California, to pursue a career in the entertainment business. Her first engagements included appearances in television commercials for companies such as Gillette and Napster, followed by an uncredited, but still the leading role in almost unknown Assyrian comedy movie "Cousins". In the course of the next several years, she collaborated with the "Funny or Die" YouTube channel, as well as with the "What The F*** Facts" comedy channel, and Yahoo's "The Yo Show", at least establishing her net worth.
https://www.instagram.com/p/BhDMxcojOGY/?taken-by=iamcrystalmarie
Crystal Marie Denha's Acting Career
Crystal's "real acting" career debuted in 2007, when she appeared in a small, uncredited, role in the action sci-fi movie "Spider-Man 3", which was followed by a similar appearance in Hollywood's action hero, blockbuster movie "Iron Man" in 2008. In the course of the next decade, Crystal Marie Denha honed her acting skills through a streak of television performances and supporting movie roles, including appearances in "Time for Passion", "The Flip Side" and "Jane the Virgin" TV series, as well as more recently in the 2017 critically acclaimed drama movie "And Then There Was Eve".
Someone pinch me ?? pic.twitter.com/fllJTDU1nS

— Crystal Marie Denha (@IamCrystalMarie) April 14, 2018
Crystal Marie Denha on TV
Apart from the acting credits already mentioned, a huge part of Crystal's professional career includes appearances as well as hosting engagements on various television entertainment programs and sports outlets. So far, she has been seen on several of ESPN's sports shows, including Top Rank Boxing, as well as featuring as herself on YouTube's sports news channel The Fumble, covering almost everything dedicated to sports and athletes. Her popularity expanded even to Australia, where she served as the host of one of the most anticipated morning shows on the continent – "Sunrise Australia". In addition, Crystal has also appeared in the "Real Husbands of Hollywood" TV reality series, as well as being the correspondent of "The Daily Share" and the Special Correspondent of "Extra" TV shows.
https://www.instagram.com/p/BfzhMZoDyJo/?taken-by=iamcrystalmarie
Crystal Marie Denha and "Hollyscoop"
One of the biggest accolades as well as one of her most recognizable appearances in Crystal's professional portfolio so far, is certainly "Hollyscoop" – between 2012 and 2014, she served as the presenter and the host of the entertainment TV show, which covers the latest events from the world of entertainment, reports about celebrities, latest red carpet events as well as upcoming trends, and more. Apart from being the real breakthrough in Crystal Marie Denha's career, this engagement helped her to gain a huge dose of popularity as well.
@thechrisarmy & his new bestie @IamCrystalMarie pic.twitter.com/stcafziuUm

— Crystal Marie Denha (@IamCrystalMarie) March 5, 2018
Crystal Marie Denha's Net Worth
Have you ever wondered how much wealth this American entertainer and presenter has accumulated so far? How rich Crystal Marie Denha is? Authoritative sources estimate that as of mid-2018, her net worth is over $2 million, acquired through her on-camera career that has been active since the mid-2000s.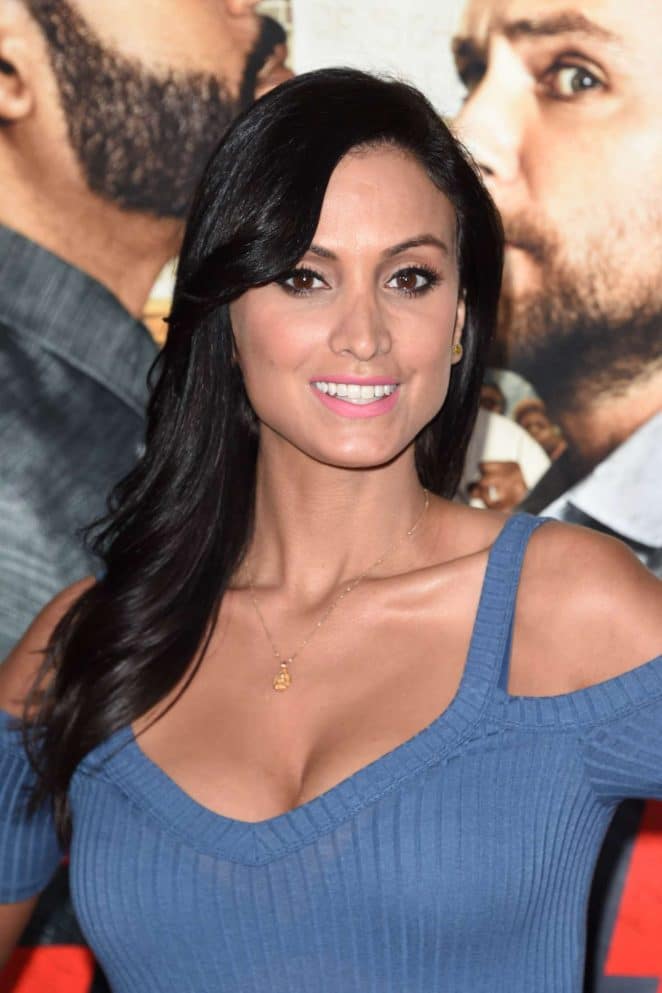 Crystal Marie Denha's Personal Appearance, Age and Social Media
Sporting a curvaceous figure, measuring 38″ – 26″ – 37″ and weighing around 138 lbs (62kgs), it is no wonder that this 34-year old black-haired beauty has managed to make a successful career in the entertainment business. It appears that her shoe size is US 8 while her bra size is 34D, which in combination with her height of 5ft 7ins (170cms) places Crystal Marie Denha among the hottest and most alluring stand-up personalities today.
Crystal is quite active on several social media networks, including Instagram and Twitter, on which she regularly posts updates about her everyday life as well as regarding her career and her upcoming stand-up performances. So far, she has managed to amass a total of more than 185,000 fans altogether.
https://www.instagram.com/p/Bei0zWzDs11/?taken-by=iamcrystalmarie
Is Crystal Marie Denha married? More about her private life
Crystal Marie Denha in not married and it's quite possible that she is currently single, as despite being on-cameras for the majority of her time, she has somehow managed to keep her personal life far from the media, as there isn't much relevant data about her private life. However, it has been publically acknowledged that in 2005, Crystal was dating freestyle motocross driver Ronnie Faisst. In 2010, she was allegedly, romantically connected to actor Jamie Kennedy, but those rumors were never officially confirmed. She currently resides in Los Angeles, California.