Who was Ignacio Lopez Tarso?
The late Mexican actor Ignacio Lopez Tarso was born as Ignacio Lopez Lopez under the zodiac sign Capricorn on 15 January 1925, in Mexico City. He appeared in 108 movies and TV series, and is perhaps remembered best for portraying the lead character Macario in the 1960 fantasy mystery movie "Macario", which also starred Enrique Lucero and Pina Pellicer, and was written and directed by Robert Gavaldon. It follows poor peasant Macario whose wife's prepared him turkey for All Saint's Day and who now has three apparitions: Death, God, and the Devil. The movie won three of its five award nominations, including an Oscar nomination for Best Foreign Language Film.
Ignacio remained active in the film industry virtually until his death on 11 March 2023, from pneumonia and intestinal obstruction aged 98.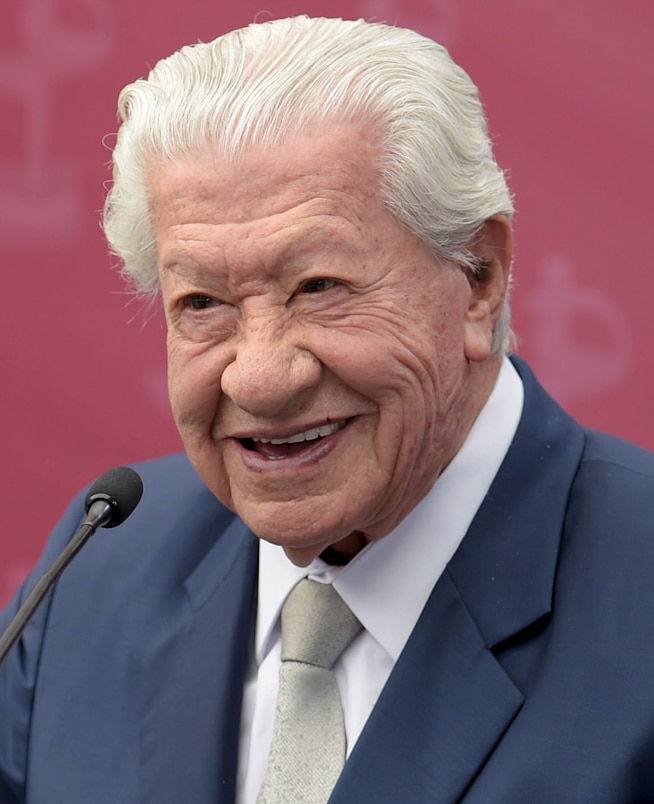 Education and early life
Ignacio was raised in Mexico City alongside his sister Marta and brother Alfonso, by their mother Ignacia Lopez Herrera and father Alfonso Lopez Bermudez; the family often travelled around Mexico because of Alfonso's work, and Ignacio spent some time living in Guadalajara, Navojoa and Veracruz.
He was nine when he fell in love with acting, after his parents took him to watch a theatre play. Ignacio studied at a local high school in Valle de Bravo, Estado de Mexico, and after his family faced economic problems, he continued his education by joining seminaries; a visiting priest from the USA once organized a drama club which Ignacio joined, and he then learned to transmit oral poetry and read classical plays.
Ignacio joined the military aged 20 and completed his service with the rank of First Sergeant; he was then offered enrollment at officer military school but declined. He worked at a clothing company as a sales agent, prior to launching his career in the film industry.
Roles in movies
Ignacio's debut film role was playing a supporting character in the 1954 drama "La Desconocida", and the remainder of the '50s saw him appear in the 1957 drama "Vainilla, Bronce y Morir (Una Mujer Mas)", the 1958 comedy "Ama a tu Projimo", and the 1959 romantic war drama "The Soldiers of Pancho Villa".
In 1965, Ignacio starred as Yacinto Yanez in the thriller "Rosa Blanca", which also starred Reinhold Olszewski and Christian Martel, and was written and directed by Roberto Gavaldon. The movie follows an Indian landowner as he's defending his land against a greedy US oil company; it won one of its two award nominations. Some of Ignacio's following roles were in the 1964 drama "Furia en el Eden", the 1965 action thriller "Un Hombre en la Trampa" and the 1970 adventure comedy "La Vida Inutil de Pito Perez".
He played Don Eme in the 1972 comedy "Cayo de la Gloria el Diablo", which also starred Evita Munoz Chachita and Claudia Islas, and was written and directed by Jose Estrada. It follows the life of poor man Don Eme, and the film won one of its two award nominations. Some of Ignacio's notable performances in the '70s were in the 1973 thriller "El Profeta Mimi", the 1977 historical war drama "La Casta Divina", and the 1980 drama "Corrupcion Oficial".
He appeared in only a couple of films in the '80s – the 1984 drama "Under the Volcano", the 1985 romantic thriller "Tona Machetes", and the 1987 drama "Muelle Rojo".
In 1993, Ignacio played Coronel de la Gandara in the drama "Tirano Banderas", which starred Juan Diego, Ana Belen and Gian Maria Volonte, and was written and directed by Jose Luis Garcia Sanchez. It follows a group of rebels as they're trying to overthrow the indigenous dictator Santos Banderas, and the film won seven of its 10 award nominations. The remainder of the '90s saw Ignacio appear in two movies: the 1996 drama "Santo Luzbel" and the 1997 crime thriller "Reclusorio".
Ignacio's only two film roles in the next decade were in the 2002 short drama "Veneno" and the 2008 action thriller "Virgingate".
In 2018, he portrayed Joselito in the comedy "Mas Sabe el Diablo Por Viejo", which starred Sandra Echeverria and Osvaldo Benavides, and was written and directed by Jose Pepe Bojorquez. It follows a young actor Teo, as he's pretending to be older to win more roles; the film was nominated for three awards.
Ignacio's final roles in movies were in the 2020 drama "Identidad Tomada", and in 2021 the drama "Buenos Dias, Ignacio" and the short comedy "Los Lobos no Estan Hechos Para el Circo".
Roles in TV series
Ignacio's debut TV series role was starring in all 56 episodes of the 1961 drama "Cuatro en la Trampa", and the remainder of the '60s also saw him star in the drama "Gran Teatro", the romantic drama "Amor y Orgullo" and the biographical historical drama "La Tormenta"; none of the four mentioned series managed to attract a lot of attention.
In 1971, Ignacio starred alongside Carlos Tuccio and Saby Kamalich in all 102 episodes of the romantic drama "Rosas Para Veronica", which follows the lives of a group of firefighters and police officers. The '70s also saw him star in the romantic drama "El Edificio de Enfrente", the biographical historical drama "El Carruaje" and the romantic drama "El Honorable Senor Valdez".
In 1981 and 1982, he played Rafael in all 189 episodes of the romantic drama "El Derecho de Nacer", which also starred Sergio Jimenez and Veronica Castro, and follows a nanny who's kidnapped Maria Elena's baby. Ignacio appeared in just two other TV series in the '80s: the 1987 biographical historical drama "Senda de Gloria" and the 1990 romantic drama "Angeles Blancos".
He starred as Cesar Lombardo in 109 episodes of the 1994 drama "Imperio de Cristal", which also starred Ari Telch and Rebecca Jones, and follows the lives of members of the wealthy Lombardo family. Ignacio could then have been seen appearing in the 1997 romantic drama "Esmeralda", the 1998 romantic drama "Camila", and the 1999 romantic drama "Angela".
Some of his notable performances in the 2000s were in the 2003 family drama "Vivan los Ninos!", the 2003 family action comedy "De Pocas, Pocas Pulgas", and the 2007 action crime adventure "El Pantera".
The year 2014 saw him play Juan Carlos in 86 episodes of the drama "La Malquerida", which starred Christian Meier and Victoria Ruffo, and follows Acacia Benavente whose father's just died, and who's now left her family's ranch because her mother's married another man.
Some of Ignacio's final roles in TV series were in five episodes of the 2020 crime thriller "Here on Earth", four episodes of the 2022 comedy "Vecinos", and six episodes of the 2023 biographical drama "Gloria Trevi: Ellas Soy Yo".
Other credits
Some of Ignacio's final appearances in talk-shows were in "50 Anos de la Telenovela: Mentiras y Verdades", "T. A. P. Taller de Actores Profesionales", and "Sale el Sol".
Awards and nominations
Ignacio won seven of his 10 award nominations. Some of his wins included two San Francisco International Film Festival Awards for Best Actor in 1960 and 1963, for his performance in "Macario" and "The Paper Man", respectively, a 2002 Chamizal Independent Film Festival Lifetime Achievement Award, and a 2013 Mexican Cinema Journalists Special Silver Goddess Lifetime Award.
Love life and wife
Ignacio rarely spoke about his love life in public but it's widely known that he was once a married man.
He and Mexican non-celebrity Clara Ananda exchanged vows in a small and private ceremony in Mexico City in 1950; she preferred to stay away from media, and not many details have been disclosed about her, as it's widely believed that she focused on being a housewife upon giving birth to their first daughter Susana. Clara went on to give birth to their second daughter Gabriela, and their third child Juan Ignacio Aranda followed on 6 February 1962; Juan's today an actor with 58 credits, and is perhaps still known best for starring as Miguel in the 1985 action crime adventure movie "Mission Kill".
Clara died in 2000.
There are no other women whom Ignacio had perhaps been with, that we know about; he was married to Clara Aranda from 1950 until she died in 2000, and they had three children together.
Interesting facts and hobbies
On 22 May 2016, Ignacio underwent surgery to remove a polyps from his small intestine and a tumor from his large intestine.
He was a philanthropist, and often donated money to charities working with underprivileged children, while he also enjoyed helping the disabled elderly.
Ignacio loved to travel and visited numerous countries around the world, but Mexico City was still his favorite city.
He loved animals and his favorites were dogs; he had a number of pets during his life, including parrots, cats and horses.
One of Ignacio's favorite actors was Cantinflas, and some of his favorite movies were "Pepe", "Around the World in 80 Days", and "The Illiterate One".
Appearance and net worth
Ignacio had brown eyes and grey hair, weighed around 165lbs (75kgs) and was 5ft 7ins (1.7m) tall.
His net worth was estimated at over $2 million at the time of his passing.