Who is Juanpa Zurita?
Mexican-American actor, model, YouTuber and social media star Juan Pablo 'Juanpa' Martinez-Zurita Arellano, was born under the zodiac sign Aries in Mexico City on 29 March 1996. He has 27 acting credits, but is perhaps known best for appearing in the 2019 episode "The Healthy Alternative" of the science fiction series "Stories from Our Future", which starred Maia Mitchell, Rudy Mancuso and Lele Pons, and follows the lives of several friends in their 20s.
Juanpa's currently shooting for the upcoming comedy movie "¿Quieres ser mi… Hijo?"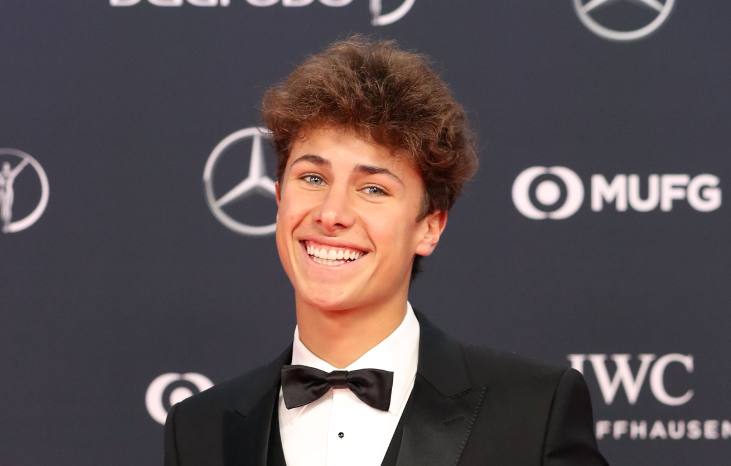 Education and early life
Juanpa was raised in Mexico City alongside his sister Paola and brothers Andres and Fernando, by their mother Teresa Arellano and father Fernando Martinez-Zurita Reed; unlike what many people believe to be true, Juanpa isn't related to famous Mexican actor Humberto Zurita.
The family moved to Washington, D. C. before Juanpa turned 10, as his father was hired to work for the Mexican Embassy as a political counselor; Juanpa's since moved to Los Angeles, California.
He studied at a local high school in Washington, D.C., but was mostly into sports during his time there, excelling in basketball. Juanpa was 17 when he launched his career on the internet, uploading his first Vine on 11 June 2013; he matriculated in 2014, and having already become popular on various social media networks, chose to pursue a career rather than enrolling at college.
YouTube channel
Juanpa launched his main YouTube channel "Juanpa Zurita" on 6 October 2013, and it's today subscribed to by nearly 11 million people, while all his 231 videos combined number close to 700 million views; most of these feature Juanpa during his everyday life, whether he's spending time with his friends, travelling around the world or reviewing products. We're about to write about his three most watched videos, as these have led many people to subscribe to his channel.
Juanpa's #1 video "Aislados: Un Documental en Cuarentena (Official Trailer)" has been watched over 24 million times since 4 June 2020, and it's one of four episodes of Juanpa's documentary series about people from all around the globe.
His second most popular video "PÓNTELO O CÓMETELO CHALLENGE" has been watched over 16 million times since 7 June 2016, and features him taking on the challenge 'Pontelo o Cometelo' with Lele Pons.
Juanpa's #3 video "ME OPERÉ LA NARIZ / Juanpa Zurita" has been watched over 12 million times since 8 March 2016, and features Juanpa speaking about the nose surgery which he's undergone.
He also has another YouTube channel – "Juanpa Zurita Comedy" – which he launched on 21 October 2016, and is today subscribed to by close to 2.2 million people, while all his 131 videos combined have amassed more than 220 million views; Juanpa only uses this channel to upload comedy content.
Juanpa's highly popular on various social media networks, and close to 35 million people are following him on Instagram today; he's posted nearly 1,700 pictures and videos, most featuring him spending time with his girlfriend, travelling around the world, and shooting his YouTube videos.
Close to eight million people are following Juanpa on Twitter; he launched his account in February 2011 and has since tweeted nearly 24,000 times, while most of his content is the same videos found on his YouTube channel, and the pictures found on his Instagram account.
Close to seven million people are following Juanpa on Facebook today – his most recent update was on 27 August 2023; he mostly uploads comedy content onto the network.
Juanpa's a TikTok star, as more than 13 million people are following him on this social media network; all his videos combined have amassed over 225 million likes, most of which feature him pranking his friends, singing and dancing.
Roles in TV series
Juanpa's debut TV series role was playing a supporting character in the 2015 episode "Los Estupidos" of the comedy "Camino de Estupideces", and the year 2016 saw him appear in an episode of both the comedy mini-series "People Got Talent" and the comedy "Enchufe.tv".
In 2018 and 2019, he appeared in six episodes of the comedy "Amigos", which starred Hannah Stocking, Lele Pons and Rudy Mancuso, and is a parody of the critically acclaimed comedy series "Friends".
In 2019 and 2020, Juanpa starred as J. P. in all eight episodes of the comedy mini-series "Abracadabra", which co-starred Alec Williams and Juliette Audrey, and follows the lives of a group of friends. The year 2020 saw him appear in an episode of both the comedy mini-series "Lele Pons", and the comedy "Hannah Stocking".
Juanpa's only other TV series role has been playing Alejandro 'Alex' Basteri in 14 episodes of the popular biographical historical drama "Luis Miguel: The Series", which starred Gabriel Nuncio and Diego Boneta, and follows the life of Mexican superstar singer Luis Miguel; the series aired from 2018 through 2021 and won three of its 11 award nominations.
¿Y ustedes cómo se preparan para el estreno del domingo? @JuanpaZurita #LuisMiguelLaSerie pic.twitter.com/nuFTYWWZEg

— Luis Miguel La Serie (@serieluismiguel) April 13, 2021
Roles in movies
Juanpa's debut film role was in the 2016 short comedy "El Ultimo Chisme de Derbez", and some of his following roles were in the 2016 short comedy "My Big Fat Hispanic Family", the 2017 comedy "Alexander IRL", and the 2017 short comedy "Next Top Model".
The year 2018 saw him star in the short comedy "Work Hard Play Hard", which also starred Chris Jorie and Anwar Jibawi, and was directed by Anwar; it follows a successful businessman who likes to party. Some of Juanpa's following roles were in the short comedy "Body Swap", another short comedy "Dream Hopping", and the music video "Dimitri Vegas and Like Mike vs. Paris Hilton: Best Friend's Ass".
Most recently, in 2020, he played a supporting character in the popular comedy "Mainstream", which starred Maya Hawke and Andrew Garfield, and was written and directed by Gia Coppola. It follows three people in a love triangle, and the film won one of its three award nominations.
Other credits
Juanpa directed the 2019 mini-series "Abracadabra", the 2020 movie "Aislados: Un Documental en Cuarentena", and he produced the 2015 episode "Los Estupidos" of the series "Camino de Estupideces" and the 2022 movie "13:14. The Challenge of Helping".
Some of his recent talk-show appearances have been in "No Hagas Lo Facil", "De Noche con Yordi Rosado" and "¿Quién es la Máscara?"
Awards and nominations
Juanpa's won three awards: a 2015 MTV MIAW Award for Viner del Ano, a 2017 The Streamy Award for Best International Series and a 2018 PRODU Talento Award for Influencer Masculino.
He was also nominated for a 2022 Premios Juventud Award for Juntos Encienden Mis Redes (shared with Macarena Achaga).
Love life and relationships
There are three girls whom Juanpa's perhaps been with, that we know about. In 2016, he dated Venezuelan-American YouTuber and social media star Lele Pons; the two were best friends before going out on their first date, and they eventually decided that it might be better if they remained friends.
From 2018 through 2020, Juanpa was in a relationship with Carmella Rose, an American model and social media star who's followed by more than 2.6 million people on Instagram, and has posted over 1,100 pictures and videos.
In 2021, Juanpa dated Mexican singer-songwriter and actress Paty Cantu, perhaps known best for singing the song "Libre" in the 2019 action crime comedy movie "Murder Mystery", which starred Jennifer Aniston and Adam Sandler.
As of August 2023, Juanpa's in a relationship with Macarena Achaga, an Argentinian model and actress.
Interesting facts and hobbies
Juanpa's first video on the now-defunct network Vine featured his pet dog Puca, and was entitled "That Dog Killed Chuck Norris and Was After Me"; he published content in both English and Spanish and had close to two million followers when the app closed in 2017.
Juanpa's also a model, and some of the brands which he's posed for include Luis Vuitton, Pull&Bear and Dolce & Gabbana, and one of the most popular magazines in which he's been featured is "GQ Italia".
He's been a partner in the Mexican fashion company Acapella since March 2018, and has recently also become a partner in the Spanish company Hawkers.
Juanpa's a philanthropist, and in March 2017, he and various other celebrities campaigned through the movement 'Love Army For Somalia' against famine in that country.
One of his favorite actors is Diego Boneta, and some of his favorite movies include "Rock of Ages", "Father of the Bride" and "Terminator: Dark Fate".
Appearance and net worth
Juanpa's age is 27. His eyes are blue and hair is brown, he weighs around 170lbs (76kgs) and is 5ft 10ins (1.78m) tall.
Juanpa's net worth's been estimated at over $5 million, as of August 2023.