Michelle Renaud is a Mexican actress, who has appeared in numerous Telenovelas, including "La Reina Soy Yo," "Hijas de la Luna," and "Rebelde."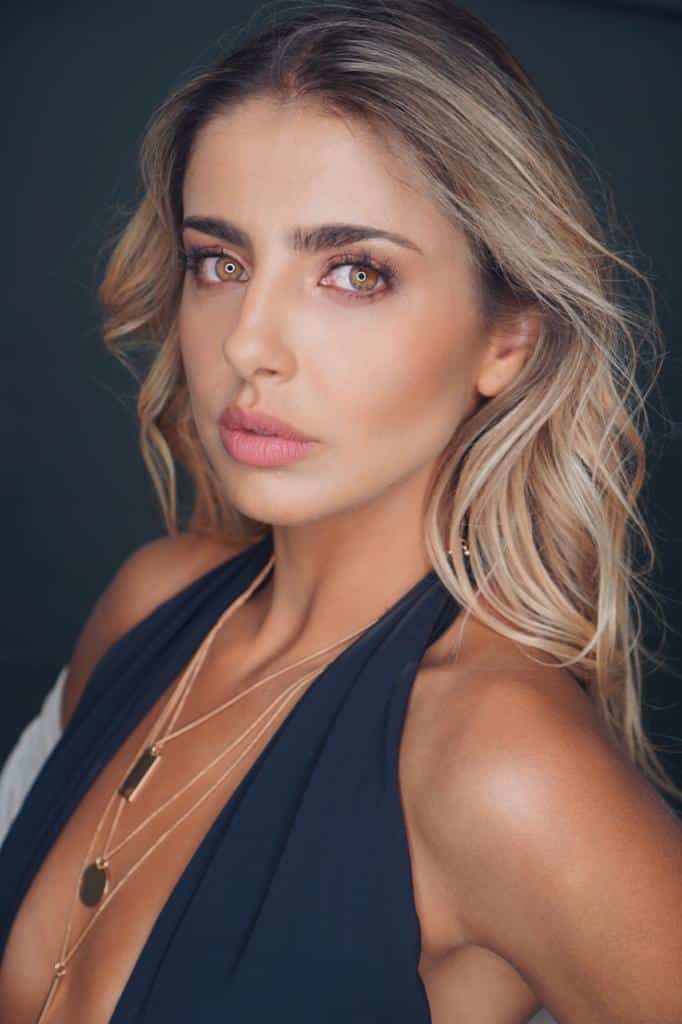 Age, Early Life, and Education Background
Michelle Renaud Ruesga is a native of Mexico City, Mexico, born under the Virgo zodiac sign on 9 September 1988, which makes her 35 years old as of 2023. She is the daughter of Laura Ruesga – she hasn't revealed the name of her father and siblings. Michelle grew up watching telenovelas, and as a result, she developed an interest in acting when she was very young.
Renaud hasn't revealed anything about her educational background.
Hobbies and Interesting Facts
Renaud is an outdoorsy person who enjoys swimming and suntanning at the beach during winter.
She is also a huge lover of animals and is a big fan of horseback riding.
The "La Reina Soy Yo," actress is keen on traveling and has toured numerous international destinations including the U.S.
Moreover, she likes to paint and draw when she is not busy working.
Renaud's son, Marcelo is a vegan. She's revealed that he's never tasted meat, honey, and most dairy products.
Career
Renaud made her TV debut in the Children's telenovela, "Ángeles Sin Paraíso" (English: 'Angels Without Paradise') when she was four years old in 1992. She played the recurring role of Michelle Pineda in the telenovela "Rebelde" (English: 'Rebel'), which is a remake of the Argentine telenovela "Rebelde Way," from 2004 to 2006.
In the early 2010s, Michelle played minor roles in three telenovelas, including "Llena de Amor" (English: 'Filled with Love') and she landed her next notable role as Young Rebeca Murillo Rodarte in five episodes of the telenovela "The Color of Love" in 2014. In the same year, she was cast to star as Aldonza Alcocer Lozada in "La Sombra del Pasado" (English: 'The Shadow of the Past') and her next noteworthy appearances were in the telenovela "Pasión y Poder" (English: 'Passion and Power') in 2015 and 2016, the comedy TV series "Súper X" in 2017 and "Hijas de la Luna" (English: 'Daughters of the Moon') in 2018.
#LoÚltimo #GranEstrenoEl próximo lunes 07 de octubre llega a Bolivia la exitosa telenovela La Reina Soy Yo con Michelle Renaud por la Red Bolivisión… ¡Imperdible! 😍📺👇

Posted by Tele Bolivia on Tuesday, October 1, 2019
In 2019, Michelle landed another career-defining role, as Yamelí Montoya in "La Reina Soy Yo" (English: 'The Queen Is Me'), which was formerly known as "Puro Flow." She starred alongside Polo Morin, Mane De La Parra, and Lambda Garcia in the telenovela. Subsequently, in 2020 and 2021, she starred alongside her ex-boyfriend Danilo Carrera, Victor Gonzalez, Sara Corrales and Scarlet Gruber in the telenovela "Quererlo Todo" (English: 'Want it All'). Most recently in 2022, Michelle began starring as Sara del Monte in another telenovela entitled "La Herencia" (English: 'The Heritage'), and appeared alongside her boyfriend Matias Novoa, Daniel Elbittar, and Mauricio Henao.
Michelle has appeared on the cover of "El Aviso" Magazine (US).
Award Nominations
Michelle was nominated for three consecutive TVyNovelas Awards (2014-2016) for her performances in "La Mujer del Vendaval," "El Color de la Pasión," and "La Sombra del Pasado." She is also a two-time nominee for Premios TVyNovelas Award in the categories of Best Actress in a Telenovela for her performance in "Hijas de la Luna" in 2019 and "La Reina Soy Yo" in 2020.
Social Media Presence
Michelle is active on Instagram (@michellerenaud) with around five million followers. She often posts her modeling photos, and promotes her telenovelas and various brands on the platform. She joined Twitter (@michellerenaud) in November 2009 and is followed by around 245,000 fans as of 2023. The "Rebelde" starlet is also active on Facebook with around 2.2 million followers.
Personal Life
Renaud is a divorced woman; she began dating her future husband, the Mexican actor, Josue Alvarado, in the 2010s, and eventually walked the aisle on 12 November 2016, and welcomed a son named Marcelo Alvarado Renaud on 12 March 2017. Renaud is fond of attending celebrity events with her son, and on 20 December 2022, they posed for a photo on the red carpet during the premiere of the film "Malvada" in Mexico City.
However, Renaud's union with Alvarado lasted for one and a half months, ending with a divorce in May 2018. Renaud has claimed that Alvarado was an abusive husband, who often smacked their son, which was one of the reasons why the duo parted ways. Moreover, it's speculated that Renaud's extra-marital affair with the model, actor and presenter, Danilo Carrera might have also contributed to their separation and divorce.
Michelle has dated several celebrities – in 2019 and 2020, she dated Danilo Carrera, who was born Danilo Xavier Carrera Huerta on 17 January 1989 (34 years old as of 2023) in Ecuador. In 2022, she was rumored to be in a brief romantic relationship with the TVyNovelas Award-nominated Mexican actor, producer, cinematographer, and producer, Osvaldo Benavides. She also began dating the Chilean-Mexican model and actor Matias Novoa, whom she appeared alongside in "La Herencia" in 2022. Before he began dating Michelle, Novoa was married to the Chilean singer, Daniela Castillo (2006-2008) and the Cuban-American actress, Isabella Castillo (2019-2021). Michelle and Novoa were recently spotted vacationing in San Juan del Rio, Querétaro, where they celebrated their first anniversary. They shared their photos – on Instagram – seemingly having a good time together.
Height, Weight, and Physical Appearance
Michelle is of Hispanic ethnicity and has a set of hazel eyes and blonde hair. She is slim, weighs approximately 110lbs (55kgs), and is 5ft 5ins (1.65m) tall. The actress follows a healthy vegan diet and often works out to maintain her slim body. She had her breast implants removed in 2020, after having them for nine years. The "Rebelde" starlet has disclosed that she wasn't comfortable having the implants because they caused numerous negative side effects including hormonal imbalances and headaches, and feared that they could eventually cause serious health problems. During an interview she shared 'My safety was the most natural thing. When I had implants, I couldn't take pictures without makeup, besides! I didn't go out without a little makeup on my face because my skin was cracked.'
Net Worth
Renaud has appeared in numerous telenovelas, which has seen her make a name for herself in the Latin-American film industry. She's also accumulated a good net worth, which has enabled her to afford a luxurious lifestyle. She is worth approximately $1 million as of 2023.