- Sam Elliott was born in Sacramento, California in 1944
- He pursued an acting career after a successful musical performance in college
- He rose to prominence in the 1970s and 1980s with roles in westerns and dramas
- He gained success in the 1990s with roles in "The Big Lebowski" and "We Were Soldiers"
- He is currently worth $10 million and has been married to Katherine Ross since 1984.

Known for movies
Short Info
| | |
| --- | --- |
| Net Worth | $16 Million |
| Date Of Birth | August 9, 1944 |
| Spouse | Katharine Ross |
| Mark | Grey hair and thick mustache |
| Fact | Inducted into the International Mustache Hall of Fame in 2015 (inaugural class) in the category Film & Television. |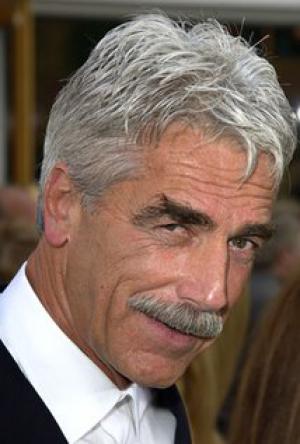 Born as Samuel Pack Elliott on the 9th August 1944 in Sacramento, California USA, he is an actor, best known to the world as Wade Garrett in the film "Roadhouse", and he also gained recognition as Sgt. Maj. Basil Plumley in the war drama "We Were Soldiers", among many other roles he has secured during his career that has been active for more than 50 years.
Early Life and Education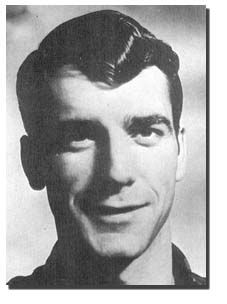 Sam spent his early life in his hometown of Sacramento, and then in his teen years moved to Portland, Oregon with his parents. He was educated at David Douglas High School and later enrolled at Clark College in Vancouver, Washington. While he was there he undertook an acting course that lasted two years and it was during this time that he was cast as the lead in the musical "Guys and Dolls". When the reviews came out, Sam rose to stardom and it was suggested to him that he pursue acting as a professional career. Upon seeing the reviews, Sam responded with a comment that he would go to Hollywood, and become a star. Well, that is exactly what he did.
Career Beginnings
Due to his looks and voice, Sam presented the profile of a rancher, farmer or a cowboy, which made him rather suitable for roles in western films. He made his acting debut in 1969 in the TV series "Judd for the Defense", and continued with minor roles paving his way in the acting world, and in 1970 he was given the role of Doug Robert in the TV series "Mission Impossible". This particular role made him popular among producers and directors, which resulted in the lead role in the film "Frogs" in 1972, and the same year he also starred in the Golden Globe Award-winning western film "Molly and Lawless John".
Rise to Prominence
Throughout the '70s Sam enjoyed success with roles in such films as the Golden Globe- awarded "The Blue Knight", then "I Will Fight No More", and "The Legacy", during which he started dating his future wife, actress Katherine Ross. The two acted together again in the drama film "Murder in Texas" in 1982, while from 1983 to 1984 he portrayed Chance McKenzie in the TV series "The Yellow Rose". He came to prominence with the role of Gar in the drama film "Mask", with Cher and Eric Stoltz as his co-stars, which added a considerable amount to his net worth as the film earned more than $40 million from just $8 million invested. After that, Sam starred in several films such as "The Blue Lightning" (1986), "Houston: The Legend of Texas" the same year, while in 1989 he portrayed Wade Garrett in the critically acclaimed action thriller film "Road House", starring next to Patrick Swayze and Kelly Lynch.
Writing Debut
Sam started the '90s by taking up writing and producing; he teamed up with Katharine Ross and Jeffrey Meyer to write a screenplay based on the book by Louis L'Amour, and the result was the film "Conagher" in which Sam also starred, and earned a Golden Globe Award- nomination for Best Performance by an Actor in a Miniseries or Motion Picture Made for Television.
Success in the '90s
Nothing could stop Sam on his way to becoming a popular actors, and  he was cast in a number of successful projects, including the TV mini-series "Buffalo Girls" (1995), then the award-winning "The Big Lebowski", starring Jeff Bridges, John Goodman and Julianne Moore. He finished the decade with the lead role in the western "You Know My Name".
The 2000s
Sam had been active as an actor for more than 30 years, with several awards and nominations attached to his name, and could only hope for the next big thing in his career. Well, it happened quite soon; in 2002 he was chosen for the part of Sgt. Maj. Basil Plumley in the war drama "We Were Soldiers" – directed by Randall Wallace, the film starred Mel Gibson, Madeleine Stowe and Greg Kinnear in the lead roles, and grossed over $110 million, which helped increase Sam's net worth.
Three years later, Sam featured in the comedy-drama film "Thank You for Smoking", but waited four years for the next successful project; he was selected for the part of Maynard Finch in the multiple Academy Award-nominated romantic drama "Up in the Air", starring George Clooney, Vera Farmiga and Anna Kendrick. Most recently, Sam started portraying Beau Bennett in the TV western series "The Ranch" (2016-20178), starring next to Ashton Kutcher and Debra Winger. Also, he was Lee Hayden in the romantic drama film "The Hero" in 2017. Sam, when asked about retirement, said he is not going anywhere from the acting scene, and is currently working on several projects, including the musical drama "A Star Is Born", co-starring next to Bradley Cooper and Lady Gaga, scheduled for release late in 2018.
@AaronRodgers12 If you are feeling envy, it is completely normal. pic.twitter.com/iUIMwr5W0q

— Sam Elliott (@Tombstone_Coors) June 11, 2014
Famed Voice Actor
In addition to his screen roles, Sam is also famed for his voice-overs – his intimidating baritone voice brought him roles in such animated series and films as "Barnyard" (2006), then "Robot Chicken" in 2012, for which he was nominated for a Primetime Emmy Award in the category for Outstanding Voice-Over Performance, "The Good Dinosaur" (2015), and "Rock Dog" in 2016.
Do You Know How Rich Sam Elliott is?
An extremely successful career that has lasted over 50 years would certainly contribute to Sam's net worth. Let's see exactly how much; according to sources, Elliott's net worth is as high as $10 million. Some of the most commercially successful films in which he has appeared include "We Were Soldiers", "Mask", and "Ghost Rider", among many others.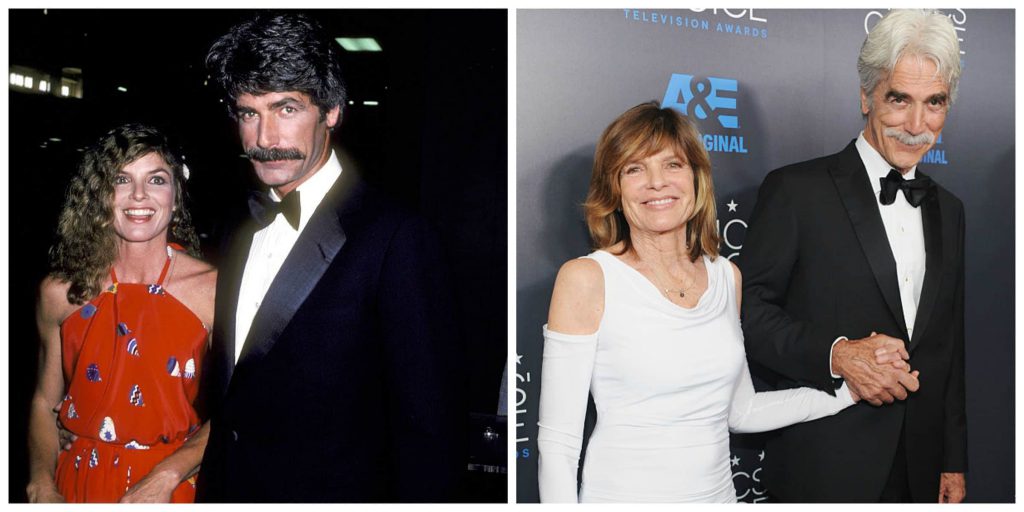 Relationships and Family Life
Sam has been married to Katharine Ross since 1984; the couple has one child together, Cleo Rose Elliott who is a musician.
Remaining true to his western characters, Sam bought a ranch near Malibu, California, where he now resides with his wife.
General Info
| | |
| --- | --- |
| Full Name | Sam Elliott |
| Net Worth | $16 Million |
| Date Of Birth | August 9, 1944 |
| Height | 1.88 m |
| Profession | Film producer, Voice Actor |
| Education | Clark College, David Douglas High School |
| Nationality | American |
Family
| | |
| --- | --- |
| Spouse | Katharine Ross |
| Children | Cleo Cole Elliott |
Accomplishments
| | |
| --- | --- |
| Awards | Critics' Choice Television Award for Best Guest Performer in a Drama Series, BFCA Critics' Choice Alan J. Pakula Award |
| Nominations | Critics' Choice Movie Award for Best Acting Ensemble, Primetime Emmy Award for Outstanding Supporting Actor in a Limited Series or a Movie, Golden Globe Award for Best Supporting Actor in a Series, Miniseries, or Motion Picture Made for Television, Golden Globe Award for Best Performance by an Actor... |
| Movies | Road House, Tombstone, The Big Lebowski, Mask, Northern Lights, Ghost Rider, Hulk, Lifeguard, The Quick and the Dead, The Good Dinosaur, We Were Soldiers, Conagher, Butch Cassidy and the Sundance Kid, I'll See You in My Dreams, The Shadow Riders, Prancer, Grandma, The Sacketts, The Legacy, Up in the... |
| TV Shows | The Yellow Rose, Hawkins, Mission: Impossible, The Ranch, Aspen |
Social profile links
Marks
| # | Marks / Signs |
| --- | --- |
| 1 | His hairy chest, frequently displayed in his movie and TV appearances until he was in his early 50s. |
| 2 | Grey hair and thick mustache |
| 3 | Often plays guides or mentors to lead characters |
| 4 | Frequently plays cowboys |
| 5 | Deep commanding voice |
Quotes
| # | Quote |
| --- | --- |
| 1 | The Catholic church happened to The Golden Compass (2007), as far as I'm concerned. It did incredible at the box office. Incredible. It took $85m in the States. The Catholic church... lambasted them, and I think it scared New Line off. |
| 2 | [on his Did You Hear About the Morgans? (2009) co-star Hugh Grant] I've never known anybody that can get away with the shit that Hugh Grant gets away with. And he gets away with it because he's so damn charming. He gets away with everything. I couldn't get away with the stuff he gets away with -- I mean I wouldn't even try! Hugh Grant is the main man. He's the number one romantic comedy man in the world. |
| 3 | I'm picky, very picky. I wanted to be an actor since I was nine years old and I figured that was only one way to ever have any longevity and that's to be careful about what kind of work you do. You can work for money, do a lot of whatever comes your way and not have any kind of a yardstick to measure quality by, and people, you know you'll make a lot of money if you're lucky, and people will get fed up and sick of seeing you and that's it onto the next one. - On his career choices. |
| 4 | I was really happy that Ang Lee won the Best Director award, I got to know him very well on Hulk (2003). But I'm not the Brokeback Mountain (2005) crowd, what can I tell ya. I'm more of a purist. But at the same time, it's a new day. |
| 5 | I think I might have been a more interesting actor, had more of a career earlier on, if I had more formal preparation. When I see something ten years later that I was in I think, "Boy, would I love to do that over." |
| 6 | I've spent my entire career on horseback or on a motorcycle. It boxes you in, the way people perceive you. I read a lot of scripts. Most of 'em go to other actors. |
| 7 | in the December 1976 issue of "Playgirl"] I don't want to be known as a sex symbol. There's a great stigma that goes with that tag. I want to be a Sam Elliott. |
Facts
| # | Fact |
| --- | --- |
| 1 | Samuel Pack Elliott was born in Sacramento, California, to Glynn Mamie (Sparks), a physical training instructor, and Henry Nelson Elliott, who worked for the Department of the Interior. His parents were both born in Texas. Sam is mainly of English, with some Scottish, descent. |
| 2 | Inducted into the International Mustache Hall of Fame in 2015 (inaugural class) in the category Film & Television. |
| 3 | Had three films that premiered at the 2015 Sundance Film Festival: Digging for Fire (2015), Grandma (2015), and I'll See You in My Dreams (2015). |
| 4 | Shares birthday with "Smokey Bear," and Sam Elliott has been the voice of "Smokey Bear" since 2008. |
| 5 | In The Big Lebowski (1998), his strange cowboy character admonishes The Dude (played by Jeff Bridges) for using "cusswords." When recalling anecdotes for the book "I'm a Lebowski, You're a Lebowski: Life, The Big Lebowski, and What Have You" from that film, Elliott used by far the most profanities of any cast member. |
| 6 | To date, he is the first (and only) actor to be nominated for an Emmy for guest-performing on Robot Chicken (2005). |
| 7 | Fifth husband of Katharine Ross. |
| 8 | Used his own Winchester 1894 rifle in Thank You for Smoking (2005). |
| 9 | After portraying General Ross in Hulk (2003) he wanted to reprise the role in the reboot The Incredible Hulk (2008), but the part was given to William Hurt. |
| 10 | Had not read any of the 'His Dark Materials' books before he was asked to take the role as Lee Scoresby in The Golden Compass (2007). He chose to first read the books by Philip Pullman, then read the film's script. |
| 11 | His character in Hulk (2003), Gen. Ross, wore a combat patch for the 1st Cavalry Division. In We Were Soldiers (2002), he played Sgt. Maj. Plumley of the 7th Cavalry Regiment, part of the 1st Cav Div. |
| 12 | For his role on Tombstone (1993), he worked with renowned Hollywood gun coach Thell Reed, who has also trained such actors as Val Kilmer, Kurt Russell, Bill Paxton, Girard Swan, Leonardo DiCaprio, and Russell Crowe. |
| 13 | He is an alumnus of Clark College in Vancouver, Washington. |
| 14 | Illness forced him to drop out of the 1982 TV movie The Ambush Murders (1982). He was replaced by James Brolin. |
| 15 | 9/17/84: Daughter with Katharine Ross, Cleo Rose Elliott, born. |
| 16 | In his book "Shirtless! The Hollywood Male Physique," Donald Reuter refers to Elliott as a "super bod" and gives him a full-page color photograph from his 1976 movie Lifeguard (1976). |
| 17 | His bare-buns scene in The Legacy (1978) earned the highest rating (3 stars) from "The Bare Facts" -- a printed guide to nudity in movies. |
| 18 | 1976: Listed as one of 12 "Promising New Actors of 1976" in John Willis's Screen World, Vol. 28. |
Pictures
Movies
Actor
| Title | Year | Status | Character |
| --- | --- | --- | --- |
| A Star Is Born | 2018 | filming | Bobby |
| The Gettysburg Address | 2017 | Documentary post-production | Ward Hill Lamon (voice) |
| The Ranch | 2016-2017 | TV Series | Beau Bennett |
| Red Carpet Report | 2017 | TV Series short | Himelf |
| The Hero | 2017 | | Lee Hayden |
| Rock Dog | 2016 | | Fleetwood Yak (voice) |
| Grace and Frankie | 2016 | TV Series | Phil |
| American Dad! | 2016 | TV Series | Big John Tanner |
| Limbo | 2016/III | Short | The Dog (voice) |
| The Good Dinosaur | 2015 | | Butch (voice) |
| Axe Cop | 2015 | TV Series | Axe Cop's Dad |
| Justified | 2015 | TV Series | Avery Markham |
| Parks and Recreation | 2013-2015 | TV Series | Ron Dunn |
| Grandma | 2015 | | Karl |
| I'll See You in My Dreams | 2015 | | Bill |
| Digging for Fire | 2015 | | Pop Pop |
| Draft Day | 2014/I | | Coach Moore |
| Robot Chicken | 2012 | TV Series | White Wine Narrator / Commander Waspax / Reporter |
| The Company You Keep | 2012 | | Mac Mcleod |
| November Christmas | 2010 | TV Movie | Jess Sanford |
| The Big Bang | 2010 | | Simon Kestral |
| Marmaduke | 2010 | | Chupadogra (voice) |
| Did You Hear About the Morgans? | 2009 | | Clay Wheeler |
| Up in the Air | 2009/I | | Maynard Finch |
| The Golden Compass | 2007 | | Lee Scoresby |
| Ghost Rider | 2007 | | Caretaker |
| Barnyard | 2006 | | Ben the Cow (voice) |
| Avenger | 2006 | TV Movie | Calvin Dexter |
| Lies & Alibis | 2006 | | The Mormon |
| Thank You for Smoking | 2005 | | Lorne Lutch |
| Hulk | 2003 | | Ross |
| Off the Map | 2003 | | Charley |
| We Were Soldiers | 2002 | | Sgt. Maj. Basil Plumley |
| Pretty When You Cry | 2001 | | Detective Lukas Black |
| The Contender | 2000 | | Kermit Newman |
| Fail Safe | 2000 | TV Movie | Congressman Raskob |
| You Know My Name | 1999 | TV Movie | Bill Tilghman |
| Texarkana | 1998 | TV Movie | |
| The Hi-Lo Country | 1998 | | Jim Ed Love |
| The Big Lebowski | 1998 | | The Stranger |
| Dog Watch | 1997 | Video | Charlie Falon |
| Rough Riders | 1997 | TV Series | Capt. Bucky O'Neil |
| The Final Cut | 1996 | | John Pierce |
| Woman Undone | 1996 | TV Movie | Ross Bishop |
| Blue River | 1995 | TV Movie | Henry Howland |
| The Ranger, the Cook and a Hole in the Sky | 1995 | TV Movie | Bill Bell |
| Buffalo Girls | 1995 | TV Mini-Series | Wild Bill Hickok |
| The Desperate Trail | 1994 | Video | Marshall Bill Speakes |
| Tombstone | 1993 | | Virgil Earp |
| Fugitive Nights: Danger in the Desert | 1993 | TV Movie | Lyn Cutter |
| Gettysburg | 1993 | | Brig. Gen. John Buford |
| Rush | 1991 | | Dodd |
| Conagher | 1991 | TV Movie | Conn Conagher |
| Sibling Rivalry | 1990 | | Charles Turner Jr. |
| Prancer | 1989 | | John Riggs |
| Road House | 1989 | | Wade Garrett |
| Shakedown | 1988 | | Richie Marks |
| Fatal Beauty | 1987 | | Mike Marshak |
| The Quick and the Dead | 1987 | TV Movie | Con Vallian |
| Houston: The Legend of Texas | 1986 | TV Movie | Sam Houston |
| The Blue Lightning | 1986 | TV Movie | Harry Wingate |
| A Death in California | 1985 | TV Mini-Series | D. Jordan Williams |
| Mask | 1985 | | Gar |
| The Yellow Rose | 1983-1984 | TV Series | Chance McKenzie |
| Travis McGee | 1983 | TV Movie | Travis McGee |
| The Shadow Riders | 1982 | TV Movie | Dal Traven |
| Murder in Texas | 1981 | TV Movie | Dr. John Hill |
| Wild Times | 1980 | TV Mini-Series | Hugh Cardiff |
| The Sacketts | 1979 | TV Series | Tell Sackett |
| The Legacy | 1978 | | Pete Danner |
| Aspen | 1977 | TV Mini-Series | Tom Keating |
| Once an Eagle | 1976-1977 | TV Mini-Series | Sam Damon |
| Lifeguard | 1976/I | | Rick |
| Police Woman | 1975 | TV Series | Michael Gregory |
| I Will Fight No More Forever | 1975 | TV Movie | Captain Wood |
| Hawaii Five-O | 1974 | TV Series | Jack Houston |
| The Manhunter | 1974 | TV Series | Will Gantry |
| Evel Knievel | 1974 | TV Movie | Evel Knievel |
| Doc Elliot | 1974 | TV Series | Lee Barrows |
| The Streets of San Francisco | 1974 | TV Series | Ken Johnson |
| The Blue Knight | 1973 | TV Movie | Detective Charlie Bronski |
| Hawkins | 1973 | TV Series | Luther Wilkes |
| Mannix | 1973 | TV Series | Bill Saunders |
| Molly and Lawless John | 1972 | | Johnny Lawler |
| Mod Squad | 1972 | TV Series | Rick Price |
| Gunsmoke | 1972 | TV Series | Cory Soames |
| Frogs | 1972 | | Pickett Smith |
| Mission: Impossible | 1970-1971 | TV Series | Doug Robert |
| Assault on the Wayne | 1971 | TV Movie | Ensign William 'Bill' Sandover |
| The Games | 1970 | | Richie Robinson |
| The Challenge | 1970 | TV Movie | Bryant |
| Bracken's World | 1970 | TV Series | Todd Skinner |
| Lancer | 1969-1970 | TV Series | Cowboy / Canopus McKillen / Renslo |
| The F.B.I. | 1969 | TV Series | SAC Kendall Lisbon |
| Land of the Giants | 1969 | TV Series | Martin Reed |
| Butch Cassidy and the Sundance Kid | 1969 | | Card Player #2 |
| The Felony Squad | 1968-1969 | TV Series | Marine Leader / Station Attendant / Jack |
| Judd for the Defense | 1969 | TV Series | Dan Kenyon |
Producer
| Title | Year | Status | Character |
| --- | --- | --- | --- |
| The Ranch | 2017 | TV Series producer - 1 episode | |
| You Know My Name | 1999 | TV Movie executive producer | |
| Conagher | 1991 | TV Movie producer | |
| Houston: The Legend of Texas | 1986 | TV Movie associate producer - uncredited | |
Writer
| Title | Year | Status | Character |
| --- | --- | --- | --- |
| Conagher | 1991 | TV Movie teleplay | |
Soundtrack
| Title | Year | Status | Character |
| --- | --- | --- | --- |
| Barnyard | 2006 | performer: "I Won't Back Down" | |
Thanks
| Title | Year | Status | Character |
| --- | --- | --- | --- |
| Red Wing | 2013 | special thanks | |
| I'm King Kong!: The Exploits of Merian C. Cooper | 2005 | Documentary grateful thanks | |
Self
| Title | Year | Status | Character |
| --- | --- | --- | --- |
| Ok! TV | 2017 | TV Series | Himself |
| Today | 2015-2017 | TV Series | Himself / Himself - Guest |
| The Talk | 2017 | TV Series | Himself |
| Young Hollywood | 2016 | TV Series | Himself |
| The 17th Annual WIN Awards | 2016 | TV Movie | Himself - Presenter |
| Made in Hollywood | 2015 | TV Series | Himself |
| The 5th Annual Critics' Choice Television Awards | 2015 | TV Special | Himself |
| Home & Family | 2015 | TV Series | Himself |
| Milius | 2013 | Documentary | Himself |
| Cowboys and Cosmopolitans: The Stars of 'Did You Hear About the Morgans' | 2010 | Video documentary | Himself |
| Location, Location, Location: The Making of 'Did You Hear About the Morgans' | 2010 | Video documentary short | Himself |
| For Love of Liberty: The Story of America's Black Patriots | 2010 | TV Movie documentary voice | |
| Production Design: The Emotional Fabric of a Parallel World | 2008 | Video documentary short | Himself |
| The Golden Compass: Costumes | 2008 | Video documentary short | Himself |
| The Golden Compass: Locations | 2008 | Video documentary short | Himself |
| The Golden Compass: Meet the Cast | 2008 | Video documentary short | Himself |
| The Launch: Releasing the Film 'The Golden Compass' | 2008 | Video short | Himself |
| Jimmy Kimmel Live! | 2008 | TV Series | Himself - Guest |
| The View | 2007 | TV Series | Himself - Guest |
| HBO First Look | 2007 | TV Series documentary short | Himself |
| Blazing Trails: The Making of 'Ghost Rider' | 2007 | Video documentary short | Himself |
| Spirit of Vengeance: The Making of 'Ghost Rider' | 2007 | Video documentary | Himself |
| Utter Talent: Voices of Barnyard | 2006 | Video documentary short | |
| The Late Late Show with Craig Ferguson | 2005-2006 | TV Series | Himself - Guest |
| Anatomy of a Scene | 2004 | TV Series documentary | Himself |
| Hulk: The Lowdown | 2003 | TV Movie documentary | Co-host |
| Hulk Cam: Inside the Rage | 2003 | Video documentary short | Himself |
| The Making of 'Tombstone' | 2002 | Video documentary short | Himself / Virgil Earp |
| Filming 'Rush' | 2002 | Video documentary short | Himself |
| We Were Soldiers: Getting It Right | 2002 | Video documentary short | Himself / Sgt. Maj. Basil Plumley |
| Dobe and a Company of Heroes | 2002 | TV Movie | Himself |
| The Contender: The Making of a Political Thriller | 2001 | Video documentary short | Himself |
| Big Guns Talk: The Story of the Western | 1997 | TV Movie documentary | Himself |
| The 53rd Annual Golden Globe Awards | 1996 | TV Special | Himself - Nominee |
| The 47th Annual Primetime Emmy Awards | 1995 | TV Special | Himself - Nominee |
| The Way West | 1995 | TV Movie documentary | Voice |
| The Making of 'Gettysburg' | 1993 | Video documentary | Himself / Brig. Gen. John Buford, Federa |
| Roadhog: An MTV News Special Report | 1993 | TV Movie documentary | Himself - Narrator |
| The 49th Annual Golden Globe Awards | 1992 | TV Special | Himself - Nominee: Best Actor in a Mini-Series or Motion Picture Made for TV |
| One on One with John Tesh | 1992 | TV Series | Himself - Guest |
| The 47th Annual Golden Globe Awards | 1990 | TV Special | Himself - Host |
| The Arsenio Hall Show | 1989 | TV Series | Himself - Guest |
| CBS This Morning | 1989 | TV Series | Himself |
| The World's Greatest Stunts: A Tribute to Hollywood Stuntmen | 1988 | TV Movie documentary | Himself |
| Breakaway | 1983 | TV Series | Himself |
| The Mike Douglas Show | 1977 | TV Series | Himself - Co-Host |
Archive Footage
| Title | Year | Status | Character |
| --- | --- | --- | --- |
| Once in a Lew Moon | 2015 | Documentary | Himself |
| Cher: The Farewell Tour | 2003 | TV Movie documentary | Gar |
| Intimate Portrait | 2002 | TV Series documentary | Himself |
| Gomorron | 1998 | TV Series | Himself |
| Joe Bob's Drive-In Theater | 1995 | TV Series | Virgil Earp |
Awards
Won Awards
| Year | Award | Ceremony | Nomination | Movie |
| --- | --- | --- | --- | --- |
| 2015 | Critics' Choice TV Award | Critics Choice Television Awards | Best Guest Performer in a Drama Series | Justified (2010) |
| 2001 | Alan J. Pakula Award | Broadcast Film Critics Association Awards | | The Contender (2000) |
| 2000 | Bronze Wrangler | Western Heritage Awards | Television Feature Film | You Know My Name (1999) |
| 1999 | Bronze Wrangler | Western Heritage Awards | Theatrical Motion Picture | The Hi-Lo Country (1998) |
| 1992 | Bronze Wrangler | Western Heritage Awards | Television Feature Film | Conagher (1991) |
| 1990 | Golden Boot | Golden Boot Awards | | |
| 1987 | Bronze Wrangler | Western Heritage Awards | Factual Television Program | Houston: The Legend of Texas (1986) |
| 1976 | Bronze Wrangler | Western Heritage Awards | Factual Television Program | I Will Fight No More Forever (1975) |
Nominated Awards
| Year | Award | Ceremony | Nomination | Movie |
| --- | --- | --- | --- | --- |
| 2015 | CFCA Award | Chicago Film Critics Association Awards | Best Supporting Actor | Grandma (2015) |
| 2013 | Primetime Emmy | Primetime Emmy Awards | Outstanding Voice-Over Performance | Robot Chicken (2005) |
| 2009 | WAFCA Award | Washington DC Area Film Critics Association Awards | Best Ensemble | Up in the Air (2009) |
| 1996 | Golden Globe | Golden Globes, USA | Best Performance by an Actor in a Supporting Role in a Series, Miniseries or Motion Picture Made for Television | Buffalo Girls (1995) |
| 1995 | Primetime Emmy | Primetime Emmy Awards | Outstanding Supporting Actor in a Miniseries or a Special | Buffalo Girls (1995) |
| 1992 | Golden Globe | Golden Globes, USA | Best Performance by an Actor in a Miniseries or Motion Picture Made for Television | Conagher (1991) |
2nd Place Awards
| Year | Award | Ceremony | Nomination | Movie |
| --- | --- | --- | --- | --- |
| 2010 | COFCA Award | Central Ohio Film Critics Association | Best Ensemble | Up in the Air (2009) |
Source:
IMDb
,
Wikipedia