Dave Hester:
• Born on 23rd July 1964 on Camp Pendleton Marine Corps base near Oceanside, California
• Son of a father who was also in the auction world
• Obtained auction license in 1992 and started furniture business
• Cast member of reality series "Storage Wars" and gained nickname "The Mogul"
• Net worth estimated at over $4 million with luxury possessions including villa and car collection
 
Dave Hester was born on the 23rd July 1964, on the Camp Pendleton Marine Corps base near Oceanside, California USA, and is a reality TV star and businessman, best known to the world for his appearance in the popular reality series "Storage Wars" (2010-2017).
Early Life and Education
Dave, of Irish and German ancestry is the son of a father who was also in the auction world. From an early age he would go with his father almost every day to attend differing auctions. As he got older, Dave's interest in auctions increased, and he himself started buying and selling items. Instead of academic studies, once his high school education was completed, Dave commenced a professional career.
Tonight New Episodes of #StorageWars on #AETV! #YUUUP! pic.twitter.com/rYaeA5BXNp

— Dave Hester (@davethemogul) March 21, 2018
Career Beginnings
Attending his first auction in the mid- '80s, in the early '90s Dave became a bid-catcher. In 1992 he obtained his license for auctioning, and first got into the furniture business. However, he soon realized the potential of storage units, what he could find and then sell in them objects. His father, an auctioneer himself, had a massive collection of trains, which Dave sold and then invested in his own business.
Thrift Stores
As his business started developing, Dave opened Newport Consignment Gallery and the Rags to Riches thrift stores in Costa Mesa, California. He initially had 15 employees, which later increased thanks to his success. One of the most valuable objects he found during his storage pursuits was 'The Golden Pool', a painting by California impressionist Jack Wilkinson Smith, bought for $750 and later authenticated and sold for $155,000.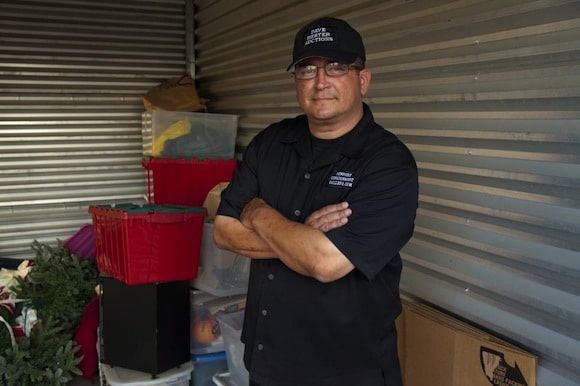 Storage Wars Selection
Thanks to his growing business, Dave was chosen by the producers as a cast member of the reality series "Storage Wars". From the first season until the present day, Dave has featured in over 100 episodes, and his finds as well as his income from the show have certainly increased his net worth. While in the show, Dave earned the nickname The Mogul.
Various Feuds
Dave, known for his bold personality, got into fights with a number of other "Storage Wars" cast members, including Darrell and Brandon Sheets, and back in 2012 he was fired by the Network. However, after a lawsuit he filed against the A&E, Dave returned to the show. In 2015 he started another feud, this time with Dan and Laura Dotson, which actual led to fist-fighting.
How Rich is Dave Hester?
Since starting his career, Dave has earned a name for himself, and a respectable net worth. Lets just how rich is Dave? According to authoritative sources, his net worth is estimated at over $4 million, making him one of the richest "Storage Wars" cast members, all owed to his hard work and devotion. He owns a car collection and a villa, among other luxurious possessions.
Life Behind the Scene
Dave is the father of Dave Hester Jr. who has followed in his father's footsteps, and though not often visiting auctions, he is mostly involved in the online area of the family business. On the question of Dave being married or not, you can find the answer below.
Dave Hester Interesting Facts
Dave is the son of a hoarder, and after following his father into buying items, he became focused on selling for profit, which further led to "Storage Wars".
Dave dreams of owning a motor home, and wants to attend at least one auction per day.
Dave has a brother with whom he hasn't been in touch in years.
Dave owns a 1,263 sq ft house in Westminster, California.