Who is Isha Ambani?
Isha is an Indian businesswoman and the daughter of Mukesh Ambani, the chairman of Reliance Industries and one of the world's wealthiest individuals. She's best known for her prominent role in her family's business empire, and her involvement in various philanthropic initiatives, advocating for social causes and promoting cultural and educational projects.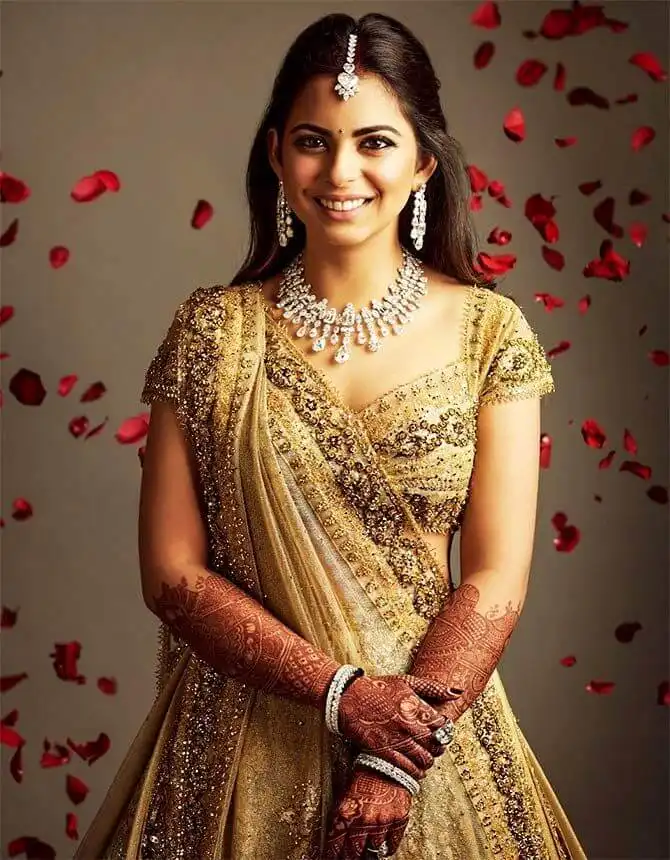 Wiki: Age, Childhood, and Education
Isha Mukesh Ambani was born on 23 October 1991, in Mumbai, Maharashtra, India, to parents Mukesh and Nita Ambani; Isha has a twin brother named Akash and a younger brother named Anant. She comes from a prestigious lineage as the granddaughter of the late Dhirubhai Ambani, the visionary founder of Reliance Industries, and his wife, Kokilaben.
In addition to being the niece of Anil Ambani, the chairman of Reliance ADA Group, and his wife Tina Ambani, a renowned Bollywood actress of the 1980s, Isha has a family deeply entrenched in business and entertainment.
Growing up, Isha developed an interest in music and is a skilled pianist. She received her early education at Dhiru Bhai International School, which was founded and managed by her mother Nita. After completing her schooling, she decided to pursue higher studies at Yale University.
At Yale, Isha focused on Psychology and South Asian Studies, and in 2014 successfully earned her undergraduate degree. Apart from academics, she is also passionate about sports and was involved in her university's soccer team, showing her enthusiasm for physical activities.
Following her graduation, Isha's educational journey took her even further. In May 2016, rumors circulated that she'd been accepted into the prestigious MBA programs at both Harvard and Stanford Universities. She eventually chose to attend Stanford University's Graduate School of Business, where she embarked on her MBA journey.
Career
Isha Ambani's journey to success began when she completed her studies, and started her career as a business analyst at the prestigious firm McKinsey & Company. Her analytical skills and business acumen laid a strong foundation for her future accomplishments.
In 2014, she made a significant move by joining Reliance Industries, the conglomerate built by her father. Her entry into the company marked a pivotal moment in her career as she took on the role of a board member and became a vital part of the executive committee of Reliance Jio Infocomm, the telecommunications arm of the conglomerate.
Isha played an instrumental role in the development of Jio's digital services, which would later revolutionize India's telecom and digital landscape. Her visionary thinking and leadership were crucial in driving the company's initiatives to provide affordable and accessible digital connectivity to millions of people in the country.
In 2016, she ventured into the fashion retail sector by launching Ajio, an online fashion brand that operates as a subsidiary of Reliance Retail. Taking on the role of managing director, she assumed responsibility for overseeing the branding and management segments of the sector. Her expertise in the retail industry played a crucial role in shaping Ajio's success.
Her strong leadership skills led her to be part of the executive leadership teams of several prominent co-organizations including Reliance Retail, Reliance Jio, Reliance Foundation, as well as Dhirubhai Ambani International School. This widespread influence across various sectors displayed her adaptability in leading diverse teams and initiatives.
Isha's impact extended beyond the corporate sphere as she joined the Advisory Board of the prestigious Yale Schwarzman Center, and took on the role of a trustee for the Smithsonian's National Museum of Asian Art, Mumbai Academy of Moving Image (MAMI), and the Dia Art Foundation. Her involvement in these institutions demonstrated her commitment to arts, culture and education.
Ms Isha Ambani at the Metropolitan Museum of Art in New York, where Reliance Foundation is supporting exhibition of Indian Art. #RF pic.twitter.com/bDOdrrKGEd

— Reliance Foundation (@ril_foundation) October 18, 2017
However, her most significant achievement came in 2016 when she played a pivotal role in the conceptualization and launch of Jio in India. This landmark endeavor transformed the telecommunications sector, and disrupted the digital landscape by establishing Jio as the world's largest mobile data network. Her groundbreaking ideas and strategic vision were key factors in Jio's success.
Taking on the responsibility of leading the online and offline business for Reliance Retail, India's largest retailer, was another significant milestone in her career. With a diverse presence in grocery, consumer electronics, and fashion retail, Isha's leadership guided Reliance Retail to achieve remarkable milestones, including being the fastest-growing retailer globally in 2019, and the only Indian retailer listed among the global top 100 retailers.
Recognizing her remarkable capabilities and contributions, she was appointed as the Executive Director of Reliance Retail Ventures Limited in 2019. In this capacity, she spearheaded the company's expansion into new categories and geographies, while enhancing the overall customer experience.
Philanthropy
Beyond her achievements in the business realm, Isha Ambani demonstrated her commitment to social causes by actively participating in the management of Reliance Foundation. Her involvement in various initiatives aimed at improving education, healthcare, and livelihood opportunities for underprivileged individuals in India demonstrated her dedication to making a positive impact on society.
Net Worth
According to authoritative sources, Isha Ambani's net worth is estimated at over $100 million, as of mid- 2023.
Personal Life, Married, Husband, Children
Isha Ambani has been married to Anand Piramal since 2018; her husband is the son of industrialist Ajay Piramal. The couple is now blessed with twins, a son named Krishna and daughter Aadiya.
Appearance and Body Measurements
Isha Ambani has brown eyes and black hair. She stands at a height of 5ft 3ins (1.61m), weighs approximately 120lbs (55kgs), with vital statistics of 32-28-34, bra size 33B.