Jack Pratt
At just 11 years old, Jack Pratt is a well-connected and wealthy celebrity kid, thanks to his actor parents Anna Faris and Chris Pratt, who welcomed their only child together to the world on 17th August 2012. Jack, who is named after his maternal grandfather, was born nine weeks premature and spent his first month of life in the neonatal intensive care unit (NICU), a harrowing experience which his parents have described as "emotionally exhausting", and which Anna discussed at length in her memoirs.
During his lengthy NICU stay, Jack was revealed to have suffered severe brain bleeding, and Chris and Anna were told that there were chances of him being developmentally disabled. According to the "Jurassic Park" actor, the former couple spent a lot of time praying; when Jack was allowed to come home, he remained under close supervision for most of his first year of life.
That first year was full of hurdles for the former couple, as they had to attend physical therapy sessions, doctor's appointments, and watch their beloved son undergo five surgical operations. Against all odds, the brave infant's health improved greatly, and he proved himself to be advanced for his age at just two years old thanks to his wide vocabulary and counting skills. According to media outlets, the toddler had slight leg muscle and vision issues, but was in remarkably good health otherwise – especially taking into account the gloomy prognosis Anna and Chris were first given.
The famous exes have made sure to keep Jack out of the spotlight as he grows older. Although they rarely share photos of their son following their split, the youngster reportedly loves movies and had already been on many of his father's sets by the time he was eight years old. Chris previously shared that Jack had already watched all of his films, and was able to try out some stunts while visiting the set of "The Tomorrow War", where crewmates hooked Jack up into a harness and allowed him to "fly" around. More recently, Jack and his friends saw a special screening of the animated "Super Mario Bros. Movie", in which his father starred as the title character.
Apparently, Jack is also an excellent big brother to half-sisters Lyla and Eloise despite the age gap.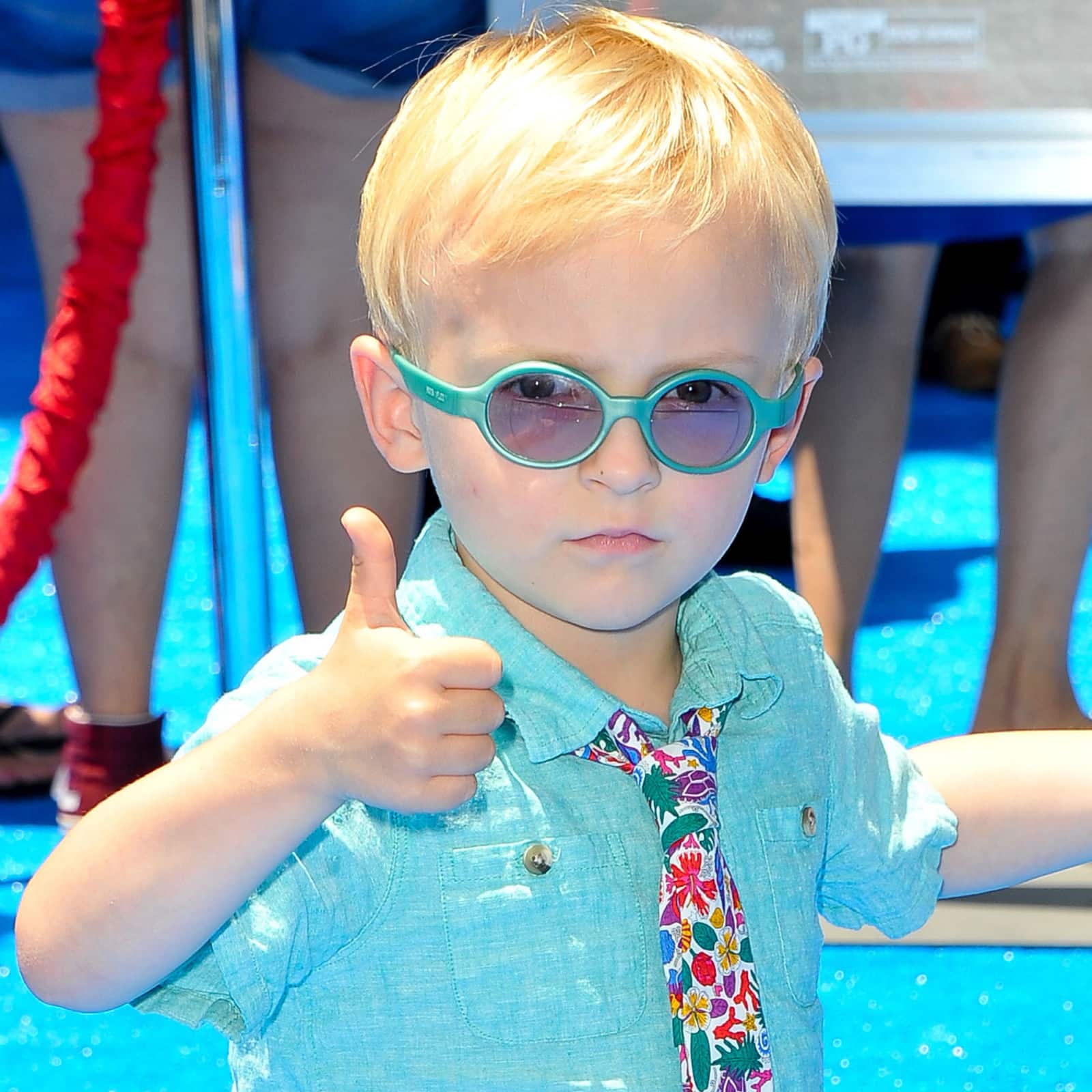 Family
A year after Chris married Katherine Schwarzenegger, the couple welcomed Lyla Maria Schwarzenegger Pratt to the world on 6th August 2020. The A-listers shared the good news with a sweet announcement post, saying: "We couldn't be happier and we feel extremely blessed."
From the beginning, Chris and Katherine agreed to give their daughter as normal of an upbringing as possible by keeping her face out of any photographs they shared online. Katherine, a celebrity by birth thanks to her famous father Arnold Schwarzenegger, was given the same privacy growing up, which she cherished and appreciated as it allowed her more freedom and less pressure.
That's not to say that the proud parents don't gush over their daughter at any given chance. Speaking to PEOPLE magazine, Katherine described her firstborn as a "happy and so smiley" infant who had changed her life for the better in every possible way. Meanwhile, Chris made sure to spend quality father-daughter time with Lyla ahead of her first birthday.
A few months after Lyla turned one, Chris paid tribute to his wife via Instagram, thanking her for giving him a "gorgeous healthy daughter". The statement caused an online backlash, as many netizens considered that he was slighting his son Jack, who was born with health issues. Later, the actor confessed to having cried about the unfortunate incident after his words were misconstrued.
@prattprattpratt and @KatherineSchwarzenegger welcome First Child Together..They both announced the birth of daughter Lyla Maria Schwarzenegger Pratt in a joint post on their Instagram accounts.

Posted by City1051 on Monday, August 10, 2020
Lyla, who is currently three years old, loves baby dolls, horses, and her infant sister Eloise. "To see their relationship forming already is really heartwarming and makes me really excited," Katherine said previously.
Last but not least is Eloise Christina Schwarzenegger Pratt, who was born on 21st May 2022. Once again, the parents wrote about feeling "blessed and grateful" in their announcement post. The first photos of the newborn came shortly afterwards, and showed Eloise – from the neck down – lying on her mother's lap while wearing a cute pair of fuzzy socks.
Although Chris and Katherine went through some serious sleep deprivation during the first few weeks, they were clearly overjoyed to have expanded their family. Katherine's famous parents, Arnold and ex-wife Maria Shriver, reportedly told their daughter that the relationship between Lyla and Eloise was reminiscent to that of Katherine and Christina due to the small age gap.
Chris & Anna
Chris Pratt and actress Anna Faris married in 2009 and divorced in 2017. Described as "trailblazers in the world of friendly Hollywood exes", the former couple are said to remain on good terms and have agreed to keep a joint bank account for Jack's expenses, and to live within five miles of each other until he finishes sixth grade. When Chris moved on with Katherine, there were no hard feelings, as he reportedly gave Anna a heads-up before proposing.
The couple met in February 2007 on the set of "Take Me Home Tonight", when Anna was still married to first husband Ben Indra. Apparently, Chris was interested in the podcast host but decided to wait until she was single. The relationship between Anna and Ben was obviously on rocky ground, as just a month later, she let Chris know that she was getting a divorce.
The lovebirds became engaged towards the end of 2008 after dating for over a year and a half, and they wasted no time in planning their romantic Bali wedding, which took place in July 2009. Almost three years later, they announced Anna's pregnancy, and she was spotted the next day at the London premiere of "The Dictator" sporting a small but visible baby bump.
As both were totally committed to raising their son, Chris and Anna kept a low profile from Jack's birth until 2015. By then, the actor's career had skyrocketed thanks to his performances in "Jurassic World" and "Guardians of the Galaxy", and he gave an interview thanking Anna for her support and confirming that his number-one priority was still his family. "You have to maintain a relationship that's going to outlast your child's needs for you," he mused.
Despite putting on a loved-up display at Chris's Hollywood Walk of Fame ceremony in April 2017, less than four months later, the former power couple stunned fans upon announcing their separation via a Facebook statement. It's uncertain who initiated the split, but in record time, Anna began dating cinematographer Michael Barrett, whom she reportedly began hanging out with in September after working together on a movie.
In December 2017, the "Guardians of the Galaxy" star filed for divorce and requested joint custody of Jack. Shortly afterwards, Anna filed her response, in which she asked for joint custody and the right to child support payments. The divorce was finalized in October 2018; by then, Jack had been dating Katherine for five months after being set up by her mother Maria.