• Jason Knight is an American master Bladesmith and a judge on the TV series "Forged in Fire"
• His interest in knives and blades began at a young age and he was inspired by books and movies
• He attended events and met other knifemakers to learn more and improve
• He was awarded several prestigious awards and his net worth is estimated to be over $3 million
• He is active on social media and has nearly 80,000 followers on Instagram and 16,000 fans on Facebook

Known for movies

Who is Jason Knight?
Jason was born in Charleston, South Carolina USA in 1966 – his exact date of birth is not known but he holds American nationality and follows the Christian religion. He is a famous master Bladesmith who appeared in the "Forged in Fire" TV series as one of the judges during its third season.
Early life and education
Jason grew up wanting to make knives which was a somewhat strange dream for a kid. His father used to read stories to him written by Edgar Rice Burroughs, and his mother made costumes for him which he would wear on his small adventures with his cousins in his backyard. He used to have toy knives and machetes but these were not enough of a satisfaction for him since he knew these should perform a lot better than they did. All of these things contributed to Jason's passion towards making blades – all the wild stories which his father read him and the ones he imagined himself were a big motivation for him. He was very good at drawing from when he was small and used that talent to draw 3D pictures of knives and swords, and even though he was young, he understood that these blades were pieces of art each with their own function.
One can say that his dream slowly began to come true after his parents bought him his first grinder.
Meeting other knifemakers
As soon as he was old enough and had basic knowledge about making knives, Jason began going to the Southeastern Wildlife Exposition which is held in February every year, and where he met a lot of people who were into knifemaking, most of them having their own style, tricks, and secrets. There were people who made knives as a hobby, while others such as George Herron and Daniel Winkler did it as a full-time job – Jason would take his newest creations to Herron and Winkler, who would then tell him where he went wrong, or how he could improve.
Another event which Jason attended was the Native American Pow-wows which differed from the Southeastern Wildlife Exposition – people here appreciated his work even more, because it was influenced by history. During that time Jason established a close connection with Daniel Winkler and Karen Shook, who are today some of his best friends and Bladesmith colleagues.
Books and movies were a big inspiration to Jason, and he went to work in a theatre because he was in need of a job, but also enjoyed it – however, after seeing "The Last of the Mohicans" movie in 1992 in which the knives and other weapons were made by Daniel Winkler who was already his friend at that point, he decided to pursue his dreams of becoming a knife-maker, and left the theater.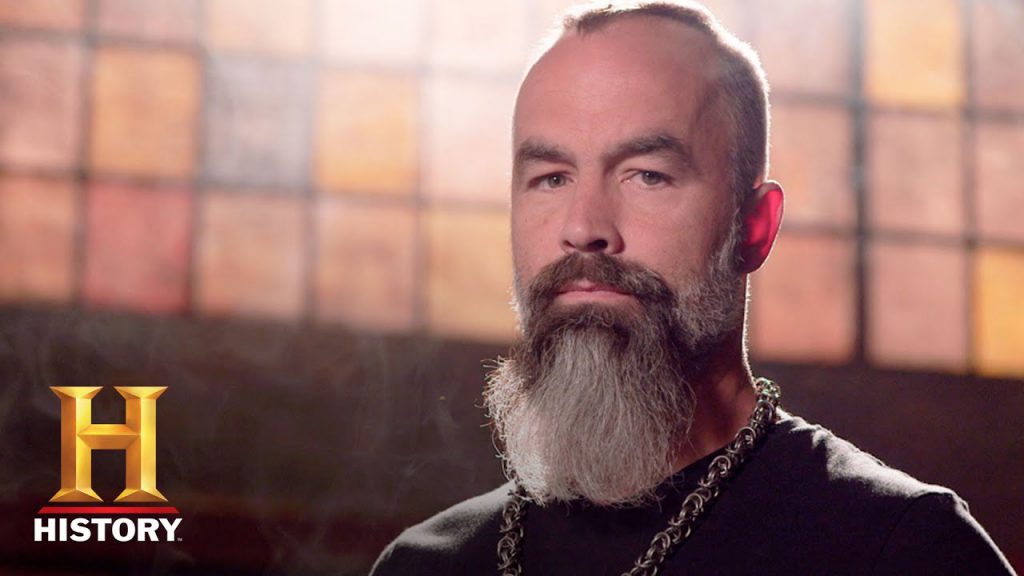 Jason's first blades and the beginning of his career
So in 2001 he enrolled at the Bill Moran School of Bladesmithing located in Old Washington, Arkansas, where he was taught by a Master Bladesmith Jay Hendrickson. It seemed as Jason had Bladesmithing in his blood as he was one of the best students, and managed to become the Best New Maker at the Blade Show West in the same year. He quickly went ahead of everyone else and developed his own style, stating that the most valuable advice he had ever received came from George Herron and Daniel Winkler – they told him to stay true to his own style, which is how people would recognize him in the future. It took him six years to receive his ABS Mastersmith rating in 2007, while winning the B.R. Hughes Award for making the best knife as a Mastersmith candidate. Jason kept on winning numerous awards, including South Carolina's Knife of the Year in 2002, Best Non-Damascus Hand-Forged at Blade Show and International Cutlery Fair in 2004, Best Fighter at Arkansas Knife Makers Association Show in 2006 and many others; Jason became well known in the field of knifemaking for numerous things, including his innovative style, precision, and amazing skills. His last award was in 2017 for the Knife Collaboration of the Year.
Jason achieved most of his wider fame when he appeared as a judge in the "Forged in Fire" TV series, which is a contest for Bladesmiths – he wasn't initially cast as a judge but after one of the judges was unable to attend the show due to surgery, they called Jason to fill-in. Even though Jason only appeared during the show's third season, it was enough for him to gain recognition.
The American Bladesmith Society (ABS)
ABS is US non-profit organization with a membership of knifemakers, who promote techniques of forging steel blades. The organization was at first just an idea which came from William F. Moran, who was the Chairman of the Knifemakers' Guild, and is best known for introducing Damascus steel blades – the idea about forming ABS came to him in 1972, and it took four years before he managed to launch the organization, while it received its non-profit status in 1985.
One of the rules you have to respect if you want to be an ABS knifemaker is that you have to forge your blade rather than make it using the stock-removal method. The organization has its own system of rating knifemakers – the lowest rating is an Apprentice, then a Journeyman, and lastly Mastersmith. ABS has grown considerably in the 43 years since it was founded, and now has several partners, offering courses about Bladesmithing, and having its own museum.
Jason's personal life
Jason is not the kind of person to share his personal things with the public but he is also quite a simple man – he is married to the love of his love Shelly who has been by his side and supported him throughout his career – they are currently living together with their children in Harleyville, South Carolina where he also has his own pond-side forge.
Appearance and net worth
Although Jason doesn't share his exact date of birth with the public, he is said to be 53 years old as of 2019. He has short black hair, brown eyes, long black and grey beard, but his height and weight are not known.
According to authoritative sources, Jason's current net worth is estimated to be over $3 million, and is likely to rise as the Master Bladesmith is still very active and his knives are very popular amongst hunters and soldiers
Social media presence
Jason is very active on several social media platforms, which is important for the marketing of his blades – he has an Instagram account which is followed by nearly 80,000 people while he's posted almost 500 pictures. He has a Facebook page as well which has about 16,000 fans.
Movies
Casting Director
| Title | Year | Status | Character |
| --- | --- | --- | --- |
| Anon | 2017 | post-production | |
| Flatliners | 2017 | post-production | |
| Alias Grace | 2017 | TV Series 6 episodes pre-production | |
| American Gods | 2017 | TV Series 10 episodes filming | |
| Backstabbing for Beginners | 2017 | post-production | |
| Kodachrome | 2017 | post-production | |
| State Like Sleep | 2017 | post-production | |
| Sundowners | 2017 | post-production | |
| The Mist | 2017 | TV Series 10 episodes filming | |
| Ape Sodom | 2016 | Short | |
| Eyewitness | 2016 | TV Series 10 episodes | |
| Beauty and the Beast | 2015-2016 | TV Series 23 episodes | |
| Your Mother and I | 2016 | Short casting by | |
| The Headhunter's Calling | 2016 | | |
| Below Her Mouth | 2016 | casting | |
| Killjoys | 2015-2016 | TV Series 21 episodes | |
| Maudie | 2016 | | |
| Flower Shop Mystery: Dearly Depotted | 2016 | TV Movie | |
| Houdini and Doyle | 2016 | TV Mini-Series 10 episodes | |
| Regression | 2015/I | | |
| Pay the Ghost | 2015 | | |
| River | 2015/I | | |
| Born to Be Blue | 2015 | | |
| Mature Young Adults | 2015 | Short | |
| Remember | 2015/I | | |
| Spotlight | 2015/I | | |
| A Christmas Horror Story | 2015 | | |
| Pixels | 2015 | | |
| Remedy | 2014-2015 | TV Series 20 episodes | |
| No Stranger Than Love | 2015 | | |
| Life | 2015/I | | |
| The VVitch: A New-England Folktale | 2015 | location casting | |
| Midnight Masquerade | 2014 | TV Movie | |
| The Journey Home | 2014/II | | |
| Bang Bang Baby | 2014 | | |
| Wet Bum | 2014 | | |
| Wolves | 2014 | | |
| The Divide | 2014 | TV Series 8 episodes | |
| The Captive | 2014 | | |
| Stage Fright | 2014/I | | |
| Holidaze | 2013 | TV Movie | |
| Skating to New York | 2013 | | |
| Pete's Christmas | 2013 | TV Movie | |
| Bank$tas | 2013 | | |
| Gerontophilia | 2013 | | |
| Algonquin | 2013 | | |
| Stag | 2013 | | |
| Star Spangled Banners | 2013 | TV Movie | |
| Haunter | 2013 | | |
| Be My Valentine | 2013 | TV Movie | |
| How To Keep Your Day Job | 2012 | Short | |
| The Riverbank | 2012 | | |
| Foxfire | 2012 | | |
| Still Mine | 2012 | | |
| The Lesser Blessed | 2012 | | |
| Stories We Tell | 2012 | Documentary | |
| An Insignificant Man | 2012 | Short | |
| Out of the Shadows | 2012/I | Documentary | |
| 388 Arletta Avenue | 2011 | | |
| Take This Waltz | 2011 | | |
| Clear Blue | 2010 | Short | |
| The Con Artist | 2010 | | |
| The Night Before the Night Before Christmas | 2010 | TV Movie | |
| Oliver Sherman | 2010 | | |
| The Closer You Get to Canada | 2010 | Short | |
| Score: A Hockey Musical | 2010 | | |
| The Wild Girl | 2010 | TV Movie | |
| Ice Castles | 2010 | | |
| The Making of Plus One | 2010 | | |
| The Deaths of Chet Baker | 2009 | Short | |
| Nova | 2009 | TV Series documentary 1 episode | |
| Splice | 2009 | | |
| A Wake | 2009 | | |
| Hungry Hills | 2009 | | |
| Cairo Time | 2009 | | |
| A Hindu's Indictment of Heaven | 2009 | Short | |
| Year of the Carnivore | 2009 | | |
| Survival of the Dead | 2009 | | |
| Fire | 2009/I | Short | |
| Victoria Day | 2009 | | |
| Anne of Green Gables: A New Beginning | 2008 | TV Movie | |
| Accidental Friendship | 2008 | TV Movie | |
| An Old Fashioned Thanksgiving | 2008 | TV Movie | |
| The Dreaming | 2008/I | Short | |
| Othello the Tragedy of the Moor | 2008 | TV Movie | |
| The Summit | 2008 | TV Mini-Series | |
| Adoration | 2008 | | |
| Miranda & Gordon | 2008 | Short | |
| The Trojan Horse | 2008 | TV Mini-Series 2 episodes | |
| Matters of Life & Dating | 2007 | TV Movie | |
| Just Buried | 2007 | | |
| Intervention | 2007/V | | |
| All Hat | 2007 | | |
| Do Not Bend | 2007 | Short | |
| Screening | 2006 | Short | |
Casting Department
| Title | Year | Status | Character |
| --- | --- | --- | --- |
| The Rocker | 2008 | casting: Canada | |
| The Memory Keeper's Daughter | 2008 | TV Movie casting: Canada / location casting | |
| Jumper | 2008 | casting associate: Canada | |
| Closing the Ring | 2007 | casting associate: Ontario | |
| Silk | 2007 | casting associate | |
| Diary of the Dead | 2007 | casting associate | |
| Fugitive Pieces | 2007 | casting associate | |
| Luna: Spirit of the Whale | 2007 | TV Movie casting: USA | |
| Poor Boy's Game | 2007 | casting associate - uncredited | |
| In God's Country | 2007 | TV Movie casting associate | |
| Candles on Bay Street | 2006 | TV Movie casting associate | |
| The House Next Door | 2006 | TV Movie casting associate | |
| Trailer Park Boys: The Movie | 2006 | casting associate | |
| Away from Her | 2006 | casting associate | |
| Slings and Arrows | 2006 | TV Series casting associate - 6 episodes | |
| Snow Cake | 2006 | casting assistant | |
| Code Breakers | 2005 | TV Movie casting assistant | |
| American Gods | 2017 | TV Series casting - 3 episodes filming | |
| Wish Upon | 2017 | local casting director post-production | |
| The Healer | 2016/IV | original casting completed | |
| Eyewitness | 2016 | TV Series casting - 1 episode | |
| American Gothic | 2016 | TV Series casting - 13 episodes | |
| The Girlfriend Experience | 2016 | TV Series location casting - 11 episodes | |
| Houdini and Doyle | 2016 | TV Mini-Series casting director - 1 episode | |
| Beauty and the Beast | 2015 | TV Series casting - 3 episodes | |
| Young Drunk Punk | 2015 | TV Series casting - 7 episodes | |
| Kick-Ass 2 | 2013 | casting: Canada | |
| King & Maxwell | 2013 | TV Series location casting - 1 episode | |
| The Colony | 2013/I | casting: Canada | |
| An Amish Murder | 2013 | TV Movie casting: Canada | |
| Flight of the Butterflies | 2012 | Documentary casting | |
| Broken Heart Syndrome | 2012 | Short casting | |
| Bag of Bones | 2011 | TV Mini-Series casting - 2 episodes | |
| Salem Falls | 2011 | TV Movie casting: Canada | |
| Certain Prey | 2011 | TV Movie casting: Toronto | |
| I'm Yours | 2011 | casting | |
| The Moth Diaries | 2011 | casting: Canada | |
| In Darkness | 2011 | casting | |
| Jumping the Broom | 2011 | casting: Canada | |
| Change of Plans | 2011 | TV Movie casting: Canada | |
| Circumstance | 2011 | casting assistant | |
| Thorne: Scaredycat | 2010 | casting: Canada | |
| Thorne: Sleepyhead | 2010 | casting: Canada | |
| Double Wedding | 2010 | TV Movie casting: Toronto | |
| Love Letters | 2010 | TV Movie casting consultant | |
| Nova | 2009 | TV Series documentary casting - 1 episode | |
| Chloe | 2009 | casting: Canada | |
| Suck | 2009 | casting: Sam & Hugo | |
| Unstable | 2009 | TV Movie casting: Toronto | |
| One Week | 2008/I | casting associate | |
| True Confessions of a Hollywood Starlet | 2008 | TV Movie location casting | |
| The Tenth Circle | 2008 | TV Movie casting: Canadian | |
| Inconceivable | 2008 | casting: Canada | |
Actor
| Title | Year | Status | Character |
| --- | --- | --- | --- |
| Away from Her | 2006 | | Young Grant |
| Monkey Warfare | 2006 | | Husband |
| Solar Attack | 2006 | TV Movie | Delta Pilot |
| G-Spot | 2005 | TV Series | Producer's Assistant |
| Show Me Yours | 2004 | TV Series | Steven |
| Air Emergency | 2004 | TV Series documentary | ATAP Controller |
| Sue Thomas: F.B.Eye | 2003 | TV Series | Nick |
| 1-800-Missing | 2003 | TV Series | Ron Hartman |
| Mutant X | 2003 | TV Series | Menotti |
| Queer as Folk | 2002 | TV Series | Luke |
| Deceived | 2002 | Video | Rudy |
| The 5th Quadrant | 2002 | TV Series | Jason Foster |
| Inside the Osmonds | 2001 | TV Movie | Wayne |
| A Colder Kind of Death | 2001 | TV Movie | Peter Kilbourn |
| The Wandering Soul Murders | 2001 | TV Movie | Peter Kilbourn |
| Daydream Believers: The Monkees' Story | 2000 | TV Movie | Paul |
| The Audrey Hepburn Story | 2000 | TV Movie | English Soldier |
| The Skulls | 2000 | | Police Techie |
| Twice in a Lifetime | 2000 | TV Series | Young Barry Lewis |
| The Lady in Question | 1999 | TV Movie | |
| Total Recall 2070 | 1999 | TV Series | Simon |
| Golden Will: The Silken Laumann Story | 1996 | TV Movie | Rower |
| The Hardy Boys | 1995 | TV Series | Freddy |
Producer
| Title | Year | Status | Character |
| --- | --- | --- | --- |
| Len and Hugo | 2006 | Short producer | |
| The Best Girl | 2000 | Short associate producer | |
Awards
Won Awards
| Year | Award | Ceremony | Nomination | Movie |
| --- | --- | --- | --- | --- |
| 2010 | Gemini | Gemini Awards | Best Achievement in Casting | The Summit (2008) |
Nominated Awards
| Year | Award | Ceremony | Nomination | Movie |
| --- | --- | --- | --- | --- |
| 2016 | Artios | Casting Society of America, USA | Outstanding Achievement in Casting - Big Budget Feature - Drama | Spotlight (2015) |
Source:
IMDb
,
Wikipedia