Jules Ari is a famous American YouTuber, social media influencer, podcaster, and OnlyFans star, who is perhaps best known for her self-titled YouTube channel.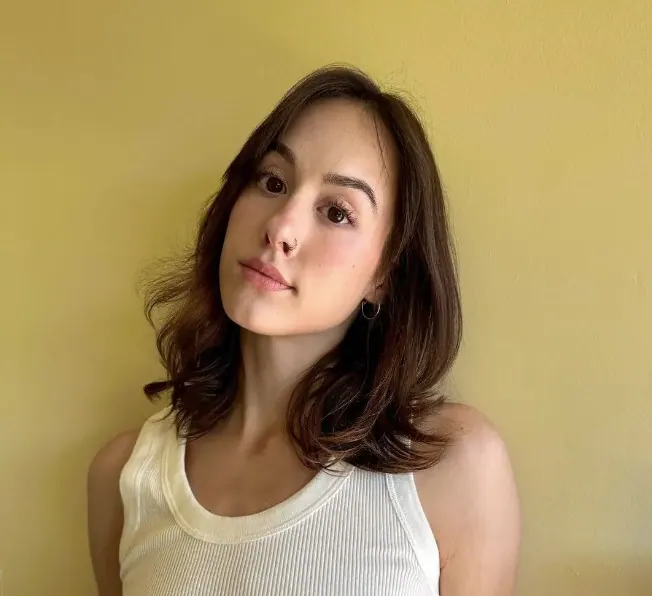 Age, Early Life, and Education Background
Jules Ari was born in the USA under the Gemini zodiac sign on 22 May 1999, which makes her 24 years old as of 2023. She's a very private person, and hasn't even revealed the names of her parents and siblings. However, it is widely known that she is the only girl in her family. Ari was drawn to the entertainment industry when she was a child, and often appeared in talent shows and school plays.
Ari grew up very interested in nature. She studied Environmental Science.
Hobbies and Interesting Facts
Ari considers herself a shopaholic. She has a unique and bold sense of fashion and often experiments with different trends.
She's also a culinary enthusiast and self-proclaimed foodie, who enjoys spicy foods. She has toured numerous cities tasting dishes, and her favorites are Mexican tacos and Thai curries.
Jules is an avid traveler who has toured at least 15 countries; she's gone on adventures in Bali in Indonesia, Tokyo in Japan, and various other cities.
The social media sensation is a licensed yoga trainer. She believes that caring for both the body and mind through yoga maintains one's overall well-being.
She is a huge lover of dogs and often posts videos training her puppies and rescue dogs on her social media platforms. Moreover, she's an avid supporter of animal rights, and uses her social media to promote responsible pet ownership.
Ari had initially enrolled in college to study nursing, but ended up losing interest in it.
YouTube
Ari launched her YouTube channel on 2 May 2022. In addition to podcasts, Ari posts a wide array of videos including fitness-related challenges and lingerie and swimwear try-on content, on her channel. Three of her most viewed videos are "My Stretching Routine | Jules Ari Flexibility" (uploaded on 5 October 2022), "Bedroom Stretches | Jules Ari Flexibility" (posted on 3 December 2022), and "Jules' Yoga Class" (posted on 3 May 2023), which have over 4.2 million, 2 million, and 1.9 million views respectively. Jules' self-titled channel has over 816,000 subscribers, at least 500 videos, and over 360 million views as of 2023.
"Cute Girls Only" Podcast
In late 2022, Jules created the podcast "Cute Girls Only," in which she speaks about her life, and hosts various guests, usually young social media stars. In her podcasts, Ari addresses topics related to career, personal life, love, and sexuality. She keeps her guests engaged with fun games and even locks lips with some of them to spice things up. On 6 September 2022, Ari released the first episode of the podcast entitled "I'm Not Smarter Than a 5th Grader," in which she answers various questions from her listeners. She addresses a wide range of topics in the episode including her fitness routines and hobbies. Moreover, she hinted that she was planning to bring various attractive women in the episodes that would follow. The debut episode has attracted over 33,000 views on YouTube.
On 21 September 2022, Ari hosted her first 'cute girl' guest, the American adult actress Susie Stellar. Before the year ended, she created three more episodes that featured three more adult film actresses – April Olsen, Lumi Ray, and Jane Wilde – who spoke about their experiences in the blue film industry. Out of the three episodes, "The (Wo) Man, The Myth, & The Legend: April Olsen – # 003 | Cute Girls Only," which featured Olsen, had the most views (110,000 views as of late 2023).
Besitos con Jules Ari
Cute Girls Only pic.twitter.com/KAehMx9DwE

— Que rico que rico show (@_Quericoshow_) June 26, 2023
Ari hosted her fifth guest, the OnlyFans sensation and social media star, Essie B, in the episode "From Car Saleswoman to Tatted OnlyFans Angel – #006 Essie B | Cute Girls Only," which has garnered over 105,000 views. Her latest (and so far, the most viewed) podcast was with the former podcaster, Cattien, who has appeared in numerous other podcasts such as "KATS After Dark" and "King and the Sting." The episode was released on 5 May 2023 and has attracted almost 120,000 views. In addition to YouTube, Ari posts her content on Apple Podcasts.
OnlyFans and Other Social Media Platforms
Jules is active on OnlyFans, on which she shares explicit videos and photos with her fans at a monthly fee. She has uploaded over 1,500 photos and 50 videos, which have a total of over 250,000 likes as of late 2023. Her description is 'Hi, welcome to my page! (heart and flower emoji) … I'm the silly sweet pretzel girl that's trying to get you to fall in love with me.'
Jules is active on Instagram (@jules_arii) with over 187,000 followers. She is also active on Facebook with over 131,000 followers as of late 2023. Ari joined Twitter (@babybirdjules) in July 2022 and has gained over 130,000 followers. Moreover, she posts workout and bikini videos on TikTok (@julesb1rd) on which she has over 86,000 followers and nearly 785,000 likes. She is active on Twitch with over 2,000 followers. She describes herself as a lover of nature, food, and all kinds of music and urges her followers to avoid political discussions, discrimination and bullying, and self-promotion, on her Twitch account (@julesarii).
Personal Life
Jules has remained tight-lipped about her romantic life. She appears to have a boyfriend and often refers to him in her videos and podcasts but hasn't revealed his name. The social media sensation is unmarried and without children as of 2023.
Rumors and Controversies
Jules' sexuality has been the subject of controversy. She previously kissed her female podcast guests April Olsen and Lumi Ray, which sparked a rumor that she was gay. The YouTuber has not addressed these allegations and as a result, her sexuality remains a mystery.
Jules previously resided in Portland, Oregon. She currently lives in San Diego, California.
Height, Weight, and Physical Appearance
Ari is of White ethnicity and has a pair of dark brown eyes and long hair of the same color. She is slim, weighs approximately 120lbs (54kgs), her height is 5ft 8ins (1.73m), with vital statistics of 32-28-30. She has pierced her nose. Ari is a fitness fanatic who is very flexible.
Net Worth
Jules has accumulated a good sum from brand endorsement deals, YouTube channel, and OnlyFans paid subscriptions. She's worth nearly $1 million, as of 2023.