Kelly Bishop
"Gilmore Girls" fans are more than familiar with the show's matriarch, Emily Gilmore, but may not know much about the actress behind the iconic character, Kelly Bishop, the award-winning dancer and thespian who was born on 28th February 1944 in Colorado Springs, Colorado, USA. Similarly, cinephiles recognize Kelly thanks to her portrayal of Marjorie Houseman in "Dirty Dancing": however, the general public is still in the dark when it comes to her fascinating life and early career.
Kelly grew up in Denver, Colorado, and received official ballet training at the San Jose Ballet School. Aged 18, she relocated to New York City, and joined a year-round ballet company that performed at Radio City Music Hall. From there, she danced in Las Vegas and in TV shows until landing her first Broadway role in the 1967 play "Golden Rainbow".
Career
It took Kelly almost a decade in the entertainment industry to achieve mainstream recognition, but when she did – thanks to her role as Sheila in the 1975 Broadway production "A Chorus Line" – she secured her place in the fickle acting world for years to come. Kelly's depiction of Sheila earned her two prestigious awards: the 1976 Drama Desk Award for Outstanding Actress in a Musical, and the 1976 Tony Award for Best Supporting or Featured Actress in a Musical.
After playing Sheila, Kelly was cast in Broadway productions such as the award-winning "The Last Night of Ballyhoo", "Six Degrees of Separation", and "Bus Stop". As for movie roles, she played Elaine Liebowitz in the 1978 drama "An Unmarried Woman", followed by "O'Hara's Wife" and "Solarbabies", which premiered in 1982 and 1986 respectively.
In 1987, Kelly took on the role of Marjorie Houseman in "Dirty Dancing" when Lynne Lipton, who was originally cast to play the role, became ill. However, Lynne's misfortune was hugely beneficial to Kelly's career, as the Colorado native had been set to play Vivian, a randy older woman who had a personal vendetta against Johnny, played by Patrick Swayze. As Vivian's character had little screentime, it wasn't hard to find a replacement.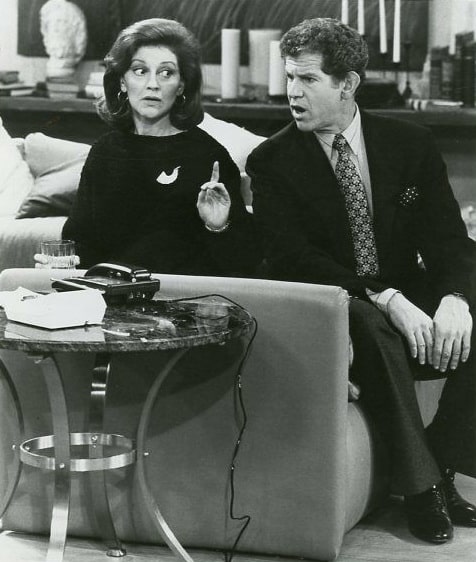 Although Marjorie's character was not a likeable one, Kelly made it hers, regaling viewers with memorable quotes such as "Look at all of this leftover food. Are there still starving children in Europe?". After "Dirty Dancing", she had a starring role in the Mike Nichols series "The Thorns" and played Eleanor Aramis in the tongue-in-cheek comedy "Me and Him". The actress also narrowly avoided being typecast into motherly roles, despite playing Howard Stern's mother in "Private Parts" and Tobey Maguire's in "Wonder Boys".
In the 1990s, Kelly made guest-starring appearances in "Law & Order", "One Life to Live", and "The Baby-Sitters Club" amongst other shows. The Colorado native failed to find a role that stuck until in 2000, when she was cast as the formidable New England matriarch Emily Gilmore in "Gilmore Girls".
From 2000 to 2007, Kelly played major character Emily in 115 episodes of the series – a cultured and well-travelled older woman with an appreciation for the finer things in life, Emily appeared to be lacking in compassion many times, and found it hard to show her vulnerable side. Although most of "Gilmore Girls" was centered around Rory and Lorelai's relationship, Emily and Rory's complicated past – and the steps both women took to heal it – was also an essential part of the show.
Kelly was reunited with the show's creator, Amy Sherman-Palladino, when they worked together on the 2012 series "Bunheads"; however, it was cancelled after just one season. Their second reunion on the set of "The Marvelous Mrs. Maisel" was far more successful, as the series won a Golden Globe and received critical acclaim.
we're on Emily's level today pic.twitter.com/JEz9mCDQnf

— Gilmore Girls (@GilmoreGirls) May 17, 2022
In 2016, Kelly brought Emily Gilmore back to life for the Netflix miniseries "Gilmore Girls: A Year in the Life". Despite being a welcome surprise during its announcement, the miniseries left a sour taste in viewers' mouths, due to what many perceived as a disappointing ending for Lorelai Gilmore, now a freelance journalist in an unpromising relationship who reveals her pregnancy to Rory in the last episode. Meanwhile, Emily grieved and eventually overcame her husband's death, selling her home and moving to Nantucket to practice being independent for the first time in her life.
Other TV appearances since then include "Army Wives", "The Good Wife", and "Mercy". In January 2023, Kelly began a starring role in the drama series "The Watchful Eye", which premiered to promising reviews, but was cancelled months later after just one season.
Personal Life
Kelly currently lives in South Orange, New Jersey, a sleepy suburban township with just 18,000 residents. She was married to the TV personality and talk show host Lee Leonard from 1981 until his death in 2018; according to an obituary, Lee passed away peacefully at home at 89 years old. The ESPN heavyweight was previously married to Rona Rosenberg and Salome Jens, and was survived by one adult daughter.
Unbeknownst to many, Kelly's marriage to Lee was actually the second time she walked down the aisle. In her mid-20s, the dancer caved in to societal pressures and tied the knot with her long-term boyfriend, so as to settle down before 30. However, she soon realized that he was "only in love with [her] bank account," and their unpassionate three-year union came to an end when she filed for divorce.
Standing tall at 5ft 6in (168cm) and weighing 132lbs (60kgs), it's evident that Kelly takes good care of herself by eating well and exercising often. Thanks to her decades-long career, the actress has an estimated net worth of $4 million, which is more than enough to enjoy her golden years; in 2016, it was reported that her "Gilmore Girls" co-stars Lauren Graham and Alexis Bledel had earned $3 million for "A Year in the Life", so we can safely assume that Kelly also cashed in a six- or even seven-figure paycheck for her role reprisal.