Kenzie Werner
Content creator, lifestyle influencer, entrepreneur… Kenzie Werner has definitely proven herself to be more than just a pretty face and celebrity girlfriend, despite becoming internet famous thanks to her relationship with the controversial former American football quarterback Johnny Manziel.
The model was born in Houston, Texas, USA, on 13th March 1997, and was first spotted with Johnny at the beach in March 2022; it's unknown how long they were dating prior to the paparazzi pics. After matriculating from Friendswood High School, the blonde furthered her education at the Houston School of Micropigmentation. Entrepreneurism clearly runs in her family, as her mother Coty is also a businesswoman.
Besides launching her brand, Brows by Kenzie in 2017, the Texan is known to promote Fashion Nova and other online businesses. With 50,000 Instagram followers and a decent engagement rate, Kenzie could be earning up to four figures per sponsored post.
Interestingly, Kenzie prefers not to post Johnny on her social media. In April 2018, the influencer mourned the loss of her long-time boyfriend, JD, who apparently died by suicide after months of mental health struggles. "I still can't believe it," she wrote, accompanying her words with a slideshow of the couple's best moments. "You were the most amazing person to fall in love with. LOYAL, dedicated, strong, intelligent… You made me a better woman. I'm grateful to have been able to share my life with you."
This is the only personal post of Kenzie's that we could find, as the rest of her Instagram feed is comprised of professional photoshoots or glamorous vacation snaps. In July, the blonde uploaded a video of a young boy believed to be her nephew; as far as we're aware, Kenzie is yet to have children of her own, and is currently focused on her career.
In April 2023, the model claimed that her Instagram had been hacked when four photos of her injured face and body were posted onto her account with the chilling caption: "this is from johnny manziel." Although they were deleted minutes later, the news soon began circulating online, as the former quarterback was accused of domestic violence when netizens saw the photos of Kenzie's bruised chest area and bloody nose.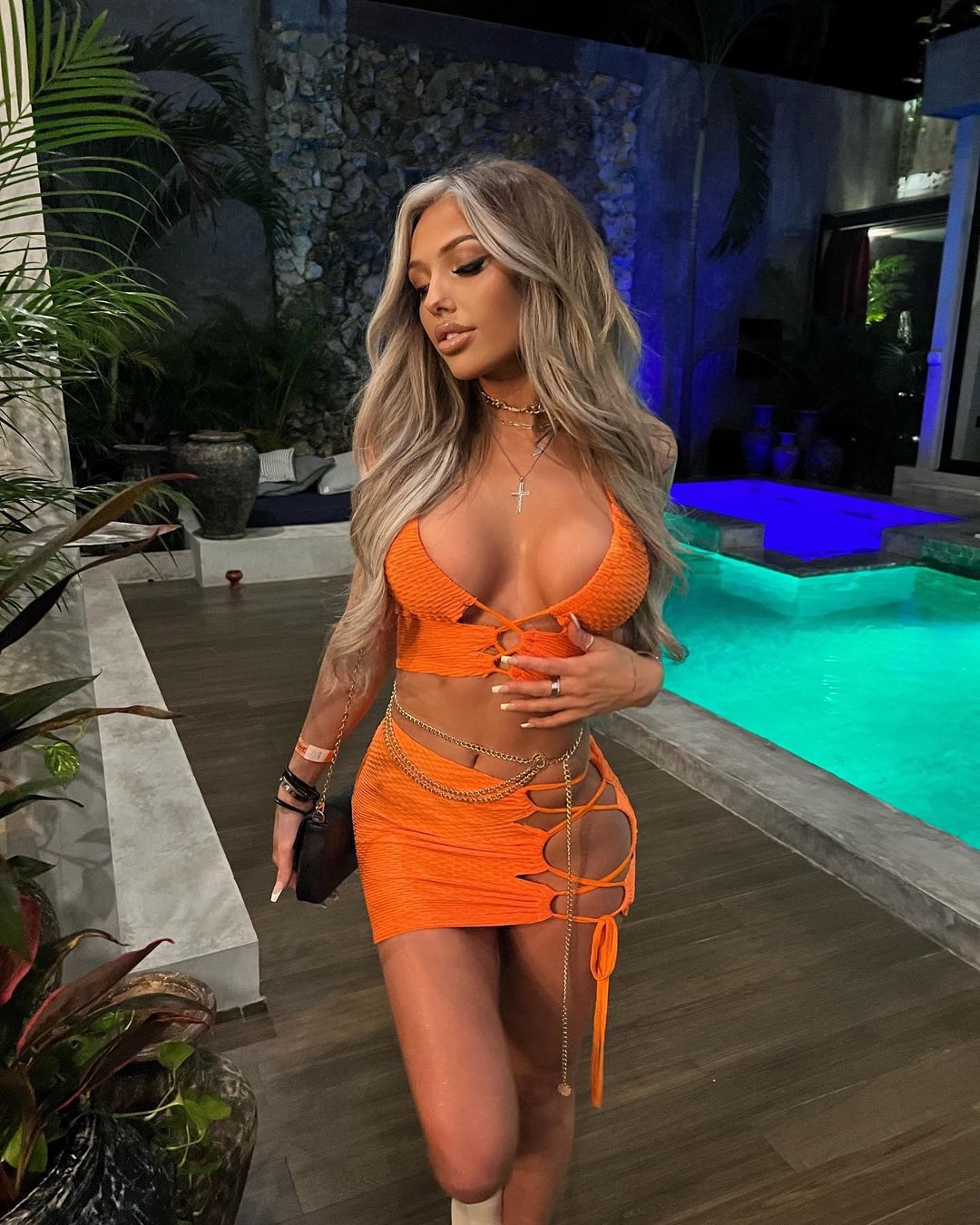 The following day, Kenzie wrote: "Was hacked last night. Just got my account back. Please disregard what was posted. It isn't as it seems." Meanwhile, Johnny's representative told TMZ that the photos had nothing to do with Johnny, as he had never abused Kenzie. In the end, the official story given was that Kenzie had suffered an injury at work when a three-liter champagne bottle fell on her. At the time, the influencer was working at the Houston nightlife spot Bottled Blonde.
This wasn't the first time that Johnny was rumored to have harmed his romantic partners: in December 2016, he reached a settlement to dismiss the domestic violence case against ex-girlfriend Colleen Crowley that crippled his career – the former football star had been accused of hitting and threatening Colleen during a night out in January 2016.
Johnny Manziel
Johnny was born in Texas on 6th December 1992, to Michelle and Paul Manziel, of Italian descent on his maternal side; he has one younger sister, Meri. During his childhood, Johnny played baseball, football, golf, and basketball; while studying at Tivy High School, he focused on football and baseball and was soon compared to Michael Vick, Drew Brees, and other legendary quarterbacks.
After matriculating from high school, Johnny was nationally recruited and received offers from the Wyoming, Louisiana Tech, and Colorado State teams to name a few. He debuted in 2012, and broke numerous records, becoming the first freshman to win the Davey O'Brien National Quarterback Award and other football-related accolades.
TRADE ALERT!

The Browns have traded up to #22 to select Johnny Manziel! #NFLDraft #happymanziel pic.twitter.com/MFsSDUQ22H

— NFL (@NFL) May 9, 2014
Despite being drafted by the Browns in the 2014 NFL Draft, Johnny's off-field controversies and lack of consistency overshadowed what could have been a brilliant run. He was released by the Browns after the end of the 2015 season, and spent two years away from football until 2018, when he signed to the Canadian Football League's Tiger-Cats. After being traded to the Alouettes, it was determined that the quarterback had violated the terms of his contract, and he was rendered ineligible to continue playing in the CFL.
Johnny's scandals have been well-documented online. In June 2012, just before his first college game, he was arrested and charged with disorderly conduct and two other misdemeanors, after a late-night fight in College Station, Texas. As he was unable to give media interviews during his freshman year, months passed before Johnny discussed the incident at his first press conference, during which he claimed to have learned from his mistake.
However, Johnny's offseason behavior proved that he had a lot of learning to do. From getting kicked out of fraternity parties to allegedly accepting money for autographs, it was evident that the quarterback was having a challenging time navigating his newfound fame, so much so that his parents publicly voiced their concerns.
The former football player entered a treatment program for unspecified reasons during the 2015 off-season. Months later, he made headlines yet again after throwing a water bottle at a heckler during a golf tournament. Throughout the rest of the season, Johnny spiraled out of control, and was demoted when videos of him partying surfaced on the internet. The last straw, perhaps, was when he backed out of the last game of the 2015 season after claiming to have a concussion – but was seen at the Planet Hollywood casino in Las Vegas.
Now in 2016, Johnny and Colleen's domestic violence case led to the football player being dropped by his marketing agency and agent. He also lost a lucrative sponsorship with Nike, and was unceremoniously dropped by agent Drew Rosenhaus after just two months.
Things went from bad to worse when Bob Hinton, Johnny's attorney, accidentally sent a text message to the Associated Press in which he insinuated that Johnny had spent $1,000 at a drug paraphernalia store. Johnny's father then told ESPN: "It's not a secret that he's a druggie. Hopefully he doesn't die before he comes to his senses."
In December 2016, Johnny and his prosecutors finalized a plea agreement in which he consented to have his conduct monitored for up to a year, and undergo counseling. After a year of disastrous press, this was too little, too late for his career; since then, Johnny has claimed to suffer from bipolar disorder, married and divorced reality TV star Bre Tiesi, and appeared in a Netflix anthology series recounting his all too short glory days in football.