• Laura Jane Haddock is an actress best known for her roles in Guardians of the Galaxy and Transformers: The Last Knight.
• She has a net worth of over $5 million.
• She trained at the Arts Educational School located in Chiswick, London.
• She met her husband, Sam Claflin, while at an audition.
• She was inspired to become an actress after watching the movie "Pollyanna".

Known for movies
Short Info
| | |
| --- | --- |
| Spouse | Sam Claflin |
| Fact | Graduate of the Arts Educational School, Chiswick, London. |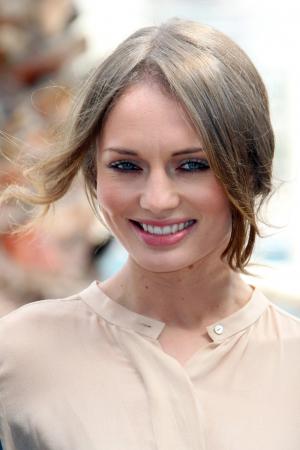 Who is Laura Haddock?
Laura Jane Haddock was born on 21 August 1985, in Enfield, London, England, and is an actress, best known for her portrayal of Meredith Quill in the film "Guardians of the Galaxy", along with its sequel "Guardians of the Galaxy Vol. 2". She also played the character Viviane Wembly in "Transformers: The Last Knight".
The Net Worth of Laura Haddock
How rich is Laura Haddock? As of early-2019, sources inform us of a net worth that is over $5 million, earned through a successful career in acting. She's also done numerous television projects, and has appeared in several stage productions as well. As she continues her career, it is expected that her wealth will also continue to increase.
Early Life, Education, and Career Beginnings
While Laura was born in Enfield, her family later moved to Harpenden, Hertfordshire, England where she grew up, and attended St. George's School. At the age of 17, she decided to move into London to train in drama as she was set on pursuing a career in acting, and trained at the Arts Educational School located in Chiswick, west London.
She made her television debut in the pilot for the Comedy Showcase feature "Plus One" in 2008. Soon she started gaining more opportunities in television, appearing in roles for "The Palace", "My Family", "The Colour of Magic", and "A Pocket Full of Rye". She gained one of her first lead roles in the drama series "Honest" playing the character Kacie Carter; the show is a remake of the New Zealand series entitled "Outrageous Fortune", and follows a criminal family as they try to change their ways after the father gets sent to prison.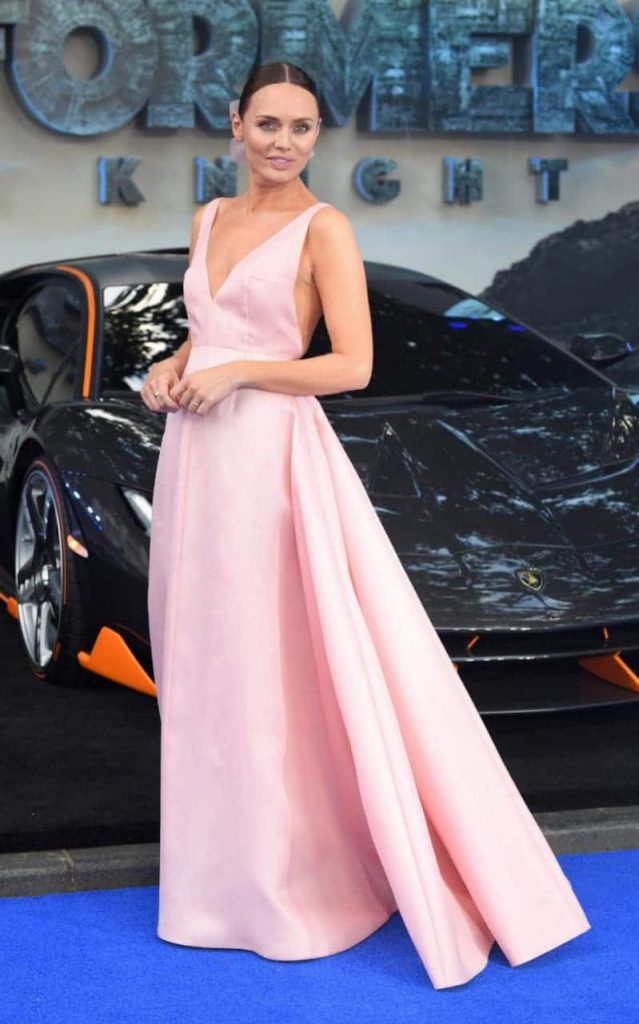 A Path to Prominence
Haddock worked on the pilot episode of "Life of Wild", which is the American version of the show "Wild at Heart", before working on several advertisements. She then had another lead role in the comedy show "Monday Monday", which is set in a head office of a supermarket which has fallen on hard times, leading it to relocate its staff. The show was going well until it was cancelled due to complications from the economic downturn. She then replaced the lead Sinead Moynihan for the second and third series of "How Not to Live Your Life"; the sitcom follows a pessimistic man who is trying to get through life, but struggles due to his bad instincts. The show gained a cult following, but was later cancelled when Danny Cohen left BBC Three.
In 2011, she played the role of a kidnapped daughter of an illegal arms dealer in two episodes of the television drama "Strike Back: Project Dawn", then her popularity rose when she played the role of Lucrezia Donati in the series "Da Vinci's Demons" – her character was the lover of Leonardo da Vinci, and the mistress of Lorenzo de' Medici, and the drama is a fictional account of da Vinci's early life, as he is implicated in the political scheming of two families, and a strained relationship with the Catholic Church.
Mainstream Breakthrough
In 2014, Laura gained a lot of popularity when she was cast as Meredith Quill in the Marvel Cinematic Universe (MCU) film "Guardians of the Galaxy", as the mother of the lead character Peter Quill, played by Chris Pratt in the film is based on the Marvel Comics superhero team of the same name, directed by James Gunn. It stars Pratt alongside Dave Bautista, Bradley Cooper, Vin Diesel, and Zoe Saldana. The film features an uneasy alliance of a fleeing group of extraterrestrial criminals, on the run after stealing a powerful artifact. The film was highly successful, becoming the third highest grossing film of 2014, and receiving a lot of praise.
She reprised her role in the second film entitled "Guardians of the Galaxy Vol. 2", which features the Guardians continuing their adventures as Peter becomes united with his father Ego. The film grossed more than the first, and continued to receive praise for its visuals, soundtrack, cast, and humor. During the same year, she also played the character Vivian Wemly in the film "Transformers: The Last Knight", which is based on the Transformers toy line, and is the fifth installment of the "Transformers' film series, featuring her alongside Mark Wahlberg, Josh Duhamel, and John Turturro, but was considered a box office disappointment, with critics panning the film.
About last night.. fashion awards Thank you @ZMURADofficial @jimmychoo @yslbeauty for dressing me up.. x pic.twitter.com/QrU6vRRVk8

— laura haddock (@laurajhaddock) December 6, 2016
Personal Life
For her personal life, it is known that Haddock started dating actor Sam Claflin in 2011, and they married two years later. He is best known for his role in "The Hunger Games" film series as Finnick Odair, and also played Philip Swift in "Pirates of the Caribbean: On Stranger Tides". The couple have two children together. According to reports, the two met while at an audition, with both subsequently saying that it was love at first sight.
She mentioned in an interview that she discovered her love for acting after watching "Pollyanna" and deciding there and then that she wanted to be an actress. She was also interested in becoming a policewoman, until her father said to her that she really wanted to be an actress so that she could play a policewoman. She credits her parents for encouraging her to pursue her dream. Similar to numerous actresses, she is highly active online through accounts on social media websites, active on both Instagram and Twitter.
General Info
| | |
| --- | --- |
| Full Name | Laura Haddock |
| Height | 1.72 m |
| Weight | 126 pounds |
| Profession | Actor |
| Education | Arts Educational Schools, London, St George's School, Harpenden |
| Nationality | British |
Family
Accomplishments
| | |
| --- | --- |
| Nominations | Empire Award for Best Female Newcomer, Critics' Choice Television Award for Best Supporting Actress in a Movie/Miniseries, WhatsOnStage Award for Best Ensemble Performance |
| Movies | Transformers: The Last Knight, SuperBob, A Wonderful Christmas Time, Guardians of the Galaxy, Storage 24, Rage of the Yeti, The Inbetweeners Movie, Captain America: The First Avenger, The Colour of Magic, Hardwire, For Life, House Cocktail |
| TV Shows | Da Vinci's Demons, How Not to Live Your Life, Monday Monday, Honest |
Social profile links
Quotes
| # | Quote |
| --- | --- |
| 1 | Don't fiddle with your gadgets when you're talking to me. It's rude. There's no call for it. Though I do make an exception for my fiancé. If we're out having dinner and he whips his phone out I just assume he's taking an incredibly important call from Hollywood. |
| 2 | The one thing I'll never do is make a pop record. In Monday Monday (2009) I had a scene where I had to perform a karaoke, where I believe I proved conclusively that I cannot sing. If someone held a gun to my head and told me it was for charity I might just consider a version of John Denver's Country Roads. |
| 3 | The secret of anonymity is a change of hairstyle. The success of the The Inbetweeners Movie (2011) took everyone by surprise. No one expected it to become the biggest-grossing British comedy of all time. Straight after the movie came out I got the part of Beryl in Upstairs Downstairs and had to dye my hair brown and cut it short. It was the perfect disguise. I was in the biggest British film for years and yet I could be completely inconspicuous. |
| 4 | If it wasn't for my dad's advice I'd be working as a policewoman. As a kid I'd change my mind about my future career every day. Policewoman was the one I would always came back to. One day my dad said to me, 'You don't actually want to do any of those jobs. You want to be an actress who can play these people for a month at a time.' It's just as well I listened to him because I reckon I'd have made a terrible copper |
| 5 | I'm no overnight success. Coming out of drama school, I lost count of the number of times I was rejected by The Bill. I'd audition for parts like 'shoplifting girl' or 'girl in queue'. Rejection is hard to take. Ultimately you have to let all that go and accept that, however talented you are, so much of it is down to the luck of the draw. |
| 6 | I'm something of a walking calamity. I had this huge crush on a boy at school who was two years above me. One day at lunch, I'd caught his eye and he was watching me as I got up to take my plate. My blazer got caught on the seat and I got my foot caught in the pocket of it and went flying across the room with the plate still in my hand. It didn't put him off though. |
| 7 | I believe in love at first sight. It has to be true because it happened to me. I was at an audition with the actor Sam Claflin and we both felt the thunderbolt as soon as we met. I knew what I felt but it was only much later that I learned he'd run straight off to his agent and said, 'I've just met the girl I want to marry.' |
| 8 | I loved theatre and film when I was growing up in Harpenden, Hertfordshire. My mum's a reflexologist and my dad's a corporate financier. |
| 9 | I remember taking my mom and dad to the premiere of The Inbetweeners Movie (2011) and being really nervous. My mom was like, 'Laura, don't worry: I've watched all of the first series of the TV show, so I understand what this is going to be like.' |
| 10 | I remember being about eight and watching Pollyanna (1960) with Hayley Mills. I looked at my mum and said, 'Mum, I want to be Pollyanna.' She said, 'You're going to have to make yourself cry if you want to be an actress.' So I turned my head away, and when I turned it back I was in floods of tears. |
| 11 | I see my daft surname as a positive thing. It first dawned on me that I had a comical name when someone called me 'Fishface' on my first day at school. I've heard all the fish jokes since then, many times over. |
| 12 | I think it's important not to grow up too fast. I'm 26 now, and I still can't wait for Christmas Day. The inner seven-year-old isn't buried too deeply in me. |
| 13 | I'm probably borderline OCD. I insist on having all objects at right angles to each other. So a fork has to be at a right angle to the knife on the table. The salt and pepper pots have to be placed close together. Only recently have I started to notice it's a weird way to behave. |
| 14 | I wouldn't say no to becoming a Bond girl. Making it in Hollywood has been my dream ever since I was little, watching Marilyn Monroe movies. To star in a Bond movie would be bliss on a stick. |
| 15 | I've been very lucky and been able to work, as an actress, but I'm definitely a working actress. I get a script, I audition, and then I pray. |
| 16 | I'm not the new Cameron Diaz. I'm not the new Keira Knightley, either. I don't know where these ideas come from. I'd rather be thought of as the one and only Laura Haddock. I'll happily settle for that. |
Facts
| # | Fact |
| --- | --- |
| 1 | Left school at the age of 17 and moved to London to study drama. |
| 2 | She has played two different roles in the marvel cinematic universe. |
| 3 | Gave birth to her 1st child at age 30, a son in December 2015. Child's father is her husband, Sam Claflin. |
| 4 | (July 30, 2013) Married her boyfriend of 2 years Sam Claflin. |
| 5 | Graduate of the Arts Educational School, Chiswick, London. |
Pictures
Movies
Actress
| Title | Year | Status | Character |
| --- | --- | --- | --- |
| Transformers: The Last Knight | 2017 | post-production | Vivian Wembley |
| Guardians of the Galaxy Vol. 2 | 2017 | | Meredith Quill |
| The Level | 2016 | TV Series | Hayley Svrcek |
| The Musketeers | 2016 | TV Series | Pauline |
| Luther | 2015 | TV Series | Megan Cantor |
| Da Vinci's Demons | 2013-2015 | TV Series | Lucrezia Donati |
| SuperBob | 2015 | | June |
| Ripper Street | 2014 | TV Series | Lady Vera Montacute |
| A Wonderful Christmas Time | 2014 | | Cherie |
| Guardians of the Galaxy | 2014 | | Meredith Quill |
| For Life | 2013 | Short | Adele |
| Goldfish | 2013/I | Short | Angela |
| History Is a Lie: The Real Da Vinci? | 2013 | TV Movie | Lucrezia Donati |
| Dancing on the Edge | 2013 | TV Mini-Series | Josephine / Sarah |
| Hardwire | 2013 | Short | Kelly |
| How to Behave | 2012 | Short | Silent Era Woman 2 |
| House Cocktail | 2012 | Short | The Beautiful |
| Storage 24 | 2012 | | Nikki |
| Missing | 2012 | TV Series | Susan Grantham |
| Upstairs Downstairs | 2012 | TV Series | Beryl Ballard |
| How Not to Live Your Life | 2009-2011 | TV Series | Samantha |
| Rage of the Yeti | 2011 | TV Movie | Ashley |
| Strike Back | 2011 | TV Series | Dr. Clare Somersby |
| The Inbetweeners Movie | 2011 | | Alison |
| Captain America: The First Avenger | 2011 | | Autograph Seeker |
| Monday Monday | 2009 | TV Series | Natasha |
| Agatha Christie's Marple | 2008 | TV Series | Miss Grosvenor |
| The Color of Magic | 2008 | TV Mini-Series | Bethan |
| The Palace | 2008 | TV Series | Lady Arabella Worthesley Wolsey |
| Honest | 2008 | TV Series | Kacie Carter |
| Comedy Showcase | 2007 | TV Series | Nicky |
| My Family | 2007 | TV Series | Melanie |
Self
| Title | Year | Status | Character |
| --- | --- | --- | --- |
| Creative Continuity | 2014-2016 | TV Series | Herself |
| Dish Nation | 2014 | TV Series | Herself |
Archive Footage
| Title | Year | Status | Character |
| --- | --- | --- | --- |
| Extra | 2017 | TV Series | Herself |
Awards
Won Awards
| Year | Award | Ceremony | Nomination | Movie |
| --- | --- | --- | --- | --- |
| 2014 | DFCS Award | Detroit Film Critic Society, US | Best Ensemble | Guardians of the Galaxy (2014) |
| 2014 | NFCS Award | Nevada Film Critics Society | Best Ensemble Cast | Guardians of the Galaxy (2014) |
Nominated Awards
| Year | Award | Ceremony | Nomination | Movie |
| --- | --- | --- | --- | --- |
| 2016 | Critics' Choice TV Award | Critics Choice Television Awards | Best Supporting Actress in a Movie Made for Television or Limited Series | Luther (2010) |
| 2015 | COFCA Award | Central Ohio Film Critics Association | Best Ensemble | Guardians of the Galaxy (2014) |
| 2014 | PFCS Award | Phoenix Film Critics Society Awards | Best Ensemble Acting | Guardians of the Galaxy (2014) |
| 2012 | Empire Award | Empire Awards, UK | Best Female Newcomer | The Inbetweeners Movie (2011) |
Source:
IMDb
,
Wikipedia