Who is Jack Davenport?
Jack is a British actor, probably best known for his role as Commodore James Norrington in the "Pirates of the Caribbean" film series, in addition to several other notable roles he's had in his career.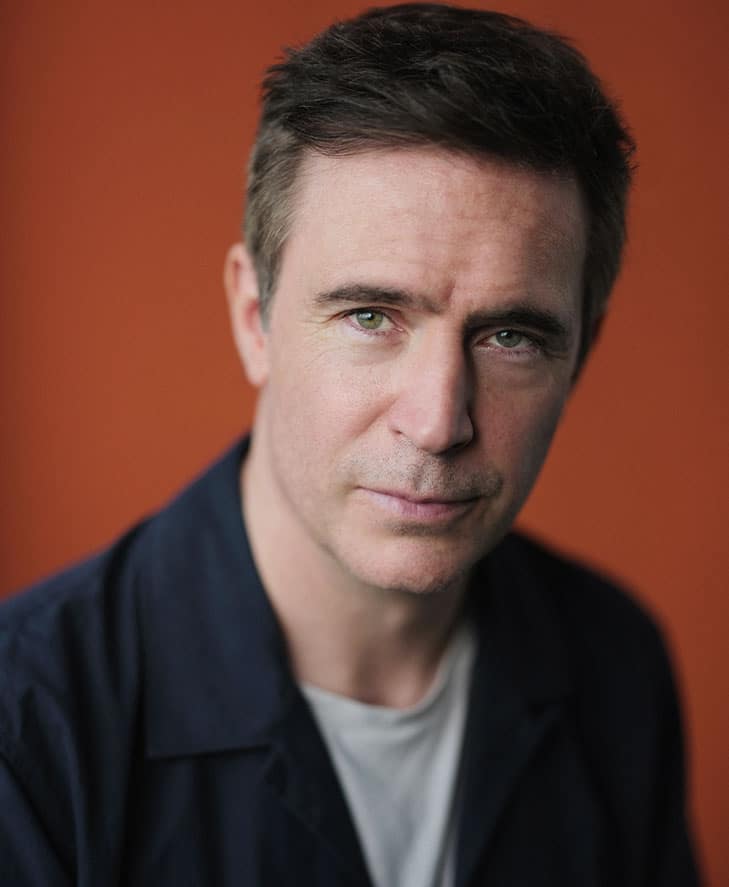 Wiki: Age, Childhood, and Education
Jack Arthur Davenport was born on 1 March 1973, in Wimbledon, London, England, the son of famous actors Nigel Davenport and Maria Aitken. Jack has notable family connections – his uncle Jonathan Aitken is a writer and former Conservative MP. His maternal grandmother was Penelope Aitken, a socialite, and his maternal grandfather was politician William Aitken. Additionally, one of his maternal great-grandfathers was John Maffey, 1st Baron Rugby. Davenport is also a step-cousin to Damian, Jared, and Jamie Harris through his uncle Jonathan Aitken's marriage to Elizabeth Rees-Williams, who was previously married to actor Richard Harris.
He lived in Ibiza for the first seven years of his life. His parents then divorced and he was sent to independent Dragon School in Oxford, as his parents didn't want him to witness all the divorce drama. He later attended boarding school for boys, Cheltenham College, after which he studied drama at the British American Drama Academy in London.
Career Beginnings
Davenport's acting journey started at 18 during a gap year after Cheltenham College. Impressed by his performance in a summer drama course, a director from Theatr Clwyd in Wales offered him work. He had small roles in Hamlet, and formed a friendship with Rhys Ifans. While at the University of East Anglia (UEA), studying film and English literature, he briefly explored acting, but initially considered a career behind the camera. After graduating, Davenport's letter to John Cleese for work on the film "Fierce Creatures" led to his first onscreen role as a trainee zookeeper.
From 1996 to 1997, Jack starred as Miles Stewart in the TV series "This Life", alongside Daniela Nardini, Andrew Lincoln, Amita Dhiri and Jason Hughes. The show revolved around the lives of young lawyers in a shared London house, delving into their personal and professional struggles, relationships, and career aspirations.
Davenport took on the role of Detective Sergeant Michael Colefield in the TV series "Ultraviolet" (1998), co-starring alongside Idris Elba, Susannah Harker, and Philip Quast, which followed the secretive world of vampire hunters dealing with the undead in contemporary London.
In 1998, Jack Davenport had a busy year with several notable roles. In the TV film "Macbeth", he took on the character of Malcolm in a contemporary adaptation of Shakespeare's classic tragedy. Meanwhile, in "Tale of the Mummy", Davenport portrayed Detective Bartone, embroiled in an archaeological thriller with stars such as Jason Scott Lee and Louise Lombard.
In "The Wisdom of Crocodiles", he assumed the role of Sergeant Roche in a mysterious and romantic drama, alongside leading actress Judi Shekoni. As the 90s drew to a close, Jack appeared in the film "The Talented Mr. Ripley" (1999), in which he played Peter Smith-Kingsley. The film's main stars included Matt Damon, Gwyneth Paltrow, and Jude Law, and the plot revolves around a talented impostor, Tom Ripley (Damon), who becomes entangled in a web of deception, murder and obsession, while infiltrating the lives of the wealthy elite in Italy.
The 2000s
In 2000, Jack Davenport appeared as Harry Fairfield in the TV film period drama "The Wyvern Mystery". He also played Rory in "Offending Angels".
The following year, he portrayed Leon in "Gypsy Woman" and LCpl. Ebert in "The Bunker", slowly building his portfolio.
Success With "The Pirates of the Caribbean"
Jack Davenport's career reached new heights when he took on the role of James Norrington in the "Pirates of the Caribbean" film series. It was in 2003 that he first appeared as Norrington in "Pirates of the Caribbean: The Curse of the Black Pearl". Directed by Gore Verbinski, the film also starred Johnny Depp as Captain Jack Sparrow, Keira Knightley as Elizabeth Swann, and Orlando Bloom as Will Turner. The plot followed the swashbuckling adventures in the Caribbean, as Capt Jack and his crew sought to rescue Elizabeth from cursed pirates.
Davenport reprised his role as James Norrington in the subsequent installments of the franchise. In 2006, he returned for "Pirates of the Caribbean: Dead Man's Chest", which earned him a Teen Choice Award for Choice Rumble. The film continued the adventures of Captain Jack Sparrow as he faced off against the cursed Davy Jones, while Norrington found himself entangled in the chaos.
In 2007, Davenport once again portrayed Norrington in "Pirates of the Caribbean: At World's End". This epic conclusion to the trilogy saw the main stars, including Johnny Depp, Keira Knightley, Orlando Bloom and Geoffrey Rush, embarking on a grand, high-seas adventure to confront the East India Trading Company and the malevolent Lord Cutler Beckett.
Other Projects
In the mini-series "The Incredible Journey of Mary Bryant" (2005-2007), he portrayed Lieutenant Ralph Clarke. The story followed the journey of Mary Bryant, a female convict in 18th-century Australia, and Lieutenant Clarke's involvement in her escape. The series featured Romola Garai, Sam Neill, and Alex O'Loughlin as main stars.
In 2008, Davenport took on the role of Bruce Miller in the series "Swingtown". The show explored the changing dynamics of relationships and suburban life in the 1970s. He was a series regular alongside Molly Parker, Jack Weber, and Grant Show.
From 2009 to 2010, Davenport played Lloyd Simcoe in the series "FlashForward". The series revolved around a global blackout and the subsequent visions of the future experienced by the world's population. The series starred Joseph Fiennes, John Cho and Sonya Walger.
The 2010s
Jack Davenport's career in the 2010s saw him taking on differing roles in both film and television. In 2011, he played Bobby in "The Key Man". In 2013, he played Otto Powell in the series "Breathless", which centered on the lives of doctors and nurses working at a London hospital in the 1960s. Davenport starred alongside Zoe Boyle, Catherine Steadman and Shaun Dingwall.
In 2014, Davenport appeared as Lancelot in "Kingsman: The Secret Service", a spy action-comedy film that featured Colin Firth, Taron Egerton and Samuel L. Jackson.
Then in 2016, he took on the role of Vasyl in "Guernica", a film set during the Spanish Civil War.
In 2017, Davenport continued his television work as a series regular in "White Famous", in which he portrayed Peter King. Additionally, he appeared in the film "The Wilde Wedding" as Rory Darling, alongside stars Glenn Close, John Malkovich and Patrick Stewart.
Recent Work
In recent years, he has been majorly focused on TV work. From 2019 to 2021, he was part of the cast in the TV series "Why Women Kill". This anthology series, created by Marc Cherry, followed the lives of three women in different decades, all living in the same house, as they dealt with infidelity and betrayals in their marriages. Jack Davenport starred alongside Lucy Liu and Allison Tolman in this intriguing series.
In 2022, Davenport appeared in the TV series "Ten Percent", set in a London talent agency; agents scramble to keep their star clients happy and their business afloat after the sudden death of their founder. The series featured an ensemble including Lydia Leonard and Maggie Steed.
Furthermore, in the podcast series "The Method" (2022), Davenport's voice talents were put to use. This psychological thriller explored the dangerous blurring of lines between real life and acting when controversial acting techniques start to take over a character's psyche. Zachary Quinto and Stephanie Beatriz also starred in this intriguing project.
Looking ahead, Jack Davenport is set to feature in the film "Bonus Track", releasing in late 2023. The movie revolves around a charming teen aspiring musician who teams up with the son of a rock star to win a school talent show. Davenport will share the screen with Josh O'Connor and Alison Sudol in this upcoming project.
Net Worth
According to authoritative sources, Jack Davenport's net worth is estimated at $4 million, as of late-2023.
Personal Life, Married, Wife, Children
Jack Davenport has been married to actress Michelle Gomez since 2000. The couple has one child together, a son born in 2010.
Appearance and Body Measurements
Jack Davenport has light brown hair and light brown eeys. He stands at a height of 6ft 2ins (1.88m), weighs approximately 185lbs (83kgs); his vital statistics are unknown.