• Laura Rutledge is an American television anchor, journalist and reporter
• She won the 2012 Miss Florida crown and entered the world of sports broadcasting shortly after
• She has appeared in ESPN, CNN and Fox Sports programs
• She married former MLB infielder Josh Rutledge in 2013
• Her net worth is estimated to be $700,000
 
Who is Laura Rutledge?
Born under the air sign of Libra on 2 October 1988, in St. Petersburg, Florida, USA, Laura Rutledge is a 30-year-old television anchor, journalist and reporter. She is best known for her work with CNN International and ESPN. A Floridian through and through, she first appeared in the limelight when she took home the 2012 Miss Florida crown, edging out contestants who were much more favored than her. Around the same time, she entered the world of sports broadcasting, serving as a reporter for many National Collegiate Athletic Association (NCAA) competitions, such as basketball, baseball, gymnastics, football and many other sports. Rutledge is a mainstay on both ESPN and the SEC Network, with frequent appearance in "Get Up" and "Sports Center", both crucial shows in ESPN's entertainment and debate repertoire.
Prior to joining ESPN, she had stints at both CNN and Fox Sports, which served as launching boards for her current endeavors.
Early Life and High School Education: Growing Up in Florida
Laura Rutledge (born McKeeman) was raised in her birthplace by parents of unknown names and professions. The only thing she revealed is that her parents were (and still are) avid college sports fans – she also has two older brothers who share the same passion. Unlike the rest of her family, Laura harbored an interest for make-up and dressing-up; her dream was to become famous and to captivate people with her voice and knowledge.
She also took ballet lessons for several years. Despite the fact that she was never an avid athlete, Rutledge was glued to the TV whenever football and basketball games was on. She loved watching other sports as well, which led her to think about a career in sports broadcasting. Aside from the actual players, she was also fascinated by the confidence female sideline reporters displayed. In 2006, Laura matriculated from Celebration High School in Celebration, Florida.
University of Florida: A Star in the Making
When it came to choosing where to continue her education, Laura was at a crossroads.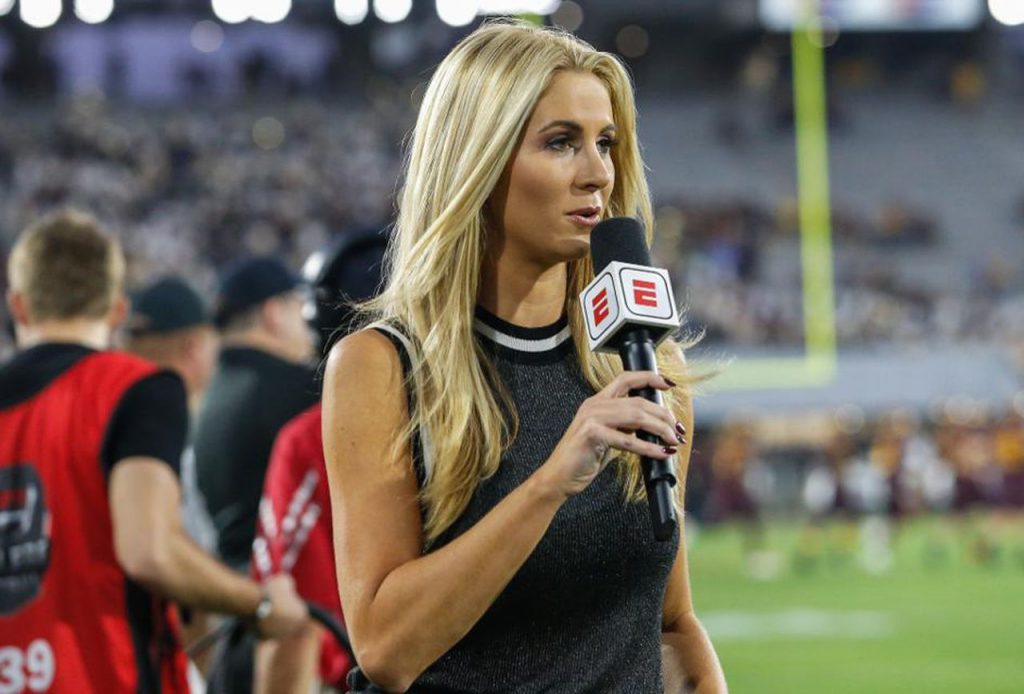 She wanted to go to Florida State University because she followed their sports teams, and her entire family was made up of fervent FSU supporters, but she ultimately chose the University of Florida because they had a much better communications program, however, she soon switched to telecommunications, for a better chance to become a broadcaster. During her freshman year, Rutledge was in need of money, so she started working at WRUF, a radio station at UF's main campus. Not only was she happy being a radio jockey and sports pundit, but people began noticing her exceptional knowledge of football and basketball. A mainstay and somewhat of a centerpiece at WRUF, Laura worked there from 2007 to 2011, when she graduated.
Career Beginnings: Disappointments, Unexpected Opportunities and More – FOX Sports
Encouraged by her success at WRUF, Laura applied for several internships while she was still a senior; ESPN, Fox Sports and several other networks rejected her, however, she didn't let this discourage her, so she focused on her modeling career. One night at a local bar, she started chatting about sports with a man she'd just met. It turned out that he was a reporter for FOX Sports, so she managed to score an internship using with his recommendation. In spite of high hopes, Rutledge was disappointed to learn that her duties would involve copying DVDs and bringing coffee to people. In early 2012, something completely unexpected happened.
One on-air reporter had a falling-out with the producers, and Laura was the only person available to take her place. With no time to prepare, she excelled in her first ever live appearance – of course the bosses were delighted, so she became a regular sideline reporter for Major League Baseball (MLB) games, mainly covering the San Diego Padres and Tampa Bay Rays.
Miss Florida 2012
Despite her sudden breakthrough, Laura still wanted to give modeling a shot in case reporting didn't work out for her, so she entered the 2012 Miss Florida pageant, and took home the crown, despite being considered an underdog. Her competition talent was ballet. A stellar performance in the finals allowed her to qualify for the Miss America 2013 title, and although she didn't win, a top-16 finish was satisfactory for her.
Continued Success:  Paintball, San Diego Chargers and More
Upon dominating the pageantry world, Laura returned to the sidelines in late 2012. Her first assignment was to cover the National Paintball Championship, which took place in Lakeland, Florida. Organized by the National Collegiate Paintball Association (NCPA), the event garnered a lot of attention, but all eyes were on a certain young reporter from FOX College Sports. Shortly after the conclusion of the event, Laura relocated to San Diego, California to cover the Chargers (who have since relocated to Los Angeles) full-time. She also made strides in her career as an anchor, hosting "Chargers Insider" and "SD Live", a show she created all by herself, and  National Football League (NFL) fans loved.
Even today, she is still the executive producer of the show. Afterwards, FOX awarded her with the position of host for both half-time and post-game shows for college football games.
Short Stint at CNN: Working with Robin Meade and Other Endeavors
In early 2014, Laura joined CNN's subsidiary, HNL. She was a frequent guest in "Morning Express with Robin Meade", and as well as her duties as co-anchor to the legendary broadcaster, she was also the main anchor on CNN's "Early Start" and "New Day", both popular sports shows.
Superstardom: ESPN and SEC Network
Rutledge made the best decision of her career by switching networks yet again. This time, in late 2014, she bolstered the ranks of ESPN and did not disappoint. Her portfolio was expanded by various prestigious assignments, such as being the red carpet host at the ESPYs and the Home Depot College Football Awards. In addition to spearheading ESPN's crew at such festivities, she was a regular SportsCenter anchor, commenting on each day's most spectacular sports moments.
One more hour left on @KySportsRadio! Call in to talk @KentuckyMBB @UKFootball @UKGymnastics @UKBaseball @UKsoftball or anything else… including Vegas trips @ShannonTheDude @ryanlemond. pic.twitter.com/9t6tBs1Ezr

— Laura Rutledge (@LauraRutledge) June 21, 2019
In addition to being the driving force behind some of ESPN's most popular shows and segments, Laura also lent her talents to SEC Network, a channel created by ESPN for the coverage of collegiate sports in the Southeastern Conference (SEC) of the NCAA. 'I was kind of over my head at ESPN when the guys at SEC offered me the job', recalls Rutledge. 'However, they offered me the opportunity to cover as many sports as I want. I couldn't refuse that!' Today, she is the staple of "The Paul Finebaum Show", organized by Finebaum himself, one of the most decorated sports reporters of all time. Her duties involve talking to fans and discussing recent games, events and even sharing some of her predictions related to football and baseball.
Personal Life: Who is Laura's Husband Josh Rutledge?
Laura married former MLB infielder Josh Rutledge on 7 December 2013. They first met in 2011 while Laura was on assignment in Alabama, and her future husband was training with the Colorado Rockies at the time. It's unclear whether they plan to have children or not. Josh spent a total of five years in the MLB, playing for the Rockies and the Boston Red Sox. His career was full of ups and downs, with frequent stints in the minor leagues because he was unable to crack the teams' main rotation. While Laura travels a lot due to the nature of her job, she and Josh often find time to relax in Birmingham, Alabama, where they have a house.
Body Measurements: How Tall is Laura Rutledge?
Laura Rutledge is 5ft 10ins (178cm) tall, and while her weight is unknown, she does have an hourglass figure, given the fact that her vital statistics are 35-24-36. She has blonde hair and brown eyes.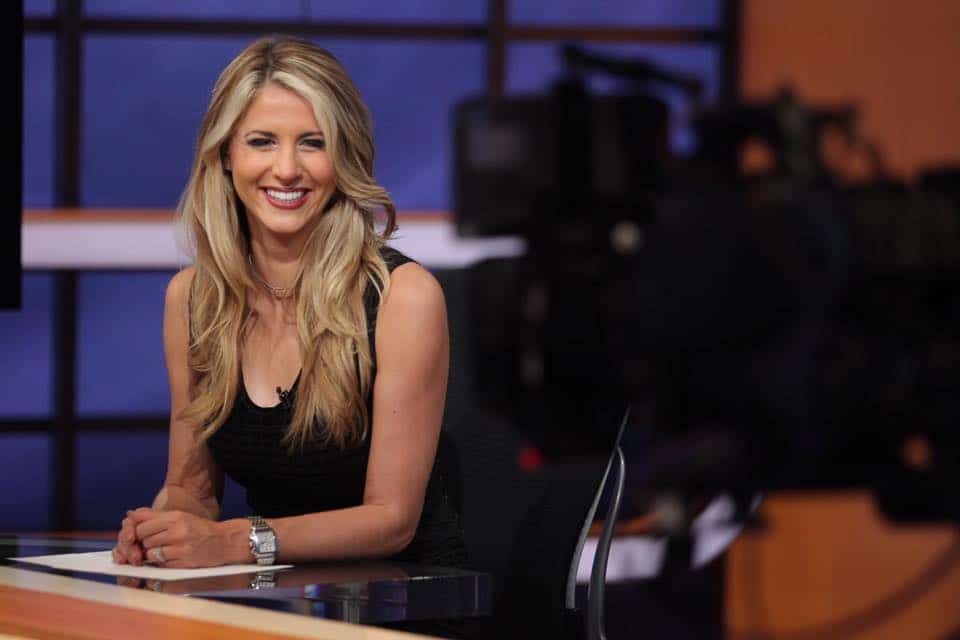 Net Worth: How Rich is Laura Rutledge?
Laura Rutledge has a net worth of $700,000, as of August 2019. Her reported salary is $400,000/year, which is the result of a contract extension she signed in 2018. Much of her wealth is due to an admirable work ethic, as she's never shied away from a challenge. Whether it's production or covering paintball, she's always sought new ways to prove herself.
Social Media Presence
One of her favorite pastimes is discussing sports with her 150,000 Twitter followers, which always involves a severe "burn" directed at fans who are overconfident in their favorite team. She is also massively popular on Instagram and Facebook, where she has 100,000 and 30,000 followers, respectively.
Source:
IMDb
,
Wikipedia