Who is Madeline Carroll?
American actress and producer Madeline Carroll was born in Los Angeles, California USA, on 18 March 1996, making Pisces her zodiac sign. She has 41 acting credits, and is perhaps known best for playing the lead character Juli Baker, in the 2010 romantic comedy movie "Flipped", which also starred Callan McAuliffe and Rebecca De Mornay, and which Rob Reiner wrote and directed. It follows two eighth-graders who've developed feelings for each other; the movie won two of its four award nominations.
Madeline's currently shooting for the upcoming series "These Stones".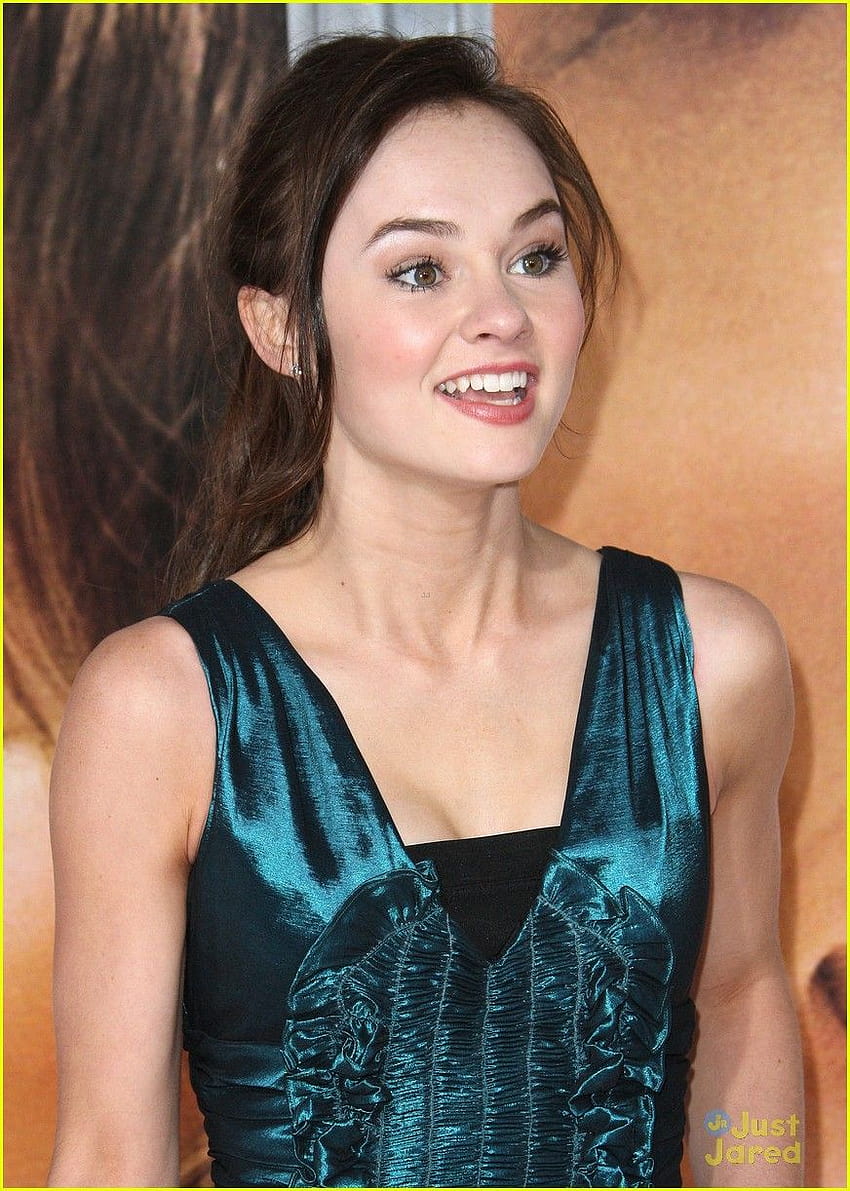 Early life and education
Madeline was raised in Los Angeles alongside her brothers Dylan, Jack and Ned, by their father who's a contractor and mother who's a housewife; the names of her parents remain undisclosed, as Madeline prefers to keep them away from media.
She was only three years old when her modeling career was launched, and four when theatrical agent Wendy discovered her at a nail shop; Madeline was then cast to appear in numerous commercials, for companies such as Super 8 Motels, Subway, and Chef Boyardee.
She was nine when she made her debut TV series appearance, playing Riley Mandel in the 2005 pilot episode of the comedy "Hidden Howie: The Private Life of a Public Nuisance", and the same year saw her appear in an episode of both the crime fantasy series "Night Stalker", and the crime thriller series "Wanted"; Madeline's been active in the film industry ever since.
She studied at a local high school in Los Angeles and upon matriculating in 2014 didn't enroll at college.
Roles in movies
Madeline's debut film role was playing Allison Mandrakis in the 2006 horror thriller "When a Stranger Calls", which starred Camilla Belle and Tommy Flanagan, and was directed by Simon West. It follows a high school student who's babysitting and is being harassed by a prank caller -the movie was nominated for three awards. Also in 2006, Madeline appeared in the romantic comedy "Mera Dil Leke Dekho" and the adventure family comedy "The Santa Clause 3: The Escape Clause".
In 2007, she portrayed White Queen in the critically acclaimed action science fiction horror "Resident Evil: Extinction", which starred Milla Jovovich and Ali Larter, and was directed by Russell Mulcahy. It follows Alice who's joined the survivors from the Raccoon City against their fight against the evil Umbrella Corp – the movie won two of its four award nominations. Some of Madeline's film roles in the remainder of the 2000s were in the 2008 comedy "Swing Vote", the 2009 animated action adventure "Astro Boy" (voice role), and the 2010 action family comedy "The Spy Next Door".
In 2011, she played Janie in the family fantasy comedy "Mr. Popper's Penguins", which starred Carla Gugino and Jim Carrey, and was directed by Mark Waters. It follows a businessman who's inherited several penguins, and the film won one of its four award nominations.
Madeline's also known for starring as Alyssa in the 2017 thriller "Zero Tolerance", which also starred Yancy Butler and Clare Kramer, and was written and directed by Joseph Forsberg; it follows a teenage boy who's committed suicide due to constant bullying, while his family's now seeking vengeance.
Some of Madeline's most recent film roles have been in the 2018 war drama "Indivisible", the biographical drama "Beautifully Flawed" and the 2019 short drama "Then & Now".
Roles in TV series
In 2006, Madeline portrayed Elisabeth in the episode "Domo Arigato, Mr. Roberto" of the comedy "All of Us", which starred Duane Martin and LisaRaye McCoy, and was created by Will Smith and Betsy Borns. It follows a woman who's returned to live with her journalist husband after having been estranged from him for years, the series aired from 2003 through 2023, and was nominated for 12 awards.
Madeline could then have been seen appearing in an episode of the drama "Passions", the adventure fantasy "Lost", and the romantic drama "Grey's Anatomy". In 2009, she played Hillary Rhodes '63 in the episode "November 2022" of the popular crime mystery "Cold Case", which starred Kathryn Morris and Danny Pino, and which Meredith Stiehm created. It follows a detective as she's solving old cases, the series aired from 2003 through 2010, and won 12 of the 39 awards for which it was nominated.
Madeline's since appeared in only a couple of TV series, and her three most recent roles have been playing Audrey Miller in the 2013 episode "Detention" of the action adventure comedy "R. L. Stine's the Haunting Hour", Karen Grant in two episodes of the 2014 thriller "Scandal", and Ally McCready in the 2018 episode "The Tall Man" of the crime mystery "Criminal Minds".
Other credits
Madeline has four producing credits; her debut was the 2018 family adventure movie "Destined to Ride", in which she also starred, and she then went on to produce the 2018 biographical movie "Beautifully Flawed", the 2019 short film "Then & Now", and the 2020 biographical musical movie "I Still Believe".
Some of her recent talk-show appearances have been in "Mark the Movies", "Home & Family" and "The Third Act".
Awards and nominations
Madeline's won three awards: a 2019 Madrid International Film Festival for Best Short Comedy, and a 2019 Burbank International Film Festival for Best Short Film by Women, both for "Then & Now", and a 2019 Chinese American Film Festival Golden Angel Award for Excellent Young Performing Actress of US.
She was also nominated for a 2007 Young Artist Award for Best Young Ensemble in a Feature Film, for her and her colleagues' performance in "The Santa Clause 3: The Escape Clause", and a 2009 Young Artist Award for Best Performance in a Feature Film – Leading Young Actress for "Swing Vote".
Love life and relationships
Madeline prefers to keep the details of her love life to herself, and because she's a devout Christian, most of her fans believe that she'd only accept a courtship by a fellow devout Christian, and that she wouldn't have intercourse before marrying.
There are also some fans who believe that Madeline's more open when it comes to dating, and that she's today in a relationship with a non-celebrity American man, as some have claimed to have seen Madeline and the man spending time together on multiple occasions; no evidence has been provided to support these claims, nor has Madeline addressed the matter.
There have also been rumors on the internet about Madeline being lesbian, but these are highly unlikely to be true.
Madeline seems to be unattached as of August 2023, hasn't married and doesn't have children.
Interesting facts and hobbies
Madeline was 15 when she was offered a nude role for the first time, but refused because of her faith; she's since been offered numerous nude and promiscuous roles, including an important role in the popular political thriller series "Scandal", but she's rejected them all. Madeline was 19 when she nearly quit acting, because her agent told her that she wouldn't be able to find work as an actress if she wouldn't take nude roles; she's since been appearing mostly in Christian movies.
She's taken part in various charity events, and has donated money to a number of causes.
Madeline's followed by over 110,000 people on Instagram and has posted over 5,000 pictures and videos, with most featuring her spending time with her family members and friends.
She often works out at the gym and follows a strict diet, thus her slim figure.
Madeline's passionate about dancing; she was seven when she began taking lessons.
Her favorite actor is Leonardo DiCaprio, and some of Madeline's favorite movies include "The Departed", "The Beach", and "The Basketball Diaries".
Appearance and net worth
Madeline's age is 27. She has brown hair and eyes, is 5ft 4ins (1.63m) tall and weighs about 110lbs (51kgs).
Madeline's net worth's been estimated at over $3 million, as of August 2023.