Who is Miguel Bernardeau?
Miguel is a Spanish actor, probably best known for his portrayal of Guzmán Nunier Osuna in the popular Netflix series "Elite", in addition to several other notable roles he's had so far in his career.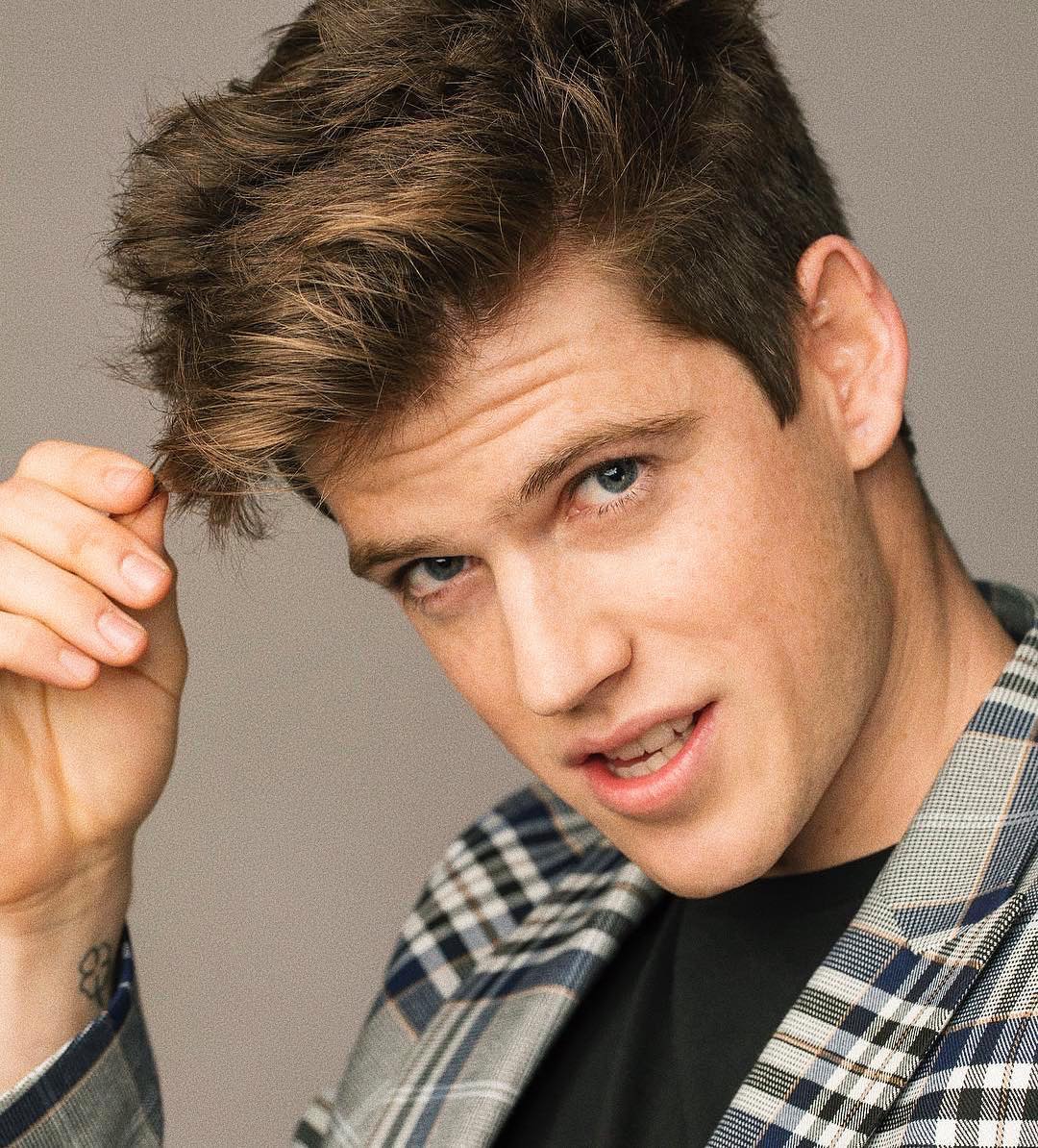 Wiki: Age, Childhood, and Education
Miguel Ángel Bernardeau Duato was born on 12 December 1996, in Valencia, Spain, to parents television producer Miguel Ángel Bernardeau Maestro, and actress Ana Duato. He has a younger sister named María Bernardeau Duato. He pursued his education in Dramatic Art at Santa Monica College, and acting at the American Academy of Dramatic Arts in Los Angeles, California.
Career Beginnings
Miguel Bernardeau began his career with minor roles and recurring appearances in several TV series. In 2016, he had a one-episode role as Alpuente in "Cuéntame Cómo Pasó", which follows a family's evolution from the last days of the Frankist dictatorship to the early 1980s, starring Imanol Arias, Ana Duato and María Galiana.
In 2017, Miguel appeared in "Inhibidos" for seven episodes, alongside main stars Jaime Olías and Blanca Parés.
In 2018, he featured in eight episodes of "Sabuesos", in which he played Isaac, a character involved with a genetically modified talking dog – the main stars included Salva Reina, María Esteve, and Thais Blume, and the series revolves around Max, the genetically modified Jack Russell dog, who can talk, and is running away from the criminals he worked for. He gets wounded and is saved by detective-wannabe Alberto, and together they end up staying with Alberto's sister-in-law Marta and her two children, leading to amusing situations and adventures.
Rise to Stardom
Before gaining fame with "Elite", Miguel Bernardeau had two major roles in Spanish films. In 2017, he appeared in the comedy "It's for Your Own Good", directed by Carlos Therón, in which he played Daniel "Dani" Castro. The movie revolves around three fathers-in-law determined to get rid of their daughters' unsuitable boyfriends. The film starred José Coronado, Javier Cámara, Roberto Álamo and Silvia Alonso.
In 2018, Miguel took on the role of Julen in the crime drama "Crime Wave", directed by Gracia Querejeta. The story follows a father's desperate search for his missing daughter during a vacation in a small coastal town, and featured main stars Maribel Verdú, Juana Acost, and Paula Echevarría. These early roles showcased Miguel Bernardeau's acting talent, laying the foundation for his subsequent success in the acclaimed series "Elite".
Miguel Bernardeau achieved stardom through his role as Guzmán Nunier Osuna in the highly successful Netflix series "Elite". Created by Carlos Montero and Darío Madrona, the story  centers around the lives of students at a prestigious private school in Spain called Las Encinas. With a talented cast, including María Pedraza, Itzan Escamilla, and Danna Paola, "Elite" captivated audiences worldwide.
Bernardeau's portrayal of Guzmán, a complex and privileged student, garnered critical acclaim and a massive fan following. The series' success can be attributed to its compelling storyline, exploring themes of love, friendship, secrets, and class struggles. With a perfect blend of drama, romance, and mystery, "Elite" kept viewers hooked with unexpected twists and turns.
The show's worldwide popularity was amplified by its availability on Netflix, allowing audiences from different cultures to connect with the characters and their stories. As a result, Miguel Bernardeau and the entire cast became international sensations, with their performances praised by audiences and critics alike. "Elite" remains one of the most beloved and popular Spanish-language series on the streaming platform, cementing Miguel Bernardeau's status as a rising star in the entertainment industry.
Continued Success
Miguel's career continued to flourish after his breakthrough in "Elite", with notable roles in various projects. In 2021, he starred in the film "Josefina" as Sergio, a teenager coping with the loss of her parents amidst the challenges of adolescence. The movie featured a talented cast, including Sergio Momo and Pol Monen.
The same year, Miguel appeared as Hugo in the Spanish TV series "Playa Negra". The show follows a group of friends reuniting at the Costa Brava, where old conflicts and secrets resurface. Victoria Abril, Maggie Civantos and Asier Etxeandia were among the main stars.
Me letting you all know that Season 4 of Elite with 1899 actor Miguel Bernardeau is now streaming on Netflix! https://t.co/qAFqBOE9JQ pic.twitter.com/bvwkoqNy7g

— 1899 🜃 (@1899Netflix) June 18, 2021
Also, in 2021, he played Iñaki in the TV series "Everything Else", exploring the lives of university students navigating love, friendship, and personal growth. Marta Belenguer, Andrea Guasch and María Maroto were part of the main cast.
In 2022, Miguel took on the role of Ángel in the highly anticipated Netflix series "1899". Co-starring Emily Beecham, Aneurin Barnard and Andreas Pietschmann, the show follows European immigrants traveling to New York on a ship, facing mysterious and terrifying events during the journey.
The same year, he featured as Diego in the Disney+ TV mini-series "Our Only Chance". The series centers on a group of young people who discover a device that may hold the key to saving humanity. The show's cast included Aitana, Luis Zahera and Aitor Luna, among others.
In the upcoming TV series "Zorro", set to release in 2024, Miguel Bernardeau will take on the role of the legendary swordsman, Zorro. The show's plot revolves around Zorro's quest to uncover the truth behind his father's death, leading him to uncover family secrets that will have a profound impact on his life. Alongside Miguel Bernardeau, the main stars of the series include Renata Notni and Elia Galera. Created by Carlos Portela, the show promises to deliver an exciting and fresh take on the iconic character of Zorro.
Net Worth
According to authoritative sources, Miguel Bernardeau's net worth is estimated at $1 million as of mid- 2023.
Miguel and Aitana's Relationship Timeline, Dating, Personal Life
Miguel Bernardeau and Spanish singer Aitana Ocaña began their relationship in 2018,  which they officially confirmed in August 2019 through posts on their Instagram accounts. The couple's romance continued to blossom, and they made their first public appearance together in February 2020 at Milan Fashion Week, where they attended a fashion show as guests.
As their relationship grew stronger, they also collaborated professionally, starring together in the Disney+ series' La última.' Their on-screen chemistry only added to the public's admiration for their real-life love.
However, after four years of being together, their relationship took an unexpected turn. In December 2022, it was reported that Miguel Bernardeau moved out of their shared home after the couple ended their relationship. The news came as a surprise to many, as they had recently displayed their closeness at the presentation of their joint project.
According to reports, Miguel is currently in a new relationship.
Appearance and Body Measurements
Miguel Bernardeau has gray eyes and brown hair. He stands at a height of 5ft 10ins (1.78m), weighs approximately 165lbs (75kgs), with vital statistics of 44-33-15.