• Miriam "Mimi" Rogers is an actress, producer, and professional poker player.
• She has an estimated net worth of over $10 million.
• Her breakthrough role was in "Someone to Watch Over Me" with Tom Berenger.
• She was praised for her performance in the film "The Rapture" and was nominated for an Independent Spirit Award.
• She was a former member of the Church of Scientology and is reported to have an unfavorable view of its leader, David Miscavige.
 
Who is Mimi Rogers?
Miriam "Mimi" Spickler was born on 27 January 1956, in Coral Gables, Florida, USA. Known as Mimi Rogers, she is an actress, producer, and professional poker player, but probably best known professionally for her work in the film "The Rapture", which gained her a lot of critical acclaim. Other notable projects she's worked on include "Desperate Hours", "Austin Powers: International Man of Mystery", and "Two and a Half Men".
The Riches of Mimi Rogers
How rich is Mimi Rogers? As of early 2020, sources inform us of a net worth that is over $10 million, earned mostly through a successful career as an actress now spanning almost 40 years. She is also known to be one of the more public members of scientology, being credited with introducing Tom Cruise to that religion.
Early Life and Career Beginnings
Mimi's father was a civil engineer while her mother was a former dance and drama mother. She is of Jewish descent, but her mother held Episcopalian beliefs. Eventually, her father became involved with scientology, which became a part of her upbringing.
While she was born in Florida, the family moved to various locations such as Virginia, Arizona, Michigan, England, and then settled in Los Angeles. She matriculated from high school at the age of 14, though apparently didn't pursue a college education. She started working in a hospital just outside Palo Alto, California, treating the incapacitated. She then worked for six years as a social worker, often involved in cases of substance abuse. During this time, she developed a strong interest towards acting, and lived mostly with noted actress Kirstie Alley during the early point of both of their careers.
Acting Projects
After the end of her first marriage in 1980, Rogers moved to Los Angeles to start an acting career. She studied for nine months before seeking an agent, and eventually had several television roles; some of her early projects included "Hill Street Blues", "Magnum PI", and "Hear No Evil". She then became a regular cast member of the show "The Rousters" for a season, before starring in "Gung Ho" alongside Michael Keaton. She eventually got her breakthrough role when she was cast in the film "Someone To Watch Over Me", alongside Tom Berenger, playing a socialite in the film who witnesses a murder.
In 1989 she starred in "The Mighty Quinn", and then became the protagonist in the film "The Rapture". The film tells the story of a swinger who becomes converted to Christianity after learning that the Rapture is imminent; her performance helped her gain an Independent Spirit Award nomination, while she was praised by critics of several magazines. In 1993, she posed nude for "Playboy" magazine, appearing on the cover, and the following year received a Seattle International Film Festival Best Actress award, for her work in the thriller "Reflections of a Crime".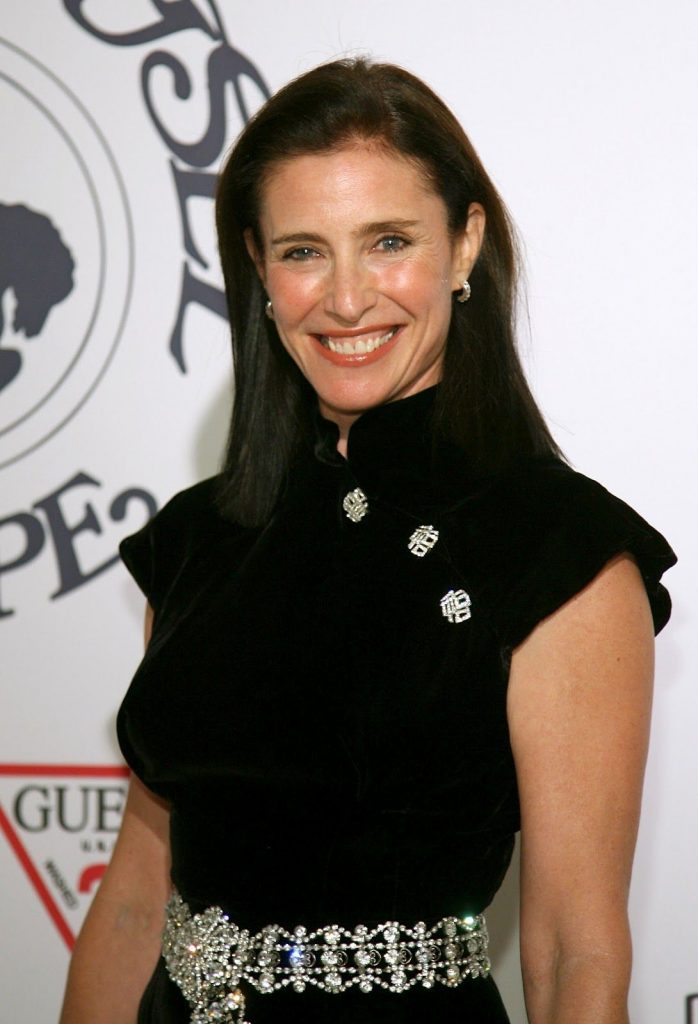 Later Career and Recent Projects
In 1996, Mimi joined an ensemble cast for the film "Trees Lounge", which generated a lot of critical acclaim, and then had a supporting role in "The Mirror has Two Faces", in which she appeared alongside Barbara Streisand and Lauren Bacall. The following year, she would become a part of "Austin Powers: International Man of Mystery", playing Mrs Kensington, and afterwards became a co-star of "Lost in Space". She also produced and starred in "The Devil's Arithmetic", which helped her gain a Daytime Emmy Award nomination.
She had a recurring role in "The X-Files", before being cast in the horror film entitled "Ginger Snaps". During the 2000s, she did more guest work, mainly appearing in popular projects such as "Dawson's Creek", while also filming in "Dumb and Dumber: When Harry Met Lloyd". In 2010, she was a part of the production of "Love, Loss, and What I Wore", before becoming a recurring cast member of "Two and a Half Men", playing the mother of Ashton Kutcher's character. A few of her latest projects include appearances in "NCIS", "Ash vs Evil Dead" and "Blue Bloods" – she also worked on the film "Captive".
Personal Life and Scientology
For her personal life, Mimi's first marriage was to James Rogers in 1976, and she retained his last name even after they divorced in 1980. In 1987 she married actor Tom Cruise in New York City, but their marriage was only good for about two years, and their divorce was finalized in 1990. The same year she began living with Chris Ciaffa, and they were married in 2003; they are still together, and have two children.
Rogers' father became a prominent member of the church of scientology, becoming a Mission Holder while she would hold a position as church auditor for a while, before embarking on her acting career.
She praised the religion publicly in an interview in 1991, but eventually left the church without disclosing the reason why. She has been described by the media as a former member, and her father allegedly became an enemy of the church, being given the title of Suppressive Person, apparently putting him with the likes of Hitler. In 2012, the publication "Vanity Fair" reported that she has an unfavorable view of the church's leader David Miscavige, as he was allegedly the reason for her split from Tom Cruise, apparently by pushing Cruise to pursue actress Nicole Kidman.