Who is Debby Ryan?
Debby Ryan is an American actress and singer, best known for her roles in various Disney Channel series. She gained popularity for portraying Bailey Pickett in "The Suite Life on Deck" and starring as the title character in "Jessie". Additionally, she's appeared in films such as "16 Wishes" and "Radio Rebel", in addition to several other notable roles she has had so far in her career.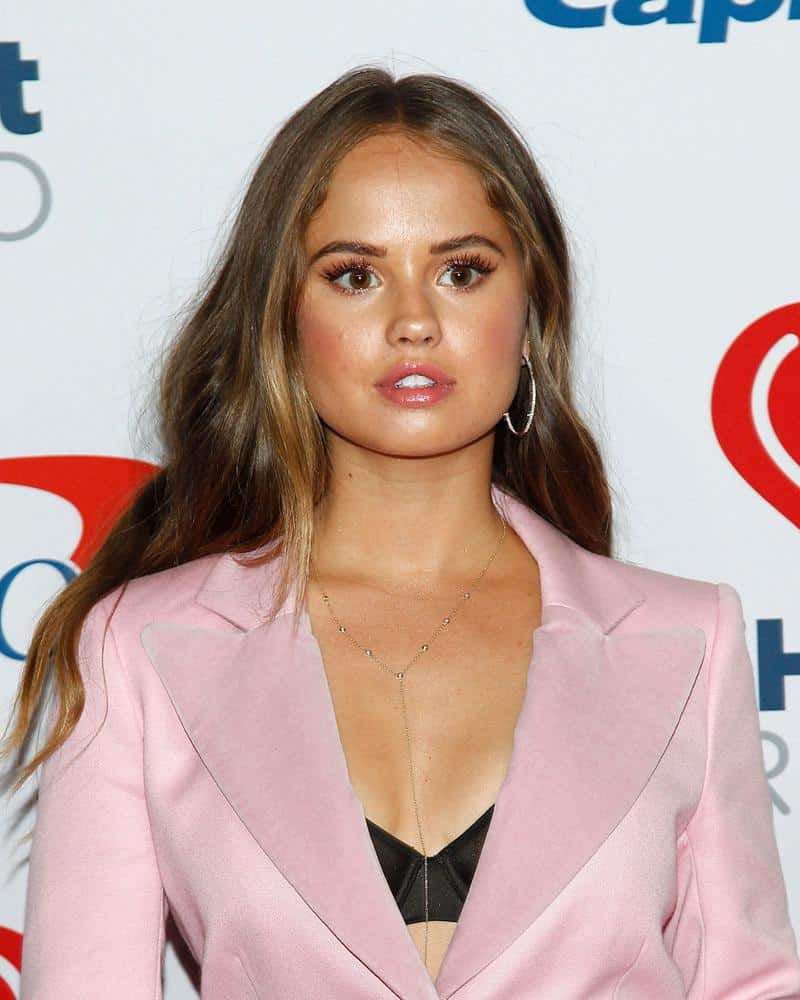 Wiki: Age, Childhood, and Education
Deborah Ann Ryan was born on 13 May 1993, in Huntsville, Alabama, USA. She grew up in a dynamic environment, as her father was a civilian consultant to the U.S. military, and as a result, she moved to various places around Europe, spending a significant part of her childhood in Germany until the age of 10. It was during this time that she started performing in professional theaters at the age of seven on an American base in Germany. Due to her constant moves, she went to German and American public schools, as  well as being home-schooled. Eventually, the family returned to the US and settled in Texas, where she spent part of her early life at Fort Hood. Debby's mother is a teacher and played a vital role in supporting her interest in acting, and being actively involved in school plays. Debby has one brother.
Career Beginnings and Early Disney Success
Debby Ryan's career began in 2006 when she landed the recurring role as Debby in the popular children's television series "Barney & Friends". The following year, she appeared in the direct-to-video movie "Barney: Let's Go to the Firehouse" as a Teenage Girl, joining Barney the Dinosaur and a group of kids on fun adventures while learning about fire safety.
Debby made her film debut in 2008, in the sports drama "The Longshots", portraying Edith Smith, a supportive friend of Jasmine Plummer, played by Keke Palmer. The film told the inspiring true story of Jasmine, who became the first female quarterback in Pop Warner football history.
However, it was her role as Bailey Pickett in the Disney Channel series "The Suite Life on Deck" that brought Debby Ryan widespread recognition and success. From 2008 to 2011, she starred alongside Dylan and Cole Sprouse as the smart and caring Bailey on a luxury cruise ship. Together with their friends, including Brenda Song's character London Tipton and Phill Lewis as Mr. Moseby, they faced comical situations, and learned valuable life lessons at sea.
Who remembers when Debby Ryan guest starred in Wizards of Waverly Place? Uncover all the other celebrities who you'll be shocked to learn appeared in the show before they were famous! –> http://bit.ly/2T0pSPh

Posted by J-14 Magazine on Monday, January 6, 2020
Concurrently, Debby made notable guest appearances; in the special crossover episode, she played both Bailey Pickett and Princess Zaria from "The Suite Life on Deck" and "Wizards of Waverly Place", respectively, creating a magical mix-up of worlds and adventures.
Furthermore, Debby appeared in another crossover episode, this time in "Wizards of Waverly Place", in which Bailey Pickett found herself in the wizardry world after being thrown overboard during a storm. The episode brought together characters from both shows.
Additionally, she guest-starred in "Hannah Montana", in which Bailey Pickett meets the famous pop star alter ego of Miley Stewart, played by Miley Cyrus, during a cruise. Their encounter led to humorous moments as they navigated friendship and fame together.
Debby Ryan's portrayal of Bailey Pickett garnered immense popularity and praise, solidifying her status as a talented actress within the Disney Channel family.
Continued Success
In 2010 and 2011, Debby Ryan expanded her career with guest-starring roles, collaborating with various co-stars and taking on diverse plots. In the television film "16 Wishes" (2010), Debby starred as Abigail "Abby" Jensen alongside Jean-Luc Bilodeau and Anna Mae Routledge. The movie follows Abby as she makes 16 wishes on her 16th birthday, but she soon realizes that each wish has unintended consequences.
In "The Suite Life Movie" (2011), Debby reprised her iconic role as Bailey Pickett, sharing the screen with her TV series co-stars. The film sends the characters on an adventurous journey to a deserted island, where they face challenges and discover life-changing secrets.
In "R. L. Stine's The Haunting Hour: The Series", Debby appeared as Steffani Howard in the episode "Wrong Number" (2011).
Additionally, Debby made a delightful appearance as herself in the reality series "PrankStars" in the episode "Something to Chew On" (2011). During the same period, Debby joined "Disney's Friends for Change Games" (2011) as a contestant on the Blue Team. Alongside other Disney Channel stars, she engaged in competitive challenges to promote environmental awareness and positive change, showcasing her dedication to social causes.
Furthermore, Debby portrayed Hayley in the episode of the medical drama, "Private Practice" entitled "The Breaking Point" (2011), sharing the screen with Kate Walsh and Tim Daly, among others.
From 2011 to 2015, Debby Ryan achieved significant success and further launched her to stardom with her lead role as Jessie Prescott in the hit Disney Channel series "Jessie". In the series, Debby portrayed a small-town girl from Texas who moves to New York City to pursue her dreams of becoming an actress. She finds employment as a nanny for the wealthy Ross family and must care for four children: Emma, played by Peyton List, Luke, who was portrayed by Cameron Boyce; then Ravi, who was played by Karan Brar; and Zuri, portrayed by Skai Jackson. The series followed the comedic and heartwarming adventures that Jessie shared with the Ross children, as well as the challenges she faced in her new city life.
Debby Ryan's portrayal of Jessie Prescott earned her immense praise from both fans and critics alike. As the main star of "Jessie", Debby became a prominent figure in the Disney Channel family, solidifying her status as one of the network's leading actresses. Throughout the show's run, Debby's involvement extended beyond acting, as she also took on the role of director for four episodes. "Jessie" not only established Debby Ryan as a beloved Disney Channel star but also opened doors for her beyond the network. The series' success allowed her to gain recognition in the broader entertainment industry and served as a launching platform for her continued success in acting and music.
During her time on "Jessie", Debby Ryan stayed busy with multiple projects. In 2012, she made guest appearances on shows such as "Zeke and Luther" as Courtney Mills, "The Glades" as Christa Johnson, and "Austin & Ally", in which she reprised her role as Jessie Prescott in the crossover episode "Austin & Jessie & Ally All-Star New Year". She also starred as Tara Adams in the television film "Radio Rebel".
In 2013, Debby returned as Jessie Prescott in a special crossover episode of "Good Luck Charlie" entitled "Good Luck Jessie: NYC Christmas", then in 2014, she took on the role of Jade/Remix in "Mighty Med" and provided her voice for Jessie Prescott in an episode of "Ultimate Spider-Man" entitled "Halloween Night at the Museum".
In 2015, Debby made a guest appearance as Aubrey in an episode of "Girl Meets World" entitled "Girl Meets Demolition", and in 2016, Debby Ryan took on the main role of Holli Holiday in the comedy web series "Sing It!" The show featured an ensemble of actors, and provided a satirical look at reality singing competitions, following the hilarious antics of contestants and judges alike.
In 2017, she starred as Cora in the Australian drama film "Rip Tide", sharing the screen with co-stars Andrew Creer and Naomi Sequeira.
In 2018, Debby Ryan displayed her talents in three distinct films – in "Grace", she played Nicole, appearing alongside Tate Donovan and Katie Cassidy, as the film explored the complexities of love, forgiveness, and family dynamics.
In the fantasy-drama "Every Day", Debby portrayed Jolene, acting alongside Angourie Rice and Justice Smith. The film's unique concept follows a character named A, who wakes up in a different body every day, but falls in love with Jolene. Additionally, Debby featured as Nikki in the psychological drama "Horse Girl", sharing the screen with Alison Brie.
To speak further of her accomplishments, In 2018 and 2019, Debby Ryan led the cast of "Insatiable", in which she starred as Patricia "Patty" Bladell alongside Alyssa Milano, Dallas Roberts, and Christopher Gorham.
In 2021, she appeared in the thriller film "Night Teeth", sharing the screen with co-stars Jorge Lendeborg Jr., Lucy Fry, and Raúl Castillo.
In 2022, Debby joined the cast of the television series "The Resort" in a recurring role as Hanna, alongside Bruce Davison, Augustus Prew, and Cassie Steele.
In 2023, she will be featured in the film "Shortcomings", acting alongside Kaitlyn Dever and Brian Tyree Henry, among others.
Net Worth
According to authoritative sources, Debby Ryan's net worth is estimated at $4 million, as of mid- 2023.
Personal Life, Dating, Married, Single?
Debby Ryan has been married to Josh Dunn, Twenty-One Pilots drummer, since 31 December 2019. The couple began dating in 2013 but broke up in 2014. Nevertheless, they began dating again but haven't revealed when they picked up their romance.
Debby Ryan encountered a legal issue when she was arrested for driving under the influence. Initially facing felony DUI charges, the situation later resulted in two misdemeanors. After posting bail of $100,000, she was released from custody.
On 30 June of the same year, Debby made a legal plea of no contest to a charge of reckless driving. As part of her sentence, she received three years of probation and community service, and was required to attend a DUI program.
Appearance and Body Measurements
Debby Ryan has amber eyes and dusty brown hair. She stands at a height of 5ft 5ins (1.65m), weighs approximately 130lbs (59kgs), with vital statistics of 35-27-34, and bra size 40C.