Who is Nastya Nass?
Ukrainian social media star, YouTuber and twerk-dancing teacher Nastya Nass, was born under the zodiac sign Sagittarius on 5 December 1994 in Ukraine. She's perhaps known best for her self-titled YouTube channel, which today numbers close to 1.5 million subscribers, while all of Nastya's 140 videos combined have amassed over 200 million views; she's been active on the network since the launch of her channel on 11 August 2013, and most of her videos feature her dancing, twerking and working out at the gym.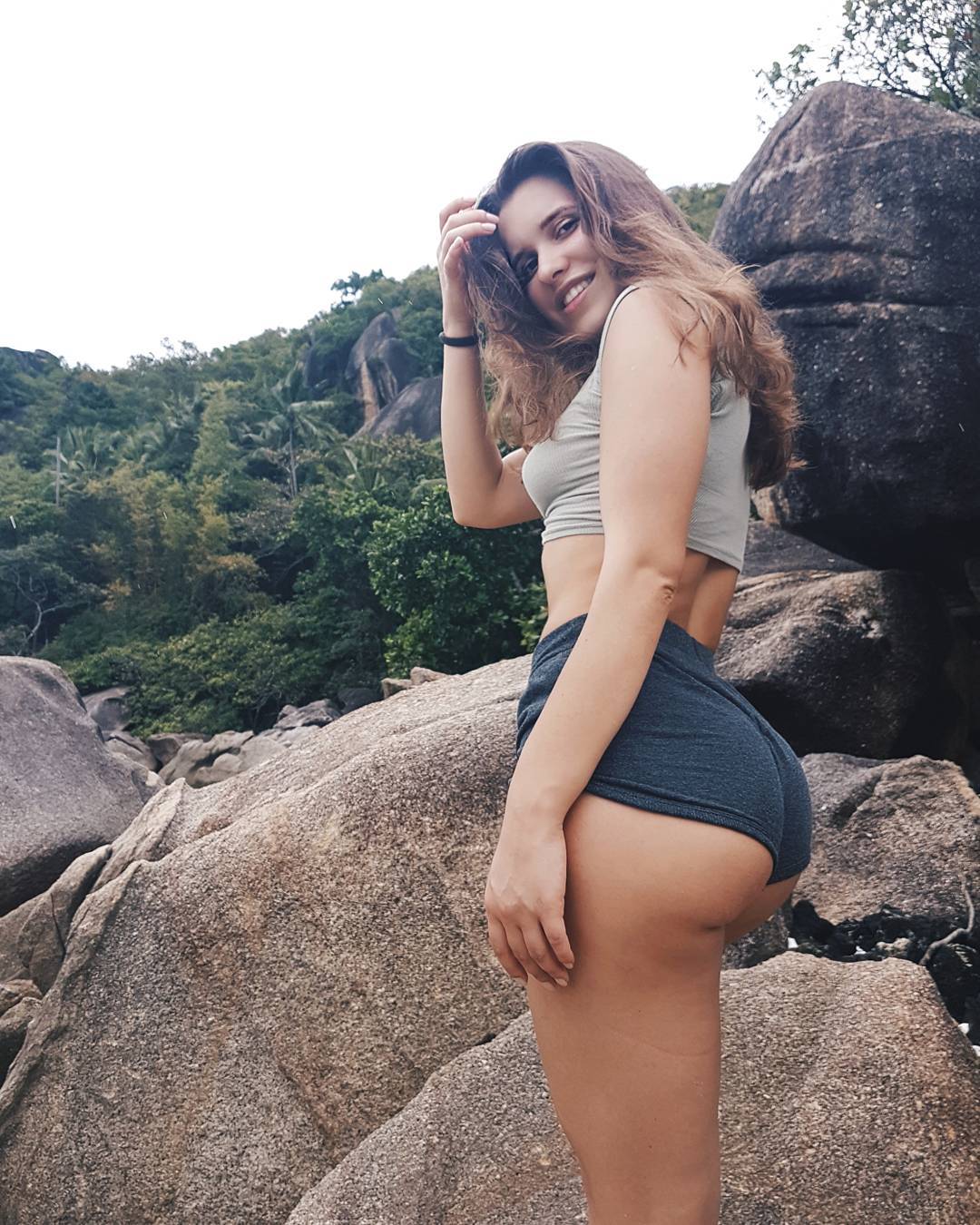 Education and early life
Nastya shies away from sharing the details of her private life with her fans, but it's known that she was raised by her mother and father in Ukraine, that her father was a police officer and her mother a high school teacher, but this is yet to be confirmed by Nastya, nor has she yet spoken about having siblings, and is thus believed to be an only child.
Nastya studied at a local high school, and it was during her four years there that she became passionate about dancing; she was a cheerleader, and entered a number of dance competitions, winning several prizes. Besides dancing, Nastya was also into acting with her school's drama club, playing volleyball, and running track.
She matriculated in 2013, and continued her education at the University of Customs and Finance in Dnipropetrovsk, Ukraine; Nastya also continued dancing during her four years there, and played several sports for the university's teams, including soccer and basketball. She graduated with a Bachelor's degree in 2017 and then focused on her career on the internet, while also occasionally working as a personal fitness coach.
Most popular YouTube videos
Nastya's mostly popular on YouTube for the videos which feature her twerking, although her fans also seems to like her for her dancing skills in general, attractive looks and willingness to help them with their own workout routines. We'll be covering Nastya's three most viewed videos, as these have helped her expand her internet fanbase, fame and fortune.
Her #1 video "Nicki Minaj – MEGATRON – Twerk with Nass" has been watched over 20 million times since 19 July 2019, and features Nastya and many other girls twerking to the song "Megatron" by Nicki Minaj.
Nastya's second most popular video "Ying Yang Twins – Salt Shaker/ Twerk with Nass" has been watched close to 12 million times since 16 July 2019 and features Nastya and other girls twerking to the song "Salt Shaker" by the Ying Yang Twins.
Her #3 most watched video – "Broke Leg -Tory Lanez Feat. Quavo & Tyga / Twerk Class/ Nastya Nass/ San Diego" – has been watched over eight million times since it was posted on 22 June 2019, and shows Nastya and her 'twerk class' dancing to the song "Broke Leg" by Quavo, Tyga and Tory Lanez.
Nastya's active on various social media networks, and is an Instagram star, as more than seven million people are following her today, while she's posted over 660 pictures and videos; most of her content features her spending time with her fiancé and their daughter, while she's twerking and showing off her attractive body in her other pictures and videos.
Nastya's Twitter account was launched in April 2018, but she's since posted only 54 times, and is thus followed by only close to 15,000 people; her most recent update was on 6 March 2020, when she took part in the internet's 'Safaera Challenge'.
Nastya's also active on Facebook, but has only 44 friends and doesn't allow her fans to interact with her on this network, wanting to use it only to stay in touch with her family.
Her TikTok account is today followed by close to 25,000 people, and all her videos combined have amassed nearly 80,000 likes; nearly all of these feature her twerking, when working out at the gym, and lip syncing in others.
Nastya and her fiancé are also running their collaborative YouTube channel "Nass&Typo"; it was launched on 8 January 2021 and is today subscribed to by over 40,000 people, while all of their 77 videos combined have been watched more than three million times, most featuring Nastya and her fiancé spending time with their daughter.
Love life and relationships
There's only a single man whom Nastya's been with, that her fans know about. It was on 14 February 2021 (Valentine's Day) when she revealed that she and American dancer, YouTuber and social media star Typo aka MyTypo Life were in a relationship, while it's widely believed that they had already dated for a year. The two have a daughter together, and while they often feature her in their Instagram pictures and videos, they're still keeping her 'safe' from the internet by hiding her name and exact date of birth.
Nastya and Typo became engaged in July 2022, and today, late 2023, is pregnant with their second child.
Interesting facts and hobbies
Nastya's physically highly active, both because she enjoys working out and because it's important for her career on the internet to stay in shape; she goes to the gym nearly every day, and has dance lessons five or six times a week.
She's passionate about travelling ,and has been to a number of countries all around the world; she's currently living with her fiancé and their daughter in the US.
Nastya loves clothes, and is keeping up with fashion trends by reading various fashion magazines every day; she's a bit of a shopaholic, as she buys new clothes on a daily basis.
She loves to listen to music ,and Jennifer Lopez is her favorite singer.
One of Nastya's favorite actresses is Scarlett Johansson, and some of her favorite films are "Vicky Cristina Barcelona", "Marriage Story" and "Her".
Appearance and net worth
Nastya's age is 28. She has brown hair and eyes, weighs around 125lbs (56kgs) and is 5ft 7ins (1.7m) tall.
Nastya's net worth's been estimated at over $800,000, as of October 2023.