Natalie Reynolds is an American social media influencer, content creator, and Instagram star, who is known for her TikTok lip-sync, prank, and dancing videos.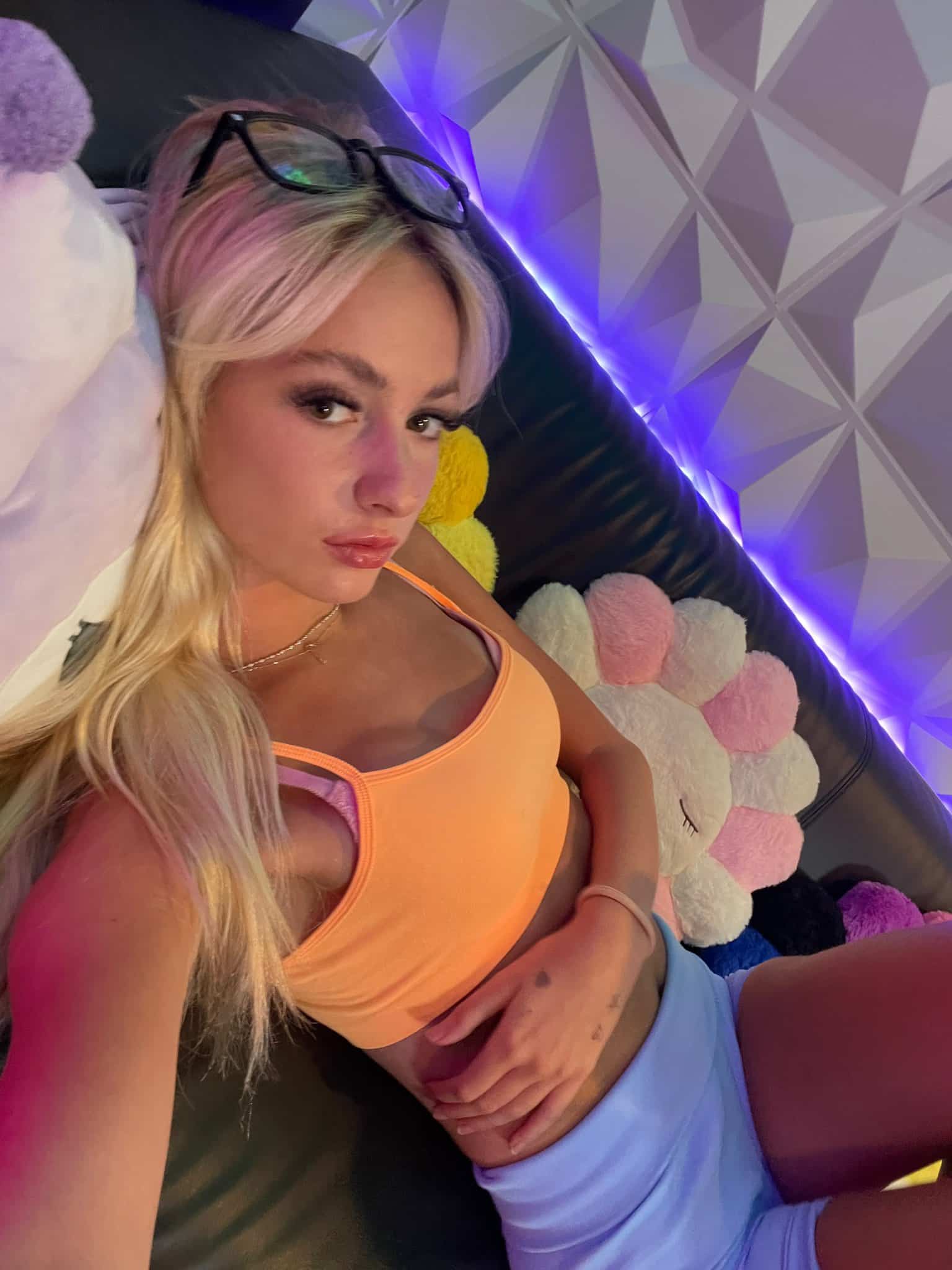 Age, Early Life, and Education Background
Natalie Reynolds was born in Los Angeles, California, under the Cancer zodiac sign on 1 July 1998, which makes her 25 years old as of 2023. She is the daughter of James and Jill Reynolds – her mother is originally from Italy, whereas her father is from the US. She revealed in a previous interview that she's also of German and Irish descent. Reynolds has two elder sisters named Chloe and Olivia Reynolds. When she was a teenager, Natalie loved lip-syncing and dancing, and realized her passion while using the short-form video-sharing app Musical.ly – now known as TikTok. Encouraged by her parents and sisters, Reynolds began making captivating videos and posting them on the platform when she was in her late teens. She previously told Business Insider during an interview, 'It's been very empowering for me (her family's support) because I've always struggled with being shy or self-conscious and feeling like my voice didn't matter or wasn't heard, but making videos has helped me find my voice.'
Reynolds attended a local high school in Los Angeles, where she was a member of the dance team. She matriculated to the University of Southern California, where she studied Business Administration, but dropped out to officially begin her career, having studied overseas in Rome in 2017.
Hobbies and Interesting Facts
Natalie is an outdoorsy person who likes getting dressed up in designer clothes, putting on make-up, – she often posts her collection of makeup on her social media platforms – and attending festivals and special events.
She is also a huge animal lover who often flaunts her two dogs on social media.
Reynolds is trilingual – in addition to English, she speaks fluent Spanish and Russian, and is currently learning Italian.
It's reported that in her early teens, Natalie was diagnosed with scoliosis – where one's spine twists and arcs to the side. She currently uses her social media accounts to raise awareness about the condition.
Recently, a reputation has been hitting the web that creating such an enormous sensation everywhere in the world. Yes, we're speaking a few very well-known title Natalie Reynolds as a result of her one video has taken rounds on the web.https://t.co/tTFwejDZVB pic.twitter.com/v2kfzeasYO

— ReviewsUnlocked (@UnlockedReviews) March 28, 2022
Career
TikTok
In early 2022, Natalie collaborated with Zackary Huelsman to create the TikTok account (@zackandnat). The duo posted their first video entitled "She Got Mad…" in January 2022. Natalie and Zack are fond of utilizing innuendos in their videos and the account has become very popular for sharing dance videos, fan skits, pranks and challenges. Their shared account is currently followed by almost 360,000 fans, and has amassed over 6.2 million views. In February 2022, their video "Watching My Girlfriend Get Ready for Work" went viral, attracting over six million viewers. Natalie has posted videos dancing to the songs "Baby" by Justin Bieber and "Work" by A$AP Ferg, which have also attained viral status.
Natalie is known for collaborating with the American singer and media personality Jacob Sartorius, who has over 23.5 million followers and at least 1.5 billion likes on the platform. The two were featured in the music videos for Rich Brian and Jay Park's song "Jinx" and Demi Lovato and Kelvyn Colt's song "Milkshake."
YouTube
On 11 August 2022, Natalie launched a self-titled YouTube channel, on which she uploads hilarious content ranging from pranks to challenges. The channel has garnered over 4.1 million subscribers and has a total of almost 550 million views as of late 2023. She often records videos with her boyfriend Zack, and two of her most popular videos are "I Built a Secret Gaming Room to Hide from my Girlfriend!" (posted on 8 March 2023) and "Boyfriend Tries to Find Girlfriend Blindfolded! *emotional*" (uploaded on 15 February 2023), which have over 5.1 million and 940,000 views respectively.
Other Social Media Platforms
Natalie is active on Instagram (@nataliereynolds) with over 362,000 followers. She joined Twitter in February 2022, and is currently followed by around 42,000 fans on her verified account (@onlynatreynolds). Natalie is active on OnlyFans (@nataliereynoldss) with nearly 1200 posts; she's uploaded numerous videos and photos with alluring outfits, which has attracted many subscribers.
Natalie has popularized many brands such as Nike, Hollister, and Sephora, on her social media platforms.
Personal Life
Natalie is dating the TikTok star, Zachary Huelsman, five years younger than Natalie, born on 6 July 2003. He's fond of posting comedy videos on TikTok. The duo often create content together, and are often post their photos captioned with romantic messages on their respective social media accounts. Natalie recently took to Instagram to wish him a happy 20th birthday.
Reynolds is good friends with the famous Canadian singer, Justin Bieber. A few weeks after his release from jail in 2014 – he'd been charged with driving under the influence, driving without a valid license, and resisting arrest – Bieber shared a photo together with Reynolds on one of his social media platforms. This sparked a dating rumor, which the duo has denied. Justin is married to the American media personality and model, Hailey Bieber. On the Other hand, Natalie is unmarried without, children as of late 2023.
Rumors and Controversies
Natalie sparked a controversy when she claimed that she was the daughter of the acclaimed Canadian-American actor, Ryan Reynolds. The content creator has clarified that she was only joking; Ryan's daughters are James, Betty, and Inez.
In the late 2010s, Natalie sparked another dating rumor when she posted a photo, seemingly having fun together with the American celebrity blogger and columnist, Mario Armando Lavandeira Jr., who is professionally known as Perez Hilton. Perez is 20 years her senior, a native of Miami, Florida, and is perhaps best known for writing blogs covering celebrity gossip and posting tabloid photos on his website. He's the father of Mayte Amor. Hilton fueled the rumor when he claimed that he was in a romantic relationship with her in a 2017 interview with "Entertainment Tonight"; Natalie hasn't confirmed whether she dated the blogger.
Height, Weight, and Physical Appearance
Reynolds is of Caucasian ethnicity, has a pair of blue eyes and long brown hair. is slimly built, weighs around 115lbs (53kgs) with a height of 5ft 7ins (1.68m), and vital statistics of 32-24-33.
Net Worth
Natalie uses her social media platforms to promote various brands, which has earned her a good net worth. She's worked with various celebrities including Kylie Jenner, with whom they popularized her Kylie Cosmetics. Natalie's OnlyFans account has also significantly contributed to her net worth – she's revealed that she makes nearly $200,000 per month from subscriptions. She has also disclosed that she's paid through digital currency on OnlyFans. Natalie is reportedly worth around $2 million, as of 2023.