• Joshua Robert Temple was born in Farnham, Surrey England in 1997 and is known as YouTuber Slogoman.
• He attended Weydon Secondary School and was an athletic child.
• His YouTube channel has nearly 5.4 million subscribers and over 2.2 billion views.
• He is currently dating Alyssa, who has featured on his channel.
• His net worth is estimated to be over $600,000.

Known for movies

Slogoman (youtuber) Wiki Biography
Joshua Robert Temple was born in Frarham, Surrey England, on 16 May 1997, so under the zodiac sign of Taurus and holding British nationality – as Slogoman, he is famous for his YouTube channel, on which he mostly uploads "Fortnite Battle Royale" gameplays while you can also see him upload "Grand Theft Auto V", and question and answer videos.
Check out my new @MarvelStrikeF video NOW! It was a ton of fun! https://t.co/vBu80xGR4E #Ad Sponsored by FoxNext. Download here: https://t.co/9PxssQgN4o pic.twitter.com/AIZahJZCyM

— Slogoman (@slogoman) April 24, 2019
Early life and education
Slogoman has not shared much about his family, as he prefers to keep his personal matters to himself – he is known to have grown up with his sister Amelia, and his two dogs named Poppy and Lily. He spent his entire childhood in Farnham, and attended Weydon Secondary School. He was a very athletic child as he played rugby until he got to the point where he had to choose between rugby and YouTube, and it is now quite obvious what his choice was. He was also competing in a couple other sports, but stopped with all of those as well when he decided to focus on his YouTuber career.
Slogoman was also planning on becoming a psychologist, and had plans of studying psychology at college, but eventually decided to rather focus on his Internet career.
Career of a YouTuber
Slogoman's career was launched the moment he opened his YouTube channel on 4 August 2013, which now counts nearly 5.4 million subscribers and over 2.2 billion views on all his videos combined – his description reads 'I am Josh (Slogoman) and I make videos on games and stuff, if you like them then you should probably subscribe for more!' He became even more popular after he collaborated with other popular YouTubers such as Kwebbelkop (Jordi Van den Bussche), and Jelly (Jelle Van Vucht). Slogoman began by uploading "Grand Theft Auto V" videos, which were loved by his fans – so as his popularity grew, he started adding more content such as question and answer videos, and challenges such as "floor is lava" and "ice bucket challenge". In 2016, he decided to join the "Revelmode" YouTube channel, which was originally created by PewDiePie who currently runs the second most subscribed channel on YouTube, however, the channel did not last long, and nobody is currently uploading videos onto it.
Another important part of his career is his Twitch channel, on which he mostly livestreams while playing "Grand Theft Auto V". His channel is currently followed by nearly 9,000 people, but he has only attracted around 15,000 views on all his livestreams.
Slogoman has played 40+ games during his career, and some of these are "Agar.io", "Happy Wheels", "Dead By Daylight", "Gang Beasts", "Battlefield 1", "Watch Dogs 2" and "Five Nights at Freddy's 3".
Slogoman and "Grand Theft Auto V"
Slogoman's favorite game is GTA V – his channel is full of GTA V videos, and he mostly covers funny moments, tries out all the mods, races, and everything he thinks the audience would enjoy. His first video on the channel featured himself doing a mission in GTA V at which he had to destroy a weed factory and save his friend Lamar while doing it. His next two videos were more GTA V missions, and after that he joined the online version of the game, and began playing GTA V with people from all around the world.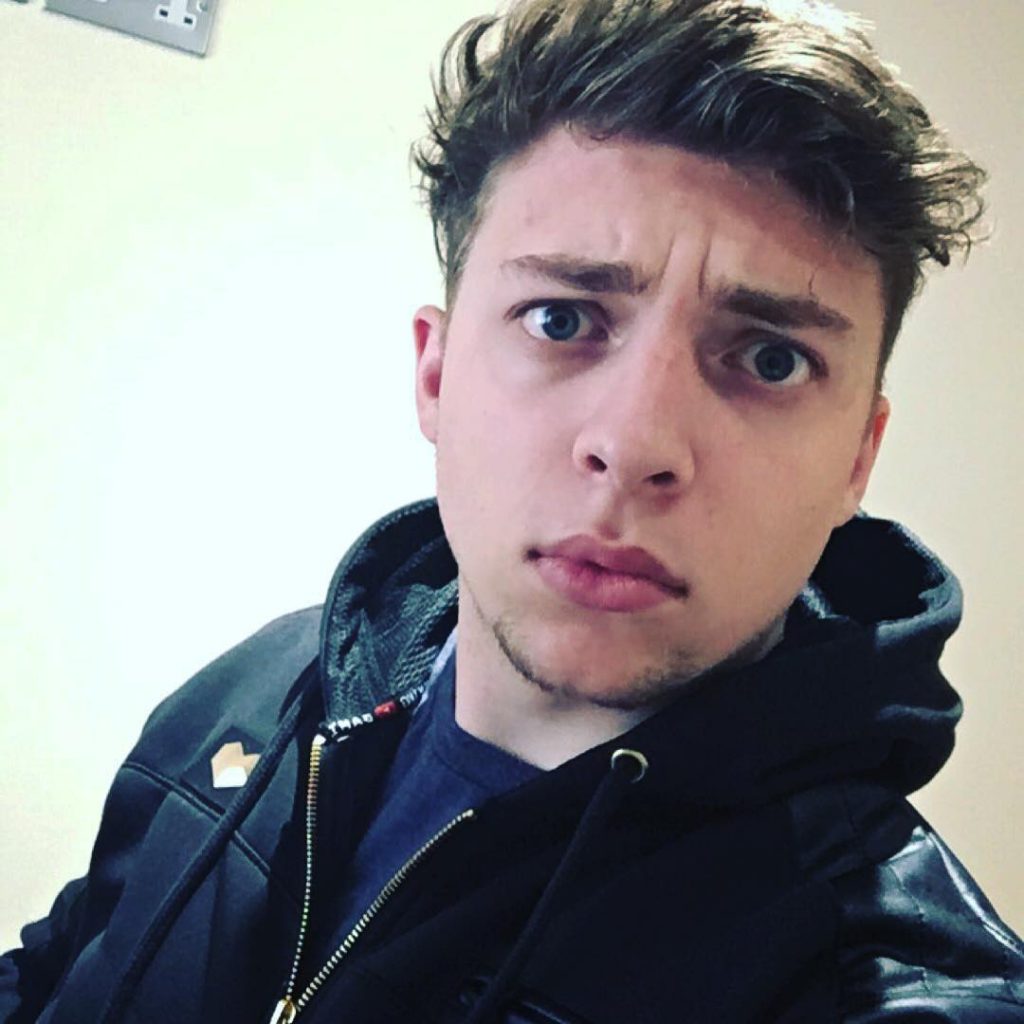 After the online mode of GTA V was released, Slogoman played that and nothing else – he joined with his friend The Gaming Lemon and many others, and they would roam around the world, rob banks, and do other random things. He soon started racing in the game with his friends Jelly and Kwebbelkop – his first racing video was uploaded on 5 October 2013 and featured his friends The Gaming Lemon and Brommy101. Thanks to his amazing skills with the sticky bomb, he received the title King of Sticky Bombs, and often annoyed his friend Jelly because he would destroy his car, making it impossible for him to finish the race.
Whenever new download content for GTA V is out, Slogoman is the first to test it and upload videos onto his channel, so if you are a GTA V player, you should often visit his channel to get updates about the game.
Personal life and relationships
Just as most other YouTubers, Slogoman is a very secretive person when it comes to his personal matters, and has not shared much about his love life with the public. It is known that he is currently dating a girl named Alyssa, who he's featured once or twice in his videos – nobody knows how the two met for the first time, but because she is an internet personality as well, it is very likely that they met online.
Likes and other interests
Slogoman has other interests, and not just in playing video games – he loves to travel, and visited Switzerland in October 2015 with his YouTube friends Kwebbelkop, Miniminter, and Vikkstar123. He is a big animal lover as he grew up with two dogs, and is now the proud owner of a black dog named Rudy – he loves his dog so much that he has even recently created a special Instagram account just for his pictures.
Appearance and net worth
Slogoman is currently 22 years old. He has short brown hair and blue eyes, but his height and weight are not known. According to authoritative sources, his current net worth is estimated to be over $600,000 and is rising thanks largely to the number of subscribers he has gathered on his YouTube channel.
Social media presence
Slogoman is quite active on other popular social media platforms as well – he launched his Twitter account in July 2013 and has so far gathered nearly 190,000 followers and tweeted almost 7,800 times. His Instagram account is followed by more than 650,000 people and he has posted over 600 pictures – he has a Facebook page as well which is followed by over 100,000 fans.
Movies
Producer
| Title | Year | Status | Character |
| --- | --- | --- | --- |
| Crashing | 2017 | TV Series producer - 8 episodes | |
| Pee-wee's Big Holiday | 2016 | executive producer - as Josh Church | |
| Trainwreck | 2015 | co-producer | |
| We Are Young | 2013 | producer | |
| Max Rose | 2013 | co-producer | |
| The Other Guys | 2010 | co-producer - as Josh Church | |
| Land of the Lost | 2009 | co-producer - as Josh Church | |
| Step Brothers | 2008 | co-producer - as Josh Church | |
| Semi-Pro | 2008 | co-producer - as Josh Church | |
| Talladega Nights: The Ballad of Ricky Bobby | 2006 | associate producer - as Josh Church | |
Actor
| Title | Year | Status | Character |
| --- | --- | --- | --- |
| Batman of Suburbia | 2010 | Video short | John |
| The Other Guys | 2010 | | Hot Dog Guy (as Josh Church) |
| Driftwood | 2007 | Short | Restaurant Patron |
| Talladega Nights: The Ballad of Ricky Bobby | 2006 | | Fainting Guy (uncredited) |
Miscellaneous
| Title | Year | Status | Character |
| --- | --- | --- | --- |
| Kicking & Screaming | 2005 | assistant: Ms. Apatow | |
| Undeclared | 2001 | TV Series writer's production assistant | |
Thanks
| Title | Year | Status | Character |
| --- | --- | --- | --- |
| The Interview | 2011/I | Short thanks | |
Source:
IMDb
,
Wikipedia