Who is Nell Fisher?
Nell is a British actress, who rose to stardom with the role of Kassie in the film "Evil Dead Rise" (2023), in addition to several other notable roles she has had so far in her young career.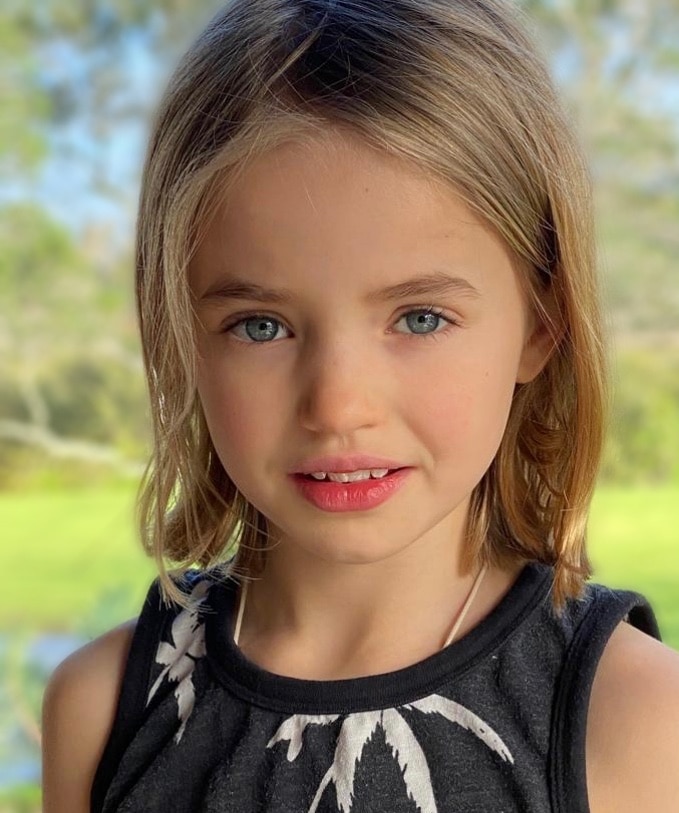 Nell Fisher Wiki: Age, Childhood, and Education
Nell Fisher was born on 2 November 2011, in London, England. However, some sources state her place of birth as Wellington, New Zealand, as she's the daughter of a New Zealand father and a British mother.
Reports state that she attends an elementary school and lives with her parents.
Career
Nell Fisher kicked off her acting career with her first role as Tia in the movie "Northspur" (2022), sharing the screen with Michael Hurst, Marshall Napier and other stars in this suspenseful thriller set in a mysterious town,.
Nell Fisher continued her acting journey with the role of Olive Crowe in the TV series "My Life Is Murder" (2022); the show revolves around the adventures of Alexa Crowe, a fearless private investigator played by Lucy Lawless. Alexa Crowe not only solves baffling crimes, but also navigates the everyday frustrations of life, co-starring Ebony Vagulans and Rawiri Jobe.
Rise to Stardom
Nell Fisher's ascent to stardom reached its pinnacle with her role as Kassie in "Evil Dead Rise" (2023), a horror film directed and written by Lee Cronin. This film marked a significant turning point in her career, propelling her to the top of the list of young stars in the entertainment industry.
In this supernatural horror-thriller, Nell Fisher shared the screen with a talented ensemble, including Mirabai Pease, Richard Crouchley, Anna-Maree Thomas, Lily Sullivan among others. The film was a highly anticipated addition to the "Evil Dead" franchise, known for its terrifying and supernatural storytelling.
12 year old Evil Dead Rise star Nell Fisher isn't actually allowed to watch the movie so they held a private Evil Dead Rise screening for her with less blood & gore. pic.twitter.com/1YSUGUQ1x0

— Horror4Kids (@horror4kids) May 17, 2023
The plot revolves around a twisted tale of reunion of two estranged sisters, interrupted by the emergence of flesh-possessing demons. This unforeseen turn of events thrusts them into a primal battle for survival, forcing them to confront the most nightmarish version of family imaginable.
The success of "Evil Dead Rise" was evident both critically and among audiences. With a notable Metascore and two award nominations, the film garnered significant attention in the horror genre. Audiences were captivated by the relentless terror and suspense it offered.
For Nell Fisher, her portrayal of Kassie in "Evil Dead Rise" showcased her acting versatility and talent. The film not only solidified her place in the industry but also launched her into stardom. Her performance in this horror masterpiece earned her recognition and praise from both fans and critics alike, and with Nell sharing that she had great time on the set, despite all the blood and gore the film offers.
"Evil Dead Rise" served as the platform for Nell Fisher's meteoric rise in the entertainment world, establishing her as a prominent and promising actress.
From her role as Kassie, Nell's career has only gone forward.
Nell Fisher's journey in the entertainment world continued with her role as Luisa in "Choose Love" (2023), a romantic film directed by Stuart McDonald and written by Josann McGibbon.
In this romantic comedy-drama, Nell Fisher was a part of the storyline that revolves around Cami Conway, portrayed by Laura Marano. Cami seemingly has it all—a perfect job and a loving boyfriend. However, a nagging feeling that something is missing from her life begins to grow. This feeling intensifies when she crosses paths with Rex Galier, played by Avan Jogia, and an old love reenters her life. While it may not have achieved the same level of acclaim as "Evil Dead Rise", it allowed Nell to explore a different genre and showcase her acting prowess.
Furthermore, Nell is currently working on the film "Bookworm", which is now in post-production. The film, directed by Ant Timpson and written by Toby Harvard, tells the story of 11-year-old Mildred, played by Nell Fisher. Her life takes a turn when her estranged father, Strawn Wise, portrayed by Elijah Wood, re-enters her life. They embark on a camping trip to find a mythological beast called the Canterbury Panther.
Net Worth
According to authoritative sources, Nell Fisher's net worth is estimated at $300,000, as of late 2023.
Personal Life, Dating, Single
As of 2023, Nell is 12 years old and for now, dating is not one of her interests. Instead, she is focused on her rising acting career and her education.
Moreover, in her free time, she loves to travel, take pictures, have fun with her friends, read, and watch films.
Appearance and Body Measurements
Nell Fisher has blonde hair and blue eyes. She stands at a height of 4ft 10ins (1.48m), while she weighs approximately 50lbs (25kgs). Her vital statistics are unknown, but she has a slim figure.