Who is Noelia?
Famous Puerto Rican pop singer born Noelia Lorenzo Monge under the zodiac sign Virgo on 31 August 1979, in San Juan, Puerto Rico. She became popular with the release of her debut album "Noelia" in 1999, which was certified gold by the Recording Industry Association of America and peaked at #7 on the Billboard Top Latin Albums chart; the album comprised 10 songs, and its lead single "Tu" became a hit, reaching #5 on Billboard Hot Latin Tracks. The album sold close to a million copies worldwide.
Education and early life
Noelia was raised alongside her two half-siblings in San Juan, by their mother Yolanda Rosa Monge Betancourt who's a famous Puerto Rican singer and actress, and Noelia's Uruguayan father Alfredo Lorenzo, who's a businessman.
She began showing interest in music at a very early age, and her mother thus enrolled her at school of the performing arts, at which she practiced both singing and acting. Noelia went on to attend a local high school, and was passionate about several activities during her time there, as she enjoyed playing sports with her friends, was on the school's debating team, and appeared in a number of school plays.
She matriculated in 1997 and then enrolled at college, however, Noelia dropped out after a year, wanting to focus on making a name for herself in the music industry.
Noelia's career
It was in 1998 that Noelia began recording her debut album "Noelia", which came out on 16 February 1999 under Fonovisa Records; some of the other album's singles (besides "Tu") which were popular were "Demasiado Amor", "Te Amo" and "Te Odio", all songs about love.
Noelia's second album "Golpeando Fuerte" was released on 5 December 2000, also under Fonovisa Records and comprised 10 songs, including the hit single "Ni Una Lagrima Mas" which was written by songwriter Estefano, who also wrote her previous hit "Tu"; the single peaked at #2 on Billboard Hot Latin Tracks. Some of the album's other popular songs were "Con El Alma Abierta", "Me Faltas Tu" and "El Suspiro De Un Angel".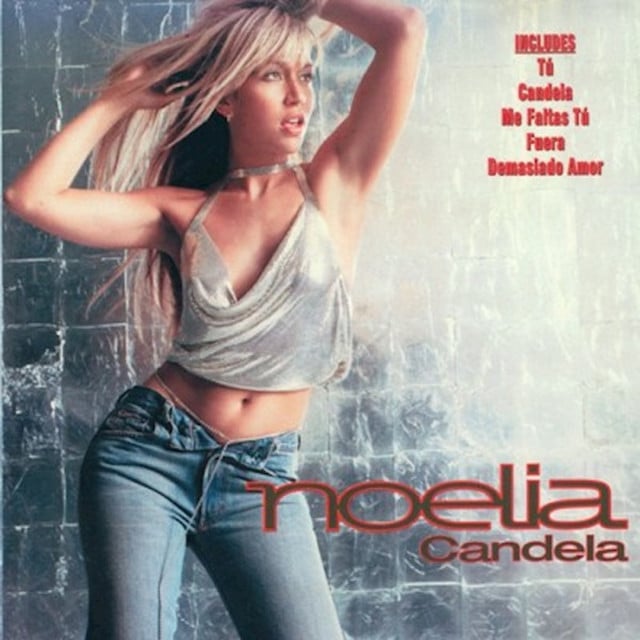 Noelia released her third album "Natural" in 2003 and it spawned the hit single "Clavame Tu Amor", with it peaking at #5 on Billboard Hot Latin Tracks; the album was co-written by Noelia, Jose Gaviria and Kike Santander.
Her fourth album "Melao" followed in 2004 and it differed from Noelia's three previous albums as it was a fusion of reggaeton and pop; it was produced by DJ Eric who also co-wrote most of the album's songs.
Noelia's fifth album "40 Grados" was produced by Adrian Posse and released in 2006; its lead single "Como Duele" was nominated for a Billboard Award for Pop Song of the Year and was used as the theme song for the telenovela "Barrera de Amor". The single reached #8 on Billboard Hot Latin Songs.
Noelia's sixth album "Volverte a Ver" came out in 2007 but attracted little attention. She released her first English-language song "Caribbean Queen" in May 2009, and it was mostly popular in Italy; it's a cover of Billy's Ocean's 1984 hit song but with Noelia's added lyrics. Noelia held an online concert in the summer of 2011, which broke the record for an Hispanic online audience, as it was watched by more than 3.5 million people.
Her new single "Kiss Me" came out in 2012 and charted on both Billboard Latin Hot Tracks and Billboard Dance Tracks. Noelia embarked on her Mind Blown Tour on 15 June 2013, and her music video "Mind Blown" was released in October 2013, amassing over a million views in only two weeks.
Noelia se anota otro Top 40 de BILLBOARD en Ingles, al llegar esta semana a la posicion #37 y en acenso. BILLBOARD (Hot…

Posted by Noelia on Tuesday, February 25, 2014
She went on to release three extended plays (EPs): "Mind Blown" in 2013, "Spell" in 2014 and "Explode" in 2016. Noelia released her new single "Clavame tu Amor" in July 2018, and revealed that she was working on her new album, however, it is yet to be released.
She's today also an entrepreneur, and is the founder of the women's lingerie brand Noelicious, as well as of the adult entertainment club chain Noelia's Cabaret. The year 2020, saw her found her own company Protecciones Comerciales de Mexico, and in the same year, the magazine "Executive Woman" named Noelia Entrepreneur Leader of the Year. In 2021, she launched her two social media networks Cherryland.vip and Celebriffy, and the same year saw her launch her own Mastercard Debit Card Program.
Love life and husband
Noelia doesn't usually speak about her love life in public, but we know about two men whom she's been with. She was in a relationship with Puerto Rican non-celebrity Yamil; they broke up sometime in the first half of the 2000s, but in June 2007, a sex tape featuring Noelia and Yamil having anal sex was leaked onto the internet.
Also in 2007, Noelia exchanged vows in secret with Mexican-American music producer and aviation entrepreneur Jorge Reynoso; they married in Las Vegas, Nevada, exposed by "Maya Magazine" by the end of the year. Jorge nearly died in 2022 when he ate an apple with pesticide at a hotel and had an anaphylactic shock; he was rushed to hospital and doctors were able to save his life.
Noelia's married to Jorge Reynoso as of September 2023; she doesn't have children.
Interesting facts and hobbies
Noelia filed a lawsuit against "Maya Magazine" and "TVNotas" because they published unauthorized pictures of her and Jorge, which were taken during their wedding ceremony.
Close to three million people are following her on Instagram today, and she's posted over 8,000 pictures and videos onto the network, with most featuring her dancing, singing and working out at the gym.
Noelia's a fan of tattoos, and has multiple inked on various parts of her body.
She likes to party, and much of her Instagram content features her dancing at nightclubs.
It's widely believed that Noelia's enhanced her breasts and has undergone various other surgery, but this hasn't been addressed by her.
She plays both the guitar and the piano.
One of her favorite actresses is Roselyn Sanchez, and some of her favorite movies include "Boat Trip", "The Game Plan" and "Rush Hour 2".
Appearance and net worth
Noelia's age is 44. She has brown hair and eyes although she usually dyes her hair blonde, she weighs around 135lbs (52kgs) and is 5ft 5ins (1.65m) tall.
Noelia's net worth's been estimated at over $8 million, as of September 2023.