• Olivia Harlan is a sports reporter from Kansas signed to ESPN, married to professional basketball player Sam Dekker.
• Olivia grew up in a family of sportscasters and has a degree in Journalism and Mass Communication.
• She has worked for Fox Sports South and ESPN, as well as a physical education teacher in Kansas City.
• Olivia is also a fitness, beauty and fashion blogger, and is an ambassador for the company Acuity Insurance.
• Her current net worth is estimated to be around $2 million, while her husband's is estimated to be at least $5 million.
 
Olivia Harlan is a sports reporter from Kansas signed to ESPN, who is also known as the wife of Sam Dekker, a professional basketball player. They both started their careers early, working hard and understanding what it takes to achieve so much in the field of sports. Let's find out more about Olivia's family, salary, net worth, etc.
Early life and family
Olivia Harlan was born on the 9 April 1993, in Kansas City, Missouri USA, under the sign of Aries and holding American nationality. She grew up with three siblings, Haley, Abigail and Robin, and her parents, Kevin and Ann Harlan.
Her father is a radio and TV sports commentator, who became National Sportscaster of the Year in 2017 by the poll of CBS Sports; while Olivia's grandfather is a true local celebrity – Bob Harlan was the CEO and President of the Green Bay Packers NFL (National Football League) team. He served at this position for more than 20 years, and inspired the whole family to connect their lives with sports. Olivia's parents are still married and live together in love, as she proudly demonstrated in a photo from their marriage on her Twitter account, congratulating them on their 30th wedding anniversary and celebrating their relationships. Olivia is very close to her sister, Haley, and enjoys spending her spare time with her nephew JJ.
Educational background
In 2010 Olivia was crowned Miss Kansas Teen USA while she was still in her middle school. She matriculated from her high school in 2011, and entered the University of Georgia where she studied Digital and Broadcast Journalism, and graduated with honors from the Grady College with a BA in Journalism and Mass Communication in 2014.
Career
First steps
While Olivia was still studying at the university, she wrote sports reports for the website of the university, being also responsible for the weekly football magazine "Dawg Sitting" which she hosted creating an article each week about various local football players.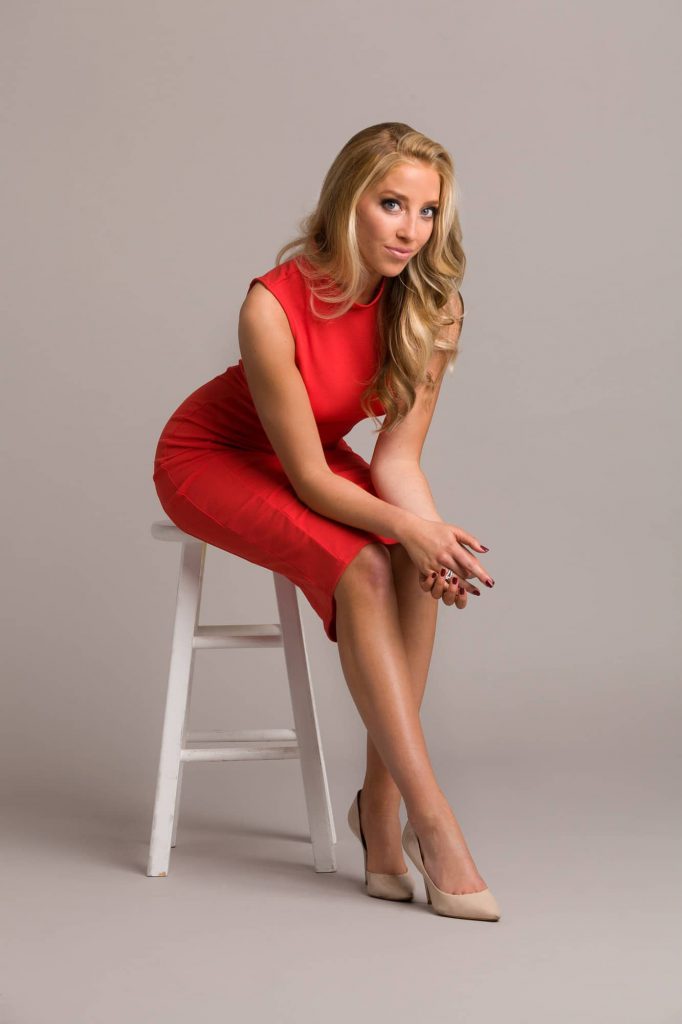 Olivia also reported for the college team, the Bulldogs, and was the host of "Game Day" every Saturday. It is worth saying that her victory on the teens pageant in 2010, helped her a lot to lift her prominence and to be able to step into the world of journalism. Her first job position was in the sphere of physical education in Kansas City schools, enlarging her knowledge in such fields as healthy diets, positive mind set and many other elements.
Rise to prominence
In 2013 Olivia got her job of the co-host of the web-series about the Green Bay Packers NFL team, which she posted on a daily basis.
In a year, she was also offered work as a correspondent for Fox Sports South and Raycom's "SEC and ACC Football". In 2016 she joined the crew of ESPN, where she still works to this day. Initially she had the position of a sideline reporter, covering college football games. She was noticed by the NBA team, the Atlanta Hawks, and was invited to become their sideline reporter too. At the same time, she was hosting the "ACC All Access" show. Inheriting the experience of her father and grandfather, Olivia managed to lift her skills to the next level, and gain the respect of her colleagues in her working field.
Side projects
Olivia is also a fitness, beauty and fashion blogger. Her alternative account on Instagram is followed by almost 12,000; on that profile she shares her opinion on various fashion trends, cosmetic products, highlights some of her travelling, etc. This account is her source of regular sponsored posts, as she's signed commercial contracts with such companies as "Red Dress", "Culver's" and many others.
Personal life, husband Sam Dekker
Olivia has been dating Sam Dekker, a professional NBA player, since 2016, when she started working for an NBA team as a reporter. The couple became engaged in May 2017, and married on 14 July 2018.
The ceremony was private, and only close friends and family members were invited, though both Olivia and Sam shared a lot of photos from the ceremony on their social media accounts. Olivia and Sam spend a lot of time helping various non-profit organizations, and participate in charity events, encouraging companies and people to donate money for the foundations they actively support; among them Children's Cancer Family Foundation (CCFF), which helps families facing pediatric cancer.
Who is Sam Dekker?
Samuel "Sam" Thomas Dekker was born on 6 May 1994, in Sheboygan, Wisconsin USA, so under the sign of Taurus and holding American nationality. He has been into sports from his early childhood.
not a bad first day on the job… pic.twitter.com/rArNtF7fE6

— Sam Dekker (@dekker) August 21, 2019
He was a member of the Under 18 US National team winning the gold medal in Brazil during the FIBA Americas championship ("Fédération Internationale de Basketball Americas"). He started his basketball career in The Wisconsin Badgers (2012-2015), the college basketball team in Division I, proceeding to be drafted by the Houston Rockets (2015-2017), later playing for Los Angeles Clippers, Cleveland Cavaliers and Washington Wizards, until in 2019 he was invited to join Lokomotiv Kuban, signing the contract with the Russian club. He is a long-term supporter of the company entitled "Acuity Insurance", and is now promoting it together with Olivia, as she also became the ambassador of the company.
Hobbies and interesting facts
Olivia is a big dog lover – she and her husband Sam have a dog named Riggins; they try to spend as much time with him as they can, missing him while on work or on a trip and posting his photos on their Instagram profiles.
Olivia's favorite book is "Catcher in the Rye";
Her favorite movies are "Gone with the Wind" and "The Talented Mr. Ripley".
She likes treating herself with a cocktail after a hard day, and prefers a Mezcal Margarita or Makers and Ginger cocktail (though she admitted she used to hate whiskey until he tried this drink).
Olivia and Sam travel a lot, preferring to discover countries with rich history and beautiful sights. They enjoyed visiting European countries, such as Italy, Greece and Latvia. However, Olivia's favorite destination for vacation is Palm Springs.
Olivia was featured on the cover of Healthy Magazine in 2018; she shared the story of her experience of being bullied in school for her extra weight, and her path to embracing her body after winning Miss Kansas Teen when she was 16 years old.
Social media presence
Olivia is very active on social media platforms; she shares her photos and videos on a daily basis on her Instagram account which is followed by over 60,000 subscribers. She is also very active on her Twitter profile which is read by almost 38,000 people. She doesn't have a Facebook page, though she can be found on Cameo, where for only $20 one can book a personalized video shoutout from her. As to her husband Sam Dekker, he is also very active on Instagram and shares a lot of Olivia's pictures on his profiles.
Thus, his Instagram account is followed by over 210,000 subscribers, while his Twitter profiles is read by over 275,000 people.
Appearance, clothing style
Olivia has naturally blonde hair which she still bleaches to the platinum blonde shade; she has blue eyes. Olivia is 5ft 4ins (1.65m) tall and weighs around 119lbs (54kgs); her vital statistics are unavailable at the moment. Her favorite place for shopping for clothes is Zara; she also likes blazers from Veronica Beard.
Net worth and salary
According to authoritative sources, Olivia's current net worth is estimated to be around $2 million.
Since 2018 Olivia's annual salary is reported to be over $100,000, as she is an active ESPN reporter, and participating in other projects at the same time. It is also worth mentioning that her husband's net worth is estimated to be at least $5 million – his annual salary at the Washington Wizards (2018-2019) reached $2.8 million, and he is earning even more now at Lokomotiv Kuban. In November 2016 Sam bought a condo of 1,568 square foots located on the Sheboygan River, which cost around $289,000 – he shares the rights to this house together with Olivia.
Source:
IMDb
,
Wikipedia