• Olwen Catherine Kelly is an Irish actress and model known for her roles in "The Autopsy of Jane Doe" and "Winter Ridge".
• She was born in 1987 in Celbridge, County Kildare, Ireland, and grew up in Dublin.
• Her breakout role was in the 2014 western movie "Darkness on the Edge of Town".
• She has also worked as a model for various fashion and lifestyle magazines and big clothing and cosmetics brands.
• Her net worth is estimated at $500,000.
 
Who is Olwen Catherine Kelly?
Olwen Catherine Kelly is an Irish actress as well as a model, who is perhaps best known for starring in the title role of the 2016 thriller horror movie "The Autopsy of Jane Doe". Apart from this, she is also widely recognized for appearing in movies such as "Darkness on the Edge of Town" (2014) and "Winter Ridge" (2018).
Early Life and Education
Olwen was born in 1987 in the town of Celbridge in County Kildare, Ireland, and apart from being of Irish nationality, she is also of white ethnicity. Except that she is one out of five children, there aren't any other relevant yet available details regarding her early life, including the exact date of her birth as well as the data about her family's members, their background and vocations.
#AboutLastNight Harry Potter and the Chamber of Secrets with @RoyalPhilSoc @RoyalAlbertHall was amazing. Highly recommended. @jk_rowling #snapeforlife #RoyalAlbertHall #JKRowling pic.twitter.com/BUjhPu9tqp

— OlwenCatherineKelly (@OlwenCatherine) April 28, 2018
The majority of her childhood Kelly spent in Ireland's capital of Dublin, growing up alongside her sister and three brothers.
Acting Career
Before diving into the world of moviemaking, Olwen began her working career as a retailer. However, interested in acting from an early age, she later decided to try her luck as an actress, and in 2014 made her debut on-camera acting appearance. She was cast for the leading female role – the character of Aisling Callahan in Patrick Ryan crime drama western movie "Darkness on the Edge of Town", starring opposite Emma Eliza Regan and Brian Gleeson.
The movie received positive reviews from the audience, and was honored with a nomination for the Grand Jury Prize at the Slamdance Film Festival in 2015, while Olwen presented her acting potential to the world and stepped onto the path to stardom.
In 2016, Kelly made a brief, supporting appearance in an episode of the TV comedy series "Why Life Sucks When You're in Your 20s", while later that year the real breakthrough in her career occurred – she was cast for the title role in the supernatural thriller horror movie entitled "The Autopsy of Jane Doe".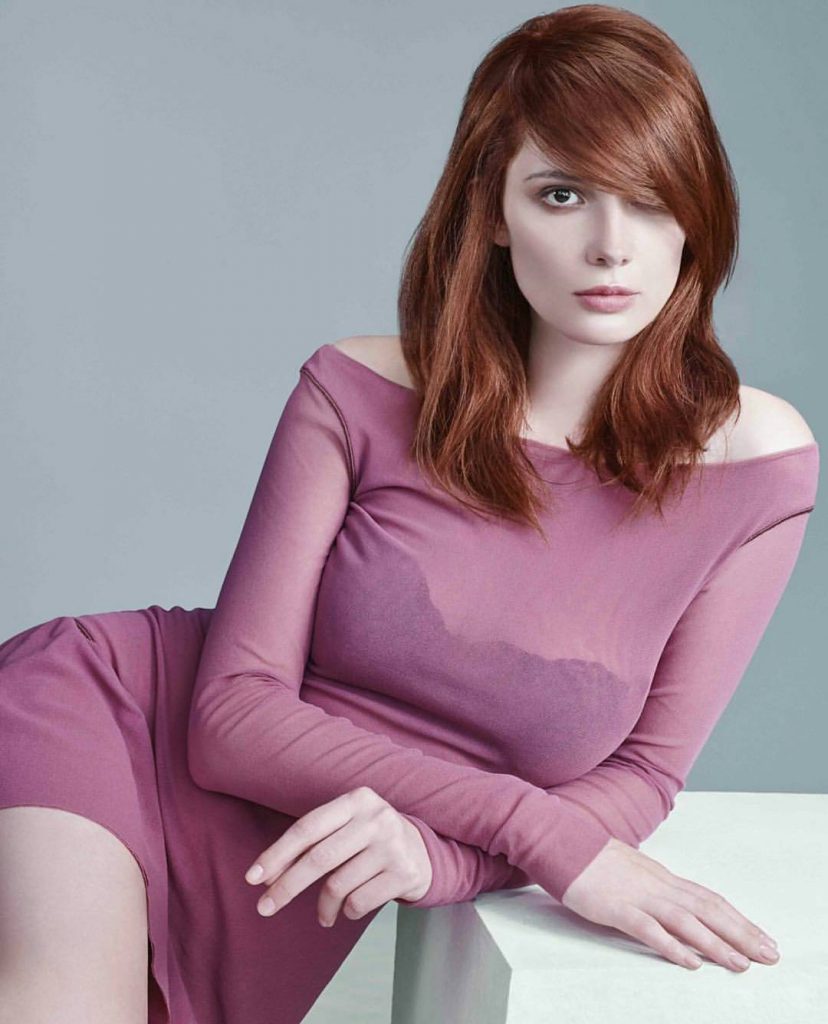 The plot follows the story of two coroners who get involved in a mysterious autopsy of an unidentified young woman (Jane Doe) which spontaneously triggers a series of supernatural events. Although starring just as a corpse whose tongue was cut out, lungs blackened from third degree burns, ankles and wrists chattered, Olwen Catherine Kelly's portrayal of Jane Doe has become one of her most notable and memorable on-camera performances so far. She received praise for this whole performance, which included lying nude and perfectly still for up to eight hours a day over the course of five weeks of filming.
In order to conjure up a corpse as good as it gets, she relied on yoga and meditation. The movie was directed by Norwegian director André Øvredal, and earned several accolades such as Special Prize of the Jury at the Sitges – Catalonian International Film Festival, Jury Prize at the Monster Fest as well as the Fantastic Fest Jury Award, Chainsaw Award and the Audience Award at the Celluloid Screams Sheffield Horror Film Festival, while also making $6 million profit at the box office.
In 2018, Olwen appeared in the leading female role of Jessica in the critically praised thriller movie "Winter Ridge", opposite Matt Hookings and Hannah Waddingham, while her most recent acting engagement is an appearance in the adventure comedy drama movie "The Obscure Life of the Grand Duke of Corsica" which is announced for late 2019 and is currently in post-production phase.
Modeling Career
Aside from her successful on-camera acting career, Olwen Catherine Kelly has also come into the limelight as a prominent model.
In her modeling career so far, Kelly has collaborated with a vast number of fashion and lifestyle magazines, and appeared on the pages of publications such as the Irish Independent, P, 708, Autre, Crack and  Idle Magazine to name a few. Besides these accomplishments, she has also collaborated with big clothing and cosmetics brands and retailers including Next, TK Maxx, La Perla Lingerie, Coco de Mer London as well as Elgon Cosmetics Italia, Susana Mota and Philip Kingsley. To her modeling portfolio, she has also added various photo shoots with acclaimed photographers such as Raffaele Marone, Keith Clouston, Lee Malone and Sarah Marie Collins among plenty of others.
Personal Life
Interested in Kelly's personal life, aren't you? Well, despite her popularity, she has somehow managed to keep her private life quite secretive and far from the media's eye, as there aren't many relevant details about it. However, she has recently revealed that she is romantically connected to a certain guy named Sam Brown.
As a prominent model, she sports a slim and toned body and is standing 5ft 10ins (1.78m) tall while her vital statistics measure 36-26-36. The 31-year-old Kelly has dark brown eyes, which in addition to her long dark hair, makes her appearance quite alluring and camera friendly.
Olwen is also quite active on popular social media networks Instagram, on which her official account has amassed over 60,000 fans and followers so far.
Net Worth
Have you ever wondered how much wealth this Irish actress and a model has accumulated so far? How rich Olwen Catherine Kelly is? According to sources, it is estimated that the total of her net worth, as of mid-2019, revolves around the sum of $500,000, with an estimated minimum annual income of close to $100,000. It has all been acquired through her endeavors in the moviemaking industry, and modeling business.