Who is Patricia Routledge?
Retired British actress Dame Katherine Patricia Routledge was born under the zodiac sign Aquarius in Tranmere, Cheshire, England, on 17 February 1929. She has 74 acting credits, but is perhaps still remembered best for portraying the lead character Hyacinth in all 44 episodes of the comedy series "Keeping Up Appearances", which also starred Clive Swift and Geoffrey Hughes, and follows a snobbish housewife who's determined to climb the social ladder; the series aired from 1990 through 1995, and won one of its three award nominations.
Patricia retired from acting aged 76 in 2005, and has since been staying away from the media's attention, making only occasional appearances at various red carpet events.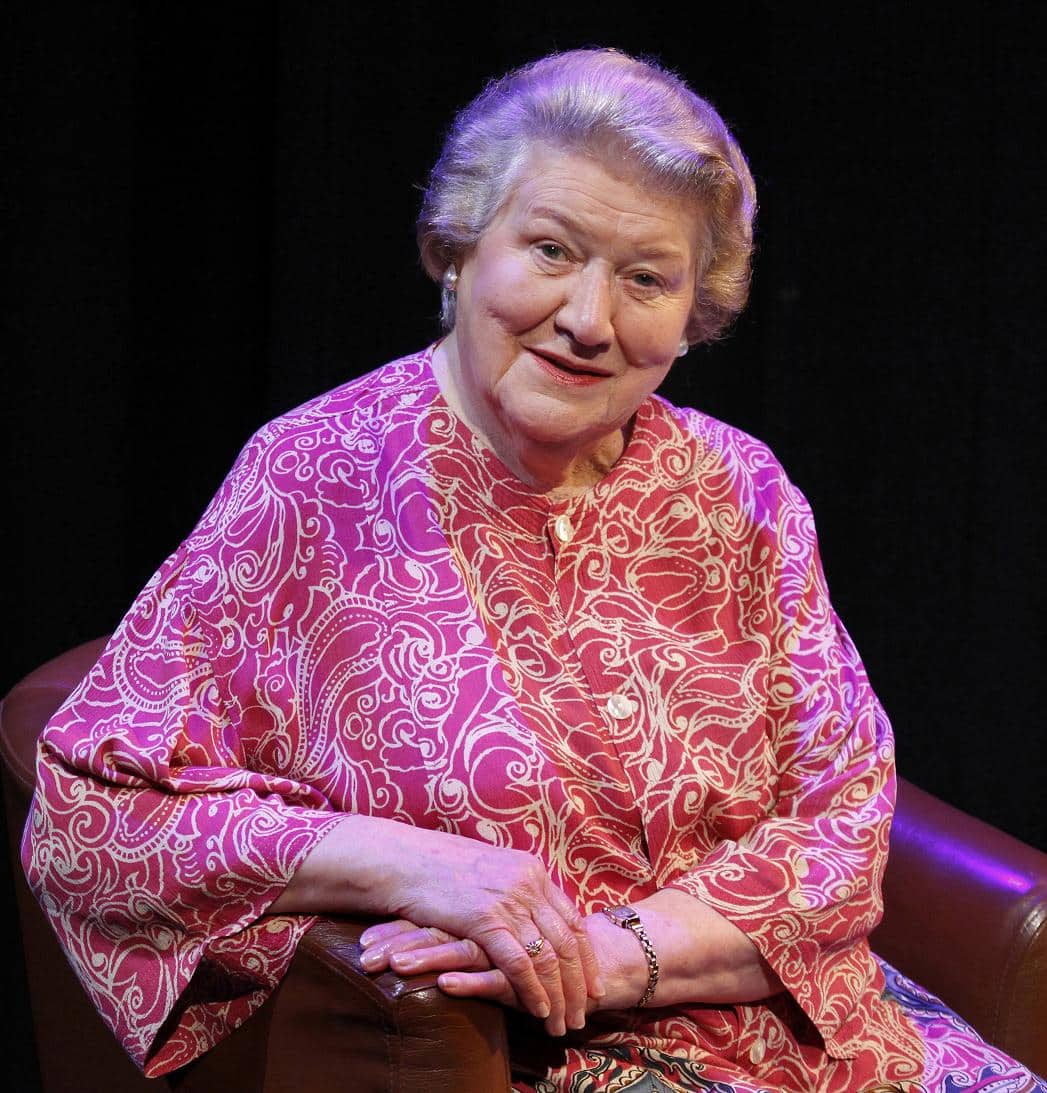 Education and early life
Patricia was raised in Tranmere alongside her brother Graham Routledge, by their father Isaac Routledge and mother Catherine; Isaac was a haberdasher and gentlemen's outfitter, while Catherine was a housewife.
Patricia fell in love with acting while attending Birkenhead High School; she starred in a number of school plays and also enjoyed dancing, practicing creative writing and playing volleyball. She matriculated in 1947 and then enrolled at University of Liverpool, from which she graduated with a Bachelor's degree in English language and literature in 1951.
During her time at the university, Patricia was involved with its dramatic society that worked closely with the late British academic, Roman Catholic priest and military officer Edmund Colledge, who eventually persuaded her to pursue a career in the film industry.
Roles in TV series
Patricia's debut TV series role was playing Nun in the 1954 episode "The Comedy of Errors/II" of the drama "BBC Sunday-Night Theatre"; she had only two roles in the remainder of the '50s, playing Aunt Mabel in the 1957 episode "Zuleika" of the drama "Theatre Night", and Sylvia in the 1960 episode "The Song of a March Hare" of the drama "BBC Sunday-Night Play".
The year 1961 saw her play Sylvia Snape in five episodes of the romantic drama "Coronation Street", which today stars William Roache and Helen Worth, and was created by Tony Warren. It's the world's longest-running soap, as it has aired close to 11,000 episodes since 1960, following the lives of a group of working-class people in Manchester, England; the series has won 187 of its 453 award nominations. The remainder of the '60s saw Patricia play supporting characters in a couple of series, including the crime drama "Z Cars", the drama mini-series "Victoria Regina", and the comedy "Not So Much a Programme, More a Way of Life".
In 1974 and 1975, Patricia starred as Mrs Micawber in four episodes of the drama mini-series "David Copperfield", which also starred David Troughton and Ian Hogg, and follows a gentle orphan as he's discovering life and love; the mini-series was nominated for two awards. Patricia could then have been seen appearing in the 1977 drama mini-series "Nicholas Nickleby", the 1979 drama "Crown Court", and the 1980 comedy "Play for Today".
In 1985 and 1986, she played Kitty in five episodes of the comedy "Victoria Wood: As Seen on TV", which starred Julie Walters and Victoria Wood, and follows the lives of several middle-aged people; the series won five of its seven award nominations. Some of Patricia's roles in the remainder of the '80s were in the horror comedy "Tales of the Unexpected", the comedy mini-series "Talking Heads", and the drama "Sophia and Constance".
She played Storyteller in six episodes (1992) of the fantasy drama "Jackanory", which aired over 3,500 episodes from 1965 through 1996. It starred Bernard Cribbins and Kenneth Williams, was created by Alfred Bestall and Mary Tourtel, and each episode features a celebrity reading a story; the series won one of its three award nominations.
Patricia's three final roles in TV series were in 27 episodes of the 1998 crime comedy "Hetty Wainthropp", the 1998 episode "Miss Fozzard finds Her Feet" of the short comedy mini-series "Talking Heads 2", and four episodes of the 2005 family drama "Blips".
Roles in movies
Patricia's debut film role was playing Rat Rapper in the 1961 drama "The Brink", and some of her following roles were in the 1965 drama "Where I Live", the drama "To Sir, with Love" and the romantic comedy "A Matter of Innocence" both in 1967. What marked the '60s for her was probably starring as Miss Reece in the 1968 comedy "The Bliss of Mrs Blossom", which also starred Richard Attenborough and Shirley MacLaine, and was directed by Joseph McGrath. It follows the wife of a bra manufacturer as she's hiding her lover in her attic.
The year 1971 saw Patricia play Pamela Hovendon in the romantic comedy "Girl Stroke Boy", which starred Michael Hordern and Joan Greenwood, and was directed by Bob Kellett; it follows a young boy who's brought home a girl/boy from the West Indies, much to his parents' surprise. A couple of other popular movies in which Patricia appeared in the '70s were the 1975 short drama "More Awkward Customers", the 1978 comedy "Doris and Doreen", and the 1980 adventure horror mystery "The Curse of King Tut's Tomb".
Happy 93rd Birthday Patricia Routledge 🎂
Dame Katherine Patricia Routledge, DBE  born 17 February 1929) is an English actress, singer and broadcaster with one of the longest careers of an entertainer, spanning more than 70 years. For her role as Hyacinth Bucket in the BBC sitcom pic.twitter.com/G6LOV3Ts27

— 🇬🇧 Classic British Comedy Tv (@classic_shows) February 17, 2022
What marked the '80s for her was perhaps portraying the lead character Maria Helliwell in the 1987 comedy "When We Are Married", which also starred Peter Vaughan and Prunella Scales, and was directed by Barry Davis; it follows three couples as they're about to celebrate their 25th anniversaries.
Patricia's final three film roles were in the 1994 short drama "Second Chance UK Infomercial", the 2001 crime drama "Anybody's Nightmare" and the 2003 biographical drama "In Search of the Brontes".
Other credits
Patricia sang the song "Not On Your Nellie" in a 1968 episode of the series "The Ed Sullivan Show", and the song "I'm 'enery the Eighth, I Am" in the 1974 episode "Séance in a Wet Rag and Bone Yard" of the series "Steptoe and Son".
Some of her most recent talk-show appearances have been in "Top of the Box", "Granada Reports" and "Songs of Praise".
Awards and nominations
Patricia's won one of her four award nominations: a 1983 Broadcasting Press Guild Award for Best Actress, for her performance in "Objects of Affection".
She was also nominated for a 1989 BAFTA TV Award for Best Actress, for her performance in "Talking Heads", and two BAFTA TV Awards for Best Light Entertainment Performance in 1992 and 1993, both for "Keeping Up Appearances". For her performance in a production of the musical "Candide", she won a 1989 Laurence Olivier Theatre Award for Best Actress.
Love life
Patricia prefers to keep the details of her love life away from media, but it's widely known that she's never married and doesn't have children.
She gave an interview in 2001, revealing that she didn't choose not to marry and to not have children, but that life simply turned out that way; Patricia also revealed that she was having an affair with a married man when she was in her 20s, and that she was later in a relationship with the director of a play that she was starring in.
Some people believe that Patricia's bi-sexual and has been with both men and women, but this remains unconfirmed.
She seems to be unattached as of August 2023, hasn't married and doesn't have children.
Interesting facts and hobbies
Patricia was once voted Britain's all-time favorite actress.
In 2004, she was awarded Commander of the Order of the British Empire; Queen Elizabeth II made Patricia Dame Commander of the Order of the British Empire in 2017, for her contributions to entertainment and charity.
The Varity Club of Great Britain once named her Personality of the Year.
In 1999, Patricia was presented with an honorary doctorate by the University of Liverpool; she also received an honorary doctorate from Lancaster University in 2008 and another from the University of Chester on 15 March 2019.
Patricia's been living in Chichester since 2000, and can often be seen worshipping at Chichester Cathedral.
One of her favorite actors is the late Marlon Brando, and some of Patricia's favorite movies include "The Island of Dr. Moreau", "Guys and Dolls", and the trilogy "The Godfather".
Appearance and net worth
Patricia's age is 94. She has blue eyes and brown hair, weighs around 145lbs (65kgs) and is 5ft 5ins (1.65m) tall.
Patricia's net worth's been estimated at over $2.5 million as of August 2023.