Who is Rachel Sibner?
Rachel is a former American actress, perhaps best known for her portrayal of Lisa in the popular Nickelodeon children's TV series "Ned's Declassified School Survival Guide". Rachel quit acting in 2007, shortly after "Ned's Declassified" finished, and has since become a social worker. In recent years, she has remained relatively low-profile.
Early Life
Born on 7 February 1989, in California, Rachel was introduced to the world of arts and entertainment at a tender age. Growing up in the Golden State, she was surrounded by the allure of Hollywood, which undoubtedly influenced her decision to pursue acting. Rachel attended a local school where she actively participated in drama and theater, honing her skills and nurturing her passion for the craft. Her dedication to the arts was evident, and by her teenage years, she was already making strides in the entertainment industry.
Acting Career
Rachel's big break came when she landed the role of Lisa Zemo in "Ned's Declassified School Survival Guide", a standout show on Nickelodeon during the early 2000s, offering a comedic yet insightful look into the trials and tribulations of middle school life. Set in the fictional James K. Polk Middle School, the series followed the escapades of Ned Bigby, played by Devon Werkheiser, and his two best friends, Cookie (Daniel Curtis Lee) and Moze (Lindsey Shaw).
Each episode tackled a different aspect of school life, from the perils of pop quizzes to the dynamics of friendships and crushes, but what truly set the show apart was its format. Ned, with the help of his friends, provided a "survival guide" for each situation, offering tips and tricks to get through the challenges of middle school unscathed, which often humorous but always rooted in genuine experiences, became the hallmark of the show.
The series was notable for its diverse cast of characters, each bringing their unique quirks to the table. While the main trio of Ned, Cookie and Moze anchored the narrative, the supporting characters added depth and variety to the school setting. From the overzealous Vice Principal Crubbs to the eccentric art teacher Mr. Monroe, the staff and students of James K. Polk Middle School were a colorful bunch, reflecting the varied personalities one encounters during their school years.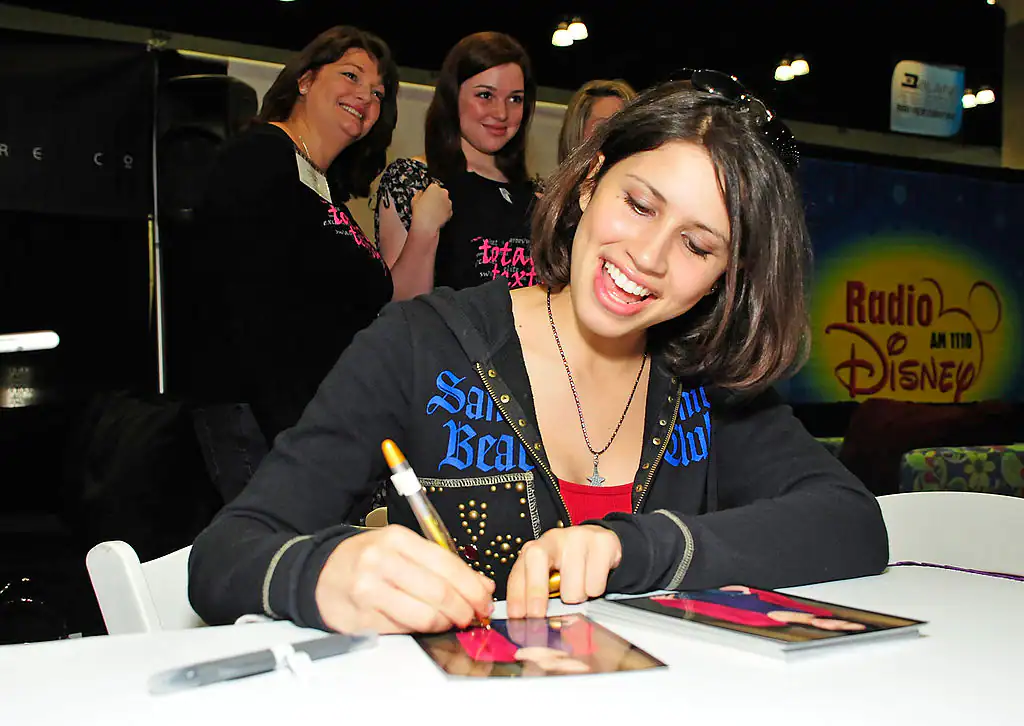 One of the standout characters was Lisa Zemo, portrayed by Rachel. Initially introduced as a background character, with allergies and a penchant for the nerdy side of life, Lisa's transformation into a confident young woman was one of the show's most heartwarming arcs. Her journey from being overlooked to finding her voice and place in the school ecosystem was emblematic of the show's underlying message: growth, self-acceptance, and the ever-evolving nature of adolescence.
Interestingly enough, Rachel wasn't the original choice to play the role of Lisa. In the pilot, the character was portrayed by Joanna Noelle Levesque, better known as JoJo. However, she dropped out to pursue other projects, which ultimately led to Rachel replacing her.
Despite the success of "Ned's Declassified", and the popularity it brought to Rachel, she's only appeared in one more acting role since then. In 2007, she starred in the short drama "Miriam", written and directed by Kamran Pasha, in which she played the titular role. Miriam is a triking Hasidic teenager who unexpectedly finds herself pregnant, which causes a stir within her family, given their deep roots in a close-knit religious community. The mystery deepens as Miriam, who has taken a vow of celibacy, cannot explain her pregnancy.
Social Work and Philanthropy
After she retired from acting, Rachel chose to focus on her education. In 2009, she enrolled at the University of California, Los Angeles (UCLA), where she pursued a Bachelor's degree in Sociology. After that, she continued her studies at California State University, graduating in 2017, with a Master's degree in Communication Disorders and Sciences.
Beyond the glitz and glamour of Hollywood, Rachel became actively involved in various charitable organizations, focusing on issues close to her heart, such as children's education and health. Rachel's philanthropic endeavors saw her collaborating with non-government organizations (NGOs) and community groups, raising funds, and championing causes that aimed to uplift the underprivileged.
In 2016, she became the ambassador for Starlight Children's Foundation, which offer help to chronically ill children and their families. Three years later, she created a fundraiser for Autism Speaks, a charity dedicated to finding solutions for people on the autism spectrum.
Personal Life
Rachel has always been private about her personal life, choosing to keep details away from media. What's known, however, is her close-knit relationship with her family, who have been her pillars of support throughout her journey. She values her privacy and has managed to strike a balance between her professional commitments and personal time. According to her limited social media presence, she appears to be married, and has welcomed a daughter with her (unnamed) husband in 2022.
Hobbies and Interesting Facts
Rachel is an avid nature enthusiast. She often spends her free time hiking and exploring the scenic landscapes of California.
Apart from acting, Rachel has a penchant for music; she plays the guitar and has been known to dabble in songwriting.
Rachel loves to travel, and has journeyed to various parts of the world, immersing herself in different cultures and gaining new perspectives.
Rachel is a staunch supporter of animal rights, and has been involved in campaigns promoting animal welfare. She has a pet dog called Yuki.
Net Worth
As of October 2023, Rachel's net worth remains officially undisclosed, but is estimated at close to $1 million. While she earned a significant amount from her acting career, especially during her "Ned's Declassified" days, the exact figures aren't public knowledge. It's worth noting, however, that Rachel's involvement in philanthropy suggests that she's not solely focused on amassing wealth, but is keen on redistributing it to causes she believes in.
Where is the Cast of "Ned's Declassified" Now?
While Rachel chose to step away from acting, the remaining cast of "Ned's Declassified" has moved on to various pursuits since the show ended.
Devon Werkheiser, who played the titular character, Ned Bigby, and was the central figure of the show. He has continued his career in the entertainment industry, appearing in movies and TV shows such as "Shredderman Rules", "Marmaduke", and "California Scheming". In addition, he has ventured into making music, releasing three solo full-length albums.
Lindsey Shaw, who portrayed Moze, Ned's close friend, has also continued to act, with some of her most notable roles being in the romantic comedy movie "10 Things I Hate About You", and the drama series "Pretty Little Liars". Following the end of "Ned's Declassified", she was briefly in a relationship with Devon, but the two have since remained close friends.
Daniel Curtis Lee ('Cookie'), went on to star in Disney Channel's sitcom "Zeke & Luther" from 2009 through 2012. He has since established himself as a television actor, with supporting roles in shows such as "Glee" and "Crazy Ex-Girlfriend". Like Rachel, he is also an alumni of California State University, where he studied Linguistics.
Suzi Crabgrass actress, Christian Marie Serratos became arguably the biggest breakout star from "Ned's Declassified". After the show ended, she landed the role of Angela in the popular "Twilight" movie franchise. From 2014 through 2022, she starred in AMC's "The Walking Dead"; she also played the titular role in Netflix's biographical drama "Selena: The Series", centering on the life of the late Mexican singer.
Rob Pinkston ('Coconut Head') made a few movie and TV appearances after 2007, but has since stepped away from acting and became a professional DJ, performing under the name Pinky Pinkston.
Additionally, in January 2023, Devon, Lindsay, and Daniel launched the "Ned's Declassified Podcast", in which they revisit the show episode by episode, revealing previously unknown details.